Instructors Conference Report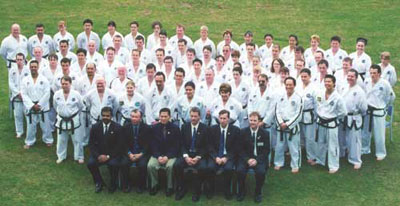 The conference was great! The setting is peaceful, weather was good, the food was ... generous, and nice and healthy, the old friends were plentiful.
We saw our guys - sons, husbands, Instructors, friends - being put through a more rigorous senior grading than has been seen here for quite a while, and felt that burst of pride when there were words of praise from the Master - and all seven were promoted to 4th degree.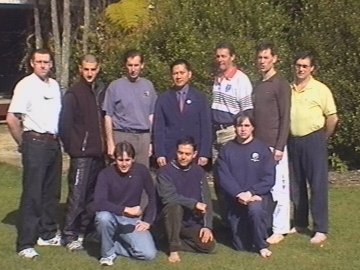 Mr Chris FitzGerald (IV), Mr Jake Pearson (IV), Mr Mark Banicevich (IV), Mr Vince Pygott (IV) Mr McPhail (VI), Master Leong (VIII), Mr Davidson (VI)
Mr Andrew Niven (IV), Mr Lawrence Mantjika (IV), Mr Matthew Breen (IV)

Maybe there are now a number of inspired Juniors.
(At this camp, junior was anyone below 4th Dan !! - got a job for a white or yellow belt, grab a 1st or 2nd Dan :-) )
There was a high-powered set of Instructors and demonstrators - (a team of new 4th dans demonstrating the syllabus (along with an old hand - Mr Patterson :-) ), and a "good potential Master" running that show (see below for more on that!!!)
Although some of the discussions - as they often do on subjects of import - became, umm, passionate, the best outcome was a pointed awareness on the part of the Executive that a number of issues need re-prioritising Real Soon Now.
"Communication" might be THE word that came out of it all that sums up the approach needed to get a lot of the issues on the road to resolution.
The Bad Thing : The oldest enemy, Time.
We could have spent days getting more of the practical advice, discussing issues... and listening to Master Leong in storytelling mode!
Mr David Ballard juggled his way through a range of the usual organiser's problems (and a few from way out left field), and delivered a successful event. Along with the amount of time spent getting it together - we all owe Mr Ballard our thanks and appreciation.
Comment from Master Leong, after observing Mr McPhail deliver the technique syllabus run-through:
"I have observed your instructor (Mr McPhail) explaining all the techniques, and, from the way he was explaining it to you, I can see he has put a lot of time into his research, and a lot of the things he explained shows he knows his stuff.
I think he has very good potential, he and Mr Davidson, they will make very good Masters, the first New Zealanders, Masters in this country. I congratulate you."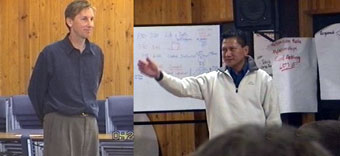 (A standing ovation followed for Mr's McPhail and Davidson).
So, we look forward, in a few short years time, to seeing two more of "our guys" being promoted to 7th Dan Masters.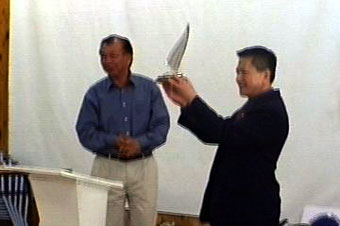 Mr Ng presented a memento of the conference to Master Leong