Welcome Home Team!
Photos of the arrival of the Team
---
Congratulations and well done NZ.
You are a great credit to the region.
Southern ITF Taekwon-Do wishes the whole team
the best possible luck and success.
---
Results of the Junior World Champs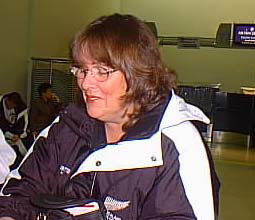 News from Debbie Trotter:
We have finally found the Internet. I will send a full day by day report as soon as we get home. There was no internet in China or DPR Korea and the only fax machines we could find in China were at the airport. With the language difficulties we were too busy trying to check in, that there was insufficient time to send anything through.
We have all arrived safely in Seoul and are happily enjoying Hot Showers which we have not had for the last week. (Pyongyang Hotel did not have water all day and it was only available spasmodically and when the water came on, it was cold and brown) First on the Juniors agenda after arriving was the shower and then McDonalds for real food.
While in Pyongyang Zahn was sick for five days,and Gemma, Jake, Richard, Stuart, Michael, Lin all had days they felt really unwell, or could not make it out of bed for long. The change in diet, the heat and humidity all took its toll.
Will catch up again tomorrow
Regards Deb
---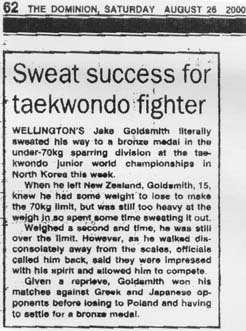 This clipping appeared in The Dominion on Saturday 26 August 2000. The Evening Post also featured a small article.
We had a phone call from Toni Moki on Saturday night (26th), just before the final day. Jake's Bronze medal was still our only placing - although many of the bouts where apparently very close.
There has obviously been problems getting communication out of North Korea - it has been very frustrating for all of us. Within the next few days we should have full reports on what went on, and photos to follow.

LATEST NEWS
(From our Team correspondent - Mr Stuart Lavin)

25.8.00
NZ has a bronze - Jake Goldsmith - Sparring


Congratulations Jake!!
We finally received a fax from the team - and they report that the hospitality is incredible & the venue amazing. Everyone's really feeling the heat & humidity, most feel quite faint - but water and Coke are easy to find. Deb sends her love to all the parents!
There is a great story behind Jake's win. He knew when he left he had a bit of weight to lose to be under the 70kgs he was entered in. At the weigh-in he was slightly over, so he spent some time sweating it out to try and loss that extra weight. He weighed in again -only to be just over the 70 kg. He was given another 15 minutes. More sweating...then a final weigh-in. No luck - he was still a fraction over the 70kgs. He and the coach accepted the decision, bowed out and walked away...they then called him back. They said they liked his spirit and permitted him to compete!
So far in the competition:

Patterns
I Dan Female - Amanda vs Czech Republic
Win to Czech
II Dan Female - Gemma vs Canada
Win to Canada
I Dan Male - Thai vs Uzbekistan
Win to NZ
- Thai vs China
Win to China
II Dan Male - Mark vs Greece
Win to Mark
- Mark vs Uzbekistan
Win to Uzbekistan (Draw)
Team
Sparring Pattern - NZ vs ??
Loss to NZ
Micro Female - Amanda vs Czech
Win to Czech
Middle Male - Richard vs Nepal
Win to Richard
- Richard vs Greenland
Win to Greenland
Light Male - Thai vs USA
Win to Thai
- Thai vs China
Win to China
Heavy Female - Toni vs Korea
Win to Korea
Middle Female - Gemma vs Greece
Win to Greece
Heavy Male - Jake vs Greece
Win to Jake
- Jake vs Japan
Win to Jake
- Jake vs Poland
Win to Poland
BRONZE MEDAL!!!!!!!!!!!!!!!!!
Tomorrow
- Micro Male Mark has a bye & fights either Czech Republic or Korea
- Daniel, first round Korea, Power, Special technique & team sparring
---
22.8.00
"Seoul very wet. 3 hours in transit lounge then off to Beijing. Plane flew over China giving us spectacular views of the countryside. Very flat, paddy fields, big factory like buildings that looked like nuclear power plants. China very hot.
All members of the party enjoying new tastes. Thank God we don't know what we are eating!
Went to Tiananmen Square today; an education in a day! Jake very popular - white, thin and very very tall. Street hawkers very persistent to all white faces. Over a billion Chinese people, most here today!
Training in the courtyard of hotel much to amusement of employees; our own gallery.
---
21.8.00
"Arrived safely in Korea - good flight, 3 hours in transit in Seoul; now on to China. Thanks to all the supporters at Auckland. Boys very impressed at reaction when Joe brought out NZ Flag.
Zahn & Grant dirtied new black tee shirts with yoghurt, Rua spent slight sewing patches on tracksuit.
Steve has new show trouble & walking around with one on and one in hand.
All excellent."
---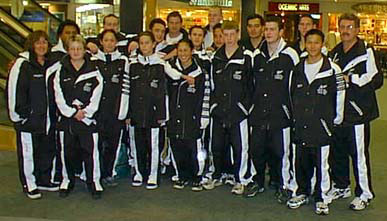 Our Junior World Champs team left Auckland on Saturday night for South Korea / China, and then North Korea. Around 50 family members, friends and TKD students gave the team an emotional farewell, and the team displayed the New Zealand flag as they departed.
We will soon be bringing you more information about the team - in fact we are hoping to bring you daily coverage of the trip as if progresses. Please check back here daily from this weekend on.
Photos of the Auckland Airport Departure
---