Day 3: Everything is big in Texas…
Yes sir-ee Bob. Texas is even bigger than France. I know because I saw the T-shirt. Even our ironing board is big; I had to put it at half mast to see over the top of the blasted thing. The people are big too, and not just around the middle, or the ankles for that matter, but they are really big and tall.
Yesterday I met Roy. He was bigger than France too, or perhaps larger than life is a better word. He calls me Georgia peach. I think I should probably explain that. I am fond of the expression "peachy" to say how I am doing when asked. Well, one thing led to another. He asked who we were, I explained and, well you get the picture.
Arriving 'home' last night after our wonderful dinner/night at the amusement park, and terrific fireworks display (oh yes, forgot to mention that. While out at the park there was this huge fireworks display, bigger than any I have seen. Don't know the reason for it, but they must be fairly common, as we were the only group standing around going ooohhh, aaahhhh, woooowww…yep, everything's bigger in Texas). Anyway, arriving back last night I very nearly tripped over this enormous basket of fruit and goodies in our room. See below.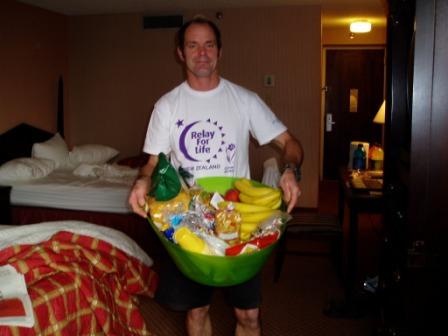 What was the occasion you ask?
Did everyone get one?
Is Richard the smooth talker he appears to be?
No.
Apparently the hotel wasn't happy that we carried our own luggage into the lobby from the bus (about 30 metres) on arrival and wanted to make amends, so they gave this to Richard. Not included in the photo are 3 of the largest bottles of Powerade I have ever seen, they were too heavy for Richard to hold as well (2 Qrt each, or for us metric folk 1.89 litres). I wonder what they are going to do with the basket? Maybe use it as a thimble?
Ok, today we have the team doing two, 2 hour training sessions starting in about 10 minutes. So I am off to get them to write something for you folks back home. Keep the messages coming, they have an amazing effect on the team. I printed off the latest lot for breakfast and the whole team crowds around them to read and, to quote that magnificent crooner Meatloaf, there's not a dry eye in the house. (Ok, maybe a few dry eyes, but you get the picture).
It's late afternoon, the kids have been to the mall I described yesterday. Apparently more than a few of them got lost, frankly I'm not surprised. This is Amy and her Mom Kelly, playing around before they left. This photo I think will get me in trouble!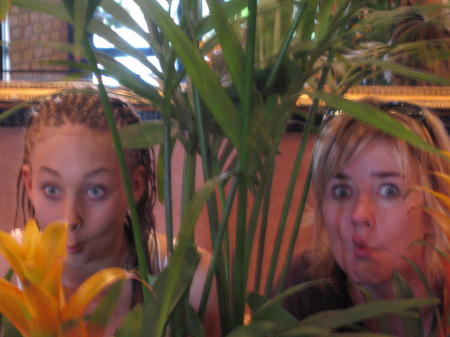 And this is Amy and Siobhan shopping at Tiffany's!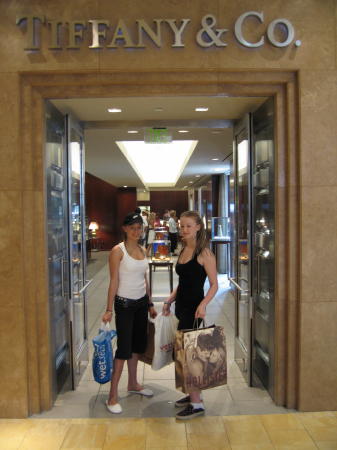 Captain Chris and Josh rolling around…I don't know why either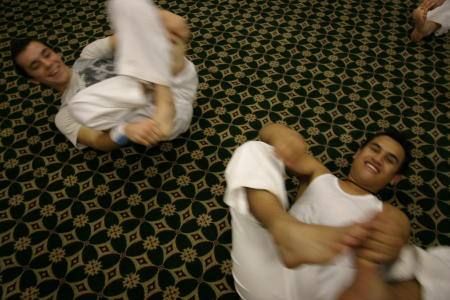 Right now there is this huge lightning display outside the hotel. I am watching it out of the window while waiting for the kids to finish the afternoon session, then there will some free time for them to write to you back home.

Carlos
Hey dad the flight was killer but the usa is great. The cars, girls and the food are awsum u wont mind if I bring a litina girl home ay. Well were off to Honduras tomorrow.l8as
Chris clencie
Hey babe its so hot headin 2 honduras 2morrow yaya gona win sum golds iv bein shoping hardz almost out of bling cu hola at u soon my darling love u bye xxxxxxxxxxxxxxxxxx xxxxxxxxxxxxxxxxxxx
Thomas
Hey Mum and dad. How are you guys going. Its real hot over here in Houston. The malls here are awesome. Of to Honduras soon… its guna be great. Cya later.
Ryan and Hayden
Hey mum were enjoying it heaps the cars are so flash over here theres so many hummers its not funi and we got lost in 1 of the malls they're so big annie, youll love it its so hott over here its like walking into a heater wish you guys were here. Last nite we went on these rides there were kwl. Love ya lots xoxoxoxoxoxoxoxox.
Bex
Hi mom, dad and bots (:P)
It's the last night in texas now and we are in a poesh(posh) hotel with air con J the dinners are fancy too.. and today we got to go shopping. We trained outside and it was hot as! Even in the shade! The boys were smelly.. Well yea so we leave to Honduras tomorrow.. am so over aeroplane trips.. sigh.. but it will be worth it!
Love u bye.
Alex
Hay mum and Sam
We are just sitting down to dinner on our last night in Houston. Missing you heaps! Its really HOT!
We have double beds to ourselves the mean comfy sleep in the world!!!!! Best sleeps ever except we don't get to spend enough time in them! I am thinking of bringing one home with me they are that good.
Love you mwah xoxox
Jeremy
Hey Mum, Mark and Pat
How's it going in New Zealand? Bet its cold down there… Real hot here, especially in that carpark, got some new shoes too, broke the other ones… Gary has stolen all my socks.
C ya
HI mum and dad
Having a great time over here , really hot but still having a good time.Say hi to elysia for me
Will email you from the torne .Hi lipi if you are reading any of this I got your message and will call you later miss you heaps look forward to seeing you
Love you all lots
Love Mark
Hello mum, dad, cliff and Kieran
Its awesome here, heaps of flash cars, massive shopping malls which we got lost in and its b... hot. I weighed 57.7 today so I still need to lose a bit more but wont be a problem. Off to Honduras tomorrow but im getting sick of flying. C u soon