Day 9 – The Tournament
3 Bronze's in Patterns!
"Believe in yourselves. It doesn't matter who your opponents are. You have trained just as hard as they have. Just because they are from Poland, or Argentina or Puerto Rico, doesn't matter. Treat every bout, sparring, patterns, breaking…whatever, as the finals. Don't think ahead to the next match, just the win the one you are in."
These were the words last night from the coaches to the team. And the day is finally here. It's 5:30am and we are up getting ready. Breakfast is at 6:30, and we depart for the stadium at 7:10. The first pattern will start at 8:30 sharp, and if the competitors aren't standing on their spots at 8:25, they are disqualified. Pretty tough but this is the world champs.
Time for me to get packed up and down to breakfast. Oh yes, we got the draw last night, and the coaches tell us that we have been given one of the best draws they have ever seen. Lots of bye rounds for NZ, and lots of matches where one win will see the competitor in the semi-finals, our first piece of competition good luck, and we couldn't have asked for a better start.
Having said that, the blasted bus was ½ hour late! Still we were the first team to arrive…Honduras time. We also gave a lift to the Slovenian team, and NZ gave them a rousing welcome and cheered them on to the bus, they appreciated it. We also gave a lift to Doug the Canadian, who is the coach for one of the Canadian members, but staying with us. I think Suzy and Kelly and Sharon have taken him under their wing, he doesn't seem to mind. He was also cheered on to the bus. Speaking of buses, our driver had his music really loud, as they all seem to do here. Trouble is it's music from the 80's. Lots of Chicago, Michael Jackson, Wham. In fact, if Rick Springfield was to do a tour here he would make a killing.
The venue is a basketball stadium. 3 rings, all next to each other, space between nonexistent. We are seated at one end. There are only 208 competitors and not all are here on time, so Master Bos starts ½ hour late, I think the bus driver knew something.
We decide to move to the middle of the stadium for a better view.
Chris Clencie is up first, against the Puerto Rican. Both select Ge-Baek as their optional. Chris starts well…horror, he slips on the mat and falls, not sure if he caught the matt or his Do Bok. He recovers well and finishes strong. Designated is Do-San, both do well, I think Chris has this one but will the first round fall count too much. Result…loss to NZ, Puerto Rico through.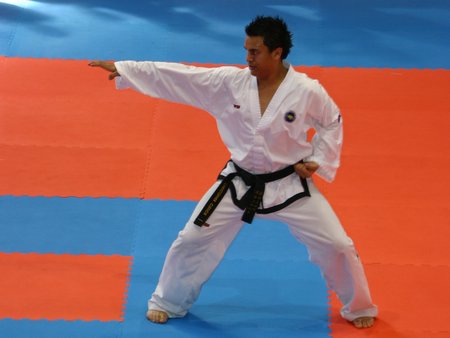 Carlos is next, up against the USA, both select Choong-Jang as their optional, they are evenly matched. Designated is Juche! Carlos does very well, but the win goes to the USA.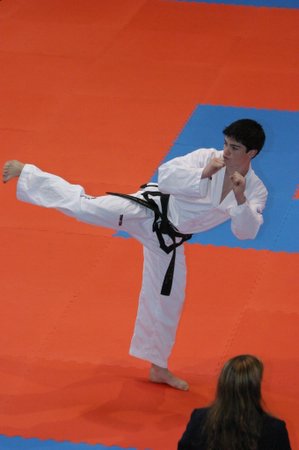 Master Marano does all the announcing here, and his microphone is very loud. There are 5 judges per ring and 3 on the jury table.
Jess Walker steps into the ring against Poland, both do Ge-Baek. They are the same, nothing in it. The designated is Won-Hyo. Jess is slightly better, but the judges don't see it that way, a win to Poland. The floor is very slippery; lots of competitors are sliding and slipping. The noise, for not many people here, is huge, especially whenever anyone from Honduras is announced. Behind me a whole school load of local children arrive, they are very enthusiastic…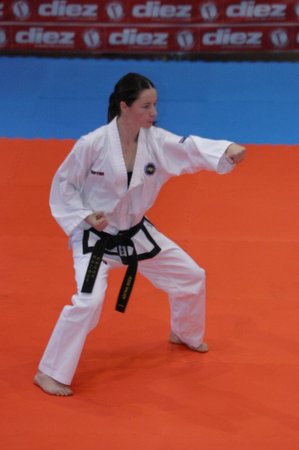 Melissa is next, both select Ge-Baek as their optional. Both good, Kwang-Gae is the designated. Nothing in it but again the judges go against NZ, win to Argentina.
4 competitors, 4 losses, things are not going our way so far. Dan, Mark and Dave seem to be everywhere all at once, always appearing with the right competitor at the right time, it's like some huge coordinated dance.
Josh is next against England, both select Ge-Baek…horror, the floor claims another victim, but Josh recovers immediately and it is only a small slip. Then to the designated which is Kwang-Gae. No luck for NZ, win to England.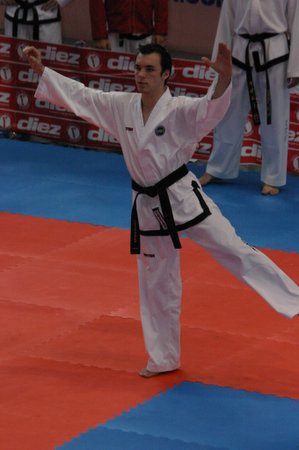 Jeremy and Rebecca are up together in separate rings, hard to watch both. Jeremy is against Canada and Beck's Poland. Jeremy performs Juche as does his opponent, both very good. Beck's and her opponent start with Ge-Baek, but here Beck's is better. Second round for Jeremy is Hwa-Rang and he performs brilliantly but it is not enough, win to Canada. Beck's designated is Kwang-Gae, she is cool, calm, and collected and a stunning pattern results. Can she give us our first victory…YES! Win to NZ, finally. The team go wild.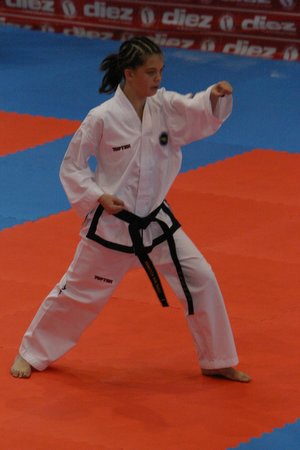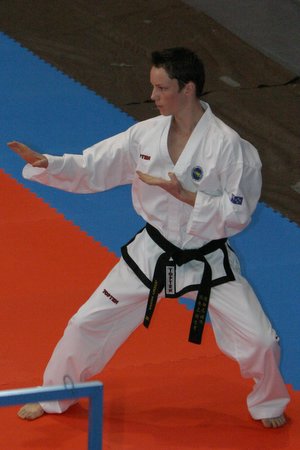 Kane is next; it's so busy here I miss the first round. He is up against Puerto Rico. Hwa-Rang is the designated, Kane is sharp and the better competitor. Scores are handed to the jury, he calls one of the judges up, what's going on. They confer, then he sits back down, and the winner is…YES! Kane's through.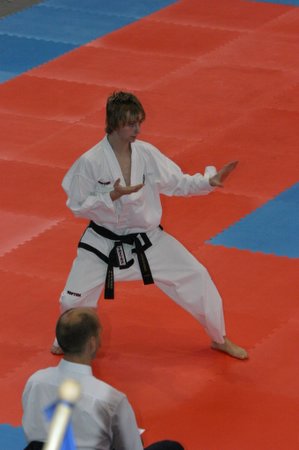 Beck's is back on almost straight after, against Canada. Both are very strong, the Canadian is very good, but Beck's is better technically. Designated is Toi-Gye and they almost collide on the W shape blocks, tension is high in the team and they cheer her on hugely, she finishes strong but so does the Canadian. She should win, do the judges agree…YES! Another win for Rebecca. She is through to the Semi finals.
10 minutes later she is against Argentina, both are very strong, both select Ge-Baek. Designated is Hwa-Rang, Beck's is again technically better, the Argentinean stomps a lot. But do the judges agree. No, they don't, win to Argentina. Beck's is smiling, we have our first medal, a bronze to Rebecca!
Alex is next, up against Argentina, both choose Choong-Jang. Alex is better all round, this should go our way. Designated is Toi-Gye, again Alex is better. YES! She is into the Semi Finals, now things are moving along.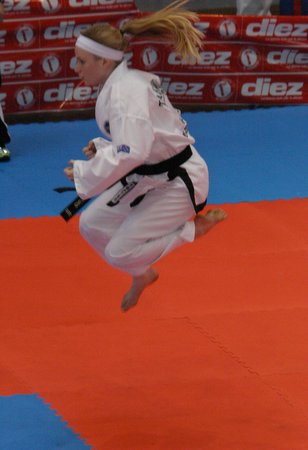 Next Siobhan and Kane are up at the same time in different rings, it's hard to follow them both. Siobhan has the Canadian and she is very strong, performing Juche brilliantly to Siobhan's Eui-Am. Designated is Toi-Gye. The Canadian is too strong, loss to NZ.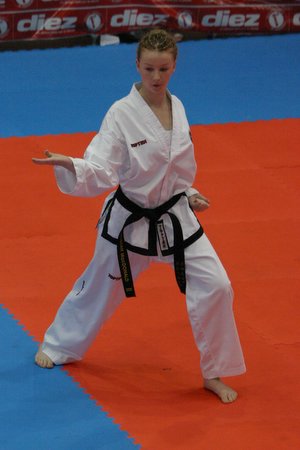 Kane has the Romanian, and has the better of him from the start, the Romanian looks down too much and Kane is also stronger. They both select Gae-Baek and the designated is also Toi-Gye. Kane is too strong for the Romanian and he wins again.
Next Alex is in again, against the Canadian, both starting with Choong-Jang and then Choong- Moo. Alex is clearly the better competitor, but the judges don't see it that way. I can't understand this decision, but there you go, win to Canada.
Kane is back in, against Argentina. Both do Gae-Baek, then Hwa-Rang. It's close, very close but I am picking Kane, he just looks sharper…YES! The judges agree (as they should!). That puts him into the semi finals and at least a bronze. We are doing well so far.
Kane again, he is against another Argentinean, they are sprouting in the ring like mushrooms. Both select Gae-Baek, and both are very good, too close to call, but I will be biased and pick Kane. Designated is Joong-Gun, and again it is very close. The judges pick is…Argentina. Bummer. Kane picks up another bronze for NZ, which seems to be the colour of the day for us but we are not complaining. 3 bronzes so far to Kane, Rebecca, and Alex