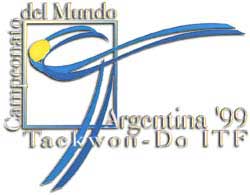 1999 ITF WORLD CHAMPS NEWS
Comments from the team members
ARGENTINA IS A GREAT PLACE WHICH HAS ALOT TO OFFER IN THE WAY OF CULTURE ENTERTAINMENT AND DIVERSE EXPERIENCES. FOR EXAMPLE A BEGGER HIT ONE OF OUR INTERPRETORS ON THE ARM AND, SHE WENT OFF AND WAS GOING TO CANE HER BUT WE JUST MANAGED TO HOLD HER BACK, SHE WAS GUTTED.

ANY WAY THE TKD SCENE IS BIG HERE AND BLACK BELTS OF ARGENTINA MUST SENSE WE ARE ALSO BLACK BELTS BECAUSE THEY COME UP TO US AND INTRO THEMSELVES MANY 3RD DAN AND ABOVE. ANY WAY GREAT place and the nite life goes off, see ya later.

Tamaiti BRUNNING Horowhenua TKD 2 DAN.

---

Hi Aaron (Macs) 1/3 of the Ginger Ninjas........

Thanks for all the support back home, it´s awesome to read that so many people are following our progress in "Argiez".....

Having plenty of fun mixing with the locals, especially the "bonita" chicks.

Well gotta cruise, keep in touch, we´ll definitely give it our best shot....

laterz

Aaron McIlwee

---
Hello everyone in NZ,

Hong say hi to everyone. Everything here has been awesome. The view here is bloody beautiful. It has a big central business district. Lots of beautiful chicks. All of them have good figures. Small waist and calves and big - you know...... Anyway, I just wanna say hi to everyone back home and to say that we will try our best to bring something back with us.

Ciao. Until then. Hong.
---