Strategic Plan Discussions

International Taekwon-Do Developing a Strategic Plan
International Taekwon-Do Strategic Plan
International Taekwon-Do Vision Statement
---
ITF Newsletters
Here we publish recent newsletters from the International Taekwon-Do Federation.
ITF Newsletter ISSUE 9 | ITF Newsletter ISSUE 8 | ITF Newsletter ISSUE 7 | ITF Newsletter ISSUE 6
ITF Newsletter ISSUE 5 | ITF Newsletter ISSUE 4 | ITF Newsletter ISSUE 3 | ITF Newsletter ISSUE 2 | ITF Newsletter ISSUE 1
Voice of the Participant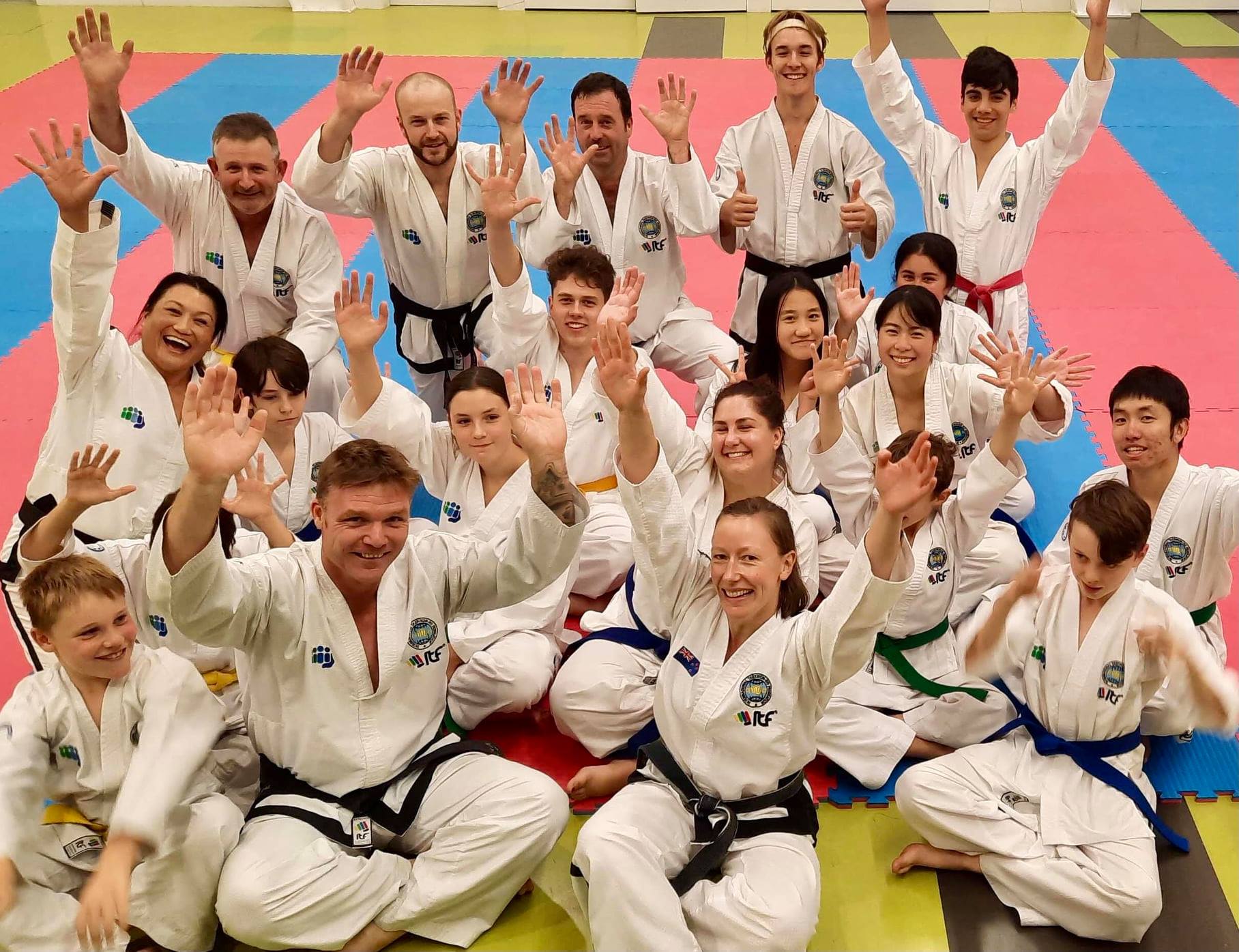 International Taekwon-Do is undertaking an important research programme, the Voice of the Participant, to better understand how our members view their experience within our art. The project aims to understand what is important to our members and how we are performing against their expectations. NielsenIQ, an independent research company, is carrying out the research on behalf of International Taekwon-Do and Sport New Zealand. This was the first time International Taekwon-Do has taken part in the survey, which will occur annually moving forward.

International Taekwon-Do would like to thank all those who took part in the survey which closed 11 April 2021. NeilsenIQ received 446 surveys which represented a 16% response rate – the second highest across the Summer sports involved in this survey. There is a separate Winter code survey.

To encourage members participation, International Taekwon-Do put up a prize of $500 worth of gear to the club of one member selected at random by NielsenIQ. The winner was Jarrad Ramsay from the Halswell club in Christchurch. Congratulations!

The analysis of the survey results will be completed and reported to International Taekwon-Do in July 2021. This will help benchmark the new Strategic Plan currently in development.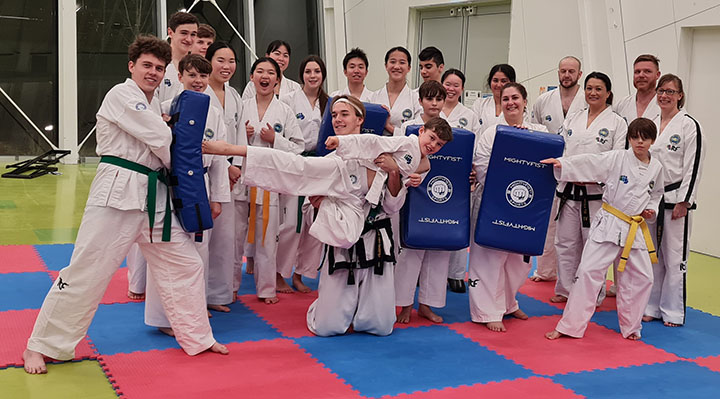 Halswell club membersa with their new gear!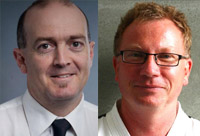 Grant Eccles        Gwyn Brown
Advisor Group News Jan 2021
A HUGE thanks to Mr Gwyn Brown! We are sad to say he is stepping down as our Tournament Director this year.

Everybody knows Mr Brown - not only from his massive contribution to our tournament scene, but also as co-host of the popular National Kids Camp. He has had the privilege of seeing MANY kids come through that camp and see them grow into amazing adults. And it has been our privilege to work alongside Mr Brown, such a highly skilled, knowledgeable and likeable person. Thank you Sir.

Mr Eccles, already a long time member of the committee will take over the the Tournament Director.


---

The Advisory Panel have yet another announcement regarding our Advisor groups. Dr Jake Pearson will take over from Mrs Lena Walton in 2021 as the Standards 7 Discipline Representative for Wellington.

Dr Pearson is a long standing senior member of our organisation. He is a specialist Sports Physician with a passion for sport and exercise. Raised in Wellington, he completed a Bachelor of Physical Education (Hons) at Otago before going on to study medicine.

We are very proud of Dr Pearson and are thrilled he is joining our S&D team.


---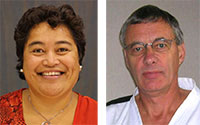 Lena Walton    Master Evan Davidson
The Advisory Panel have another announcement regarding our Advisor groups. Mrs
Lena Walton
will be stepping down as Standards & Discipline Advisor and Master
Evan Davidson
will take over this role.
Master Davison was previously our S&D Director but in recent years has been concentrating on his international position as Chairman of the ITF Ethics Committee. Master Davidson is also a former Policeman and of course former President of ITFNZ - so perfectly qualified for the job.
Mrs Walton took on the role of the Wellington RD in 1997 as the Wellington S&D Representative. She continued to hold that position for 23 years.
During that time she held other leadership roles within the Organisation: High Performance Advisor and was on the Organising Committee for the 2010 Oceanias and 2011 World Championships. She held the S&D Advisor role since June 2013.
Being one of the seniors in Wellington, she actively took lead roles where she made a positive difference. Mrs Walton says she found each committee role challenging, but we appreciated how she took on each situation with professionalism and with a level headed approach.
In January 2021, Mrs Walton will be stepping down from being the S&D Advisor and S&D Representative for Wellington. She will continue as co-Instructor of Berhampore Club

Our sincere thanks to Mrs Walton for all her work throughout the years, some of which were particularly challenging as the S&D Director. Mrs Walton led by example, and made very real contributions to our art and organisation. Thanks Mrs Walton!


---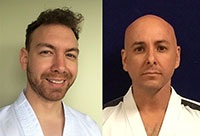 Dane Canton     Darren Andrews
The Advisory Panel are pleased to announce that
Mr Dane Canton
has been approved to be our newest addition to the
Standards & Discipline Advisor Group
. Mr Canton is a well respected Senior in our organisation. A big welcome to Mr Canton and thanks for taking on this role.
Mr Canton takes over from Mr Darren Andrews, who has decided to take a well deserved break, having been a part of the S&D Group since 2008. Apart from Mrs Wallton he is longest standing S&D Representative. We fully support Mr Andrew's decision as he takes time out to be with his wonderful family. 
Thank you Mr Andrews for 11 years of commitment & your 'that makes total sense' input into S&D. Mrs Walton is grateful for his supportive nature over the years.

Thank you Mr Andrews!
---
ITFNZ Action Following Conviction
International Taekwon-Do New Zealand places the utmost priority on the safety and wellbeing of our students, particularly our students who are children or are vulnerable.
As a martial Art we are guided by and operate within a values system that is taught to every student from the beginning of their Taekwon-Do journey. Our morals and values, instilled in our Oath, our Tenets, and at every level of our grading syllabus, embody our purpose
We are proud of the structures and processes we have in place to uphold these morals and values. Our Standards and Discipline Committee sits at the heart of these processes. The role of this Committee, made up of senior and well-regarded members of our organisation, is to monitor the behaviour of our members against our moral and legal obligations. The Committee acts quickly to assess and respond to situations that come to its attention.
Fortunately, it is rare for the Standards and Discipline Committee to take action. This is because we have several robust processes in place that emphasis a continual raising of the bar in relation to the way our members behave, as they journey from white to black belt. These processes filter out those not able to meet our standards. By the time an experienced member steps up to take on an instructor role, they are well known within the organisation and have been through the rigours of our grading system. All members are required to do an instructor induction course, and instructors and assistant instructors are required to be police vetted, to identify any convictions that would make that instructor unsuitable for the role.
It is therefore with much regret that a long-serving member of our community was recently convicted of indecent assault. Our hearts and aroha go out to the victim and whanau and others impacted by this event.
We acted swiftly and in the best interests of our students when we were made aware of the circumstances. We were alerted that a serious complaint had been laid with the Police, just prior to arrest. As soon as Andrew Salton was arrested and charged, he was immediately suspended from our organisation. Andrew Salton is no longer a member of International Taekwon-Do. We also want to reassure our members that this appears to be an isolated event. We have not heard from any other members about a similar situation occurring under the instruction of Andrew Salton, or any other instructor.
We do want to take this opportunity to say if someone else has been put into a similar situation, not just within Taekwon-Do, but in any other sport or environment, that they make a complaint with the Police. It is clear in this situation, given the seriousness of the charge, the family of the victim did the right thing in laying a complaint with the Police. In addition, we encourage members to contact our Standards and Discipline Team, or any senior member of our organisation, if they have a concern or complaint about the conduct of another member.
As a result of this event, we have undertaken a review of our policies, including our Health & Safety Policy and Sexual Harassment Policy. In addition, after both internal and external consultation, we have developed a Child Protection Policy. Although not required by the Vulnerable Children Act to have this policy, we consider this a good next step in continuing to enhance our organisational practices around protecting children.
To support the implementation of this policy we are in the process of developing education modules to be rolled out to all of our instructors, assistant instructors and persons of power and/or influence within the organisation, in the coming months.
We want all of our instructors, assistant instructors and senior members to have the wellbeing and protection of children top of mind as they go about instructing in, and practicing the art of, Taekwon-Do

If you have any questions please do not hesitate to contact:
- Lena Walton - Head of Standards & Discipline - standards@itkd.co.nz
- Nick Lourantos - Board Chair - boardchair@itkd.co.nz
------------------------------------
A statement from the New Zealand Masters
To the entire membership of ITFNZ,

"We write in full support of the Boards release in regards to Andrew Salton.
As the New Zealand Masters, we collectively condemn what has occurred and continue to be profoundly disappointed and saddened that this has happened within our organisation. We too feel betrayed and hurt.
Our deepest sympathies are with the family and we offer the sincerest of apologies that something of this magnitude has transpired on our watch. It is heartbreaking to have a lost a talented student and a loyal family due to these circumstances, and we also recognize the trauma and pain that has been caused and whose effects will continue to be felt.
Moving forward, we must reflect, plan and ensure all appropriate steps are in place to guard our youngest and most vulnerable members. The safety of the child is paramount and we are left feeling empty and shocked that something of this nature has happened, when we, by example and action, try daily to create a more peaceful world.
The New Zealand Masters give their complete backing in regards to any new policy, training or initiatives, that helps to ensure adequate protection is provided to all our membership, but especially our children and young people.
The New Zealand Masters have zero tolerance towards any form of abuse or exploitation."
---
Seeking CEO
Please refer to the attached notice that has been published seeking applications for our new CEO.
ITKD - Chief Executive Officer (Engagement Summary)
---
World Class Photography restored
Between 2006 and 2013 our key tournament photographer was Mr Doug Hanna. His photos are what inspired many generations of athletes to one day perform on the world stage, as his work was displayed on-line and in our TKDTalk magazine.
Doug also published many many articles in a blog, which unfortunatly was discontinued by Google. He in the process of painstakingly restoring all the articles, links and photographs in the website TKDACTION.COM. We are so pleased these valuable photos will never be lost!
Below is a sample from the site - please visit to see and read some of important history.
Thanks to Mr Doug Hanna!