Epson New Zealand Open Taekwon-Do Tournament
Sunday 23rd October 2005 - Labour Weekend
Papatoetoe High School gym
(Dragons Spirit Dojang)
Carlie Street, Papatoetoe (right gate)
AUCKLAND, NEW ZEALAND
SPARRING AND PATTERNS ONLY. NO AGE LIMITS - OPEN TO EVERYONE, ALL RANKS.
ENTRY FORM |RULES | UMPIRES | ORGANISERS | RESULTS
PHOTOS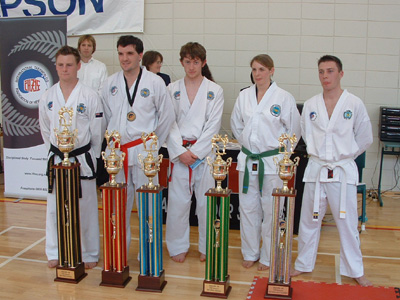 Best Belt Trophy Winners:
Chris Broughton, Jody Griffin, Club representative for the injured Lizzie Fa'afili, Danielle Drylie and Hayden Anderson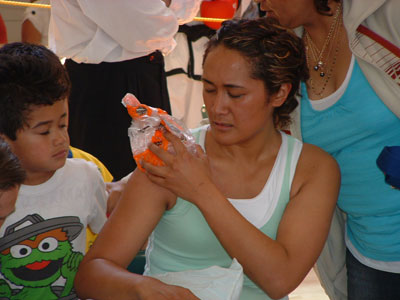 An old shoulder injury counted Lizzie Fa'afili out of the sparring final - but she still had the points to take Best Over-all Blue Belt!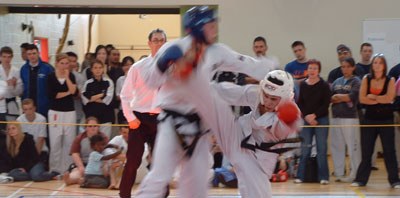 One of the best bouts of the day...Chris Broughton vs Mark Trotter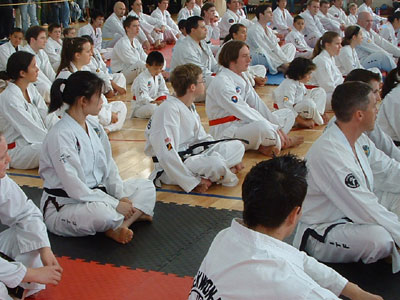 Over 100 competitors at this year's open...and it was great to see so many different styles and organisations represented.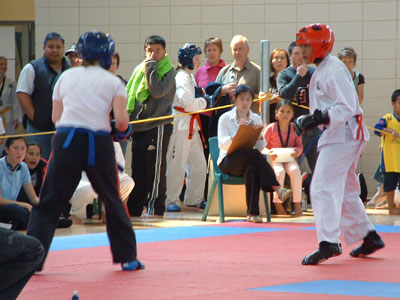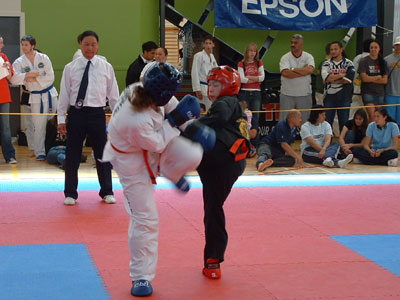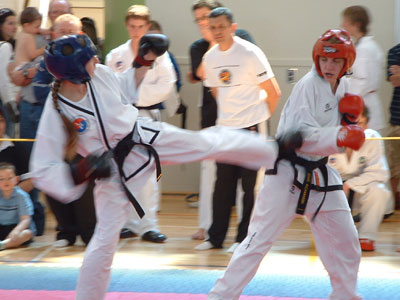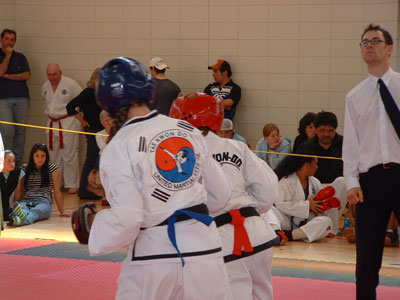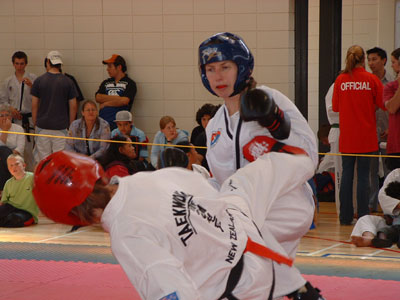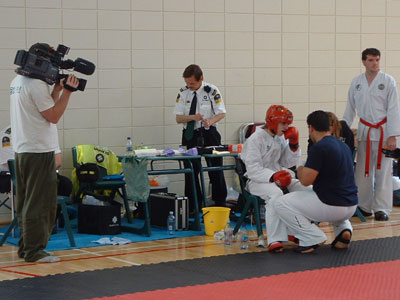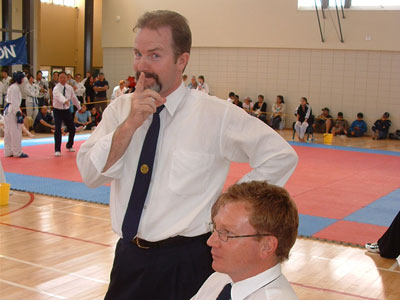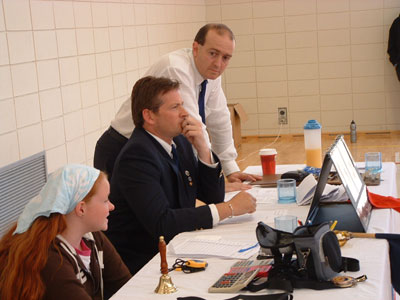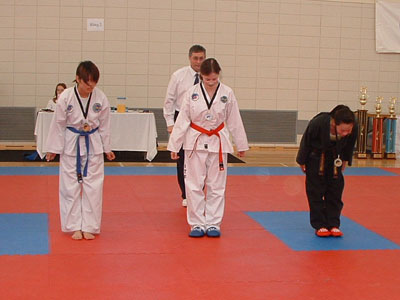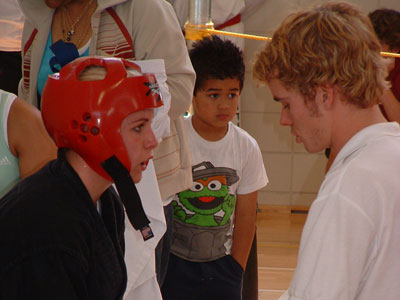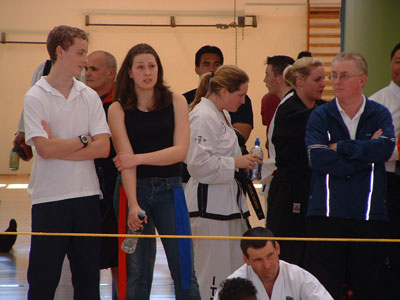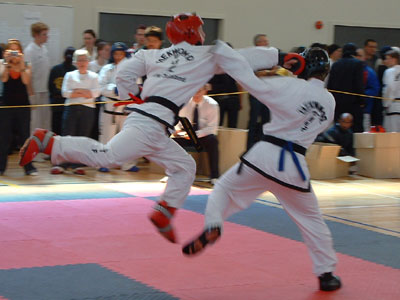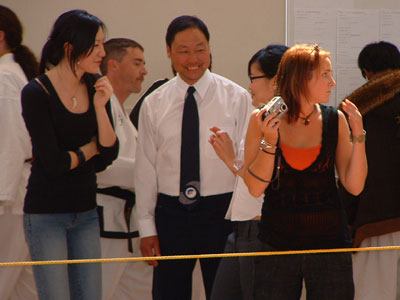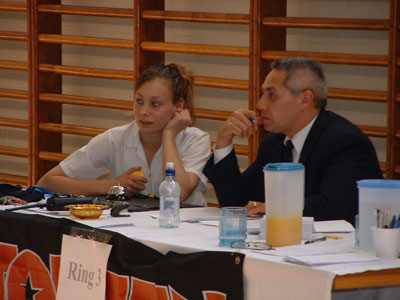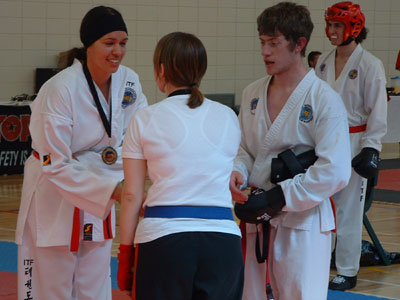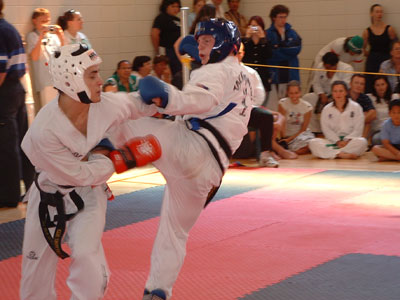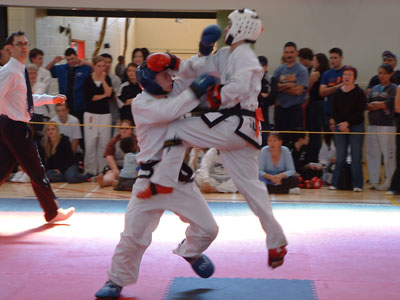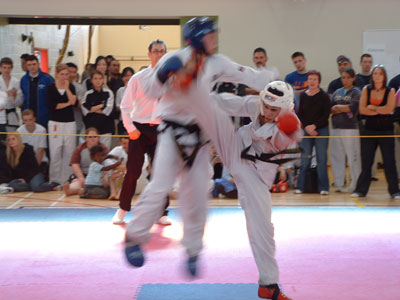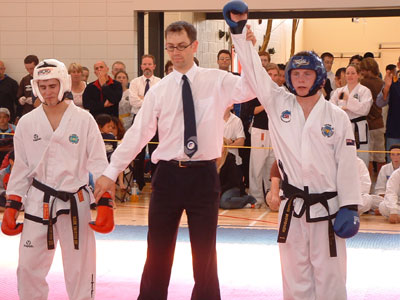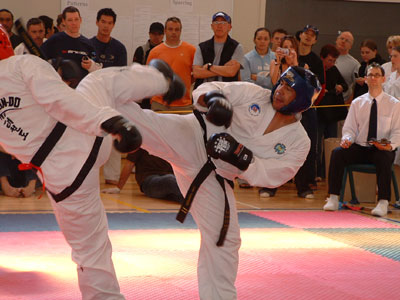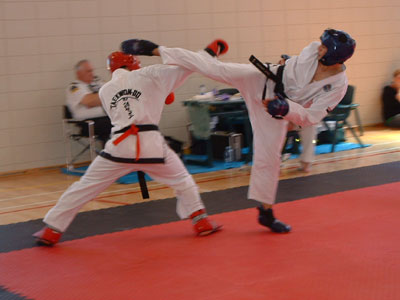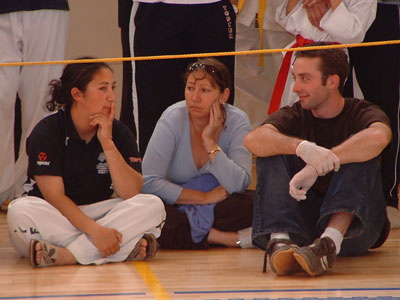 ---
RESULTS
Patterns Places
3rd Dan Patterns
Gold
Mark Trotter
GFD
Silver
Toni Moki
PMP
2nd Dan Patterns
Gold
Luke Thompson
XTR
Silver
Wai Paraone
SATKD
1st Dan Patterns
Gold
Chris Broughton
WKU
Silver
Carlos Macdiarmid
TNGA
Bronze
Jeremy Hanna
NMA
Female 1st Dan Patterns
Gold
Bernice Ng
NMA
Silver
Rebecca Walthall
NDI
Bronze
Renee Richardson
NBA
Male Red Belt Patterns
Gold
Jody Griffin
XTR
Silver
Mitchell Leong
DSP
Bronze
Gary Fyfe
HUR
Female Red Belt Patterns
Gold
Melissa Timperley
PMP
Silver
Paige Moki
PMP
Bronze
Christine Topia
DSP
Blue Belt Patterns
Gold
Lizzie Fa'afili
INFM
Silver
Seiichiro Yamada
IPC
Bronze
Ryan Butchers
ARD
Male Green Belt Patterns
Gold
Kunihiko Kaneko
IPC
Silver
Zane Kendall
WKU
Bronze
Simon Shields
SATKD
Female Green Belt Patterns
Gold
Danielle Drylie
NMA
Silver
Erica Germain
WKU
Bronze
Samantha Griffin
XTR
Male Yellow Belt Patterns
Gold
Kegan Lauina
SATKD
Silver
Colin Robb
WKU
Bronze
Kyle Birchall
XTR
Female Yellow Belt Patterns
Gold
Phillipa Henry
ARD
Silver
Zharna Letfus
NAP
Bronze
Kendra Billington
GURO
White Belt Patterns
Gold
Hayden Anderson
DSP
Silver
John Robson
XTR
Bronze
Daniya Cowell-Smith
GURO
Sparring Places
Mens Dan Hyperweight Plus
Gold
Luke Thompson
XTR
Silver
Bruce Harrison
DSP
Mens Dan Hyperweight
Mens Dan Heavyweight
Gold
Daniel Thompson
XTR
Silver
Todd Drinkwater
HUR
Bronze
Robert Ireland
AVO
Mens Dan Middleweight
Gold
Chris Broughton
WKU
Silver
Mark Trotter
GFD
Bronze
Matthew Hartigan
TNGA
Womens Dan Hyperweight
Gold
Tessa Gyde
SRK
Silver
Wai Paraone
SATKD
Bronze
Rachel McBride
NMA
Womens Dan Middleweight
Gold
Renee Richardson
NBA
Silver
Ang McWatters
NGA
Junior Boys Dan Hyperweight
Gold
Chris Clencie
PMWP
Silver
Thomas Pygott
JRB
Junior Boys Dan LightMiddleweight
Gold
Gary Sawyer
NOR
Silver
Carlos Macdiarmid
TNGA
Bronze
Bradley Wickman
PMP
Mens Gup Hyperweight Plus
Gold
Seaton Rolleston
SATKD
Silver
Greg Clencie
PMWP
Bronze
Peter Guptill
DSP
Mens 1-4 Gup Hyperweight
Gold
Tui Makave
INFM
Silver
Michael Young
AVO
Bronze
Michael Hoy
NMA
Mens 1-4 Gup Middleweight
Gold
Jody Griffin
XTR
Silver
Mitch Rae
XTR
Bronze
Phil Sanders
TAR
Womens 1-4 Gup Heavyweight
Gold
Hiria Minnell
SATKD
Silver
Lizzie Fa'afili
INFM
Bronze
Laura Wilson-Simms
WAKO
Womens 1-4 Gup LightMiddleweight
Gold
Shan-Mei Chan
WAKO
Silver
Anita Ferner
MBK
Bronze
Aki Tanino
IPC
Junior Boys 1-7 Gup Hyperweight
Gold
Kegan Lauina
SATKD
Silver
Campbell Rehu
SATKD
Junior Boys 1-4 Gup Heavyweight
Gold
James Ogle
NAP
Silver
Ben Evans
SATKD
Bronze
Gary Fyfe
HUR
Peewee/Junior Boys 1-4 Gup Lightweight
Gold
Waka Clencie
PMWP
Silver
Robert Meleisea
DSP
Peewee/Junior Boys 1-5 Gup Microweight
Gold
Mitchell Leong
DSP
Silver
Ryan Butchers
ARD
Junior Girls Red/Black Hyperweight
Gold
Candice Millar
XTR
Silver
Hannah Warren
NDI
Junior Girls 1-4 Gup Heavyweight
Gold
Claire Kendall
WKU
Silver
Courtney Meleisea
DSP
Junior Girls Red/Black Middleweight
Gold
Christine Topia
DSP
Silver
Rebecca Walthall
NDI
Bronze
Hanna Kendall
WKU
Junior Girls 1-4 Gup Lightweight
Gold
Paige Moki
PMP
Silver
Melissa Timperley
PMP
Mens 5-10 Gup Hyperweight
Gold
Mark Linehan
CHH
Silver
Simon Shields
SATKD
Bronze
Damin Rossi
HUR
Mens 5-8 Gup Heavyweight
Gold
Kerry Mayall
DEV
Silver
Michael Tran
DSP
Bronze
Michael Archer
PMWP
Mens 5-9 Gup Middleweight
Gold
Colin Robb
WKU
Silver
Matt Belcher
DSP
Bronze
David O'Brien
ROT
Mens 4-9 Gup Lightweight
Gold
Hayden Anderson
DSP
Silver
Kunihiko Kaneko
IPC
Bronze
Seiichiro Yamada
IPC
Womens 5-8 Gup Heavyweight Plus
Gold
Jessica Lewis
NMA
Silver
Caroline Hare
TNGA
Bronze
Rebecca Stevens
MBK
Womens 5-8 Gup Middleweight
Gold
Danielle Drylie
NMA
Silver
Erica Germain
WKU
Bronze
Zharna Letfus
NAP
Womens 5-9 Gup Lightweight
Gold
Samantha Griffin
XTR
Silver
Jackie Bebbington
ARD
Junior Boys 4-9 Gup MiddleHeavyweight
Gold
John Robson
XTR
Silver
Tyrone Seeley
EPAK
Peewee/Junior Boys 4-8 Gup Middleweight
Gold
Andrew Sanders
TAR
Silver
Kyle Birchall
XTR
Bronze
David Westren
WKU
Peewee Boys 4-8 Gup Lightweight
Gold
Zane Kendall
WKU
Silver
Joshua Campbell
SATKD
Peewee Boys 6-9 Gup Middleweight
Gold
Taine Phillips
ARD
Silver
Jack Bebbington
ARD
Peewee/Junior Girls 5-8 Gup Lightweight
Gold
Phillipa Henry
ARD
Silver
Daniya Cowell-Smith
GURO
Bronze
Tiare Puna
SATKD
Peewees (M&F) 7-10 Gup Microweight
Gold
Joshua Jamieson
JSG
Silver
Aidan Campbell
SATKD
Bronze
Corrah Phillips
ARD
Best Overall Belts
| | | |
| --- | --- | --- |
| White/Yellow | Hayden Anderson | DSP |
| Green | Danielle Drylie | NMA |
| Blue | Lizzie Fa'afili | INFM |
| Red | Jody Griffin | XTR |
| Black | Chris Broughton | WKU |
---
Umpires
Are you a qualified umpire? Then we would love to have your assistance at the 2005 EPSON NZ OPEN. We also need time keepers and other helpers. Please fill out the form below to register as an Umpire or an Official. Thank you!
REGISTERED UMPIRERS
Full Time


Part Time

Master Paul McPhail
Mr Mahesh Bhana
Mr Grant Eccles
Mr Mark Banicevich
Mrs Chris Davidson
Mrs Shirley Pygott
Mr Thomas Pygott
Mr John Matsuoka
Miss Megan Matsuoka
Mr Rua Kaiau
Ms Cedar Brown
Miss Bernice Ng
Miss Julia Palmer
Mr Matthew Breen
Mr Michael Young

Mr James Rimmer
Mr Vince Pygott
Mr Kane Raukura
Mr Shaun Tolley
Mrs Amanda Tolley
Mr Dave Sawyer
Mr Gwyn Brown
Mr Richad Iotua
Mrs Natasha Iotua
Ms Desiree McNie
Mr Dave Butchers
Mr Bruce Harrison
Mrs Florinda Petterson
Mr Mark Hanna
Dr Cameron Snelling
Miss Iana Bikoulova
Miss Kristina Bikoulova
Mr Andrew Watson
Miss Any Reeder
Miss Siobhan Macdonald

Mr George Konia
Mr Gary Sawyer
Mr Brendan Doogan
Mr Luke Thompson
Mr Steve McQuillan
Officials / Time Keepers
Ms Kim Sawyer
Mr Sione Tupou

Miss Emma Pygott
Raymonde Hema
Mr Kavaki Taruia
Miss Xian Konia
RULES:
Competition is open to yellow belts and above in Sparring and Patterns. No age limit.
Uniform and Equipment - For sparring mouth guards are compulsory. (Helmets are also compulsory and supplied by ITFNZ if needed). Sparrers should wear red or blue boots & gloves according to their corner - otherwise black. (Boots & Gloves are also available to loan from ITFNZ.)
It is not neccessary to wear the name of your Country or organistion on the back of the dobok.
Divisions
The organisers reserve the right to create and merge divisions for sparring and patterns as required, depending in numbers of entries. Junior division will be created if there are sufficient numbers.
Patterns - will be divided into male / female divisions, and the ITF belt divisions. Juniors / Seniors will compete in the same division.
ITF rules apply with some amendments as seen appropriate by the organisers, such as those above (head gear).
---
ORGANISERS
Organiser: Master Paul McPhail
Tournament Director: Mr Shaun Tolley
Draw, Entries, Head Recorder: Sue Breen
Umpires: Mr Vince Pygott
Venue: Dragons Spirit Taekwon-Do
Mats: Mr John Matsuoka
Floor Managers: Nibun ITF
Chief Umpire: Mr Mark Banicevich
Tournament Arbiter: Mr Grant Eccles
Medals and Trophies: Sue Breen
Canteen: Xtreme Taekwon-Do
Accommodation: Quality Inn, 477 Great South Road, Papatoeote (walking distance)
Reservations: 0800 700 477 or 649 277 7320 allenby@silveroaks.co.nz
Rates: $106.90 (1 or 2 people in a room), or $135 (4 people). Includes GST.
Registration & Weigh-In: Natasha Iotua
First Aid: St Johns