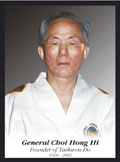 Meet the Founder
Meet the Founder >Part 8< is now on-line. Test your knowledge of the Founder with a 10 question quiz!
---
For their grading, white belts need to learn the name of the founder of Taekwon-Do,General Choi Hong Hi. Many of you probably wonder why.
Basically without General Choi, you wouldn't be reading this at all, because there would be no Taekwon-Do. He invented the martial art that we all do today, so knowing his name is pretty important really. Even better is knowing a bit about his life; in fact some of it is pretty exciting, other bits are quite strange.
*hint. In the following pages, if you hold your mouse over some of the drawings, you may see something happen.
Reproduced from the award winning (well okay...there were no awards but...) KICKS FOR KIDS, written by Mrs Shirley Pygott and published in each issue of Taekwon-Do Talk since 2004.