News Archives - 2009
New White Belt
Welcome to Antun Banicevich - son of Mark and Michelle, arrived 18th December at 3.40am! He weighed in at 3.17kg (7lbs), with fair hair and blue eyes. Everyone doing well.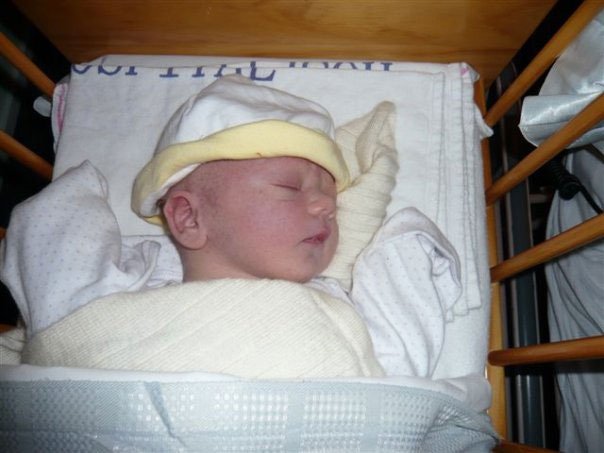 ---
TV3 feature our Team 09
TV3 filmed a story on our World Champs success - so as many of the team got together as possible. We will keep you informed as to when this will screen. Note our new branding on the banners - the first time we have seen our new logo rolled out.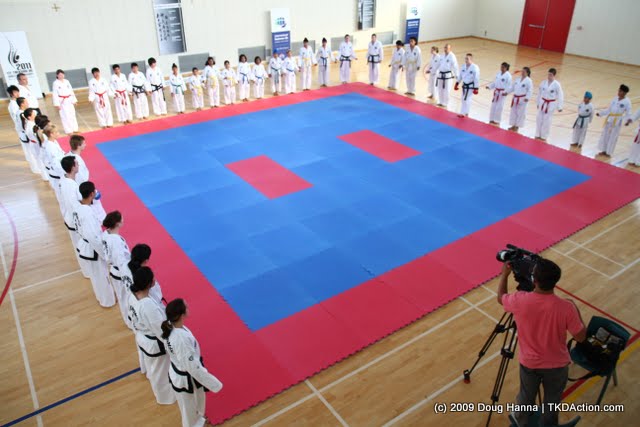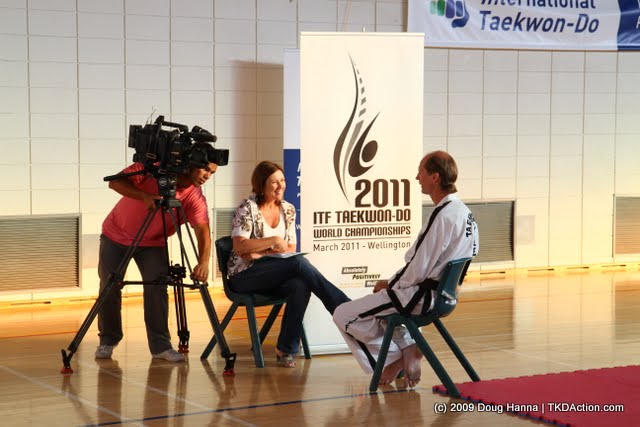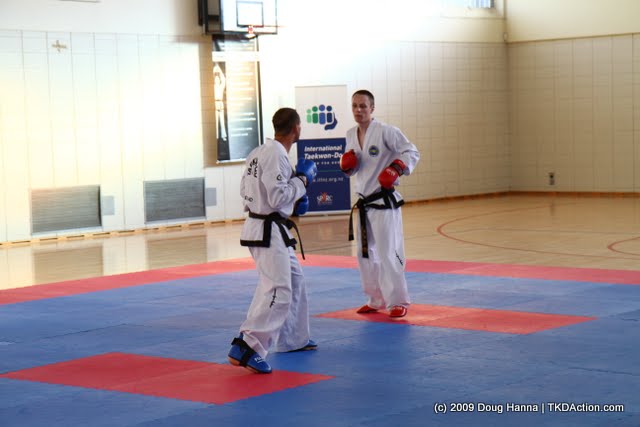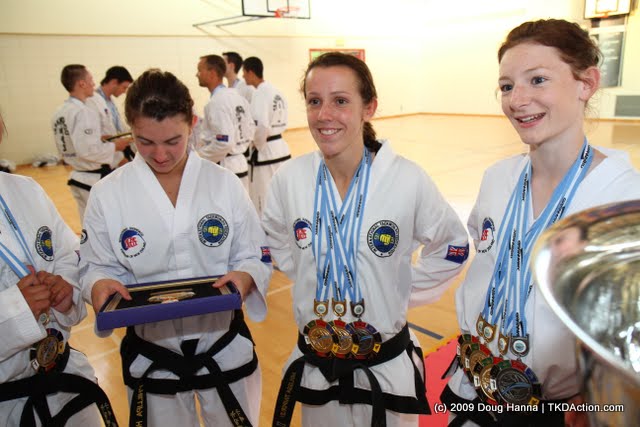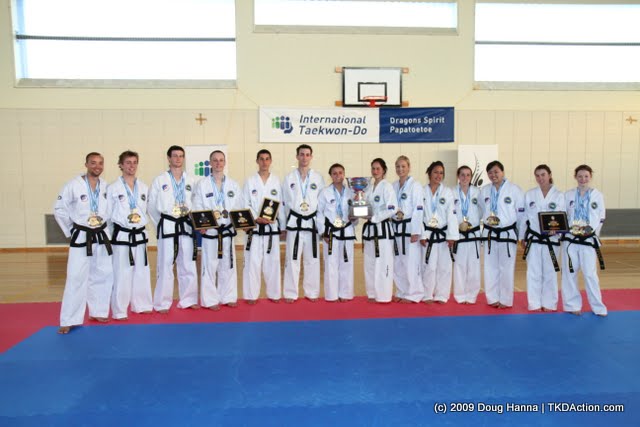 ---
Ian Walton received 25 Year Plaque
Wellington Instructor Mr Ian Walton was honoured in a special dinner on Saturday 14th November 2009. Over 50 turned up at a local dessert restaurant and Mr Walton's speech was all about how there were lots of other people who had done a lot more than him. Humble as always. The region got him weekend away at Wellington's best hotel. He was also awarded the coveted 25 Year Plaque.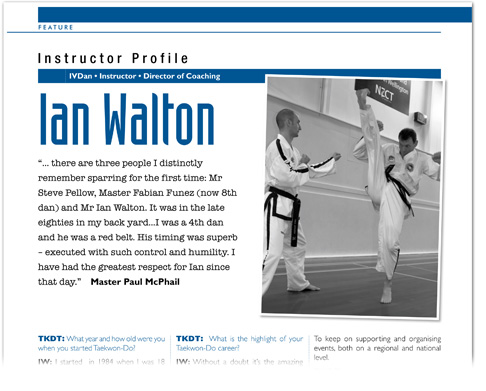 Mr Ian Walton - featured Instructor in the latest issue of Taekwon-Do Talk Magazine
---
Blues Award
Congratulations to the following members who received the New Zealand Universities Blues Awards for 2009: Carl Van Roon, Carolina Dillen, Eliza Buckland, Ben Gower and Estee Speirs. Carolina won the University of Auckland Sportswoman of the Year, and Most Meritorious Performance in Sport. (Former winners of the latter include Sarah Ulmer, Russell Coutts and Michael Jones, twice).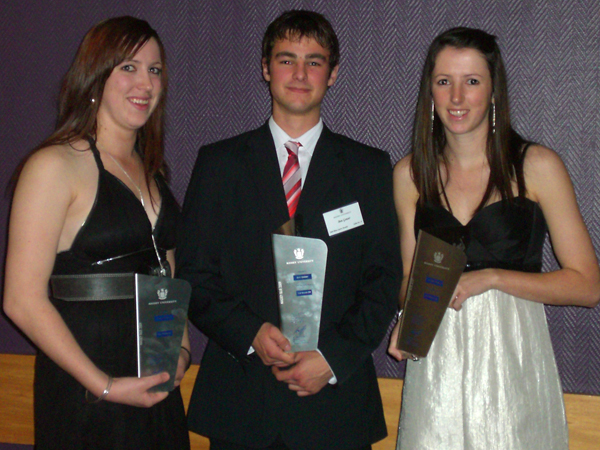 Eliza Buckland, Ben Gower and Estee Speirs receiving their awards in Palmerston North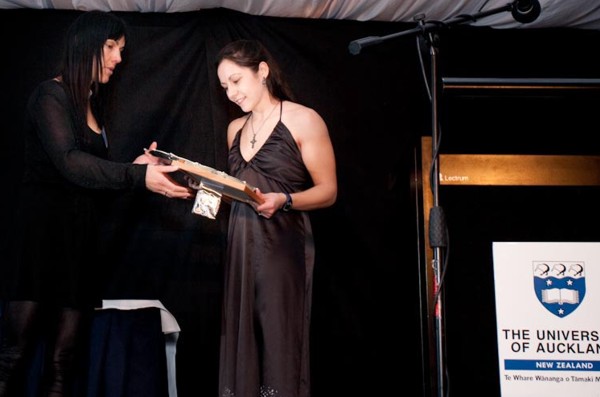 Carolina receiving most meritorious sports performance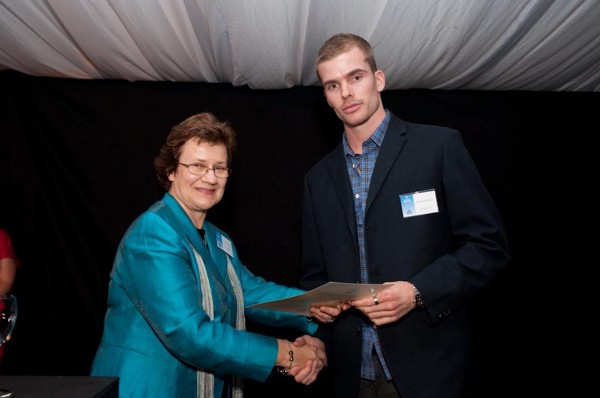 Carl van Roon receiving blues award
---
Congratulations Porirua
Porirua Club has won the best sports club award for Porirua City. From here they move onto the Regional award end of this month.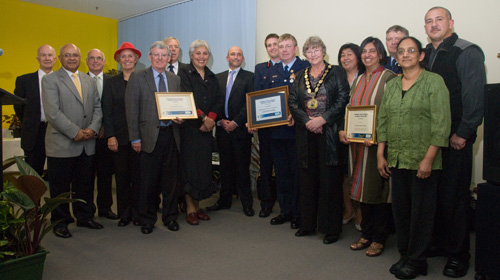 Porirua instructor Mr Peter Chapman pictured far right.
---
Khandallah 30th Reunion
The khandallah branch celebrated its 30th anniversary last weekend with a training conducted by several of the past instructors including Master Davidson, Master McPhail< Mr Rimmer and Mr George Nichols. They also had a dinner and slide show which brought back many fond memories. A full report will be in the upcoming issue of Taewon-Do Talk Magazine.


Photo 1: Peter Gudsell, Richard Lavin & James Rimmer at the training session
Photo 2: Dave Nendick sporting his favourite old dobok from the 80s
Photo 3: George Nichols (Master Davidson's first student) and Master Davidson talking old times
Photo 3: Old members and flatmates from the 80s: Greg Crayford, Viv Holmes, Sue Burton & Master McPhail
---
Carl Matthews visits Rarotonga
Kia Orana all,
ITFNZ Sponsorship & Funding Director Mr Carl Mathews and his wife arrived in Rarotonga on Sunday 16th August and were surprised to be greeted at the airport by the Chief Instructor Mr Maara John. Being greeted with flower garlands was also obviously surprising for them both!
Their first couple of days here on in beautiful Raro has been just so amazing. He joined the Panama Club for his ever first Taekwon-Do training in the Cook Islands and he really enjoyed the night spent with the green and blue stripe students. He also had the privilege of meeting the rest of the students, as well as the black belts, Ben Nga-Maaka and Keith Koekoe.
Mr Matthews will be accompanying Mr John to visit Te Aorangi Taekwon-Do Club and he is also looking forward to another day of training with the students and also to meet with Poko Poko. While spending his time training with the Panama Club on Wednesday night, his wife had the privilege of watching the world youth netball championship currently being held in the newly Telecom Sports Arena situated not far from the Nikao CICC Hall where we always hold our student grading.
This is just a brief update of Carl's visit to Rarotonga and the Taekwon-Do clubs here and more updates to come soon. Furthermore, Maara has just completed the pre-grading for the Te Aorangi students last Wednesday 12th August 09 and will be holding the pre-grading for the Panama Students this Thursday. We are currently preparing ourselves for the upcoming student grading next Saturday 29th August and we are all looking forward to meeting with you all again.
Kind Regards
Angela Charlie
Taekwon Do in NZ and PNTA's 40th reunion.
February 20/21 2010
Taekwon Do in New Zealand will turn 40 years of age in 2010 and the Palmerston North Taekwon Do Academy (recognised as the first TKD club in NZ) will be celebrating with a weekend of festivity. This will be a reunion for past and present students and their families to take part in this unique event.

Register your interest and receive information and regular updates on who will be attending and what events will take place during the course of the weekend.

February 20 2010 from midday we will start with an afternoon of family fun, Saturday night will have you dining and socialising with current and past members. We will finish our celebrations on Sunday morning with a barbeque breakfast and a large combined training in the square of PN with some quest Instructors.

Email Mr Dave Ballard and receive more information
---
Press Release
Press release Logan Campbell TNZ July 09
The International Taekwon-Do Foundation of New Zealand Inc (ITFNZ) and its members disassociate itself from recent reports relating to Logan Campbell and his involvement in the New Zealand 'Sex' industry. Mr Campbell is not a member of ITFNZ.
We understand he is associated with 'Taekwondo New Zealand' (TNZ).
ITFNZ has no links to this organisation.
The 'sport of Taekwondo' at the Olympics is controlled by the World Taekwon-Do Federation (WTF). It is totally separate from the version of Taekwon-Do as created by its founder, the late General Choi Hong Hi.
ITFNZ is affiliated to the International Taekwon-Do Federation (ITF) which was originally formed in 1966 under General Choi. The current ITF Taekwon-Do President is Grand Master Trân Triêu Quân from Canada who has in recent years been at the forefront of the development of ITF Taekwon-Do as a disciplined martial art, a sport, a way of life and a tool for social development. This is now an integral and vital part of the teaching syllabus for the ITF and its affiliated National Organisations including ITFNZ.
Yours truly,
Master Evan Davidson
President
---
NZ Team competing in Orlando
---
Luke Thompson Seminar
A few photos from the Wellington Power Breaking seminar by Mr Luke Thompson on 6th June.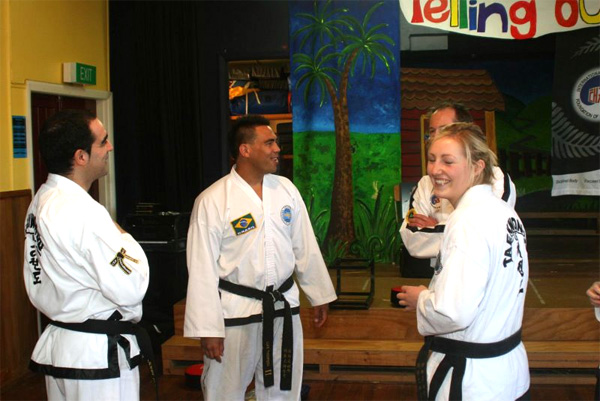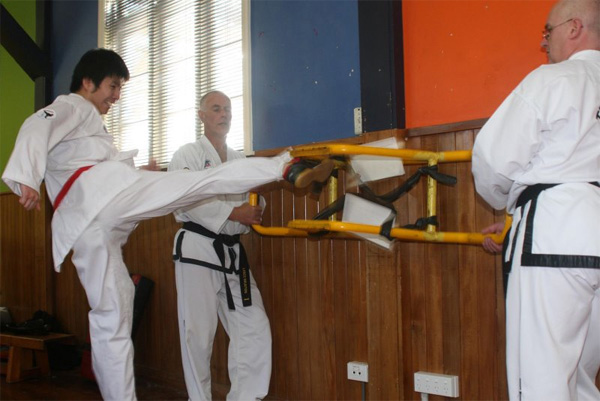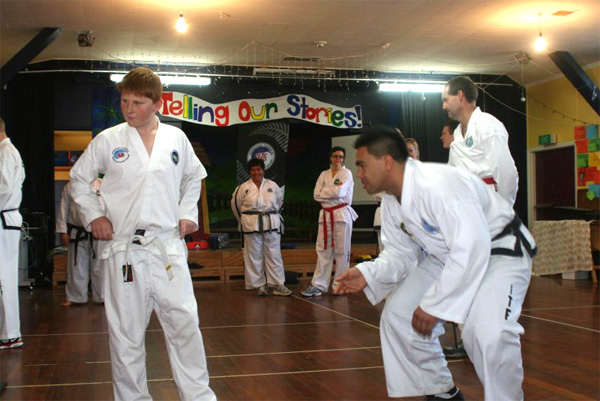 ---
Prime Minister Awards
Tuesday 19th May was the official presentation night for the Academy of Sport Prime Minister's Scholarship Awards. Taekwon-do recipients for 2009 were Carl van Roon, Carolina Dillen, Mark Trotter (absent - training in Argentina), and Kane Baigent (absent).
Carl and Carolina organised a demonstration which the audience, including the Prime Minister John Key, responded with awe. Mr Mark Banicevich was MC for the demonstration with Erica Germain, Jeremy Hanna and Chris Broughton participating also.
See all the photos by Doug Hanna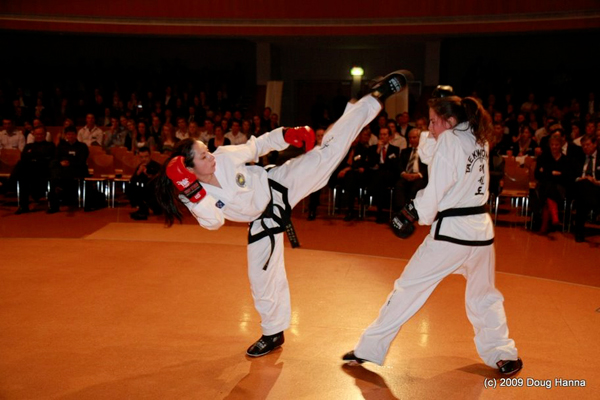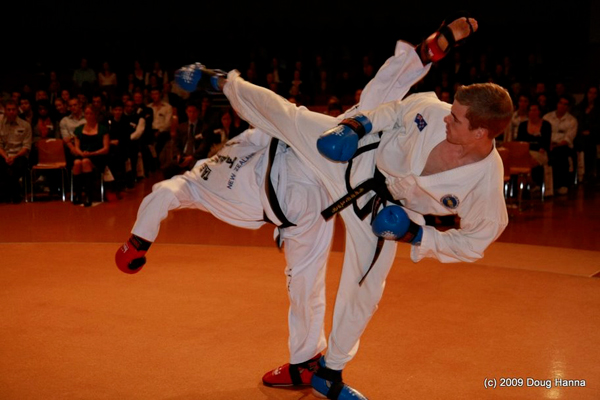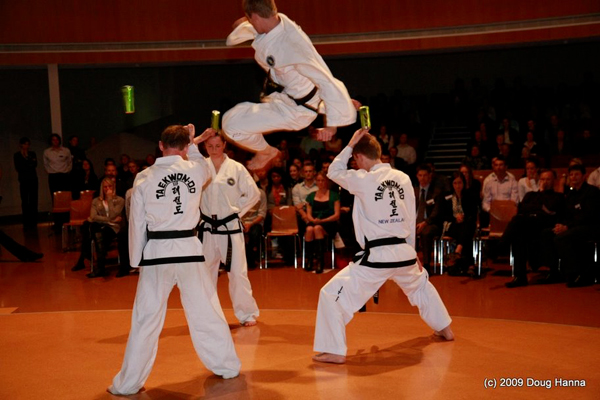 ---
Sports Award
United Taekwon-Do member Kane Baigent has won an award as Emerging Sportsperson for Upper Hutt. It is fantastic to see some of our students getting recognised and rewarded for their dedication to Taekwon-Do. Well done Kane.

Kane was also a recipient of the 2009 Prime Ministers Scholarship Award along with Carolina Dillen, Carl van Roon and Mark Trotter. They will be presented with their certificates by the Prime Minister at a special awards ceremony on Tuesday 19th May 2009. Carl and Carolina will be giving a brief Taekwon-Do demonstration at the awards.

Carl
Van Roon
Carolina
Dillen
Mark
Trotter
Kane
Baigent
---
Five new Grand Masters
The ITF has five new Grand Masters - recently promoted to 9th dan.
Grand Master
Tom MacCallum

Grand Master
Pablo Trajtenberg

Grand Master
Hector Marano

Grand Master
Javier Dacak

Grand Master
Guillermo Ramish
We would like to congratulate all the new Grand Masters on their dedication to the ITF.
---
Message from Master Burkhart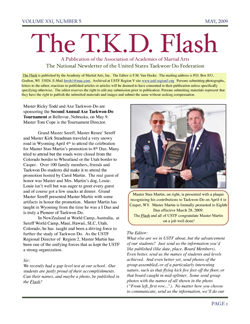 Hi Everyone,
In case you do not receive the monthly edition of The Flash which is our USTF publication, I wanted to forward and share a special memory for those of us who were there way back in 1985. I was fortunate to be promoted by Grand Master Sereff just recently, but had no idea I would receive as part of my promotion the beautiful trophy the U.S. team was presented as tournament champions in Wellington, New Zealand.
Our tradition has always been to give our awards and trophies to our instructor because without them, we would not be receiving our award and usually the instructor gives it back but sometimes will keep it. Little did I know at the time I would receive it back from my Instructor 24 years later and because I did not earn this myself I wanted to recognize the team members and staff who were instrumental in achieving this. But more importantly to share great memories with long time and great friends we have met and maintained since that wonderful trip to New Zealand.
The members of that Pioneer group were as follows:
Instructor:
Grand Master Sereff (Still actively teaching)
Coaches:
Dr. Frank Elliott & Ann (Still teaching today in Denver area)
Mr. Doug Hinman (Deceased)
Team:
Ms. Jennifer Seany (Whereabouts unknown)
Mrs. Teresa Fox (Tobin) (Married, full time mom, chiropractor and living in California)
Randy Acevedo(Retired from TKD, lives in Denver area, whereabouts unknown)
Fabulous Fabian Nunez (Married, TKD Master today, still teaching and training in Texas)
Doug Hollis (Married, accountant, lives in Denver area, no longer training)
Dale Burkhart & Robin (Married, TKD Master today, still teaching and training)
Ambassador:
Mr. Wayne Schofield (Deceased and sorely missed today)
The greatest part of this is to let our friends down under know where this trophy ended up and it's not lost or stuck somewhere collecting dust. Please forward this to anyone you know who would enjoy this great memory and was involved way back when. I also need to convey that out of all the International trips and tournaments I was able to participate in, this trip is still the most memorable one, maybe because it was the first, but more importantly because of the life long friendships that were forged over the last quarter of a century. Thank you for your friendship and great memories, and may God Bless you and your families in all you do. Please keep in touch.
Sincerely,
Dale L. Burkhart
UTF-8-9
[Congratlations on your promotion Master Burkhart -from all of ITFNZ.]
---
ITFNZ Coach having success in Germany
Ex ITFNZ Instructor and NZ Coach Mr Andrew Niven is having great success as one of the coaches of the Germany national team. At the 2009 Euros just held in Spain, his junior team beat the Polish for the second year in a row, but this time doubled their gold medal take! They also got best overall Junior and Senior male, best overall junior female team (2 Gold, 2 Silver), best Country Juniors and 2nd Best country overall... Juniors were 10x Gold, 9x Silver, 4x Bronze.
Congratulations to Mr Niven.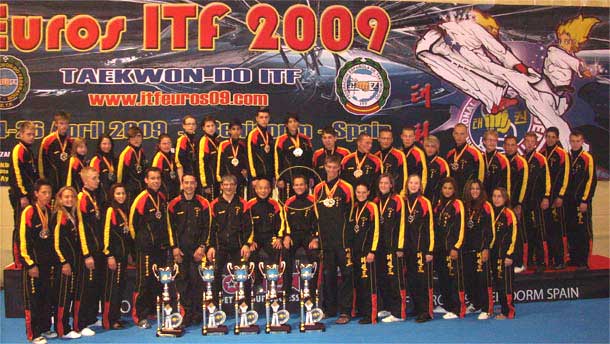 ---
Seminars in Australia
Master McPhail continued his seminar tour by running a series of classes in Tasmania on the 4th and 5th of April. Senior Instructor Mr Steve Weston has a full-time do-jang which made for a great venue for the various workshops.
The seminar structure was slightly different in Tasmania, with classes split into grade groups, and finishing with an open session with other martial artists invited. It was great to have members from other organisations training in the seminar including other TKD groups, plus members traveling from as far a Melbourne for the seminar.
Master McPhail would like to thank Mr Weston for the invitation and kind hospitality shown to him and his family.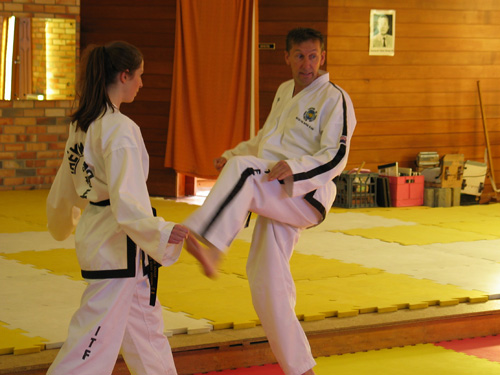 Kicking workshop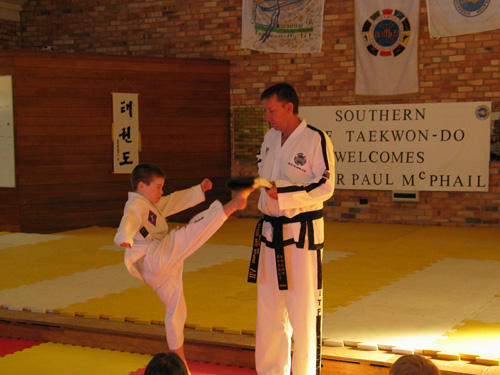 Saturday morning kids class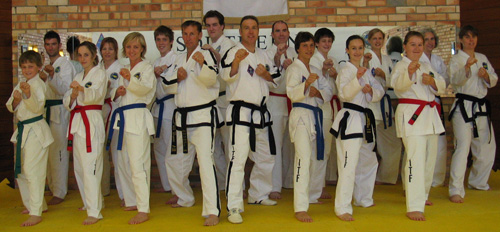 One of the groups tat took part in the seminar.
---------------------------------------------
Master McPhail is currently in Australia, having been invited by the Allied National Taekwon-Do Association Australia (Perth) and Southern ITF Taekwon-Do (Tasmania) to conduct seminars in both regions. The seminars got off to a great start in the weekend with over 12 hours of training and discussions in Perth, including a specialist children's class (with instructors observing), a working lunch for instructors, and a mini instructors course. There were also sessions for all grades on self defence, kicking, patterns and technical theory.
Master McPhail would like to thank Mr Peter Barbour, Mrs Adeline Cheong and Mr Paul Raymond for their wonderful hospitality while in Perth. Next stop - Hobart!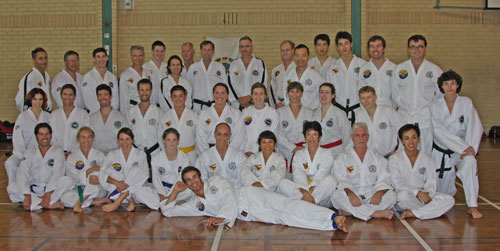 Seminar attendees after one of the sessions.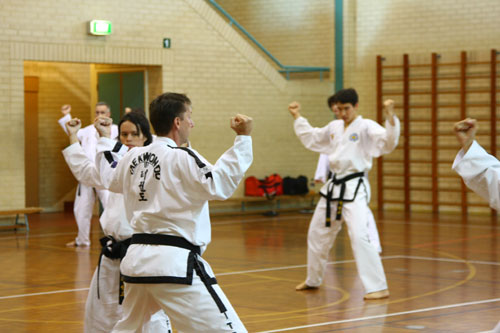 Master McPhail instructing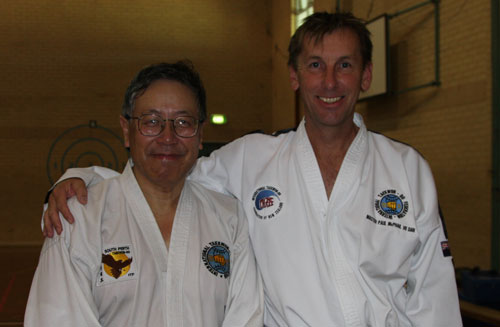 Master McPhail with old friend Dr Steven Young - ex ITFNZ member now living in Perth.

Mr Peter Barbour - senior instructor in Perth.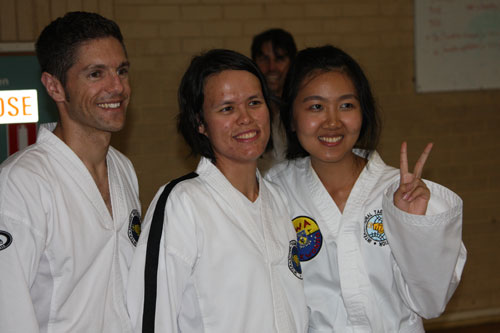 Mr Paul Raymond and Mrs Adeline Cheong with one of their students.
---
Research subject volunteers for ITFNZ
Brief

Carded Taekwon-Do athlete and Prime Minister's Scholarship recipient Carl van Roon is currently undertaking a Masters Degree in Sport and Exercise at the University of Auckland. Carl requires volunteer Taekwon-Do practitioners to act as research participants for a study looking into the effect of mental skills on athletic performance among Taekwon-Do practitioners. Carl will be assessing the impact forces and accuracy of volunteer's kicks using cutting-edge technology.

The name of the study is: "Determining the effectiveness of self-talk cue-words on the performance of a set Taekwon-Do kicking task among non-elite and elite athletes."
Volunteer Criteria
Two groups of volunteers of either gender are eligible to take part in the study:
ITFNZ blackbelts (1st degree and above) between the ages of thirteen and forty who have competed at one or more Junior or Senior Taekwon-Do World Championships.
ITFNZ 4th gup – 1st gup colour-belts (i.e. Blue-belts, red-stripes, red-belt and black-stripes) between the ages of thirteen and forty.
If you fit the criteria for either group and have an interest in improving your Taekwon-Do technique, we invite you to express your interest to Carl who will provide more information to you regarding the study. To take part in this study Carl will require one and a half hours of your time (i.e. a single, one and a half hour testing session).
Adequate measures have been taken to ensure that the privacy and well-being of all volunteers is the first priority of this study. Some of the "discomforts or risks of this study" include the possibility of experiencing soreness as a result of repeated impacts with our standard martial arts target and muscle fatigue / soreness as a result of the exercise carried out during the testing.
More information?
If you would like more information on the study please contact:
Carl van Roon
Email: carlvanroon
APPROVED BY THE UNIVERSITY OF AUCKLAND HUMAN PARTICIPANTS ETHICS COMMITTEE for 3 years from 20 June 2008 to 20 June 2011 Reference Number 2008/206
---
Carded Athletes 09
Congratulations again go to our ITFNZ athletes who are again SPARC Carded this year and have recived grants:
Carl
Van Roon
Carolina
Dillen
Mark
Trotter
Luke
Thompson
Richard
Lavin
Kane
Baigent
---