National News Archives
---
Congratulations to Grand Master Tran

ITFNZ congratulations go to President of the ITF Master Tran for becoming a Grand Master - 9th dan recently.
Recently, after meeting the requirements according to the ITF rules, Master Tran was promoted to the highest rank level in ITF Taekwon-Do, 9th degree, and given the title of Grandmaster. This is obviously a very important moment in his Taekwon-Do career.
In a statement on the ITF website, Grand Master Tran expressed his sincere appreciation:
to Grandmaster Van Binh, Chair of the ITF Masters Promotion Committee, for his invaluable and constant support over the years,
to the jury of the ITF Examination Board that recognized my efforts to continue to learn and perfect ITF techniques, and
to the members of the ITF Board of Directors for their trust in my leadership of the organization.
---
ITFNZ Board Meeting
The ITFNZ Board had its first meeting for 2009 on Sunday 1st February. Board Chairman Mr Dennis Burns started the meeting by reminding his team of the items they had to get through the meeting, and the importance of the board to step up and show the membership strong leadership. A report of the meeting and the exciting things planned will follow shortly.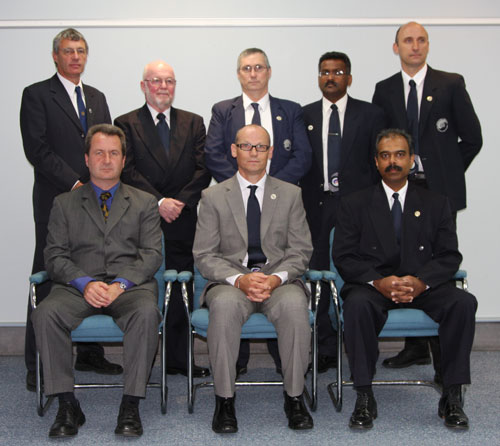 ITFNZ Board members with ITFNZ Secretary:
Back row: Master Davidson, Mr Graham, Mr Pygott, Mr Reddy, Mr Tolley (Scretary)
Front row: Mr Harkin, Mr Burns (Chairman), Master Bhana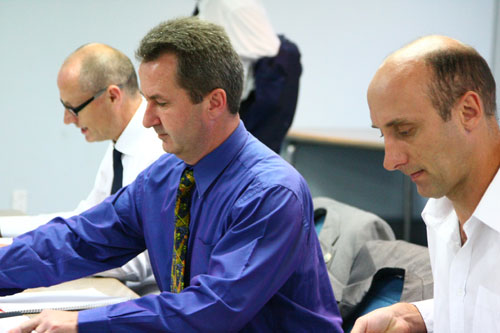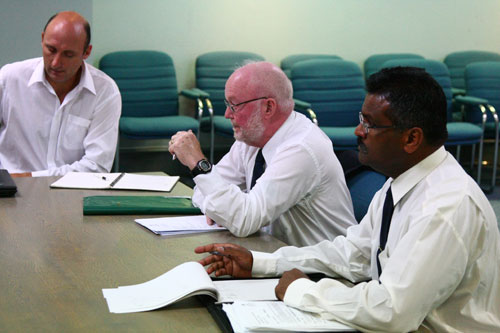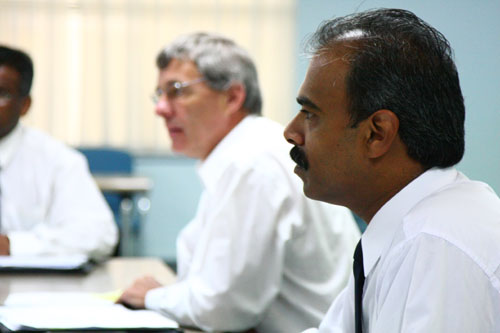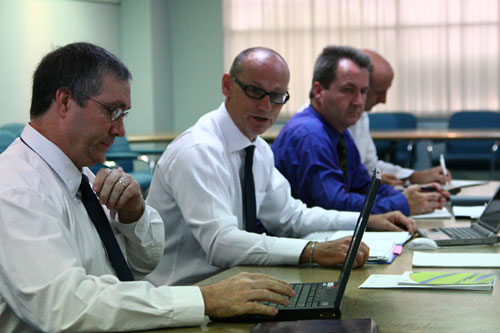 ---
Regional Directors Meet
ITFNZ's regional Directors meet with the President over the weekend. This was the first meeting of the Regional Directors Committee under the new ITFNZ Management structure. While the new ITFNZ Board determine the direction of our organisation, it is our management that make it happen. The Regional Directors are the critical part of that management.
The meeting went very well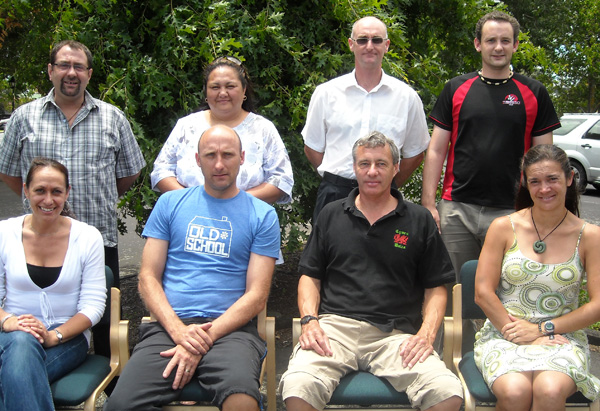 Pictured Front L-R:
Central Districts Regional Director:Mrs Tanya Katene
Secretary - Mr Shaun Tolley
President: Master Evan Davidson
Auckland North Regional Director: Mrs Sonya Robinson
Back Row L-R:
Wellington Regional Director: Mr Nick Lourantos
Counties Manukau Regional Director: Mrs Natasha Iotua
Midlands Regional Director: Mr Kevin Cale
South Island Regional Director (and CEO): Mr Kris Herbison

---
Mark Trotter and Carolina Dillen are engaged.
Mark spent weeks preparing and planning for this and popped the question in style at the Coliseum in Rome. He was greatly relieved when she said "Yes"!

Naturally they couldn't't wipe the grins off their faces for days – they're just oozing "happy".

We promised to keep "mum" until they had told their families.

Congratulations form all of ITFNZ

---
ITFNZ Gets Real
2008 has gotten off to a "real" good start for many, with ITFNZ hosting several Get Real self defence courses run by Phil and Athena Thompson from Protect. Many describe these courses as the "missing link" in their martial arts training... learning how to deal with the realities of real life violence.
The seminars are fully endorsed by the ITFNZ Technical Committee and all regions are encouraged to host a seminar for their members. Here are some photos of recent seminars.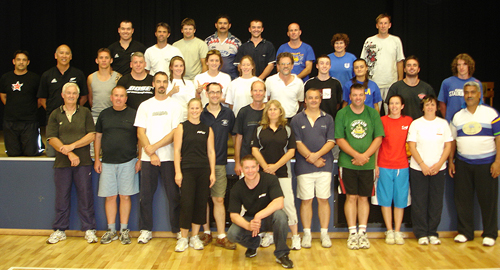 Counties Manukau Seminar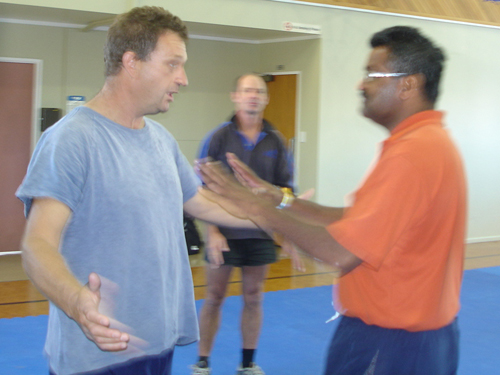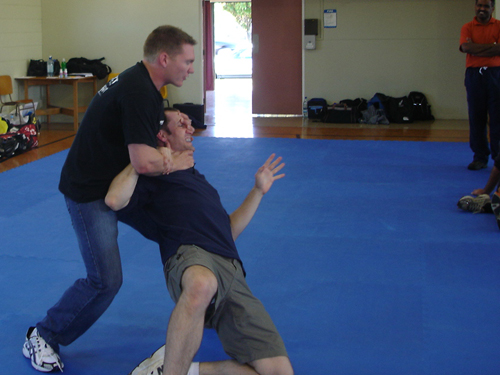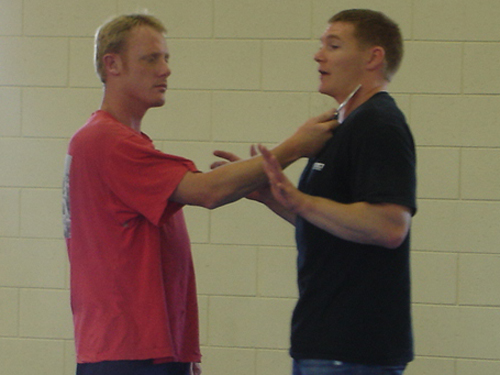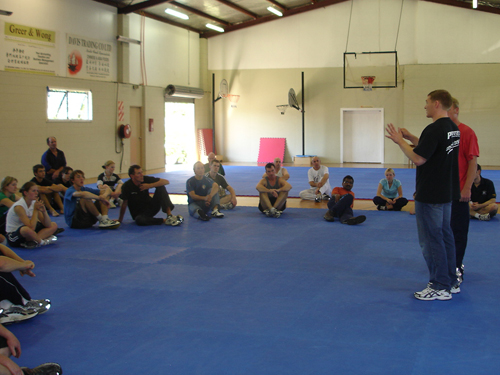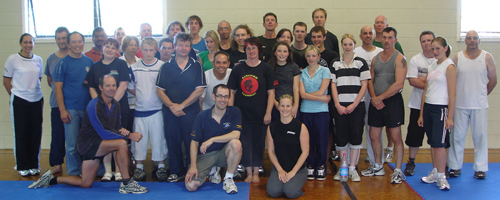 CD Seminar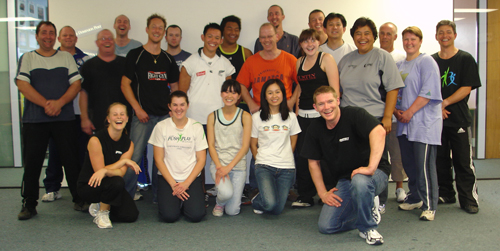 Wellington Seminar
---
Mr Banicevich in Norway
Our very own Mr Mark Banicevich was recently appointed to the ITF Business Development Committee and is currently in meetings in Norway. Here is a quick email Master McPhail received on his trip so far...
After Mr van Schaik arrived on Monday, we went straight to Master Andresen's gym for black belt training.
You've never seen anything like this! This is only the 13-19 year old red belts - there are also classes for younger reds, and older reds (although the borders are a bit blurred).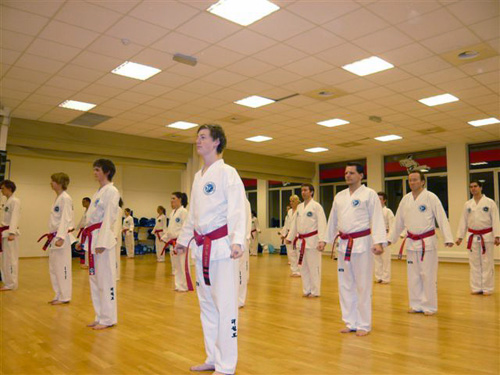 Tuesday and today we worked ourselves to the bone. About 14 hours yesterday - it was fantastic! I hope the ITF is ready for us! We are off for 90 minutes training, then we return here for a bit more work, and finally dinner at Master Andresen's tonight with some Taekwon-Do friends. Mr van Schaik returns to the Netherlands tomorrow; I depart very early the following morning. Everyone is very impressed with the Taekwon-Do Television DVDs, and Master Andresen was very impressed with the self defence DVD (he asked me to pass his greetings to Mr Pellow).
Other photos are the exterior of the gym; Master Andresen, Mr van Schaik and I take a (very short) break; and the office team, Roger and Gunnar. Gotta go - they are standing over me. :}
Wait 'til you see the stuff I am bringing home! Master Andresen has been wonderful, and very willing to share his hard work. Always Mark.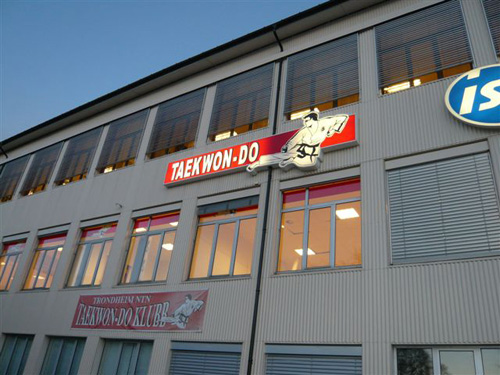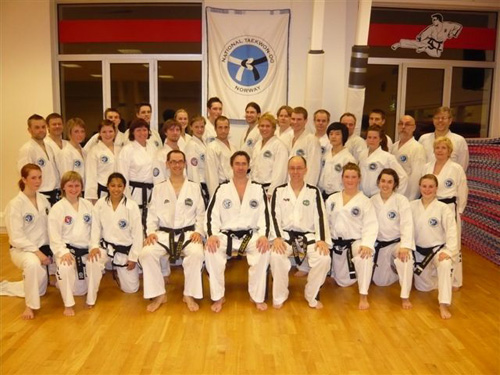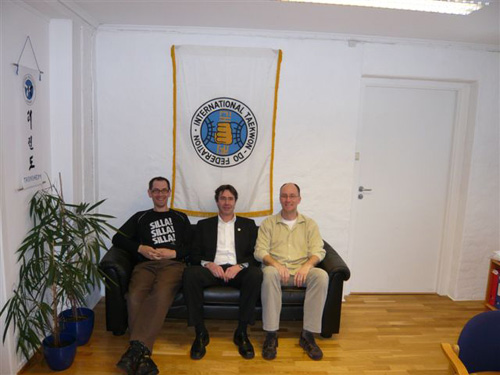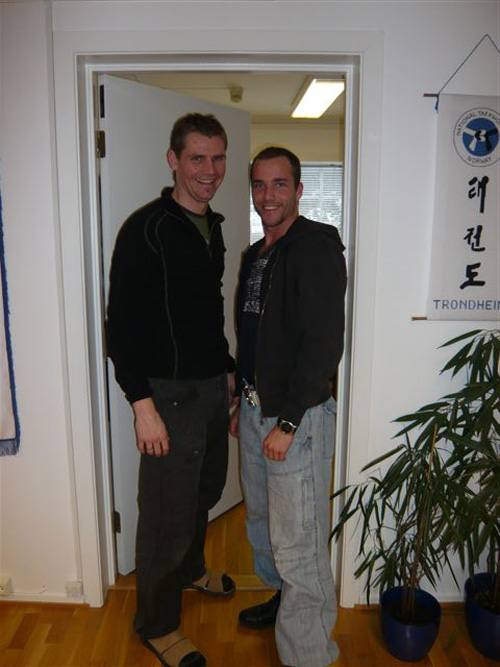 ----------------------------------------------------------------------------
"I arrived safely in Norway yesterday afternoon - after a few hiccups on the way. (I was delayed overnight in Amsterdam, because they had too much weight on the plane. "Fat boys off! You can fly tomorrow." I ended up spending the night and a few beers with a bunch of brain surgeons. It was surreal! They downplayed their jobs a lot, which was interesting. I kept saying things like, "I'm no brain surgeon, but I think they could save a lot of our time if they did this..."
Anyway, Norway is amazing. I have been lucky with the weather - clear skies and a fresh dusting of snow overnight. Master and Mrs Andresen are lovely. They are really looking after me. You know how much you enjoyed learning about NTN? Wait until I get home! We could learn so much from these guys. Master Andresen has 1000 students in his school in Trondheim! I look forward to visiting his school and training with his black belt class tonight!
I attach photos of Master and Mrs Andresen, and of the building that houses the NTN office."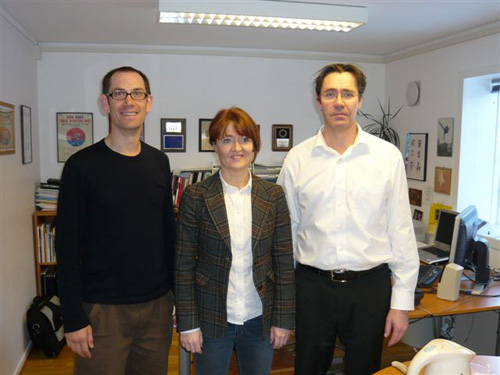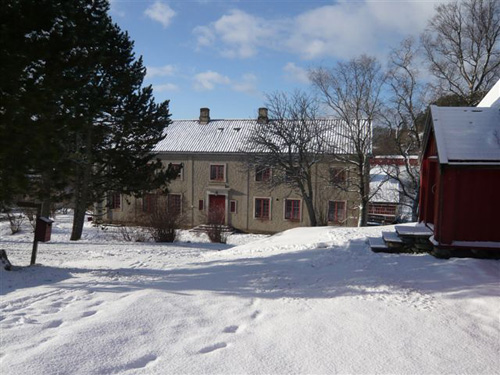 ---
Midlands Regional Camp Photos
---
Dynamic Knife Class
Mr Phil Thompson from Protect Self Defence taught a "Dynamic Knife Defence" class at the Auckland Black Belt Academy on Tuesday 29th January. Phil and his wife Athena are running more courses for ITFNZ members this year.
---
SPARC Grants
We are thrilled to announce that seven of our top athletes were awarded financial assistance from SPARC this month. They were awarded the Performance Enhancement Grant of $15,000 each to assist with their training over the next 12 months.

Mr Carl Van Roon and Miss Carolina Dillen were also awarded over $8000 in addition for the "Prime Ministers Athletes Scholarship". This grant is for University students who are also recipients of the Performance Enhancement Grant.

The athletes were nominated by ITFNZ under a strict criteria that included having to medal in a Senior World Championships (which they did in Canada). They also had to show the ability to be able to medal in a panicle event within the next 12 months (World Cup in Italy 2008).

Thank you to ITFNZ Executive member Mr Kris Herbison for making this happen, and the support of the Coaching & Selections Director Mr Greg Skinner. Coaches of the 2007 Team also had input into the nominations.

Carl
Van Roon
Carolina
Dillen
Mark
Trotter
Luke
Thompson
Richard
Lavin
Kane
Baigent
Daniel
Thompson
---
Master Davidson Visits Cook Islands
Master Davidson, accompanied by Mr Greg Skinner visited the Cook Islands on 25th and 26th August 2007. The newly formed organisation under Master Tran's ITF invited Master Davidson as a special guest to conduct a seminar and grading.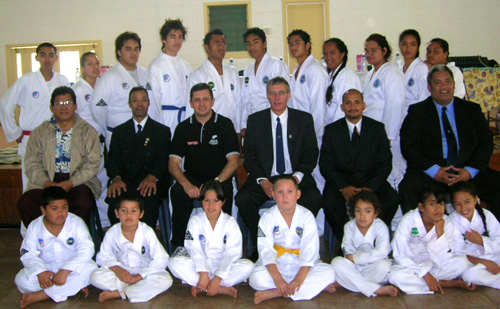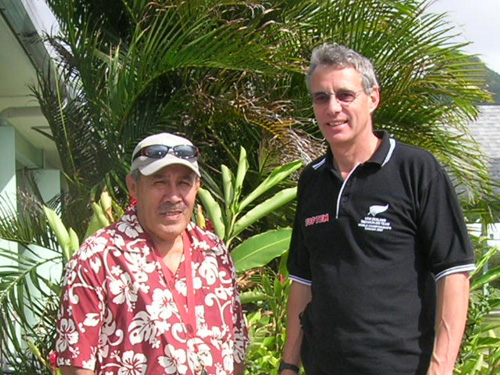 Master Davidson catching up with long time friend and fellow Instructor Mr Padre Tairea.
---
Kiwis in Slovenia
Report and photos - 2006, 2007 & 2008
---
Farewell to Mr David Lange
It is with sadness that we farewell our Patron, Mr David Lange, who passed away on Saturday 13 August.
Mr Lange became the Patron of ITFNZ in 1981. At that time he was a new MP and known to the late Mr Harry Hemana, and it was Mr Hemana who approached him to take on the position.
There were many instances when Mr Lange was of great support for our organisation, most notably when the Sharp Tournament in 1985 was almost cancelled due to interference by another organisation. Mr Lange stepped in and the tournament proceeded with full television coverage.
Mr Lange the Prime Minister, was awarded an honorary 4th degree black belt on the 7th of June 1985. He always had a keen interest in the what the orgainsation was doing and in particular kept an eye on the ITFNZ website during out World Champs Competitions.
Mr Lange is the only Patron ITFNZ has had, and always appreciated his kind words of encouragement and support. Our thoughts are with his family at this time.

Master Paul McPhail (then 3rd dan) congratulating Mr Lange on his Honorary 4th dan black belt, June 1985. Also pictured is Mr Rocky Rounthwaite and Master Evan Davidson (nearest the camera).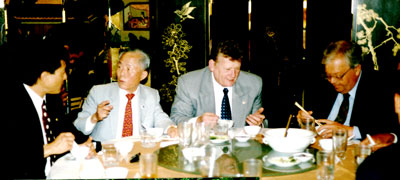 Mr Lange joined us for dinner following the ITF course January 1998. Here he is pictured with Master Tom MacCallum (Secretary General of the ITF), General Choi and his son Master Choi Jung Hwa.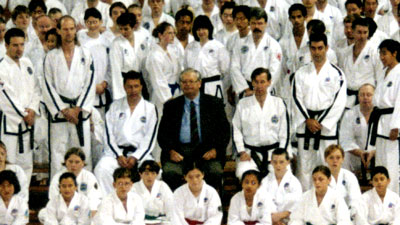 Mr Lange pictured with the troops at the 1998 National Tournament held in Auckland. Mr Lange spent most of the day watching the tournament and talking with students.
---
Rounthwaites on the Move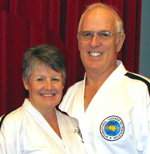 Hi all

Never a dull moment in our lives. On January 6th Trish and I fly to Thailand to take up a 2 1/2 year contract as Boarding Parents at an American Pacific International School in Chiang Mai situated in the northern regions of Thailand. Three weeks ago we were planning the roof of our intended house with Jon Sawden (world renown Kiwi roofing expert), only to receive the next day, an invitation to consider Thailand.

The job requires both of us. Trish may be in a position to take on relief teaching if required but is looking forward to the new challenge as the school is 5 years old and still developing. At this time, subject to work permits that take 3 months to approve once in country, we look after some 40-50 live in boarders along with 3 other boarding staff. We work a 6 day week but, oh how sad, HAVE to take 11 weeks paid holiday a year. They even have a Taekwon-Do room at the school with an outside instructor coming in twice a week. All staff are required to be involved in extra curricular activities.
At least one of us will return to the Sunshine Coast 3 times a year to service our TKD classes for testings and seminars. We have very fine instructors, all with international experience, to take over classes with a back up system in place. ITF TKD is not listed in Thailand - yet!!

Rocky Rounthwaite
---
Master McPhail changes history
During a "Master moment", Master McPhail discovered that we are now in the 21st century. The history section it referes to Hwa Rang in the "7th century... 1300 years ago".
Although the recorded dates are probably somewhat approximate, it does make more sense that from the 7th to the 21st centuries is 1400 years. The next edition of the techniques handbook will contain this alteration.
Students Red belt and below should be encouraged to neatly alter their existing handbooks. Black Belts and above may retain their existing handbooks as a reminder of "the good old days". Some latitude will be granted in marking theory for the next couple of gradings. (Argument with the examiner on the topic of date calculations will either gain points for initiative or instant demotion depending on how the day has been going.)
---
Master Davidson Recognised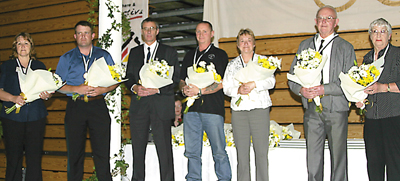 Master Davidson received an award for Service to Sport at this years Waipa Sports Awards, having been nominated for Service to Sport, Administrator of the Year and Sports Person of the Year.
Competition was very high to say the least especially in the Sports Person of the Year where he stood nominated with well known sports people like Leana du Plooy, Sonia Waddell, Andrew Walker, Jono Gibbes and Sarah Ulmer. He received a commemorative medal inscribed with his name.
---
Mr Patterson Recognised
| | |
| --- | --- |
| | Congratulations to Mr Graham Patterson who has been nominated for "Wellingtonian of the Year" in the Sports category. The awards are to be held on 24 November. |
---
ITFNZ Strategy Day
The first ITFNZ Strategy Day was held in Hamilton on the 12th September 2004. Nine senior members of and contributors to our organisation congregated to discuss a framework for our strategic goals, including five members of the Executive Committee.

Once a report is compiled, it will be presented to the Executive Committee for approval. If we get approval, we will be passing our results on to you.

We believe we have something to inspire us all. To drive us to a bigger, stronger, better future. We hope our results will inspire you to involve yourself in its achievement.

The outcome of the meeting has been presented to the Executive Committee and at Stripes 1 to 1 in November, and will be made to Instructors shortly.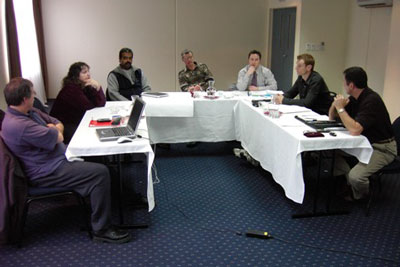 ---
NZ first Masters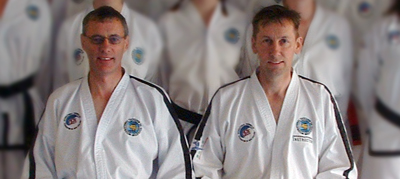 New Zealand finally now have its own Masters. In the ITF, the rank of 7th dan Master takes a minimum of 25 years active training. Messers Evan Davidson and Paul McPhail have over 60 years of TKD between them, and were promoted at the International Instructors Course on the 8th of August 2004. Also promoted were Ms Jeanette Joe t 5th dan, and Lena Walton, Kane Raukura and Kevin Joe to 4th dan.
---
Studio 2
Mr Kane Raukura and some members of the Dragons Spirit and Paul M TKD branches appeared on TV2's Studio 2 recently. The whole afternoon programme was a feature on Taekwon-Do. The Website, 0800 number and the Junior Team in Italy were all promoted.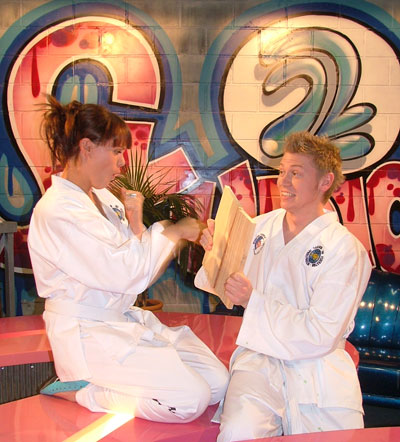 TV 2 Presenters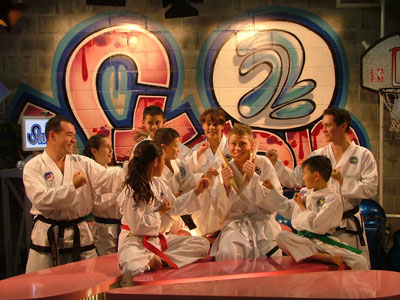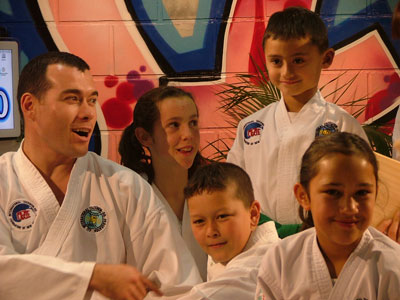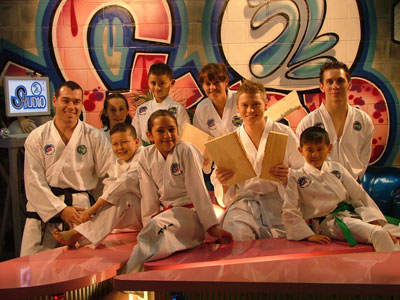 ---
Dale Copeland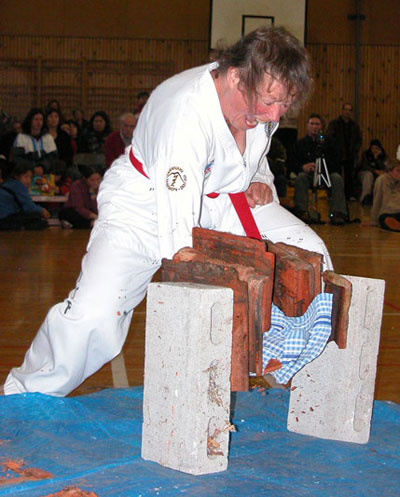 Here is a photo of Dale Copeland (Taranaki Taekwon-Do), 60 years of age, demolishing her tile break at the Black belt grading in Palmerston North.
---
Breaking Seminar
Mr Rocky Rounthwaite (6th dan, Professional Instructor, Australia) conducted two breaking seminars in Auckland in May 2004. Mr Rounthwaite is a Kiwi - original member of the ITFNZ Executive Committee and Pakuranga Instructor.
PHOTOS FROM THE FIRST SEMINAR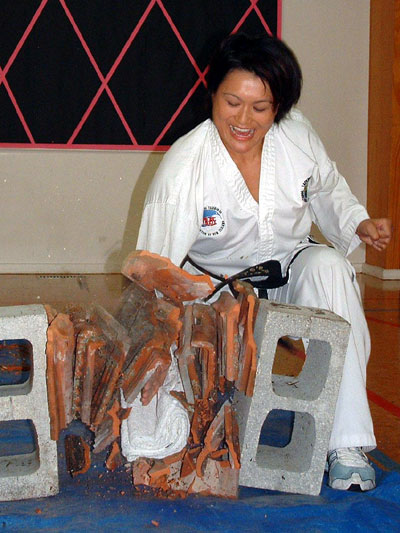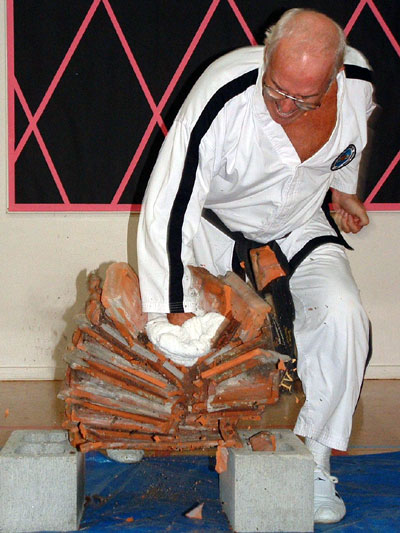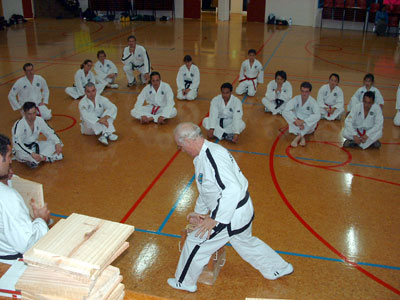 [click to enlarge]
---
Mr Van de Mortel Seminars
Mr Willy Van de Mortel (6th dan) conducted seminars for our Junior Team to Italy over a three day period, plus seminars for senior exponents as well. The seminars have been described as "AMAZING" and everyone got a great deal out of them. Thanks to Mr Van de Mortel for his time and expertise, and to Mr Greg Skinner for coming up with the idea and organising the event.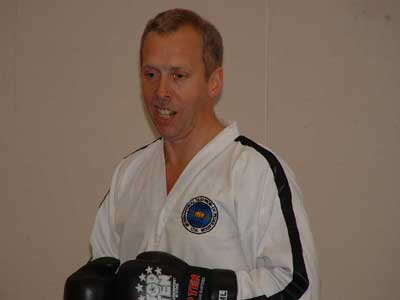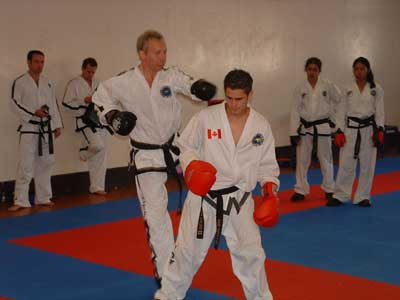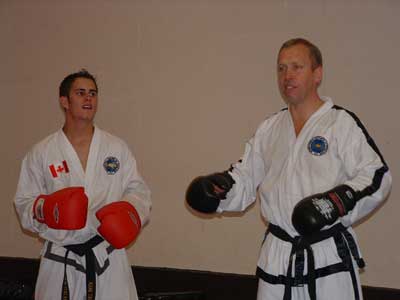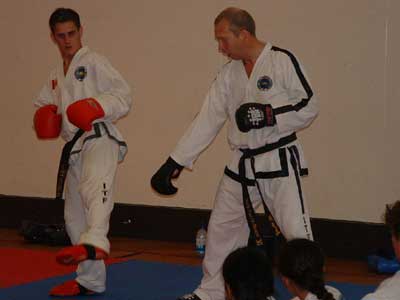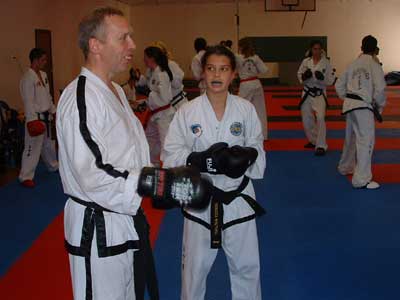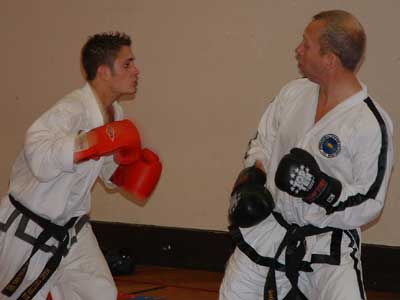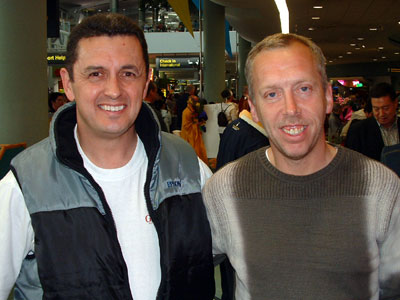 Mr Greg Skinner [Manager of the NZ Junior Team] and Willy Van de Mortel
-------------------------------------------------------------------------------
Mr Van de Mortel attended the 1992 World Camp in Palmerston North and has ever since been in constant contact by way of email and at World Championships.
Mr van de Mortel went on to become one of the World's top coaches, most notably coaching 3 times ITF World Champion TOMASZ BARADA. He has also coached the Italian National Team, the Slovenian National Team and other individuals such as Drago Zelkovic, Bianca Tapilatu and Julia Cross.
---
Kapiti Road Trip meets Billy Connelly

The Kapiti Coast "Coast to Coast" team crossed paths with Mr Billy Connelly in Stratford, part way through their North Island club tour. They chatted and even showed Billy a pattern or two.
---
Lena Walton in North & South





World Champs Bronze Medallist and Wellington Instructor Lena Walton featured in the December issue of New Zealand's NORTH & SOUTH magazine. Read the article.
---
SPARC AWARD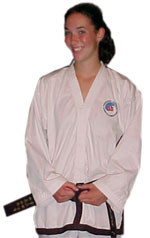 Miss Nikki Galpin, Palmerston North Taekwon Do Academy, has just received a Sport and Recreation New Zealand (SPARC) Future Champions Award for their achievements in 2003. Nikki is one of thirty seven recipients of the award out of 490 nominations from around the country.
ITFNZ has only recently been given recognition status by SPARC following many years of negotiation by ITFNZ so it is great to prove that already our athletes are at this level.
The SPARC judging panel included former transatlantic rower Jude Ellis, Wgtn Saints basketball coach Mike McHugh, retired Silver Fern Debbie Mathoe and programme manager of the awards Dale Eager. All were amazed at the number of junior sports people that are already achieving on the junior world stage.
Nikki's success comes on the back of some hard work over the past three years, constant training, gym work and a good attitude to her training and competitors. She has her sights set the next junior world champs and training is well under way for 2004 and beyond.
---
ITFNZ Receives SPARC Recognition

Sport and Recreation New Zealand (formally the Hillary Commission) have granted ITFNZ Recognition status as a National Sports Organisation in New Zealand. For many years now ITFNZ has been working towards this goal, and thank Mr Greg Skinner for finally bringing this about.
ITFNZ were founding members and active participants in a New Zealand Taekwon-Do Council, with the goal to work together with all Taekwon-Do groups in New Zealand, ITF and WTF. Our former President Mr Ng, plus many other Executive Committee members spent many meetings working with the Taekwondo Union (WTF) on this project. Our efforts came to nothing, so this year Mr Greg Skinner (Current New Zealand Junior Team Manager) traveled to Wellington to meet with SPARC Officials and began the lengthy process of applying for ITF Taekwon-Do recognition, as separate from WTF Taekwondo.
SPARC are pleased to advise us of our formal recognition, and the authority to publicise it immediately.
---
ITF President Visits New Zealand
| | |
| --- | --- |
| | Master Tran (8th dan) made an official visit to New Zealand to meet with Executive Committee members and senior Instructors last week. |
---

---





Umpires Course

Mr Grant Eccles and Mr Kevin Joe conducted a Judges Course for over 60 enthusiastic new umpires at the Devonport Pee tournament on Sunday 31st August. The judges then practiced their skills at the tournament in the afternoon.

Thanks to Ms jeanette Joe and her team for organising a great day.

---

You can see our full back page advertisement in the current issue of Fight Times magazine. And who better to feature in it other than ITF World Champion Graham Patterson - in action in Poland!

Gold medallist Carl Van Roon also featured in the NZ Herald on Friday 15th August with this write up.

And on-line at:
www.nz Herald.co.nz

---

It is with sadness we record the passing of Master Rob Tobin, of Boulder Colorado, USA.
He has finally succumbed to leukemia, which he had fought for several years.

Our condolences from the members of ITFNZ to Master Tobin's family, his students, and the USTF.

Master Tobin was known to many ITFNZ members, who met him at the World Camp held at Massey University, Palmerston North, in 1992.


His thesis, INSIGHTS FOR INSTRUCTORS, has been highlighted on our website, Instructors section, and is supplied to our Instructors.

An entry from Master Tobin on our guestbook:

"It's good to the see the names of so many of my old friends on your site. There is a lot of good information here. I am stealing your ideas. Best regards!"
---
Seminar for Ji Shin Taekwon-Do
A seminar was held Queen's Birthday weekend for the newly joining Ji Shin Taekwon-Do Instructors. Mr Trevor Harbrow and his clubs have joined ITFNZ as of 26th May 2003 - welcome to all the new members! Hr Harbrow's clubs are situated in both Auckland North and Counties Manukau regions, totally around 300 members.
Technical Director Mr Paul McPhail and Senior Examiner Mr Mahesh Bhana conducted the seminar. The seminar covered the ITFNZ syllabus, including patterns, self defence, step sparring and theory. Message to Ji Shin members from the President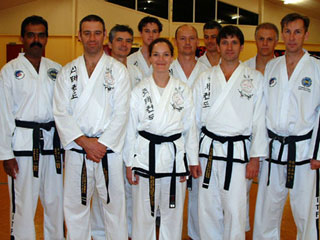 ---
NOC MEETING - NZ Taekwondo Council
A meeting was held on Friday 24th May 2002 with the major Taekwon-Do parties in New Zealand. This meeting was another step to unify Taekwon-Do in this Country under one body, recognised by the New Zealand Olympic Committee.
Mr John Davies, President of NOC, chaired the meeting, which had two representatives from the three large organisation in New Zealand:
International Taekwon-Do Foundation (NZ) Inc. (ITF)
Taekwondo Union of New Zealand Inc. (WTF)
New Zealand Taekwondo Federation Inc. (WTF).
They have been working for sometime to try and achieve the goal bringing all the groups together and gaining the recognised by the NOC (and in turn the NZ Hillary Commission and the IOC). Currently, none of the organisations in New Zealand enjoy NOC recognition, and the NOC have made it clear that all parties must come together before it will grant such recognition.
It was hoped that this meeting would see the signing of an agreement by all three parties, but unfortunately the NZTF was not happy with the proposal. All parties made further compromises and made good progress towards finding new solutions to the major problems.
The new structure was proposed whereby the NZTF could retain its position as the governing body for WTF in New Zealand. As before, the new proposal would not affect the way each individual organisation operates.
All present at the meeting agreed this could work, except for Master Lee who wanted time to communicate with the WTF Headquarters before deciding if it should go ahead. If the result of this communication is positive, then a smaller working group will be set up to draft a new agreement.
We will keep you posted with any developments as they come to hand.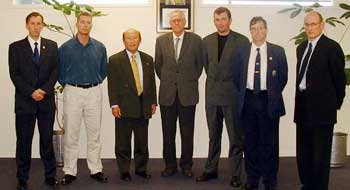 Pictured from left to right:
Paul McPhail (ITFNZ) Glenn McGill (NZTF) John Lee (NZTF), John Davies (NOC), Mike Hannah (TUNZ), Vince Pygott (ITFNZ) and Mark Tester (TUNZ)
---
NZ Taekwon-Do Organisations Merge
February 6th is the official date the two ITF Organisations in New Zealand are to merge. Senior members ITFNZ the New Zealand Taekwon-Do Academy held a historic meeting on the 9th of December 2000 to discuss the possible amalgamation of the two organisations. Congratulations to all those concerned, and especially to Messer Harry Hemana and Norman Ng for their effort for making this happen, and their genuine commitment to the Taekwon-Do students within New Zealand.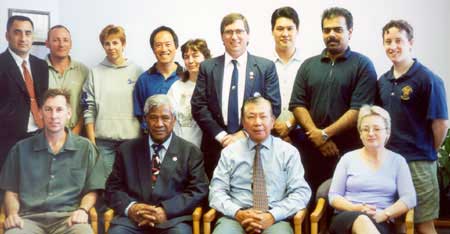 Pictured are:
Front row
Paul McPhail (6th dan, ITFNZ Chief Examiner, Director of Grading & Techniques Sub-Committees), Mr Harry Hemana (5th dan, President of NZTA), Mr Norman Ng (4th dan, ITFNZ President), Mrs Beryl Pimblott (2nd dan, ITFNZ Wellington Regional Director).
Back Row:
Mr Blair Martin (2nd dan, NZTA), Mr Ian Campbell (3rd dan, ITFNZ Midlands Regional Director), Ms Margeret Pepper (1st dan, ITFNZ Treasurer), Mr Michael Lowe (4th dan, ITFNZ CD Regional Director), Mrs Sue Breen (ITFNZ Counties Manukau Regional Director), Mr Vince Pygott (3rd dan, ITFNZ Secretary), Mr Kevin Joe (3rd dan, ITFNZ Tournnament Sub-Committee), Mr Mahesh Bhana (5th dan, ITFNZ Regional Examiner), Mr Hayden Breese (2nd dan, ITFNZ Director of Marketing).
---
Honorary Dinner 1997
ITFNZ held a dinner to honour three members for their valuable contributions to the organisation, and to welcome home to the World Champs Team.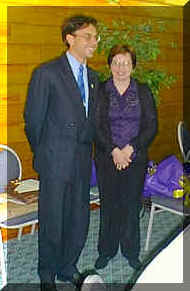 Lawrence Mantjika (President of ITFNZ) with Angela Olding, Chairperson of the ITFNZ Promotions Sub-Committee and organiser of the Honorary Dinner.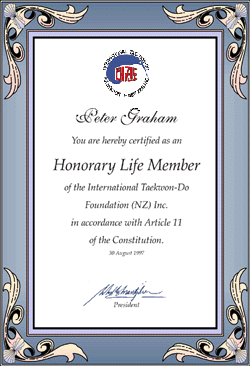 Mr Peter Graham, Mr Quentin Travis and Ms Vivienne Holmes were awarded Honorary Life Memberships.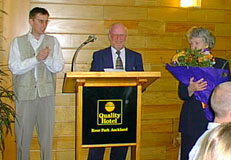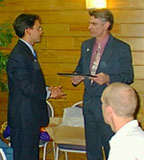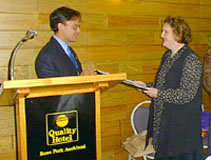 Mr McPhail and Mr Graham exchange speeches - Ms Holmes & Mr Quentin Travis receive their certificates from Mr Mantjika.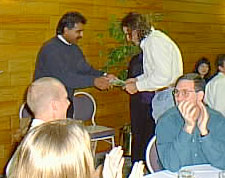 Mr Bhana (team patterns coach) awards certificates to team members
Thanks to Angela and the organisers!
---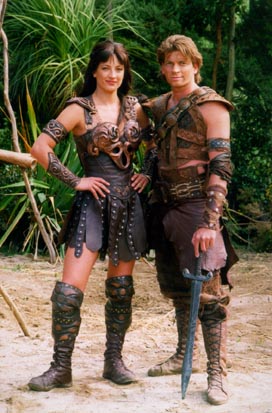 ITFNZ's Zoe Bell and Steve McQuillan - Hercules and Xena doubles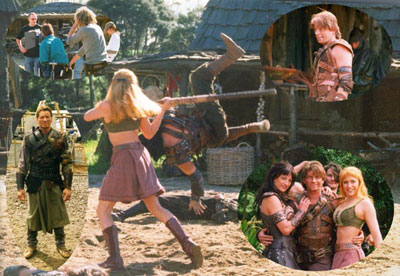 Most of you will know that the TV Series Hercules was filmed down under - here in New Zealand. A number of Auckland TKDers worked as stunt doubes for various TV shows.
Amoung them are:
Mark Rounthwaite (5th dan) - Stunt Co-ordinator
Jeanette Joe - 4th dan
Steve McQuillan (3rd dan) - Hercules, Xena and Young Hercules
Matthew Breen (3rd dan) - Hercules, Xena, Young Hercules
Sean Button (1st dan) - Young Hercules double
Zoe Bell (5th gup) - Xena stunt double
---
Original Website
This feature shows the origianl ITFNZ website and some background of how it all came about. Pretty much the same system is used now although with sponsors WEBWORLD we are able to far more.