and

present

4th Oceania Championships

29-30 March 2008 - AUCKLAND, NEW ZEALAND, ASB Stadium, Auckland
Results for spot prizes from Oceania - Competitors / Spectators / Officials:
Orange ticket - 431202 unclaimed, Green ticket - 271010 unclaimed, Blue ticket -30171 unclaimed
Prizes must be claimed by Sun 13 April 08,winners please contact Mrs Iotua. Thank you Top Ten for supplying all 3 prizes.
Congratulations to the 2008 Oceania Best Overall Winners: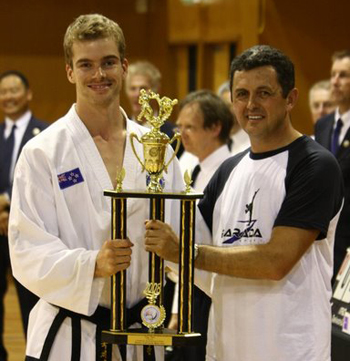 Black Adult Male: Carl Van Roon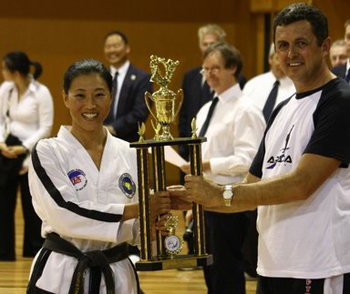 Black Adult Female: Christine Young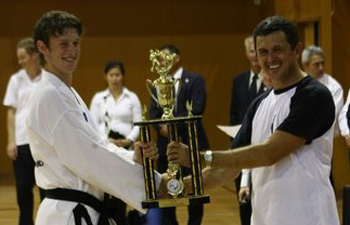 Black Junior Male: Shane Black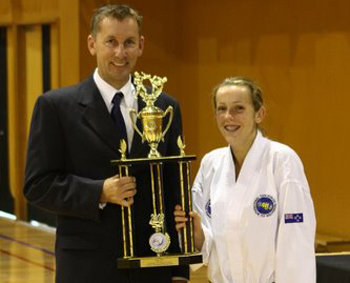 Black Junior Female: Melissa Timperley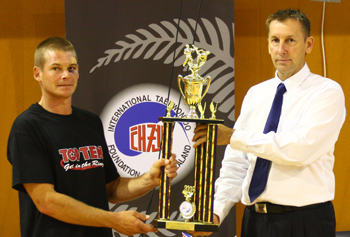 Gup Adult Male: Shane Searle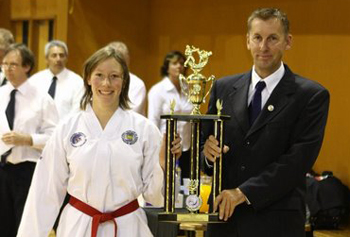 Gup Adult Female: Helen Caley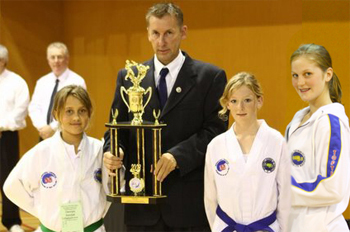 Gup Junior Female: Georgia Kendall, Kara Timmer & Annaliese Kerkvliet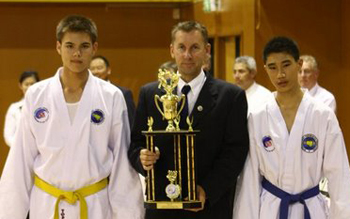 Gup Junior Male: Warat Supachan and Matthew Chan
---
Organiser: Mrs Natasha Iotua
Draw / Schedule: Mrs Sue Breen & Mr Neil Breen
MC: Mr Neil Campbell
Tournament Arbiter: Mr Darren Ward
---
OCEANIA CHAMPIONSHIPS NZ JUNIOR TEAMS EVENTS
Male:
David Burr
Shane Black
Ross Black
Aramai Tahau
Stuart Maden
Ethan Parker
Female:
Page Moki
Melissa Timperley
Amy Reeder
Alicia Parker
Kristy Leong
Courtney Meleisea
---
OCEANIA CHAMPIONSHIPS SENIOR MALE AND FEMALE TEAM EVENTS

This is a notice for all seniors wishing to participate in male and female team events at the Oceania Championships on the 29th and 30th of March.

You must attend Friday evening training sessions at Mt. Wellington RFC (same venue as the Auckland Taekwon-Do Academy) in order to be selected for the team.

Academy training will be on as normal from 6 - 7.30pm and team events training will run from 7.30-9pm approximately.


Session 1: February 29th

No session: March 7th (no team training due to general meeting scheduled)

Session 2: March 14th

Session 3: March 21th

Session 4: March 28th (light session only as day before tournament)


Extra sessions may be scheduled once the team has been finalised

If you have any questions please contact Mark Trotter, 027 470 7647
All ITFNZ junior black belts competing at the Oceania's and wishing to be part of the team events please contact before Monday March 3rd.
---
Dear Masters, Instructors and Students:
It is with great pleasure that we announce the 4th OCEANIA TAEKWON-DO FEDERATION CHAMPIONSHIPS to be held on Sunday 30th March 2008 in Auckland, New Zealand. You and your students are cordially invited to participate and support the tournament.
As you know, New Zealand has been granted the right to host the ITF World Championships in 2011, so this tournament will give your members the opportunity to experience an international competition in New Zealand prior to the World Champs.
The event has been moved to March due to the scheduling of the ITF World Cup so that as many Countries as possible will be able to support both events.
The OTF Championships is a one day event, with up to 6 rings operating throughout the day with the following events:
• Individual Sparring for all grades and all ages
• Individual Patterns for all grades and all ages
• Individual Special Technique and Power Test for black belts
• Team sparring and Team Patterns for black belts (Juniors and seniors)
• Pre-arranged Sparring – one team per country.
Lastly, beautiful trophies will be awarded best overall competitors plus medals for other winners and certificates will be presented to all competitors. We hope you will give us the chance to show you some true "Kiwi hospitality" when you visit this beautiful country.
Entry forms and full details will be available on the OTF and ITFNZ website soon. Please let us know as soon as possible if you are considering making the trip downunder.
Master Michael Daher
President