14th ITF World Champs - Germany 2005
According to our statistician Mrs Sue Breen, New Zealand placed 4th and the NZ Mens Team Placed 2nd overall.
Poland 10 gold 4 silver 3 bronze
Argentina 5 gold 4 silver 6 bronze
Germany 2 gold 3 silver 4 bronze
NZ 2 gold, 2 silver, 4 bronze
Slovenia 2 gold 1 silver 4 bronze
Finland 2 gold 1 silver 3 bronze
Scotland 2 gold 0 silver 2 bronze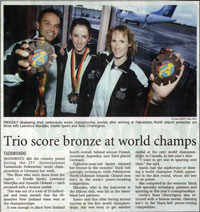 Newspaper clipping from Palmerston North Evening Standard. [Click to enlarge]
Carl Van Roon - GOLD AGAIN in Individual Male Special Technique.
Luke Thompson - Silver in Individual Mens Power Breaking
Lawrence Mantjika - Bronze in Individual Mens 4th dan Patterns
Steve Morris - Individual Mens 1st dan Patterns - Silver


Carl van Roon, Daniel Jackson, Clint King, Rene Kunz, Cameron Snelling, Steve Morris.


Carl van Roon, Luke Thompson, Daniel Jackson, Rene Kunz, Cameron Snelling.

Mens Special Techniques TEam - GOLD





MENS POWER TEAM - BRONZE


Antje Hollander, Estelle Speirs, Renee Richardson, Lipi Shukla, Suzanne Main.


Amanda Cleland, Rose Cherrington, Cedar Brown

Womens Special Techniques Team - BRONZE





WOMENS POWER TEAM - BRONZE
---


Our Man on the Spot
All reports and most photos by Mr Neil Breen
Read the full reports from Mr Breen in Germany as they come to hand.
---
The New Zealand Team left for Germany on Saturday 23rd July to a large group of well wishers. There were extra emotional scenes as NZ Coach Mr Andrew Niven farewelled his students, as he is to be living in Germany following the tournament.
Our team reporter Mr Neil Breen will be sending back daily updates form now on, so tune in for the exciting lead up to the ITF World Champs. During the tournament, we anticipate most of the updates to go live around midday NZ time - which will be at the conclusion of each day's events. We will also be updating you with any NEWS FLASHES via txt messages - which can happen at any time...so check back to the LATEST NEWS page often.
Send the team your messages now and throughout the tournament.
Newspaper article on Renee Richardson


Mr Niven's farwell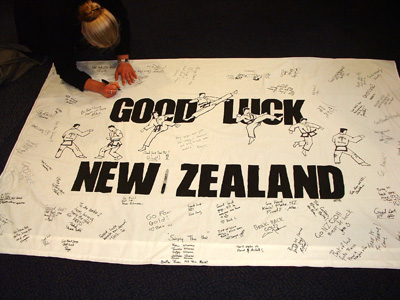 Good Luck Banner - signed by all at the airport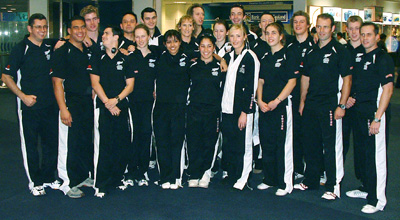 The NZ Team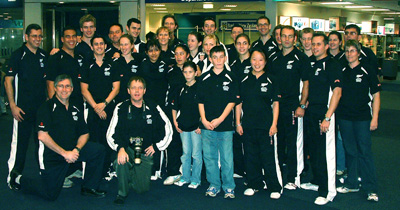 The Team with traveling supporters
---
The New Zealand Team selections were held in Taupo on the weekend of 12th and 13th March 2005, and letters have been sent to members notifying of the results. The selectors were happy with the selections and are pleased to announce New Zealand will send it's biggest ever senior team to Germany.
---
Willy Van de Motel coaches Kiwis
As part of their preparations for the World Championships in Germany this year, the New Zealand team management contracted Mr. Willy van de Mortel to assist with the initial squad development.
Mr. van de Mortel spent a weekend in Taupo at the New Zealand team camp where he conducted sparring seminars and coaching for 45 students who are trailing for selection to the national team. This was followed by a further three day sparring intensive seminar in Auckland at which many of the students from the Taupo camp were also present.
The final trial will be held in March at which time the New Zealand team to compete at the 2005 WC will be selected.
Mr. van de Mortel will return to New Zealand on April 28th for 12 days where he will continue the coaching program with the WC team and also conduct several sparring seminars nationwide.
The New Zealand Team Manager, Greg Skinner, described Mr. Van de Mortel as a " long term, integral part of the plan to raise the competitive sparring level in New Zealand".
Mr Skinner further added that Mr. Van de Mortel was involved with the New Zealand Junior team at last years JWC in Italy where several medals in sparring were won and that the 2005 WC team management and coaching were looking to continue the progress.
---
Age Delimitation Waived
We have been advised by the 2005 World Championship Organisation Committee that the age delimitation for the competitors for the 2005 World Championships were waived after consultation with Master Bos.
This means that the previous maximum age restriction of 35 years is now removed. The only criteria regarding age is the minimum age requirement that competitors must be 18 years of age or born in 1987.
All persons interested in trialing for the New Zealand team should send a completed application form to the following address,
NZ Team Manager
96A Market Road
Epsom
Auckland
I am also available on 021-948486 should you require any further information
or clarification,
Greg Skinner
NZ Team Manager
WC - 2005
---
The Development camps leading up to the team selection are now confirmed as follows:
December 3 - 5th
January 28 - 30th
March 11 - 13th
Team applicants are expected to arrive on the Friday between 6.00pm - 10.00pm. Mr. Willy van de Mortel will be in attendance at the January camp. The trial and selection camp will be the March camp.
As advised on the application form, the camps are held at Taupo College, Spa
Road, Taupo.
The camp fee is set at a flat rate of $40.00 per person and applies regardless if you stay at the camp or not. This cost covers the hireage of the gym and all facilities on the marae. Please note that food is not
provided at this camp, but you are free to use the kitchen facilities.
There will be a newsletter e-mailed to all registered applicants with further details by November 30th.
These are the NZ team camp dates after the team is selected:
April 29th - May 1st
June 10 - 12th
July 8 - 10th

Best regards,

Greg Skinner
NZ Team Manager
2005 - Germany
---
All those interested in applying for the 2005 New Zealand Team to compete at the World Champs in Germany should fill out this form and return to Mr Skinner.

The initial camp will be held at Taupo College, Spa Road, Taupo from Friday December 3rd to Sunday December 5th. Team applicants are expected to arrive at Taupo College between 6.00 – 10.00pm on the Friday.
---
Coach & Manager Applications
We are pleased to advise that Mr Greg Skinner's application for the position of NZ Team Manager for the 2005 Senior World Championships has been unanimously accepted by the Coaching and Selection Committee.
The committee will decide the NZ Head Coach when applications close September 17th.
---