The page below is part of the old ITFNZ website and is made available for users wishing to reference past information.
Please click here to visit the updated International Taekwon-Do website.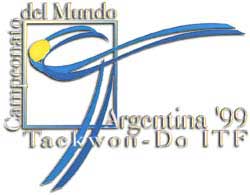 1999 ITF WORLD CHAMPS NEWS
THE NZ TEAM IN ARGENTINA
NEW ZEALAND HAVE A MEDAL!!
Congratulations to Mr Graham Patterson - Bronze in Power Test.
See photos of our team in action

These photos and more coming soon!

---

---

---

THE TEAM:

EXECUTIVE MEMBERS
Mr Andrew Salton IV Dan
(Coach)
Mr Lawrence Mantjika III Dan
(Assistant Coach)
Mrs Carmen Schwager
(Team Manager)

TEAM MEMBERS
Graham Patterson IV Dan
Matthew Breen III Dan
Tamaiti Brunning II Dan
Hong Looi II Dan
Aaron McIlwee II Dan
Ian Walton II Dan
Christopher Fisher I Dan
Ry Goldsmith I Dan
Justin Jessett I Dan
Aaron Lange I Dan
Nikki Mantjika I Dan
Laura Mitchell I Dan


TEAM SUPPORTERS
Carolina Schwager
Tonee Francis
Barbara Inglis
Nicola Mitchell
Sherylene Kohiti
Allan Gillon
Stuart Fisher

---

Thanks to Matthew and Graham for all their updates throughout their trip. We received over 2500 hits on the page during the tournament, indicating the huge interest in the team and the champs.