World Camp 2000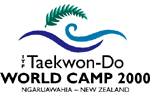 Congratulations to the organisers for putting on a great camp!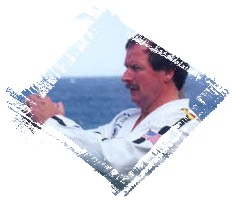 Special thanks to Master Robert Wheatley, 7th dan, who took many great classes.
Master Wheatley also ran a Master Class in Auckland on February 3rd, which around 100 keen students enjoyed.
It was an honour to have him as our guest, and we look forward to seeing him again soon.
Here are some action shots taken at camp.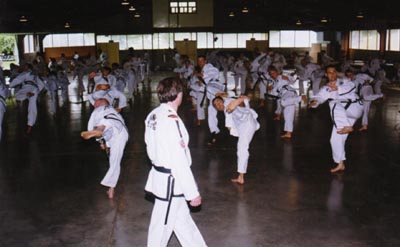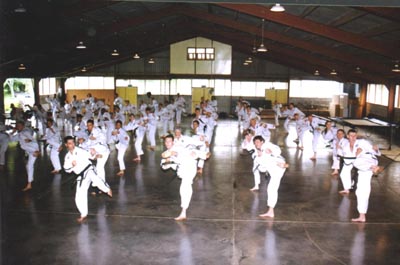 Master Wheatley conducting group training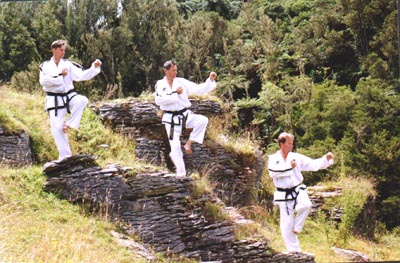 Bending Ready Stance - Mr McPhail, Davidson and Rimmer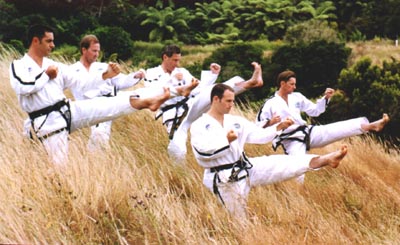 Seniors Photo shoot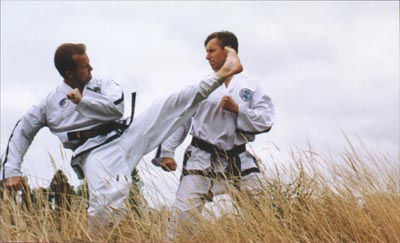 Twisting kick by Mr James Rimmer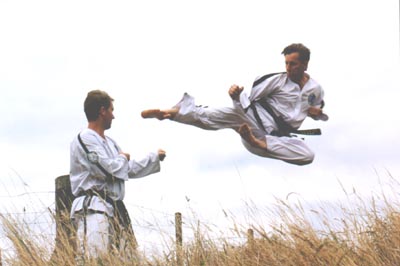 Flying side piercing kick by Mr Paul McPhail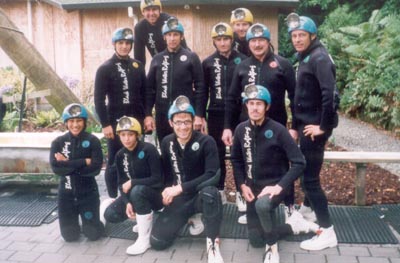 Black Water Rafting Team
--------------------------------------------------------------------------------
Significance of the World Camp Logo
Ngaruawahia is a Waikato town with a Population of about 6,500 and is situated 19 km NW of Hamilton. It is primarily of importance as the former capital of the Maori King Movement and is still its headquarters.
The Waikato and Waipa Rivers meet here and, as both were once canoe routes of great importance, it was to be expected that a Maori village would grow up on the junction. (Camp LOGO represents the meeting of these two rivers with the Fern of New Zealand)
The first Maori King, Potatau I, was proclaimed at Ngaruawahia in 1858, and the village fortified against the expected attack. But the rivers that spawned the village were to prove its undoing, as once the effectiveness of the British gunboats had been seen at Meremere and Rangiriri in 1863 the position was abandoned, to fall without opposition. The following year a European settlement was laid out and sections sold and for a time it seemed destined to enjoy Hamilton's present-day position as the Waikato's principal centre.
Ngaruawahia means 'break open the food pits' and refers to an occasion in about 1660 when the local chief saw important invited guests approaching. At his command all the food for the customary ceremonial feast was then displayed on a high triangular framework over 1.5 kilometres in length. The massive food stage was likened to the nearby range of hills, which were bestowed with the name Hakarimata ('the range of cold food'). In early European times it was briefly known as Queenstown, and then as Newcastle (after the Duke of Newcastle who headed a protest against the treatment of the Maori by the British Government).