Development Camp
5th - 7th March 2004
The Development camp on March 5-7 was a great success. A full report and photos will be in the next issue of TKD Talk. A DVD of the camp is now available.
COMMENTS FROM THOSE WHO ATTENDED


[Click to enlarge]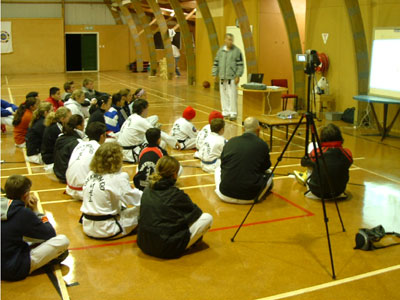 Mr Raukura presented a most inspirational session on motivation and goal-setting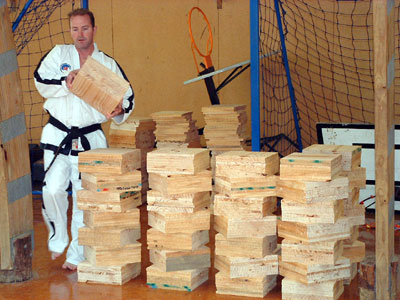 Mr Rimmer preparing for his flying multiple kick session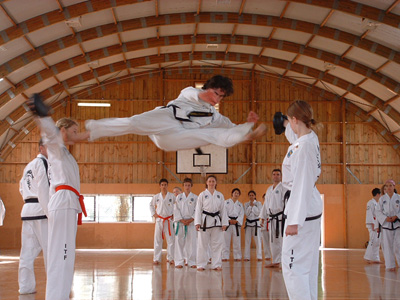 [Click to enlarge] Russell Stuart (Otago University) performing 2 direction kick during Mr Rimmers class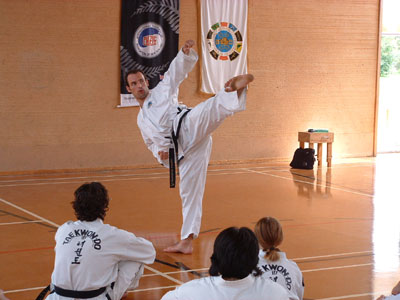 Graham Patterson taught patterns and power breaking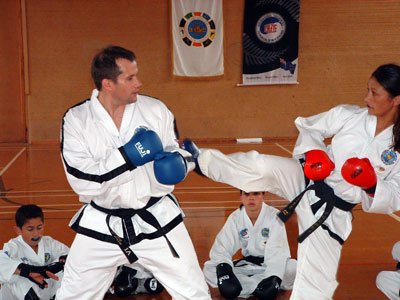 Andrew Niven coached tournament sparring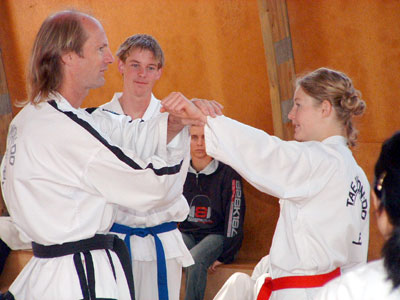 Steve Pellow scared us with his 3 hour self defence class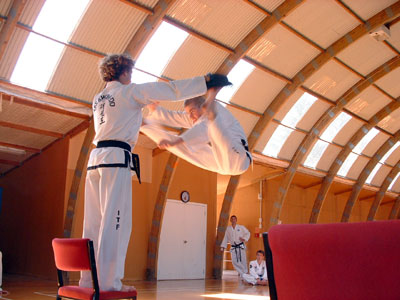 Carl van Roon amazed everyone, showing why he is the current World Champion!

Mark Banecevich presented an interesting and entertaining session on Taekwon-Do theory
---
37 of the best up & coming Taekwon-Do Exponents from all over New Zealand got the opportunity to experience training that EXTENDED THEM!
Instructors for the camp were:
Mr Paul McPhail (6th dan, ITFNZ Technical Director)
Mr Rimmer (6th dan, Senior Examiner)
Mr Steve Pellow (5th dan - self defence guru)
Mr Graham Patterson (World Pattern Champion & Grand Champion)
Mr Andrew Niven (World Champs and Junior World Champs Coach)
Mr Mark Banicevich (4th dan, author of English-Korean dictionary)
Mr Carl van Roon (World Champion in Special Techniques)
Mr Kane Raukura (Dragons Spirit Instructor Extraordinaire)
---
The 2nd DEVELOPMENT CAMP took place at Camp Adair, Auckland. Selection for this camp is made by the Director of Techniques, Mr Paul McPhail, after having been recommended by each person's Instructor.
Those selected to attend:
Catherine Bowness (Rangitikei Dragons) 1st Dan
Mathew Brunton (Miramar) 1st Dan
Chris Broughton (Waiuku) 1st Gup
Shane Black (Tauranga) 2nd Gup
Sonny Coradine (Chang Hun TKD) 3rd Gup
Uhn Coradine (Chang Hun TKD) 1st Dan
Vincent Chaber (Kapiti Coast) 5th Gup
Peter Casale (Jungshin Red Beach) 2nd Dan
Sharlene Clark (Brooklyn) 5th gup
Matthew Davey (Jung Shin Red Beach) 2nd Dan
Todd Drinkwater (Hurupaki) 3rd gup
Carrolyn Faithfull (Otago University) 2nd Gup
Joanne Harvey (Kororareka) 1st Gup
Thomas Harvey (Kororareka) 1st Gup
James Hunt (Waiuku) 6th Gup
Lisa Jack (Meadowbank) 5th gup
Brendan Kent (Lower Hutt Academy) 1st dan
Chuan-Whei Lee (Nibun Mt Albert) 1st Gup
Siobahn Macdonald (Chang Hun TKD) 1st Dan
Aden Macdonald (Chang Hun TKD) 3rd Gup
Carlos MacDiarmid (Tauranga) 1st gup
Daniel McMillan (Dragon Spirit) 2nd gup
Rana Moanaroa (Redwoodtown) 1st Gup
Harmony Moki (Paul M TKD Papakura) 2nd dan
Jerome Ng (Devonport) 3rd Gup
James Obern (Infinity) 4th gup
Jonathon Ormsby (Dragons Spirit) 2nd dan
Ethan Parker (Paul M TKD Papakura) 3rd Gup
Renee Richardson (Nibun Baradene) 2nd Gup
Lipi Shukla (Nibun Dio) 1st Dan
Travers Smyth (Glenfield) 2nd Gup
Russell Stuart (Otago University) 2nd Dan
Matthew Turner (Hurupaki) 3rd gup
Nicola Tse (Nibun Mt Albert) 1st Dan
Rebecca Walthall (Nibun Dio) 1st Dan
Jessica Walker (Rangitikei Dragons) 1st Dan
---
What ever happened to... | Enter original site