National Tournament 1997
Thanks for tuning in to our Nationals report from Blenheim, New Zealand.
Best overall Region:
1st - Auckland, 2nd - Wellington, 3rd - Central Districts
The tournament was a GREAT success - and congratulations to Ms Tina Grey who did a wonderful job as the tournament organiser.
---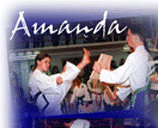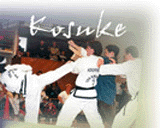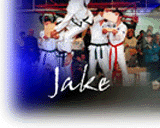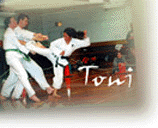 Action in Blenheim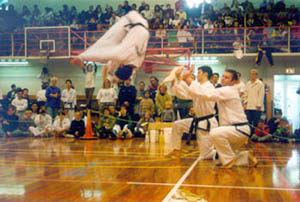 Graham Patterson performing his awesome Tumbling Kick.
The Waiuku & Districts POST - Tuesday August 5 1997
---
The Marlborough Express - Tuesday August 5 1997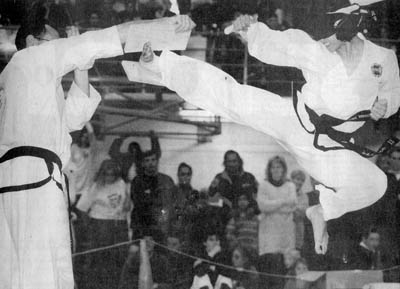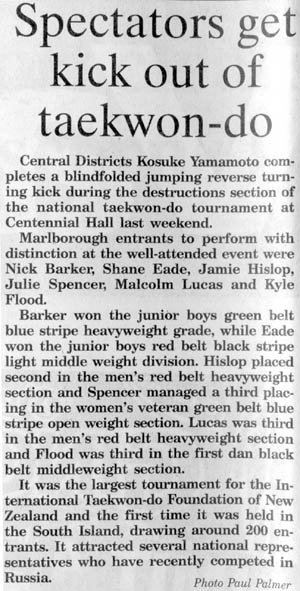 ---
REPORT BY NEIL BREEN
A full report with piccies will appear below, bit by bit Well - I'm afraid the combination of officiating at the Nationals and also trying to get updates to the web has not worked too well. With only a 1/2 hour for lunch, and a shortage of officials, both Mr McPhail and myself did not have time to prepare any material before the lunch break, so we had to flag away the midday update. By the time we had wrapped up the paperwork on Saturday night it was midnight, and only then discovered that Windows on the laptop was having "DLL" problems, and refused to run any of the 'net comms software (after working perfectly on Friday night from Blenheim!)
Here are the notes from Saturday night: All the teams have arrived - most on the ferry from Wellington - after an all-night train trip for the Auckland and WaiBop teams.
The contigent from the deep south of the South Island made it despite rumours of being snowbound - and after (unintentional) sabotage by a gas station attendant filling the diesel van with petrol. There were actually very few "no-shows" from any regions.
Ms Tina Grey, the Tournament Director, got everyone formed up at 8.50am.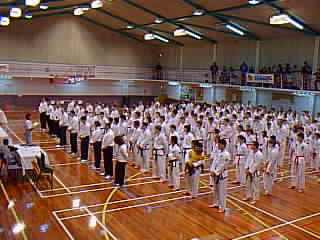 After the usual introductory stuff, Mr Mantjika (President ITFNZ) opened the Tournament with a short but well thought-out address. In keeping with his aim of improving communication and friendly relationships within the organisation, Mr Mantjika asked everyone to greet those formed up around them.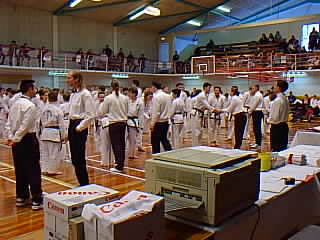 Patterns were started on time at 9.15am.
43 Black Belts were competing, and 38 colour belts.
For each division, 6 finalists were chosen from the compulsory patterns. They
then got to do optional patterns.
The finalists for each division were: (places tomorrow night)
3rd Dan+: Allan Gillon (AK)m Graham Patterson (WN), Daniel Russell (CD), Garry Hastings (WN), David Ballard (CD). 2nd Dan: Jake Pearson (SI), Kosuke Yamamoto (CD), Lena Walton (WN), Matthew Breen (AK), Melanie Wong (CD). Lena Walton & Matthew Breen - 2nd Dan Patterns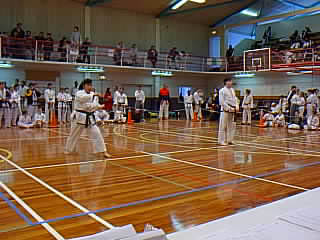 1st Dan: Jon Sawden (WB), Mark Trotter (AK), AnneMarie Sheerin (WN), Ry Goldsmith (WN), Sean Button (AK), Andrew Burley (AK).
Red belts: David Kan (CD), Djine Assaf (WN), Hau Luu (WN),Julie Moebus (AK), William Wilson (AK), Cameron Snelling (CD).
Blue belts: Christine Barnes (WN), Michael Minnell (WB), Julie Parker (SI), Justin Jessett (CD), Krishna Reddy (CD).
Green belts: Louis Paerata (WB), Emil Pindur (AK), Samantha Mitchell (WN),Robert King (WB), Geoffrey Ward (SI), Mieiam SOrenson (CD).
Yellow belts: Lois Vogt (WN), James Smith (WB), Joanne Ho (AK), Nikki Francis (CD), Rebecca Cooper (AK), Suzanne Main (CD).
Sparring got under way by 11am.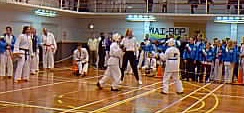 Saturday was all quarters and semis, so no placings till tomorrow.
At the end of lunch, the team patterns were held.
NONE of today's team patterns were at all "hohum". It was quite moving to see the dedication and effort that these people are putting into their art. Auckland were first up. A very proficient variation on a high grade pattern from the girls of Diocesan & St Cuthberts clubs.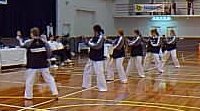 WaiBop did an interesting two stage pattern - neatly demonstrating "call-by-call" and then "own time".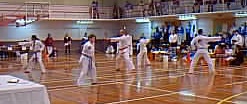 Central Districts put on Choong Moo "in a square", with Kosuke in the middle doing "Choong Moo in a box" - a very polished display.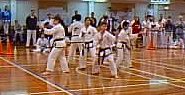 Wellington were the first to make use of the newly reversed ruling on music in team patterns. A snappy "real pattern" in time to music - the "Fabian" approach.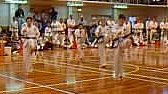 South Island produced a high-powered and technically complex sequence, that really "wowed" the crowd.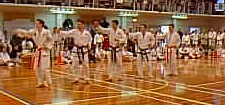 The judges had a real task before them to choose a winner from these great presentations. There was only a one point spread across all the awarded scores.
---
Best Team Pattern - Wellington
2nd - South Island
3rd - Central Districts
4th equal - Auckland and Waikato/Bay of Plenty
Best Belts:
Green: Samantha Mitchell - Wellington
Blue: Justin Jessett - Central Districts
Red: Cameron Snelling - Central Districts
Black: Andrew Burley - Auckland
Pattern Results
3rd Dan and above
1st GRAHAM PATTERSON WN
2nd GARRY HASTINGS WN
3rd DAVID BALLARD CD
2nd Dan
1st KOSUKE YAMAMOTO CD
2nd LENA WALTON WN
3rd MATTHEW BREEN AK
1st Dan
JON SAWDEN WB
ANDREW BURLEY AK
SEAN BUTTON AK
Red Belt
WILLIAM WILSON PAI AK
CAMERON SNELLING CD
JULIE MOEBUS AK
Blue Belt
JUSTIN JESSETT CD
MICHAEL MINNELL WB
KRISHNA REDDY CD
Green Belt
MIRIAM SORENSON CD
EMIL PINDUR AK
SAMANTHA MITCHELL WN
Yellow Belt
NIKKI FRANCIS CD
JOANNE HO AK
SUZANNE MAIN CD
Sparring Results
MEN 3 DAN + MID/HVY WT
1st GRAHAM PATTERSON WN
2nd STEPHEN PELLOW AK
3rd ALAN GILLON AK
MEN 2 DAN MID/HVY WT
1st DAVID THORNTON CD
2nd ANTHONY LI CD
3rd DARREN WARD WN
MEN 2 DAN LIT MID
1st JAKE PEARSON SI
2nd KOSUKE YAMAMOTO CD
3rd MATTHEW BREEN AK
MEN 1ST DAN HVY WT
1st ANDREW BURLEY AK
2nd STUART MAYES SI
3rd SHANE RAHUI SI
MEN 1ST DAN MID WT
1st JON SAWDEN WB
2nd RYAN VAN HEERDEN AK
3rd KYLE FLOOD SI
MEN 1ST DAN LIT MID
1st JARRAD RAMSAY SI
2nd BYRON CUMMINS WN
3rd KELVIN LANGE CD
MEN 1ST DAN LIT WT
1st SEAN BUTTON AK
MEN Red HVY WT
1st JAKE TAPLIN CD
2nd JAMIE HISLOP SI
3rd JOHN EDWARD HARE WB
MEN Red MID WT
1st CAMERON SNELLING CD
2nd BEN KERR SI
3rd MALCOLM LUCAS SI
MEN Red LIT MID
1st AARON DAHL AK
2nd TIMOTHY LINN WB
3rd RODNEY THISTOLL WN
MEN Red LIT WT
1st BENJAMIN LAI CD
2nd DAVID KAN CD
3rd WILLIAM WILSON PAIRAMA AK
MEN Blue HVY WT
1st MICHAEL MINNELL WB
2nd KRISHNA REDDY CD
MEN Blue MID WT
1st LUKE THOMPSON AK
2nd MATT BATES WB
3rd HAMISH KEENE WN
MEN Blue LIT MID
1st JUSTIN JESSETT CD
2nd WAYNE HOOLE WN
MEN Blue LIT WT
1st ASHLEY KING WB
2nd ANDREW WATTS WB
3rd MALCOLM RICHARDSON SI
MEN Green HVY WT
1st SCOTT WILLIAMS AK
2nd KAHARAU RAHIRI AK
MEN Green MID WT
1st REX CHERRINGTON WN
2nd ANDREW CULLENS SI
3rd LOUIS PAERATA WB
MEN Green LIT MID
1st NATANA CHERRINGTON WN
2nd STEVEN ADAMS CD
3rd GREGORY CHRISTIE WN
MEN Green LIT WT
1st COLIN WILLOUGHBY WB
2nd GEOFFREY WARD SI
WOMEN Red/Black HVY WT
1st LENA WALTON WN
2nd ROSE CHERRINGTON WN
3rd JENNY ARMSTRONG AK
WOMEN Red/Black LIT WT
1st MELANIE WONG CD
2nd KIM HARRIS WB
3rd DJINE ASSAF WN
WOMEN Green/Blue HVY WT
1st ANGELLA GIBBS SI
2nd FIONA MANCRIEFF SI
3rd KIRSTEN SMITH WN
WOMEN Green/Blue MID WT
1st CHANTELLE BENNETT AK
2nd SOFIA LOWNDES WN
3rd JULIE PARKER SI
WOMEN Green/Blue LIT WT
1st DONNA HARTNETT WN
2nd CHRISTINE GIBBS SI
3rd AIMEE HANNON SI
MEN VET Red/Black OPENWT
1st ROBERT SEVERNE WB
2nd IAN HAYWARD AK
MEN VET Green/Blue OPENWT
1st TONY KAHURA WB
2nd DAVID OLIVER SI
3rd CHRISTOPHER ALLAN WN
WOMEN VET Red OPENWT
1st VICKI MONK CD
2nd PAM COLEE SI
WOMEN VET Green/Blue OPENWT
1st PAULINE BOOTHBY WN
2nd FLORINDA PETTERSON AK
3rd JULIE SPENCER SI
Junior BOYS Red/Black MID HVY
1st JAKE GOLDSMITH WN
2nd DEMIAN SEIDEL AK
3rd ANDREW NEVILLE WB
Junior BOYS Red/Black LIT MID
1st SHANE EADE SI
2nd MARK TROTTER AK
3rd ALAN LI CD
Junior BOYS Green/Blue HVY WT
1st NICK BARKER SI
2nd STEVEN GYDE WN
3rd JASON BONIFACE CD
Junior BOYS Green/Blue MID HVY
1st DANIEL JACKSON AK
2nd CARL MCILWEE CD
3rd GRAHAM GOODWIN WB
Junior BOYS Green/Blue LIT MID
1st SHANE LANGFORD WN
2nd JEREMY PATERSON AK
3rd LANCE BELL SI
Junior GIRLS Red/Black MID HVY
1st ANITA MITCHELL WN
2nd AMANDA INSULL AK
3rd ANNMARIE SHEERIN WN
Junior GIRLS Red/Black LIT MID
1st GEMMA WALTON AK
2nd NATASHA PRICTOR WB
3rd TONI MOKI AK
Junior GIRLS Green/Blue HVY HVY WT
1st LISA MURRAY WB
2nd GLORIA KIM SI
Junior GIRLS Green/Blue MID/HVY
1st REBECCA LANSINK SI
2nd LISA SMITH WB
3rd KATHLEEN DOUGLAS CD
Junior GIRLS Green/Blue LIT/MID
1st AMY CARROLL WN
2nd NADINE CARTER CD
3rd OLIVIA MCLAUGHLIN SI
Peewee BOYS Red/Black LIT MID
1st LORANCE TAYLOR WN
Peewee BOYS Green/Blue MID HVY
1st SAM ANDERSON WN
2nd MICHEAL ROONEY SI
3rd GEORGE OLIVER SI
Peewee BOYS Green/Blue LIT MID
1st DUNCAN BENNETT AK
2nd REGAN MCLEOD WN
3rd TAVETE FAU WN
Peewee GIRLS Red/Black LIT MID
1st ERIKA FERNANDES AK
Peewee GIRLS Green/Blue MID HVY
1st AMANDA DEADMAN AK
2nd KELSEY CHERRINGTON WN
3rd JAIMEE LEE KING WN
Peewee GIRLS Green/Blue LIT MID
1st SAMANTHA MITCHELL WN
2nd HARMONY MOKI AK
3rd AMBER CHERRINGTON WN
---
MORE TO COME
---
Presidents Letter of Welcome.
Greetings Taekwon-Do enthusiasts!
It is my pleasure to welcome you all to the first National ITFNZ (Inc) Tournament to be held in the South Island. Traditionally, all National Tournaments have been held in the North Island due to the closer concentration of the clubs in each of the Northern Regions.
Now the growing number of ITF Taekwon-Do Clubs in the South Island has allowed them to be able to come together to host this major Taekwon-Do event. It is certainly very exciting to see the growing interest in ITF Taekwon-Do in the South Island. A reminder to all involved that Taekwon-Do is more than just a sport or a form of self defence, the art of Taekwon-Do is not complete without its philosophical teachings. This is why the rules for the competition are the way they are, to ensure the safety and enjoyment of each competitor. Use the tournament not only as a time to test your speed, skill, agility and strategy; but also as a way to practice the mental and spiritual aspects of Taekwon-Do which are outlined in the Taekwon-Do student's Oath and Tenets.
I would like to thank Ms Tina Gray and her team for all the work that they have put into organising this event. I would also urge all the competitors, officials and spectators to give their support to the organisers by applying the Tenets of Courtesy, Integrity, Perseverance, Self Control, and Indomitable Spirit to ensure a successful weekend.
All the best to everyone for a fantastic weekend of high powered Taekwon-Do.
Lawrence Mantjika. President.
---
All the teams and officials from around the country have been arriving in Blenheim ready for the biggest ever National Tournament here in the South Island in 1997.
Here are a few images from Friday - arriving and setting up.
An aerial view of Blenheim - not a big town - but people with big hearts!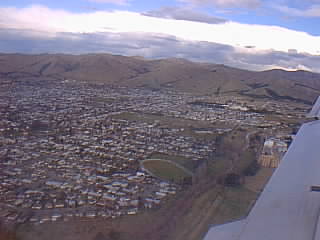 The main street.
The Tournament Director Ms Tina Grey hard at work (with Mr Paul McPhail & Mrs Sue Breen).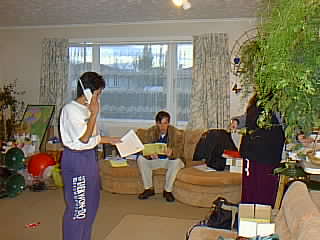 Some of the competitors.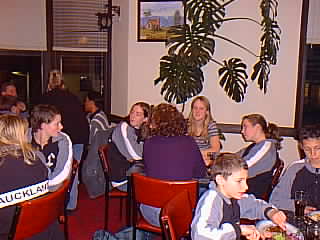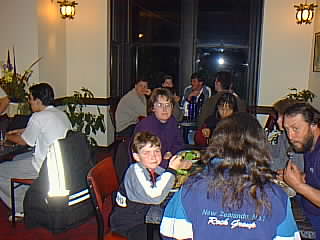 More serious stuff tomorrow. Hopefully something about midday - but maybe Saturday evening.
ttfn
Neil Breen.