National Tournament 1998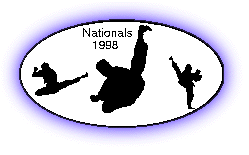 EPSON
presents

The 1998 ITFNZ National Taekwon-Do Tournament
ASB Stadium, Kohimarama Road, Kohimarama, Auckland
Saturday 25th and Sunday 26th July, 1998 8:30am-5:00pm

Congratulations to everyone involved in this year's ITFNZ National Tournament.
Auckland won the Best Region trophy with an average of 2.33 points per competitor.
A special thanks to our Patron Mr David Lange, who spent a number of hours with us on both days and officially opened the tournament.
Thanks to our sponsors, especially EPSON NEW ZEALAND for their support.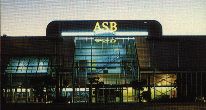 Patterns, Sparring, Destructions, Team Patterns
Prearranged sparring Demonstrations include:
Aikido, Stick fighting
Auckland Demonstration Team
PLUS
For the first time in New Zealand
Pattern Tong -il (24th pattern) will be performed
by our new 6th dans Evan Davidson and Paul McPhail

DEMONSTRATIONS:

Balintawak Escrima
Stick fighting
Demonstration by Mr Steve Pellow and Mr Alan Gillon

Aikido demonstration
Aikido, or the way of harmony is a martial art devised by Morehei Ueshiba
principally concerned with moving off the line of attack, blending with the
opponent's force, and controlling the opponent.
Mr Alexander Pearson and Mr Jeff Waldrum, instructors of Aikidoo Shinryukan
in the Auckland region, have arranged a demonstration to demonstrate this
gentle and effective martial art.


Massage
Mr Alexander Pearson, a qualified massage therapist, will be available to
ease those aching muscles throughout Sunday. Prices are $10 for legs or
back, $15 for both. Other massage available by arrangement. For further
information, contact Grove House, Papakura. Phone (09) 299 9224.
Dinner Saturday evening (25th July)

So Ra Bol Restaurant
Choice Plaza Building (1st and 2nd floors)
Cnr Wellesley St and Lorn St, City

Arrive 7pm onwards for a 7:30 meal start time


The Paddlepop Lion will be present at the Nationals, taking part in Demonstration Sparring Bouts during the weekend
and will be handing out free Paddlepops to some of the younger folk.
. . . . . . . . . . . . . . . . . . . . . . . . . . . . . . . . . . . . . . . . . . . . . . . . .
THANKS TO OUR OTHER TOURNAMENT SPONSORS: