Yates steps up a class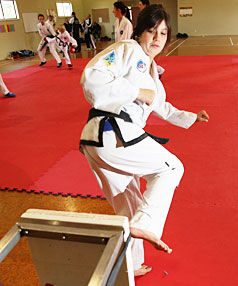 ---
Open air training in Palmerston North
Photos from Michael Onland.
---
Relay for Life
An update on the Central districts Relay for Life team.

24 Hours, 400 meter running track, 110 teams, one team member running with a baton at all times through rain or shine. Midday Saturday till midday Sunday we joined this special event to celebrate the hard work of raising money for the Cancer Society and the continuing support they give to families and those who battle cancer.

The CD Taekwon-Do dream green team took part in the seventh relay to date, 45 members applauded the survivors of cancer for the first lap at midday Saturday before all the teams took to the track for one lap of support. From then on it was every team for themselves, running or walking hundreds of people started ticking off the laps and counting down the hours. Regular updates of team placing in laps completed helped keep the motivation going as we tried to stay above as many teams as possible.

Great to see so many teams go the extra distance with some great team themes and costumes, our green theme was well supported by members with so many different shades of green and styles displayed.

I must thank our team members from PNTA, Feilding, West End, Southern Cross TKD, Tiger and Horowhenua and congratulate you all for the fantastic amount of donations collected. Our team total exceeded $3500.00, thanks to all those who made a donation to the TKD team. The event raised over $267000 by close of the relay and this total will grow as donations keep coming in over the next few weeks.

The hard work getting donations was equalled on the track as we completed 597 laps of the 400 meter running track (on the outside lane) that's 238km's and we finished ninth overall.

That's Relay number seven for Central Districts TKD and we are heading back again next year for number eight at the same venue for the same cause just the theme will change.

Thanks for the support.

Dave Ballard

--------------------------------------------------------------------------
2009 sees the two Academy clubs entered into the Central Districts Cancer Society Relay for Life to be held March 7&8. This 24 hour team relay is a fantastic way to help support the cancer society assist patients and families of cancer patients get through their fight with cancer. The funds raised assist in ways outside the medication and treatment of patients.

For some of the Acedemy members this will be the seventh relay and we are proud of the support we have given to this event over the years. We currently have over 35 members registered for the relay and each member has a donation target of $100 each.

Make a donation to our team, $10, $20 or any amount would be appreciated, just forward your donation to 3 Belk Place Feilding by February 28, cheques made payable to "Manawatu Cancer Society" and please indicate if a receipt is required.

I thank you in advance for your support and we will give you an report on the weekends success, number of laps completed (target 700+) for the 24 hours and how much money the team was able to raise.

Any questions please drop me a line or drop your donation in the post.

Regards
Dave Ballard
Instructor
Palmerston North and Feilding Taekwon-Do Academies
3 Belk Place
Feilding
---
CD AGM
Dear Instructors
You are hereby notified that the 1st Annual General Meeting of the ITFNZ Taekwon-Do Central Districts Inc will be held 22 February 2009 at 10 Brookside Close, Palmerston North at 10am.
Resolutions: Changes to the Constitution
REMIT 1
Article 22.4
That the reference to Article 24 be changed to 25 which is the article relating to the dissolution of the Society.
As it now reads "…or dissolution article (ARTICLE 24)" be changed to "… or dissolution article (ARTICLE 25)"
Election/Ratification of Positions:
The following positions are to be ratified –
Regional Director
Secretary
Treasurer
Appointments
Regional Coach & manager
People wishing to considered for the above positions are required to forward their names to the CD Secretary – Richard Burr prior to the AGM.
Any other business to be put before the AGM is to be in the hands of the Secretary by 8th February 2009.
Agenda for meeting is attached.
---
Taupo Classic
Alicia and Mike Yates did the "Taupo Classic" recently - some 80 kms each!
The photo below is them both at the change over, just before Alicia commenced her 80 kms.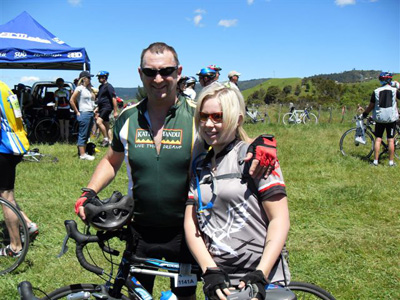 ---
CD bids 'au revoir' to Mr Ng
Recently PNTA hosted Mr Ng prior to his departure as he and Pam shift to the warmer (but wetter! :ed) climate of Auckland. This move takes them closer to their Children and grand children.
Mr Ng was given a demonstration of all aspects of our syllabus and weapons self defence.
All current members of PNTA signed a plague which was presented to Mr Ng before he personally acknowledged each member.
It is 38 years ago, in 1970, that Mr Ng started the Palmerston North Taekwon-Do Club - which is enshrined in the official histories as the first of the clubs that eventually came together to form ITFNZ.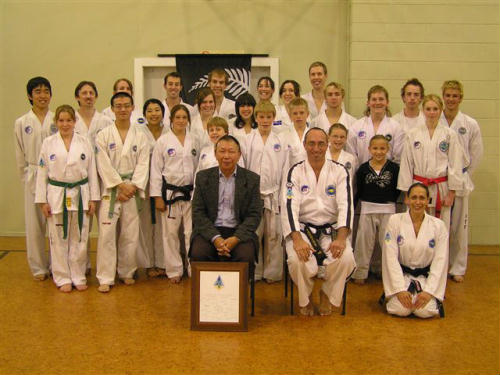 ---
Central Districts Esplanade Open Day Demonstration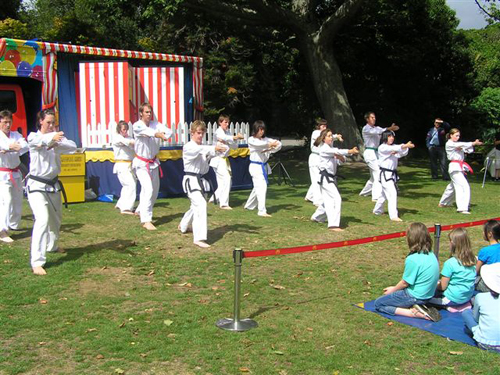 Once a year in Palmerston North, we have the Esplanade Open Day. This is a craft-fair, carnival, and a music concert. Palmerston North Taekwon-Do members took the opportunity to show off our skills and organised a demonstration, with the aim of getting new members for the clubs in our area.
After finally locating the children's stage , we ran through what we were going to do, got the boards, and left our gear under the trees. The space was limited but we managed, with the barriers set up in front of the patch of grass. A short warm-up then we were on. As the stage name suggests, lots of kiddies watched in amazement as we strutted our stuff.
First up were patterns, with Do-San, Yul-Gok and Hwa-Rang. We had gathered quite a crowd of people by this stage, which was great. Next was one on self defence; a combination of the new and old syllabus, this saw four of the best from PNTA, Gray, Tony, Jess and Mina all getting thrown on the ground at some point. Needless to say it looked fantastic. In the mean time, other members were getting ready for sparring.
We did two rounds of "grading sparring", so as not to hurt each other and to give the crowd a good show. Finally was the most impressive part of any demo – breaking. Half of the team smashed the boards, while the rest were holders. Then we did two specialty breaks, tower kick and overhead kick. After showing the overhead kick, David Burr lined up five kids from the audience and did an overhead kick over them. Cue gasps of astonishment.
We finished up with pad work, trying to get lots of the kids to come and kick or punch the pad. We gave lots of positive encouragement and saw some real potential in some of them. This was a good way to get children involved, and we had a good number of parents talking to Nikki Galpin (who ran the demo) as well.
One demo down – one to go. Everything we'd in the morning was repeated in the afternoon, to an even bigger crowd. On the whole, the day had been a great success and a lot of fun.
Demonstration Team
Organisers: Nikki Galpin and Eliza Buckland
David Burr Anna Yates
Jessica Lee Freya Thompson
Tony Bishop Graeme Ritchie
Emma Young Emma Robinson
Mina Ueyama Mike Orland
Robert Kernohan Frances Kernohan
Written by Emma Robinson (PNTA) 6th Gup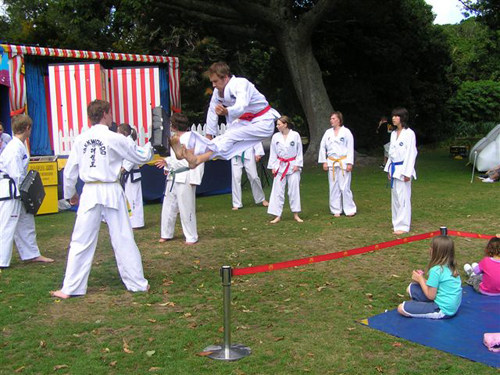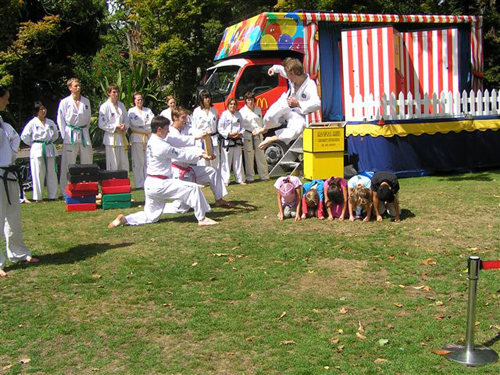 ---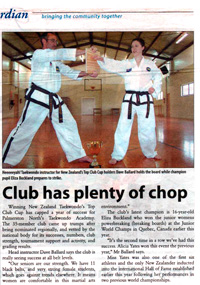 Manawatu Secondary Sports Awards
Finalists in martial arts codes – Eliza Buckland, Uma Goodyer, Aramai Tahu and David Burr – all ITF WC 2006 competitors. Code winners – Uma Goodyer and David Burr Manawatu Sports Awards – finalist for coach of the year – Mr. Dave Ballard, coach ITF WC 2006 junior team (to be decided November 23rd)
---
Pioneer of Taekwon-Do in Dobok!
Former President of ITFNZ and Pioneer of Taekwon-Do in New Zealand, Mr Norman Ng, thrilled local students recently when he appeared in dobok as a special guest at a demonstration. The demo was for the Palmerston North Chinese Association ladies club and Mr Ng ran the demo and gave the commentary as they went. Students covered patterns, step sparring, destruction and self defence which was well received.
The members all felt honoured to have been assisted and training with Mr Ng.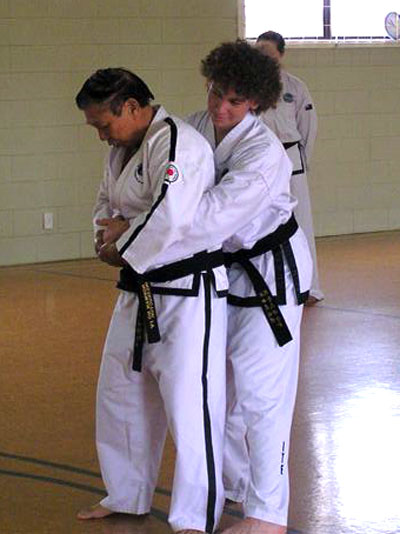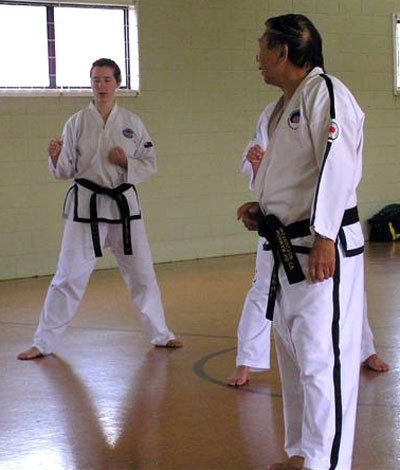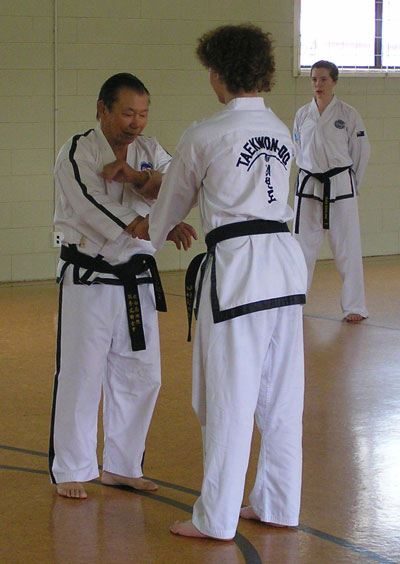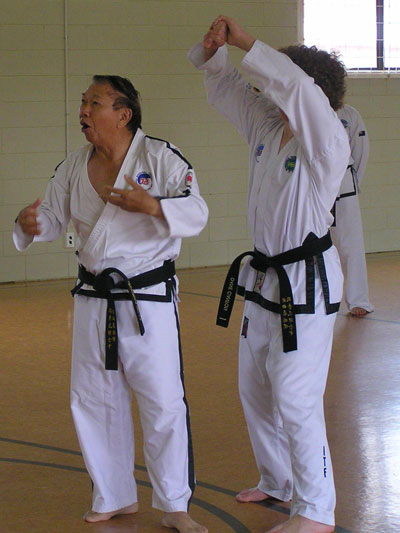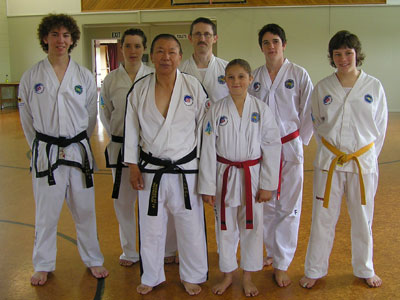 ---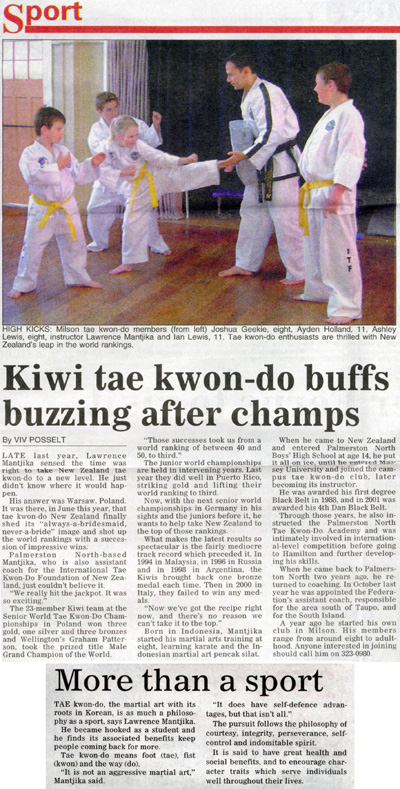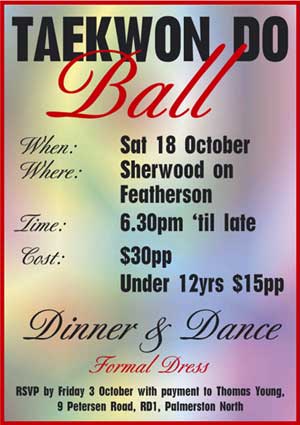 CD Regionals - 2003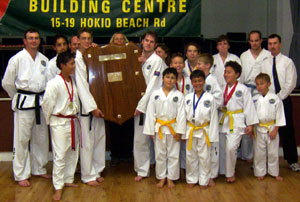 Best Overall club: Levin.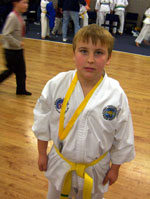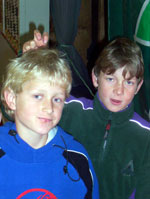 Some junior competitors.
---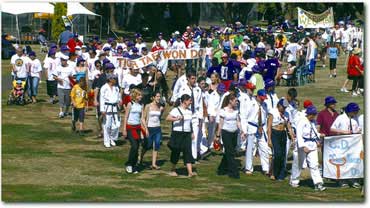 Central Districts Taekwon Do during the final lap of honor at the Relay for Life held in Palmerston North 8/9 March.
This is a fund raising event to help with the fight against cancer, 45+ Taekwon Do members from 4 CD clubs took part in the 24 hour relay event, split into two teams, runners and social.
Our members raised close to $5000.00 which is a great effort which went towards a total of $227000 for the weekend, fund raising was mostly through members seeking donations from friends, family, work mates.
Added incentive came from Mr Ballard who put his life long moustache on the line if PNTA raised $3000 the photo says it all.
Our team of runners put in a huge effort and ran the 2nd highest laps covered, 753 in total in the 24 hours that's 301km and needless to say some very, very sore bodies as the event progressed.
Big thanks to those who took part and to any TKD members who made a donation to this event.
The planning is already under way for the 04 Relay for Life.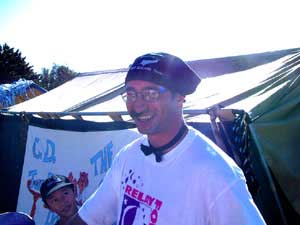 ---
We had the esplanade open on Saturday 22nd of February 2003.
The demo was organised by Nikki Mantjika and Sherylene Kohiti, with members from all clubs and their families participating and helping run our stall.
It was a beautiful hot day, with thousands of people attending during the day.
We had one main demonstration on stage, and then continued with impromptu 20 minute demonstrations every half an hour for the rest of the day. Great effort by all those involved, they must have been exhausted! The crowds loved our team which was made up of members ranging in age from as young as 9 years old,with a wide representation of all belt colours.
We demonstrated patterns, sparring, pad work, flying techniques, self defence, step sparring, and breaking.
A lot of compliments were received, many were very interested in joining as a result of a brilliant demonstration of Taekwon-Do skills.