Nationals Trainings
NOTE: Saturday the 4th, 11th and 18th of July

Counties regional training will be held at Cockle Bay school same times.
Cockle Bay School, 24 Sandspit Road Cockle Bay, Howick
The Counties regional team to go to the Nationals has now been training since the 22 April. We need more members to represent our fabulous region! The whole idea of starting the training early this year was to try to get away from having to train 2/3 or 5 times per week leading up to the tournament. To compete we need a large team and we need BLACK BELT teams - please put your name forward.
Botany Downs Primary School Hall, Mirrabooka Rd, Botany Downs, Howick
Saturdays from 2.30pm to 4.30 pm.
Manager: Alan Little
---
Sportswomen of the Year
On Saturday 30 May the Stevenson Papakura Youth Awards
were held at the Hawkins Theatre in Papakura.

Melissa Timperley was awarded Sportswomen of the Year
which was sponsored by Raukura Hauora o Tainui and Rays Gym
---
First Aid Course
Reminder: Sunday 9am - 12.00pm, please dress in comfortable clothes and bring a pen please
All instructors and Assistant Instructors are required to keep their First Aid Certificate current, so Regional Director Mrs Natasha Iotua has organised a course for our Instructors. The course is open to any ITFNZ members but preference will be given to Instrucotrs and Assistant Instructors. This limited to 24 participants. Date: Sunday 3rd May 2009.
Register here for the waiting list. Cost is $50
Note: No spectators allowed.

First Aid for the School Environment Course
IMPORTANT!! Please bring: Pens for notes (we supply course workbooks), comfortable clothing that may get dirty during scenarios (shorts or long pants are a MUST). As this is a certificated course, the certificate can only be issued upon full attendance of the entire course. The time will fly – we promise! We look forward to working with you and having a FUN course!
---
CM Coaching Staff
Confirming the appointment of our Counties Manukau 2009 National Team management.
Head Coach: Mr Dave Butchers III
Asst coach: Mr Richard Iotua III
Asst coach: Mr Brett Kimberley II
Asst coach: Mr Callum Barber II
Asst coach: Mr Dave McCorkindale II
Manager: Mr Allan Little
Asst: Ms Deborah Oleson
Asst: Ms Janet Little
Mr Butchers will be in contact with instructors re schedules for training etc. Due to the distance in travelling anyone that can assist the team in sponsorship, ideas for fundraising etc please contact Mr Little.
---
Marshalling course
for all Auckland North and Counties Manukau Black Belts.
Mon 30th March 6.30pm Dragon's Spirit Dojang. Papatoetoe.
---
CM Coach/Manager
Interested in being the Counties Manuakau Manager or Coach this year? It is an away team (Nationals are in Christchurch) please apply to our Regional Director by 22nd Mar 09.
---
New RD for Counties Manukau

Congratulations to Mrs Natasha Iotua - the new Regional Director for the Counties Manukau Region.
Mrs Iotua will be a familiar face to everyone in ITFNZ - having been a major force behind the region for the past 7 years. She is approachable and always willing to lend assistance where ever possible. Mrs Iotua says she prefers to tackle things head on with a 'never done it but will give it a try attitude'. She has had had hands on experience in every aspect of administration within ITFNZ, through her mentor Mrs Breen, I has been fortunate to have picked up tricks of the trade from other members of our organisation through observing and taking a hands on approach.
Mrs Iotua is passionate about the art but also about the people within the organisation and prefers to have a transparent process at all times. She is a positive person and believes that communication links should always be honest but diplomatically. Good luck Mrs Iotua!
---
New Baby
Hi all,

Our second little girl, Merryn Bree arrived at 10.25am on the 15th of December weighing in at 8lb 4 oz (3.79kg). A reasonably easy delivery compared to Emily and both of us are home now which is lovely. Emily really likes her 'baby' and loves having cuddles.

Hope you are all well and have a great christmas

Meredith, Kane and family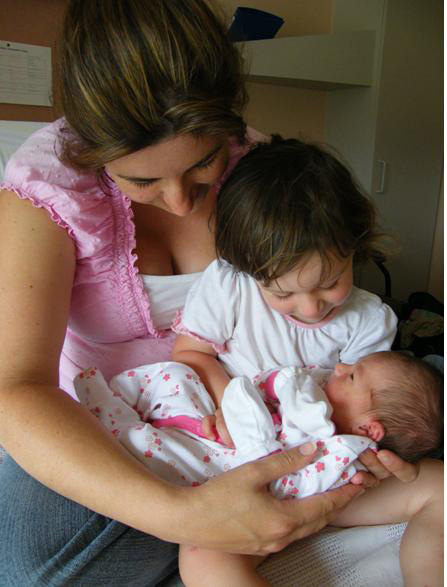 ---
Paul M Papakura Final Session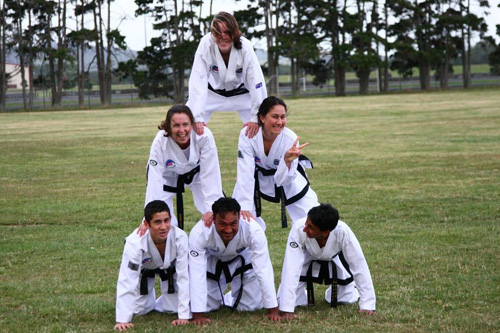 ---
Counties Seeks new RD

Counties Manukau's long standing and legendary Regional Director Mrs Sue Breen is standing down from her role as Regional Director this year. All the instructors thanked Mrs Breen at their regional meeting on Friday 12 December. Sue has been an awesome regional director for over a decade! She was presented flowers, chocolate cake and a special mural from Paul M Waiau Pa. Thanks Sue!
Counties is now asking for expressions interest in the RD role commencing 2009. A job description is available here. Those interested should email Mrs Breen by 23 December 2008. Thank you.
---
Maara John
Mr Maara John is here from the Cook Islands to grade to his 3rd dan. He and Mr Richard Iotua are pictured below catching some last minute training with Master McPhail before the weekend.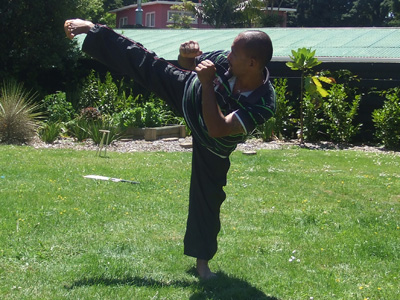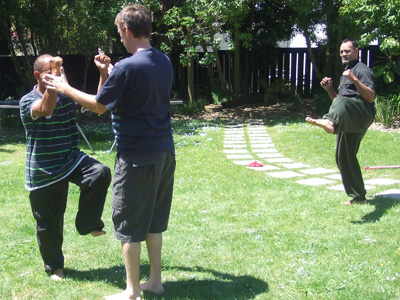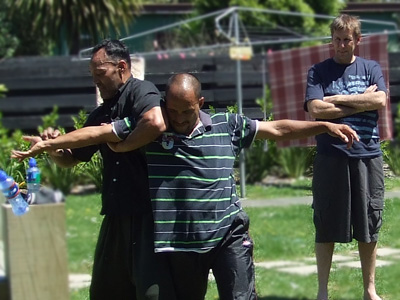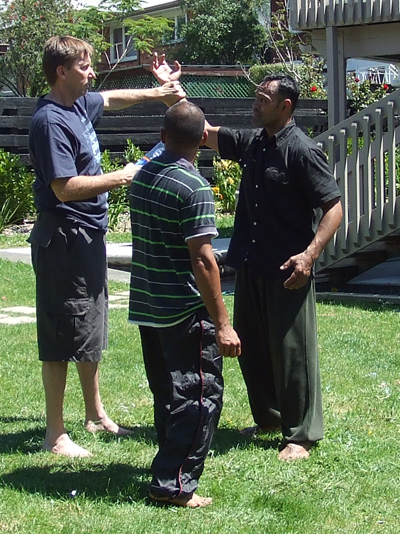 ---
Franklin News - 18 November 2008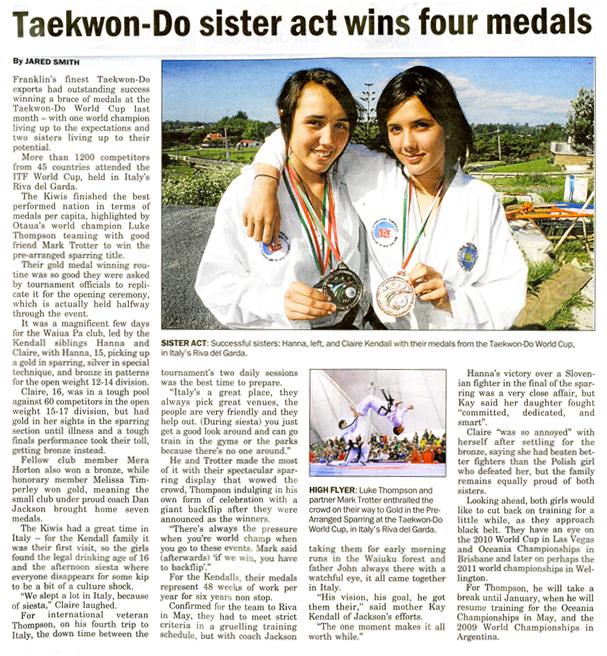 ---
A touch of culture
Claire Kendall, from Paul M Waiau Pa club, as well as getting into the top 3 of the adult gup division as a 16 yr old in the Star tournament series, has proven to have a great singing voice as well.
This weekend Claire took first place in the senior section of the Manukau Youth Star Search, run by the Otara Music Arts Centre (OMAC).
"Claire has an amazing voice and really stood out from the others we saw.."
Congratulations Claire !

---
Beach Training
Some photos from the Counties Manukau end of year Beach Training!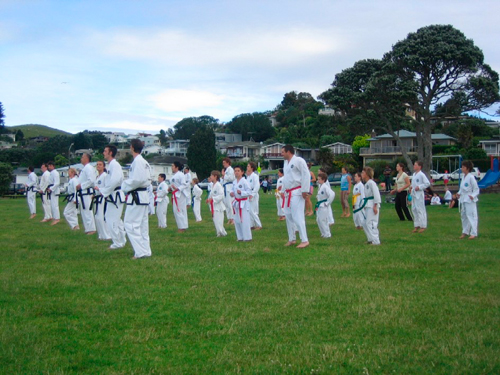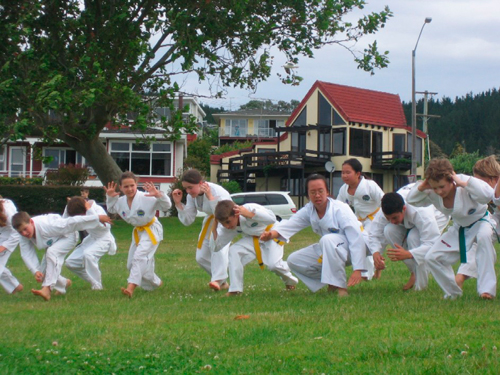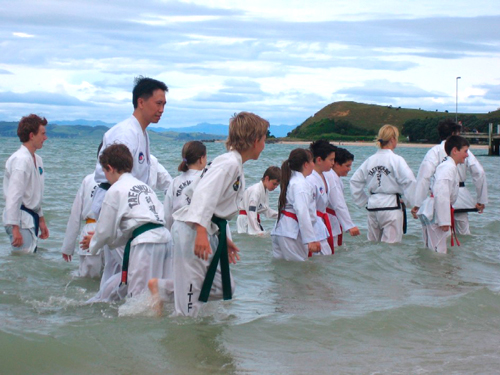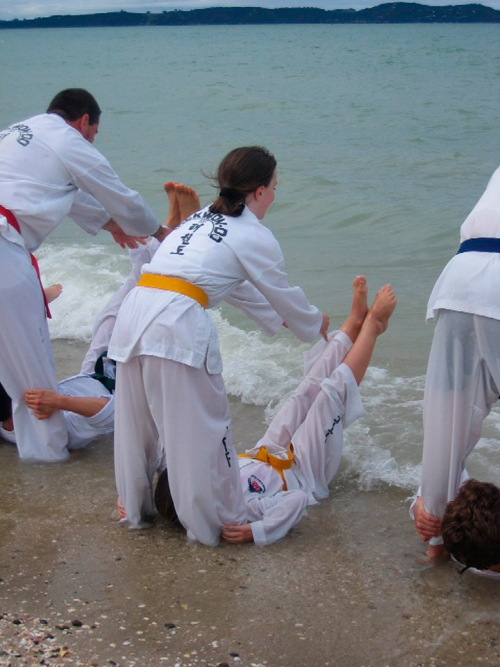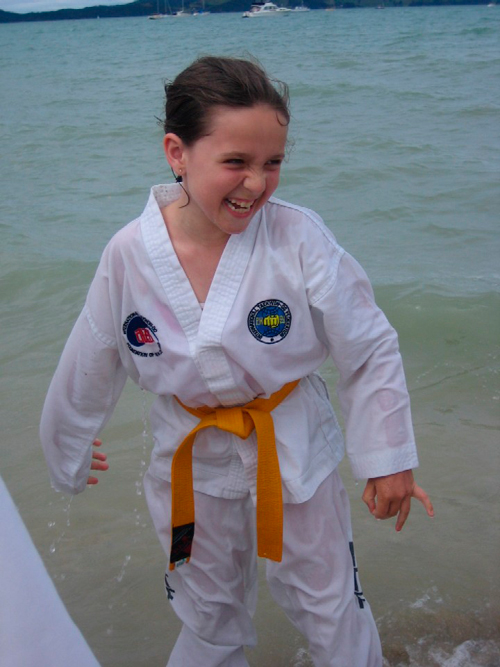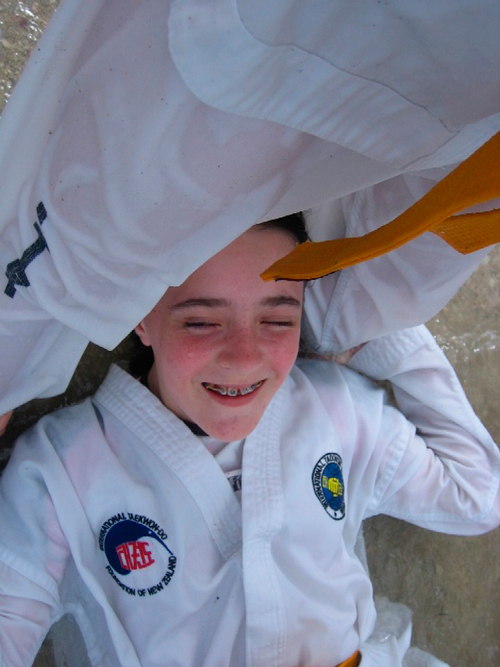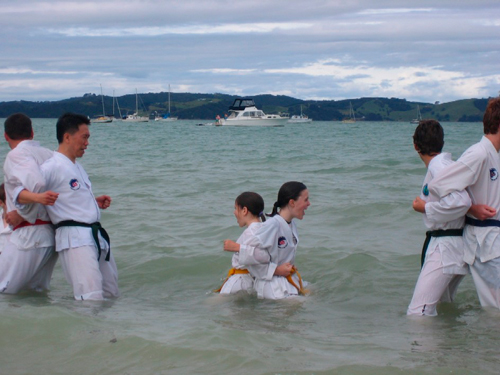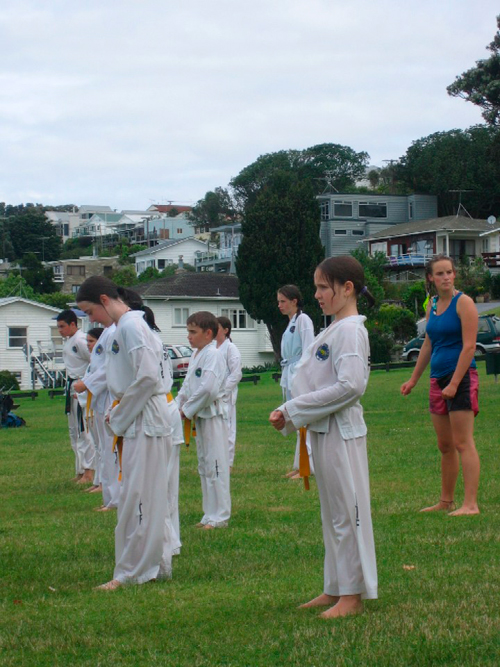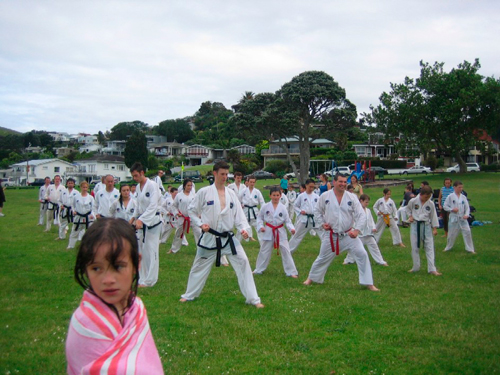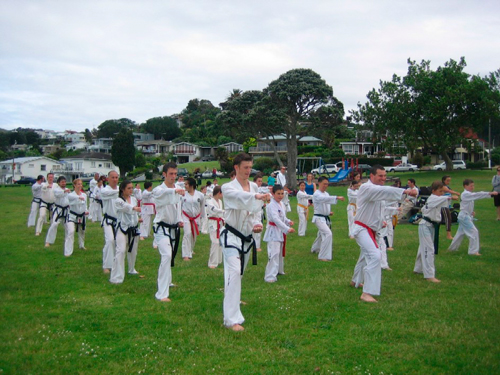 ---
Alisa Parker Wins Award
| | |
| --- | --- |
| | Alisa Parker from Paul M Taekwon-Do Papakura won the Junior Sportswoman of the Year at the Samoa Sports Association (NZ) Awards on 15th December 2007. Congratulations Alisa! |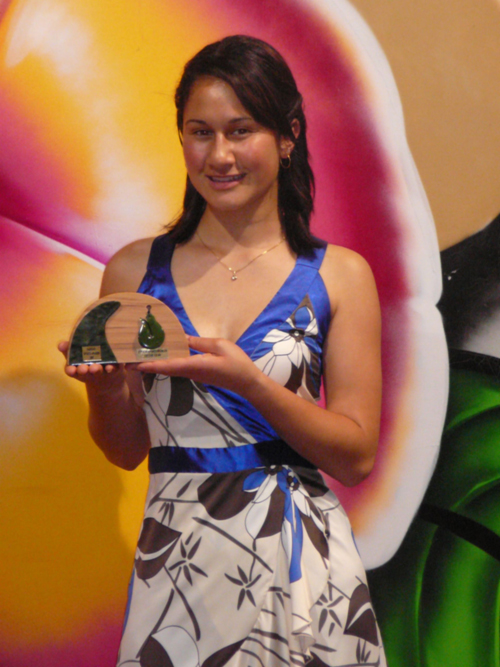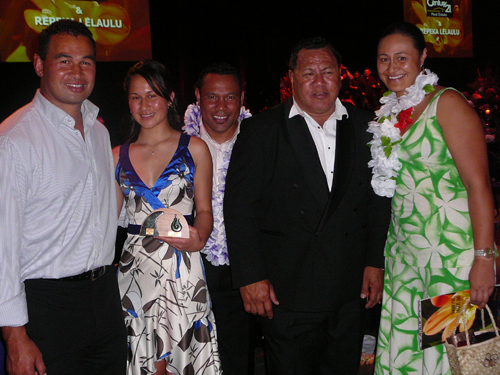 Pat Lam (coach of the year), Alisa, Ofisa Tonu'u (rugby), Peter Fatialofa (President), Linda Vagana (netball)

---
CM Instructor Finalist
Extreme Instructor and World Champion Mr Luke Thompson is a finalist in the Maori Sports Awards. See website here.
Senior Maori Sportsman:
Luke Thompson (Ngapuhi), Manukau City – Tae Kwon Do
Carl Hayman (Ngati Tuwharetoa), Dunedin – Rugby Storm
Uru (Ngai Tahu), Cambridge – Rowing

---
Pee Wee Tournament
Congratulations to all those who competed at the CM Pee Wee Tournament on Sunday 24 September 2006. A big thanks to Mr Butchers for organising the event.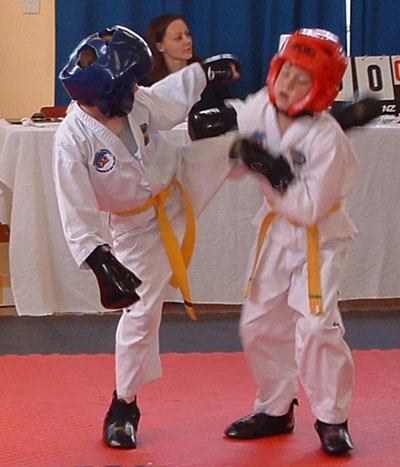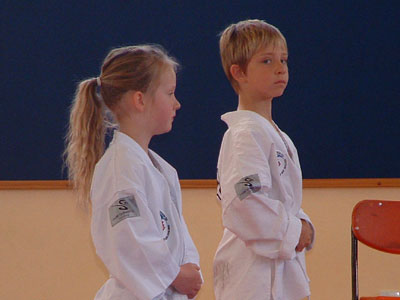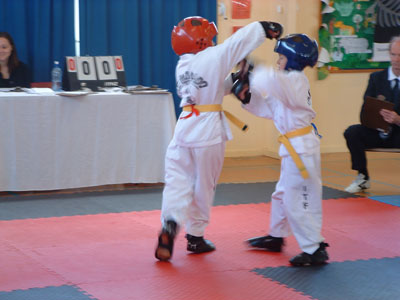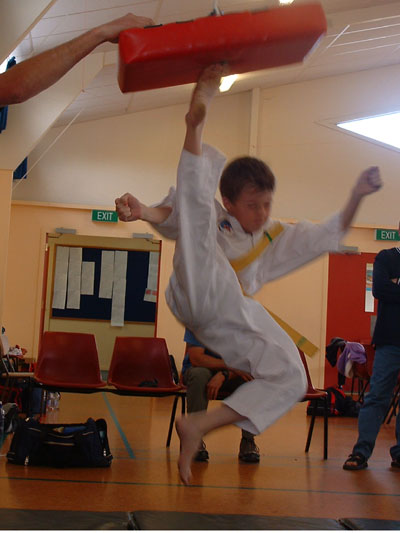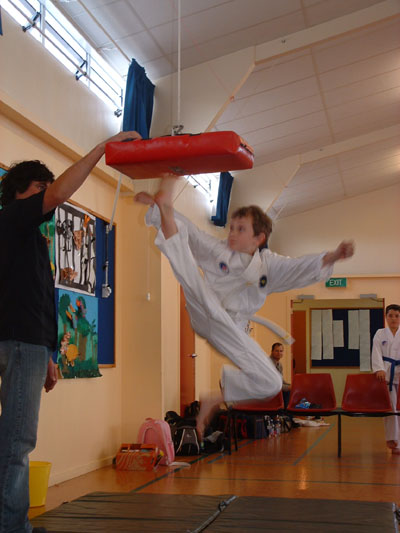 ---
---
50th Anniversary Photo's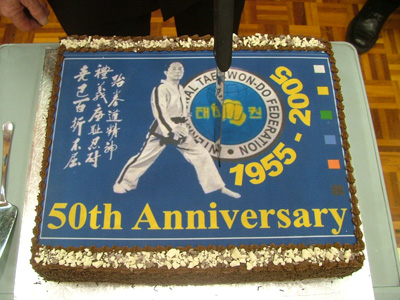 Mr. Graham cutting our 50th Anniversary Cake on a Dragons Spirit grading night which just happened to fall on April 11th (very convenient) . It was a great grading with awesome spirit - everyone put on a good show for such a special day.
---
---
CM Team Camp
Counties Manukau Coach Daniel Jackson took his team on a camp on the weekend of 8-9 May 2004. "...by the end of the weekend everybody was getting on really well and acting as one unit. They are now functioning as a team..."
.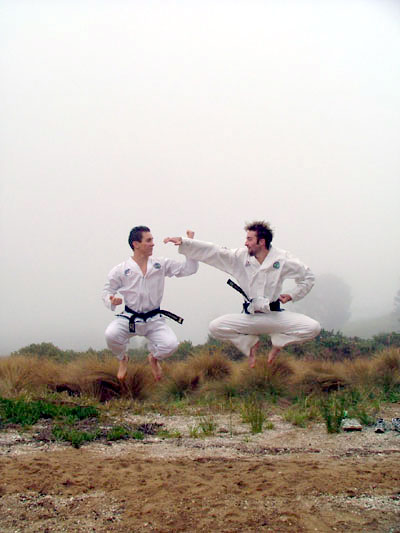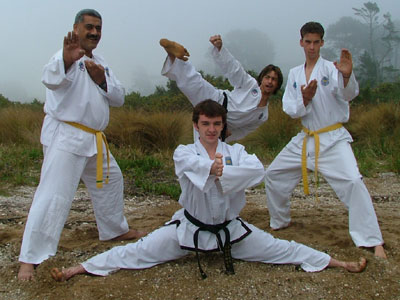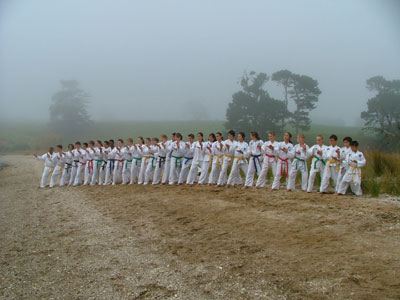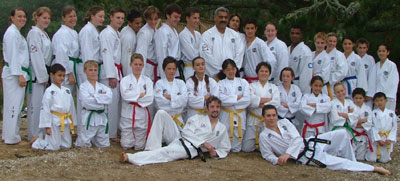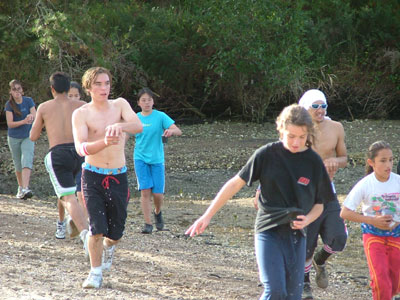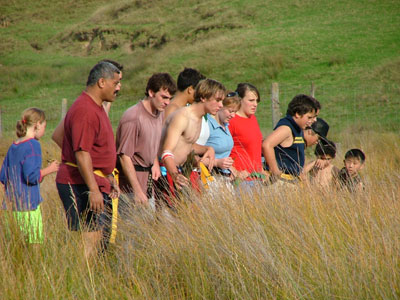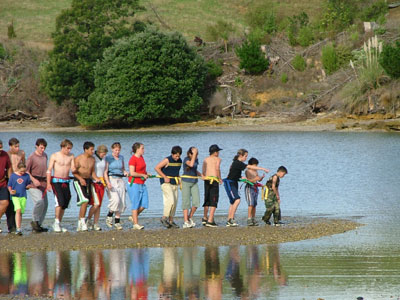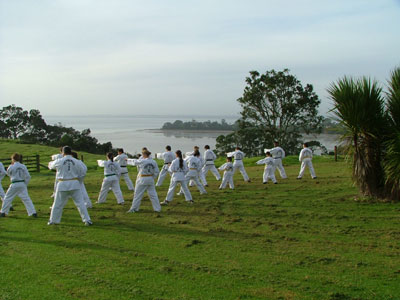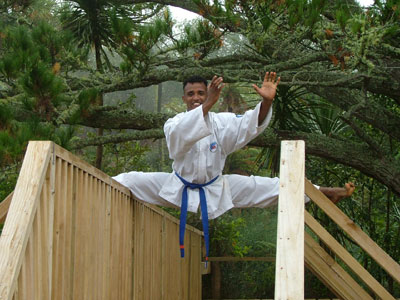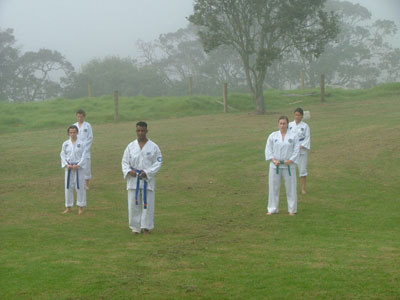 ---
Harmony & Roseanne Selected for Sports Academy
Harmony Moki and Roseanne Tehau are two of only twelve athletes chosen to be a part of the new Bruce Pulman Park Sports Academy to be launched on 24th February 2004. They were selected from applications from schools throughout the Counties Manukau region.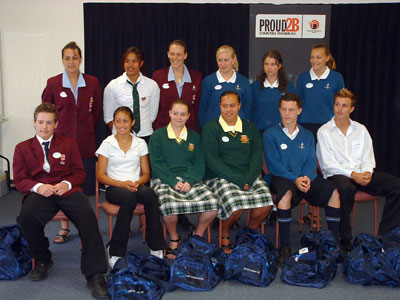 The twelve foundation athletes of the Bruce Pulman Park Sports Academy
---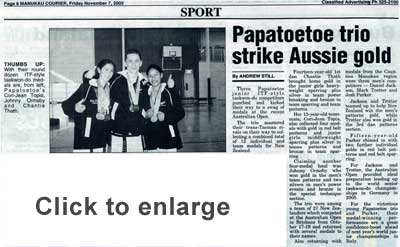 The Counties Manukau Team and Mr Jackson are finalists in this year's Counties Manukau Sports Excellence awards. Congratulations! The Awards night is Friday 31st October at the Lakeside Convention Centre. Tickets are $65 available from Nicole Phone 269 0066.