It was decided at the OTF Board meeting in June 2017 to suspend any further OTF Championships, and instead have an open invitation to any OTF Members to both the Australian and New Zealand National Champs each year. Please see each country's website for details of these tournaments:
http://members.itkd.co.nz/events/tournaments/nationals/
http://itftaekwon-doaustralia.com/
---
OTF Championships 2016
http://members.itkd.co.nz/events/tourrnaments/nationals/2016/

---
OTF Championships 2014
The 6th Oceania Championships were held in Rarotonga, Cook Islands, on Saturday 5th July 2014.
It has been the dream of Cook Islands ITF to host an Oceania Championships for many years. The idea turned into a reality when the Board of the Oceania TKD Federation (OTF) approved a proposal from the the Cooks at their AGM in 2012. Venues were booked and plans put in place to host the event in the July school holidays of 2014. Counties Manukau donated and shipped a set of mats for the tournament, which will be gratfully used for other events in years to come.
Master Michael Daher kicked off the event with a Master Class attended by around 60 enthusiastic members from the Cook Islands, New Zealand, Australia and Russia. The class covered sparring drills that students were able to put into practice the following day, as well as some fun ground techniques.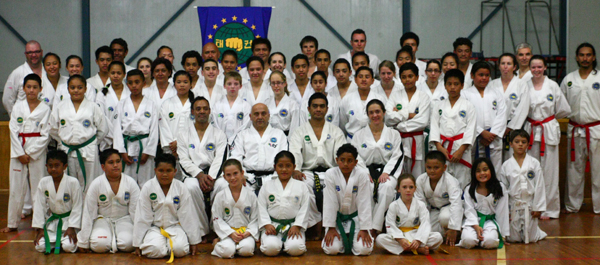 The 6th OTF Champs got underway with a Cook Islands traditional opening ceremony with the CI Minister of Sport our special guest. The competition itself had 82 competitors from four countries and included individual Patterns, Sparring, Special Techniques and Power Breaking, as well as Team Patterns.
Immediately following the tournament the visiting competitors were treated to a bus tour around Rarotonga and on their return were witness to a complete transformation of the tournament venue for the presentations and dinner function. Official speeches followed, along with Best Over-All Belt presentations, cultural entertainment and an amazing fully catered meal for all - free of charge. This was totally fundraised by the club members of the Cook Islands and capped off a fantastic event.
Thanks to all members of Cook Islands ITF for hosting the event, in particular all the committee members who did so much to make it happen. And to the organiser Mrs Natasha Iotua.... once again THANK YOU for making this happen!

Master Class Photos
Oceania Photos
---
Gradings on the Cook Islands
A team of Kiwis from Paul M Papakura, Tribal and Zeal attended grading in Rarotonga on Saturday 23rd November 2013. Congratulations to everyone who graded from the Cooks and from New Zealand! A huge thanks to Mrs Natasha and Mr Richard Iotua for their organising and support.
A special congratulations to those who graded to black belt:
| | | | |
| --- | --- | --- | --- |
| Forename | Surname | Country | New Rank |
| Rufina | Daniel | Cook Islands | 2nd dan |
| Christian | Tiati | Cook Islands | 1st dan |
| Puretu | Enoka | Cook Islands | 1st dan |
| Albert | Pierre | Cook Islands | 1st dan |
| Stephanie | Tua | Cook Islands | 1st dan |
| Marcus | Pierre | Cook Islands | 1st dan |
| Monique | Shepherd | New Zealand | 1st dan |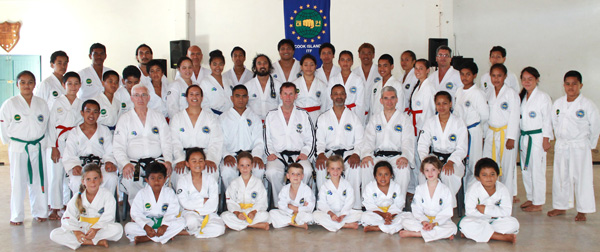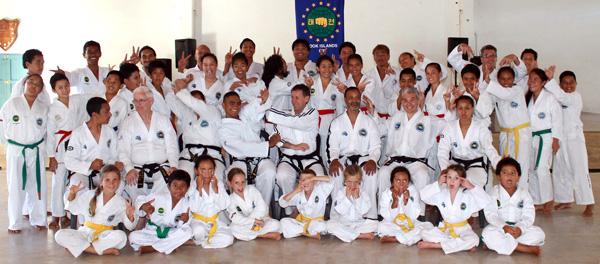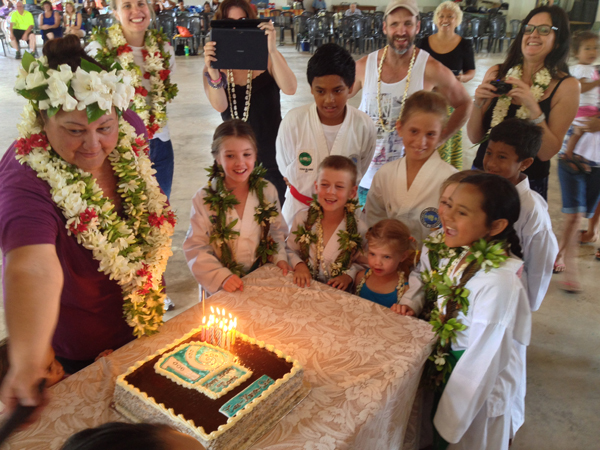 ---
Master McPhail continued travelling in the Cook Islands throughout 2012 with Gradings on Saturday 15th June and 27th October 2012. The club in the Cook Islands continues to develop under the instruction of Mr Ben Maka and his team of seniors and parents. All ITF members are welcome to attend training when in Rarotonga. See the members page for training details.
---
Master McPhail visited the Cook Islands again in May 2012 to conduct both dan and gup gradings. Thirty members passed the gup grading on 26th May, and two members, Paraita Akama and Christian Tiaiti attempted 1st dan. Unfortunately there were several areas of the syllabus not quite up to standard so they will be re-testing in October.
Below are some photos from the grading and presentations the following day. Thanks again to Mr and Mrs Iotua for their generous support for Cook Islands Taekwon-Do.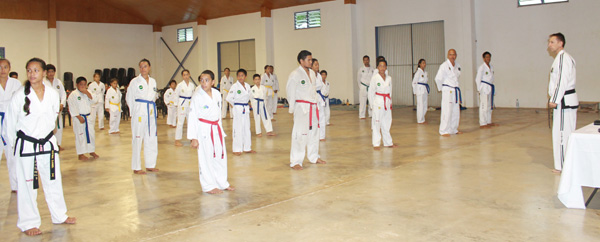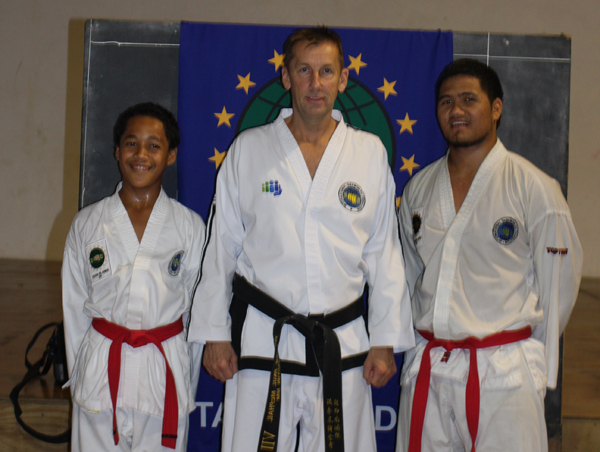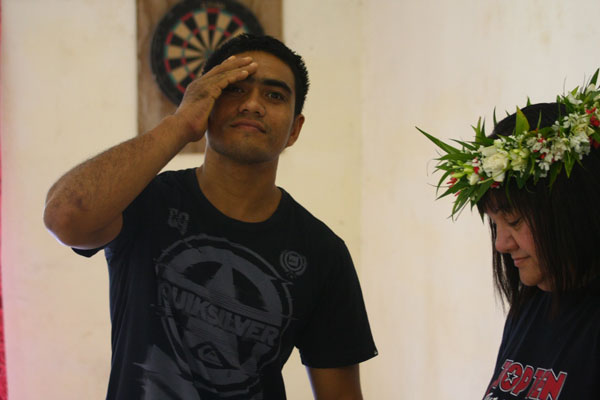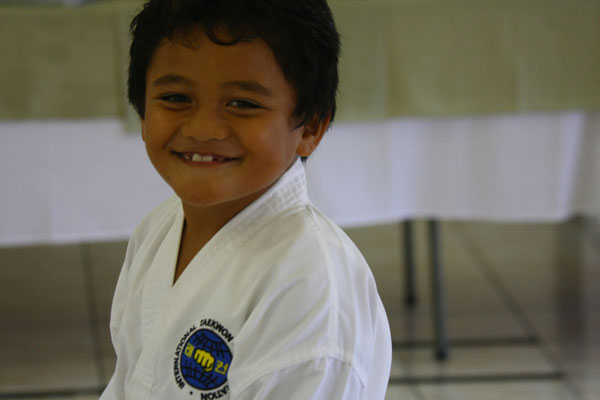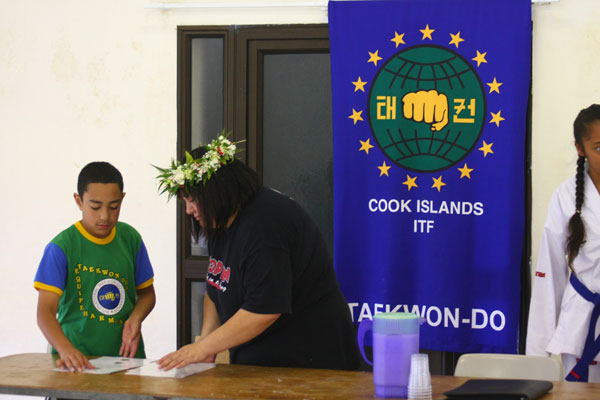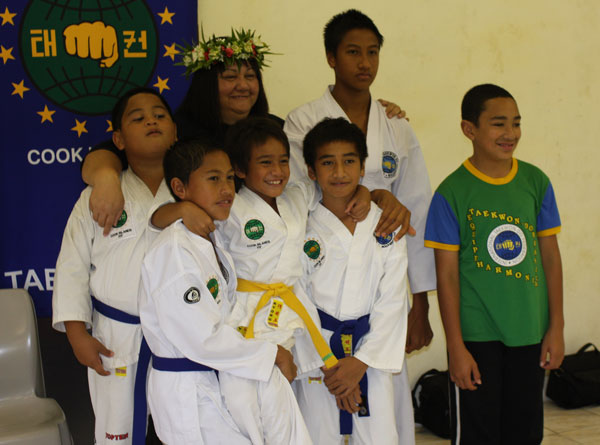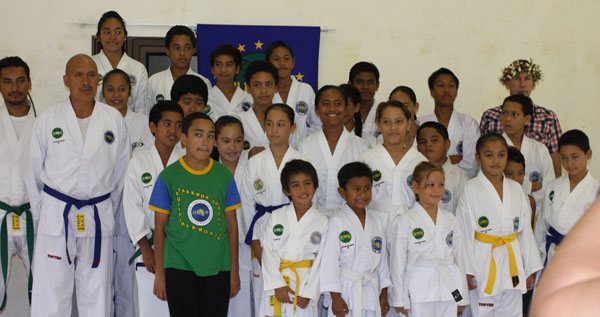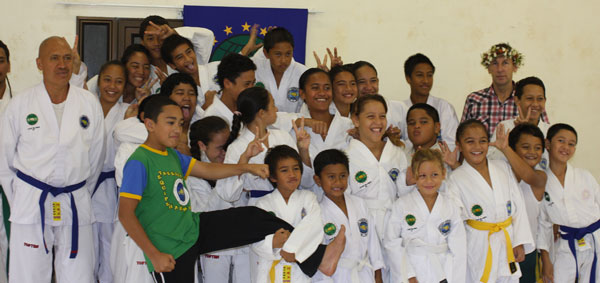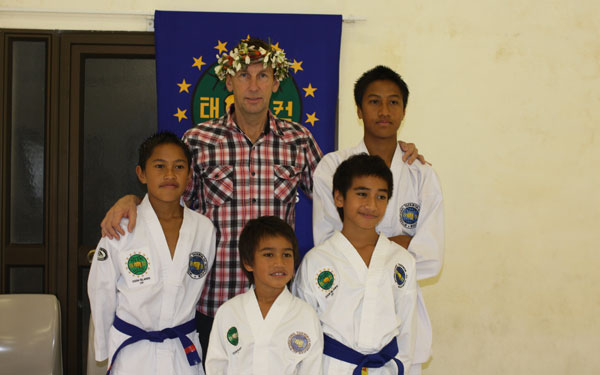 ---
Historic Grading for Cook Islands Taekwon-Do
Two members of Cook Islands ITF graded to their 1st dan black belts in October 2011. Tangi Akama was an original white belt when the organisation began, Rufina Daniel started shortly after. Their Instructor Mr Ben Maaka also graded to 3rd dan. Mrs Natasha Iotua gave an emotion speech following the grading, explaining how they dreamed of this moment since re-establishing TKD in the Cooks on 7.7.07.
Master McPhail conducted a grueling test in compliance with the New Zealand syllabus. The candidates (including 4 Kiwis) completed written and oral examinations plus 9 hours of intense physical testing. Congratulations to our new Cook Island black belts, plus the New Zealanders that also successfully graded. See results here.

Tangi Akama testing for 1st dan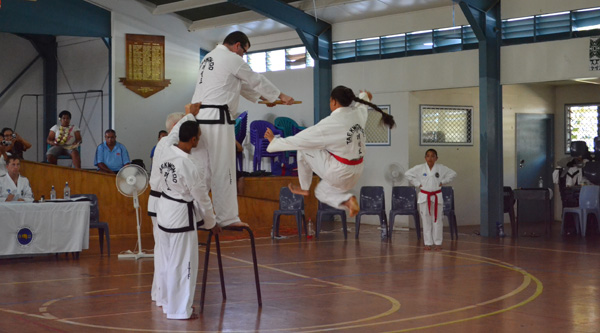 Rufina Daniel testing for 1st dan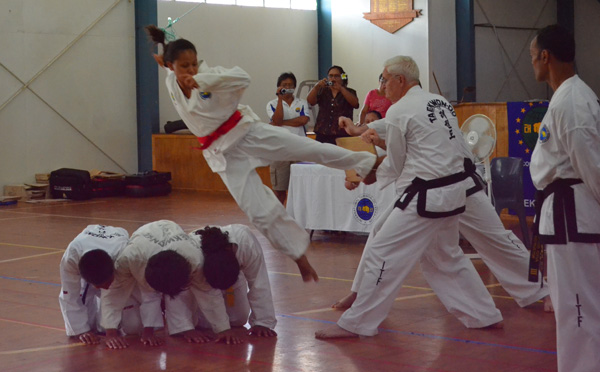 Rufina - overhead kick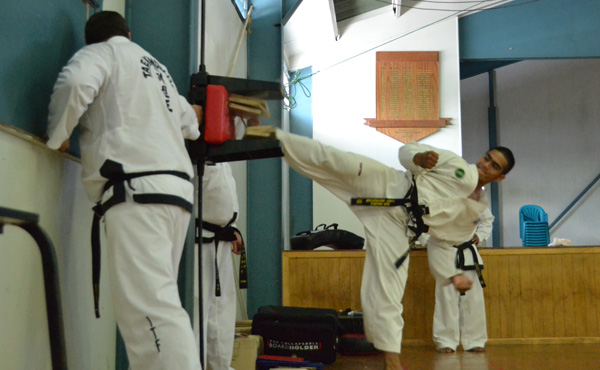 Me Ben Maaka - testing for 3rd dan


Fitness test - 2.4 km run in 30 degree heat!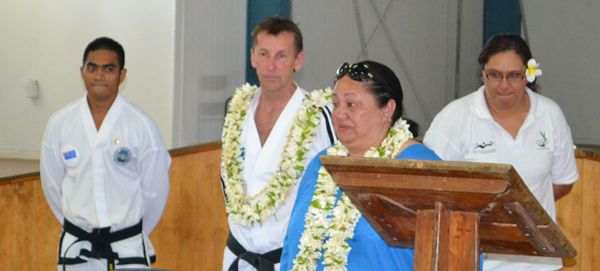 Mrs Natasha Iotua - gives an emotional speech on a dream being realised in the Cook Islands.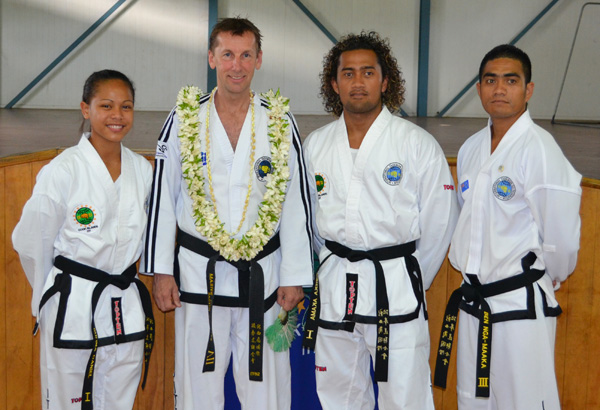 New gradees wearing their new belts and uniforms - a surprise gift from Mrs Iotua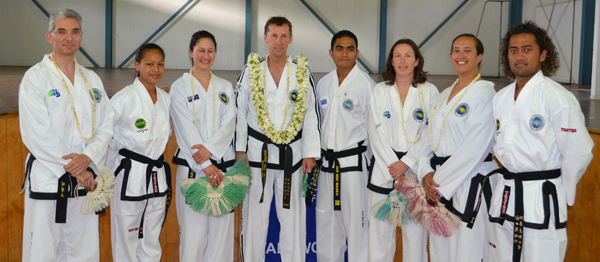 All the candidates with Master McPhail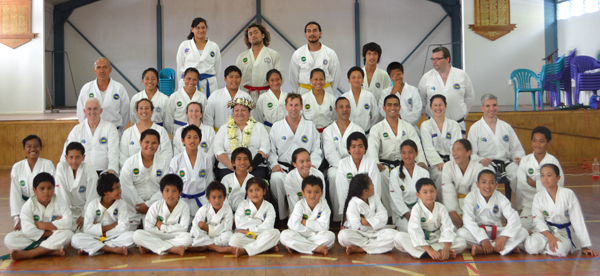 All members after the gup grading


Early morning training Cook Islands Style
---
Cook Islands Taekwon-Do continues to Develop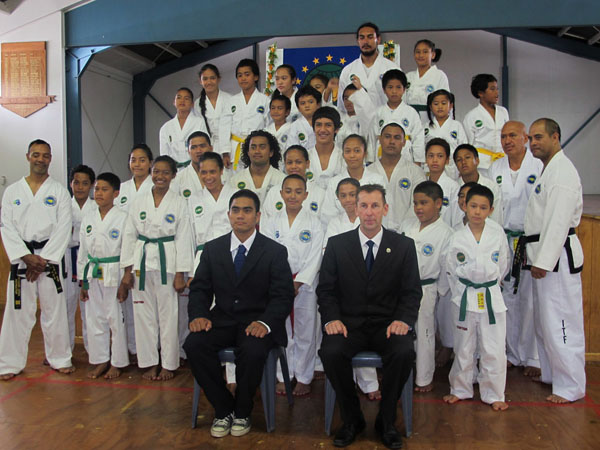 Grading in Rarotonga, 7 May 2011
---
The Cook Islands Taekwon-Do Federation members visited Auckland in March 2010 to compete in the Star Series Tournament and also a grading. Master Paul McPhail also visited Rartonga in November 2010 to conduct a further grading for the members.
Gradings are planed for March and November 2011, with the later being a black belt grading, where it its hoped the first members of the founding club will grade to 1st dan. More details on the New Zealand Site.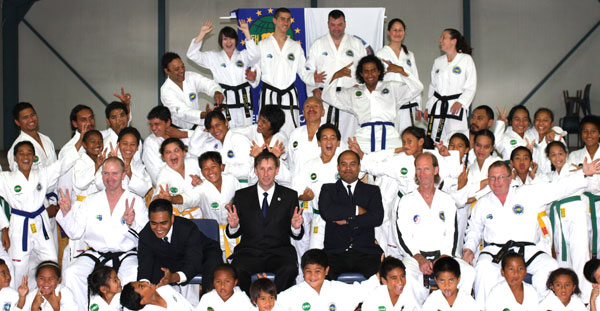 Group Photo - November 2010
---
Gup grading in Cook Islands
Master Paul McPhail visited the Cook Islands again in August and conducted gup grading for the two clubs. The grading was held on Saturday 29th August 2009 and was a great success with over 50 members being promoted. Master McPhail also held several meetings with the instructors and black belts to run through tournament rules plus other technical issues. Mr and Mrs Iotua accompanied Master McPhail and held a number of meetings to assist the National Body wit their planning and administration.
Planning is now well underway for all the Cook Islands members to visit New Zealand in April 2010. They will be able to grade in New Zealand as well as complete in the first Star Series Tournament on April 24th 2010. Below are some photos of the grading and presentations on the following day.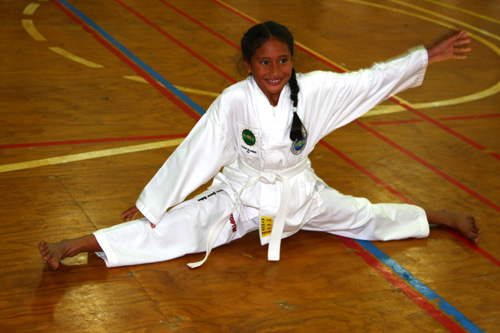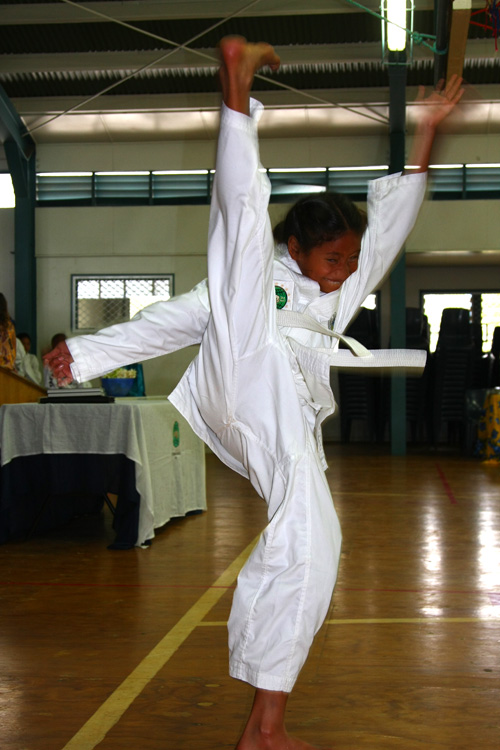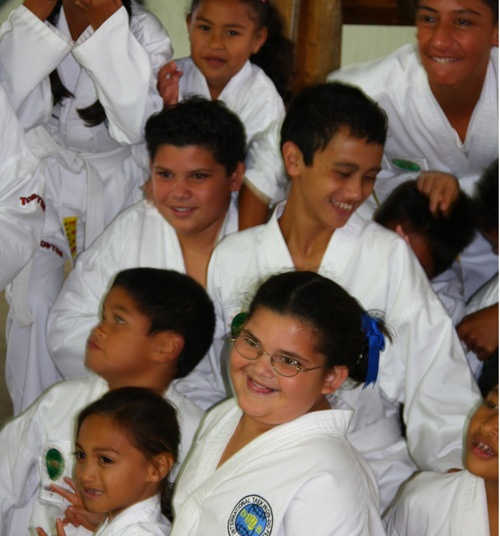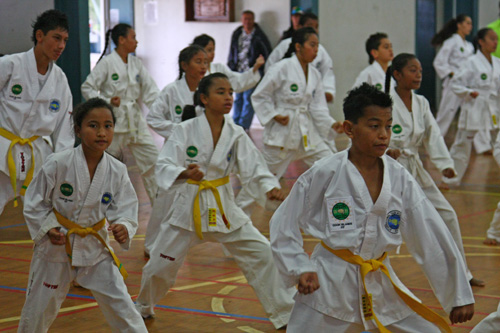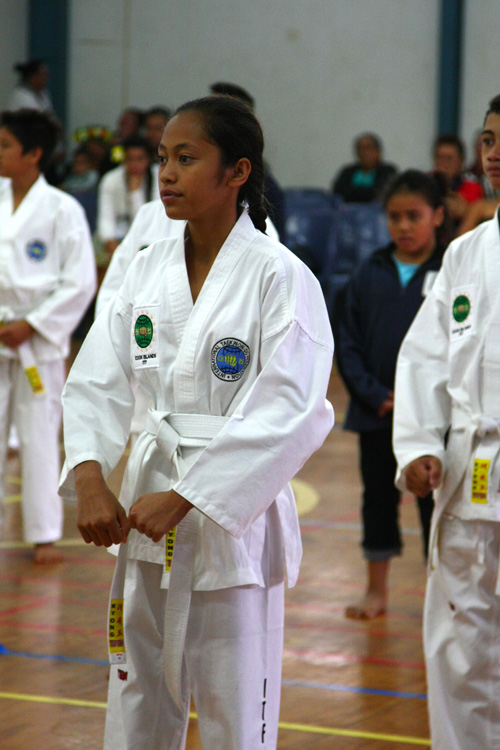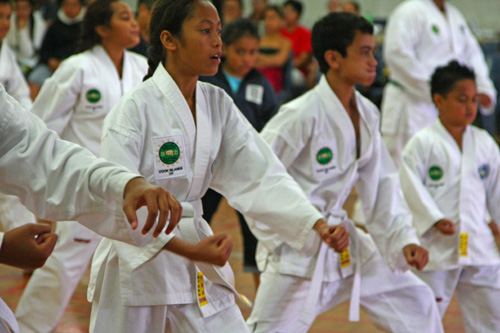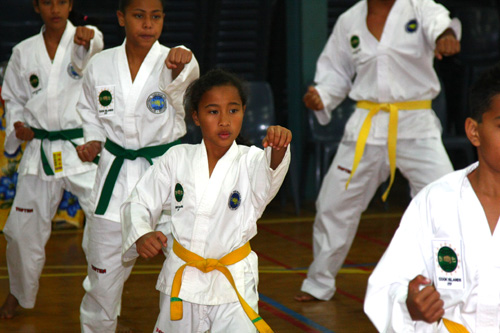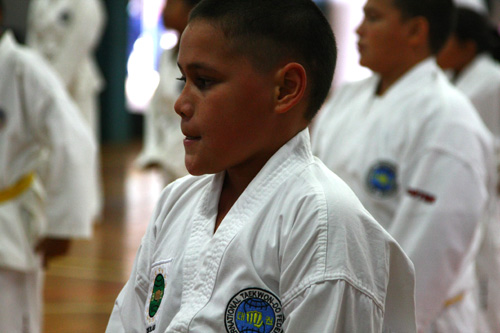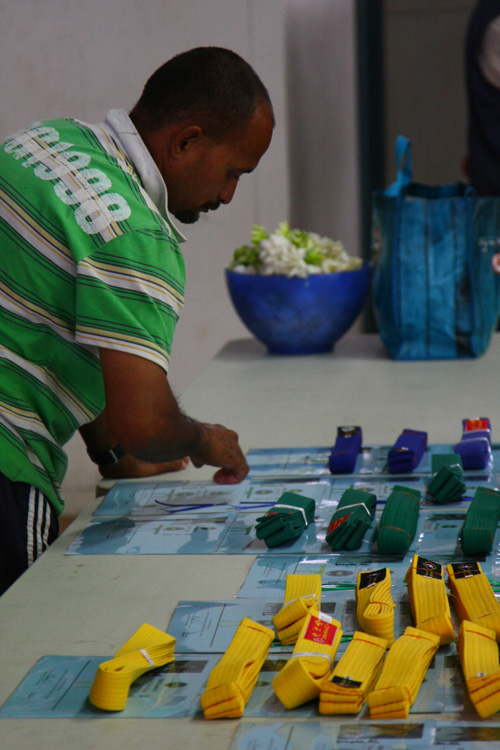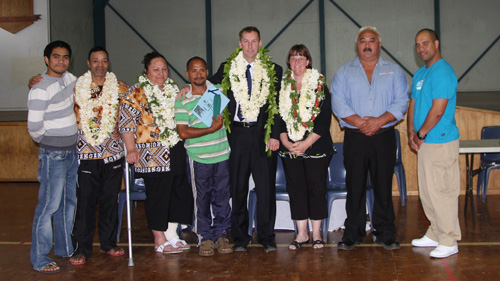 ---
Black Belt Grading for Cook Islands
Master Paul McPhail conducted a black belt grading in Rarotonga on Saturday 21st March 2009. Mr Upoko Poko (1st gup) was promoted to 1st dan, and Mr Ben Maaka was promoted to 2nd dan with an A Pass. The two applicants were tested using the ITFNZ syllabus which involved a written examination, oral test, fitness test, personal training with Master McPhail, plus all the usual criteria such as patterns, step sparring, self defence, destructions and free sparring.
Master McPhail also conducted a Gup Grading and was very happy with the standard of all the members of the Cook Islands Club. Congratulations to Mr Maara John and his committee for the wonderful job they are doing in the Cook Islands. Special mention and thanks also to ITFNZ members Mr and Mrs Iotua and Mr Greg Skinner, for their support.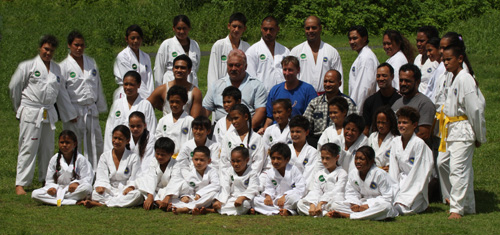 Some of the members of the Cook Islands Club before presentation of their grading results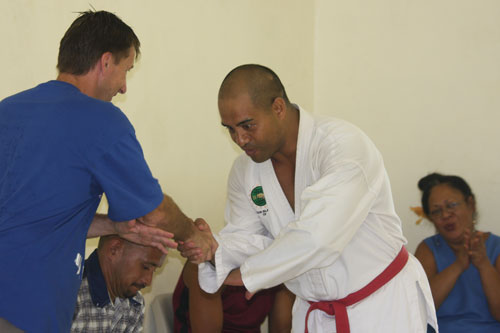 Mr Poko receiving his grading result for 1st dan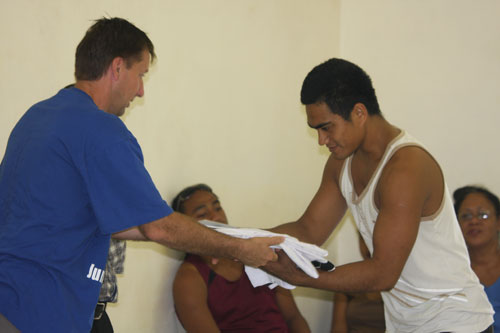 Mr Ben Maka - A Pass to 2nd dan.
---
Annual Meeting and OTF Directors Meeting
The Annual General Meeting of the Oceania Taekwon-Do Federation was held at 161 Ohaupo Road, in comAwamutu at 7.30 pm on 7th November 2008 followed by a OTF Directors meeting. OTF AGM Minutes
The OTF Board members were elected for a further four year term.
---
Master McPhail visits Cook Islands (08)
REPORT BY MASTER MCPHAIL
I had the privilege of being invited to visit the Cook Islands for a grading in August 2008. The trip had ITF approval and was made possible by the efforts of Mr and Mrs Iotua from Tribal Taekwon-Do in Auckland, who accompanied my wife, son Jacob and I to Rarotonga. Thank you to Mr Greg Skinner for provided the sponsorship.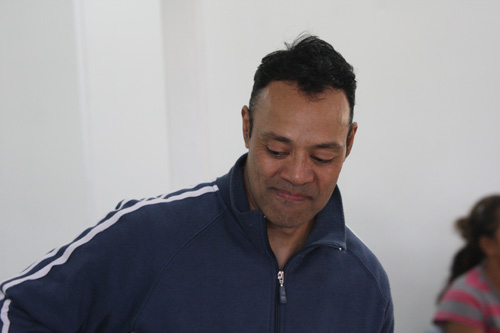 Mr Richard Iotua, Instructor of Tribal Taekwon-Do Auckland & President of Cook Islands ITF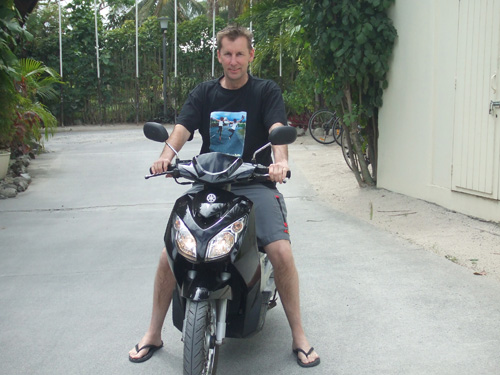 Master McPhail getting around Rarotonga
The new club formed just a few years ago by Mr Maara John is doing very well, and now has the strong support from its committee, made up of club members, parents and supporters. It had been 12 months since Master Davidson had visited, so there was much anticipation as we arrived to conduct the grading.
I was greeted at the door by Mr Padre Tairea. Mr Tairea (an Uncle of Mr John) was one of our key instructors in Auckland, Waioru and Wellington in the 70s and 80s, and it had been 18 years since I had seen him. Mr Tairea learnt Taekwon-Do in Singapore and served in the Vietnam war. Because of Agent Orange exposure his health is now declining, and it was great to tell him how much he is respected in New Zealand as one of the Pioneers of Taekwon-Do and as a part of ITFNZ early history.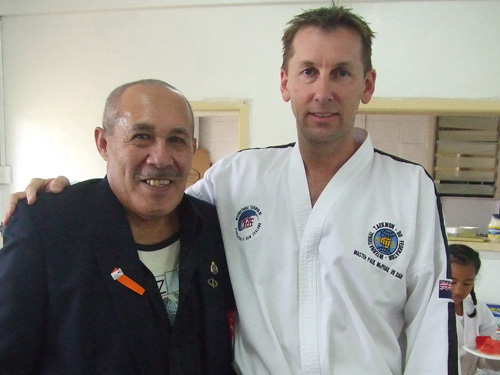 Mr Padre Tairea and Master McPhail
The grading itself went very well and I was very impressed with the standard. It was extremely well organised with a committee member announcing each group by name as they came onto the floor. They also performed demonstrations throughout the grading including pre-arranged sparring, special techniques and kicking routines.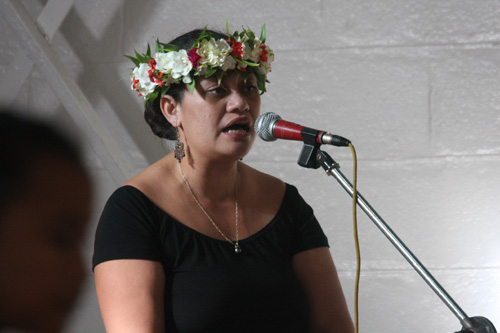 The announcer at the grading
I conducted a training session after the grading, pointing out areas that can be improved on. Everyone trained hard and were a pleasure to teach.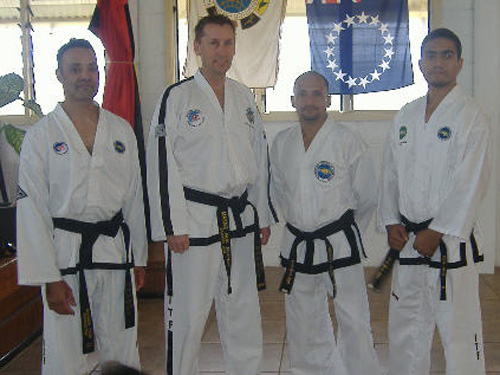 Mr Richard Iotua, Master McPhail, Mr Maara John & Mr Ben Nga Maaka.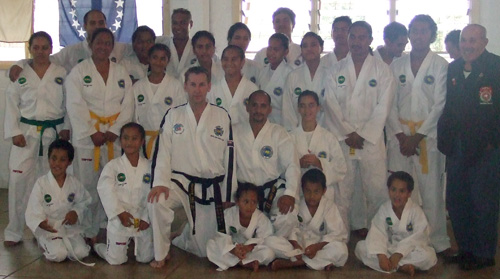 Group Photo following the grading
After the grading a huge feast took place, then the kids continued to train for hours.. so thrilled to be using sparring gear and breaking boards donated by Tribal Taekwon-Do in Auckland.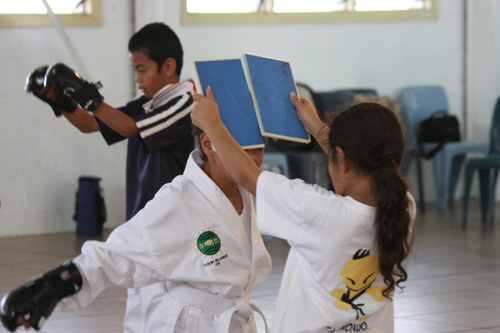 Kids enjoying equipment
That evening a special dinner and cultural night was organised for us, and we also celebrated Mr Upoko Poko's 40th Birthday. Mr Poko graded to 1st gup and is a key member of the club. He started his training with ITFNZ in Auckland.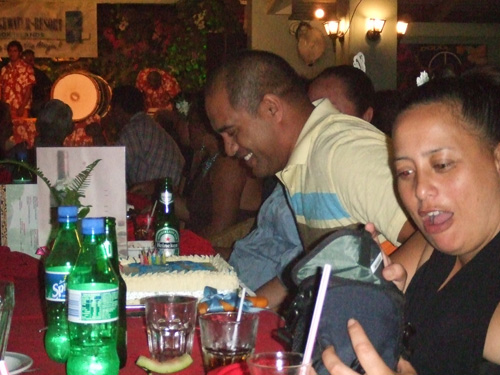 Mr Upoko Poko and his wife Caroline celebrating after the grading
The following day included a special Church service for us then later we had an official presentation of the grading results, as well as presentations of gifts and prizes. We were honoured to receive so many kind gifts as well as being treated to club members dancing, singing and other items.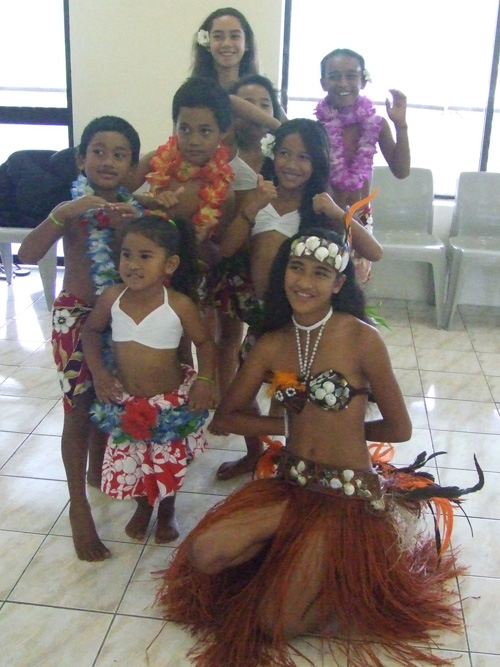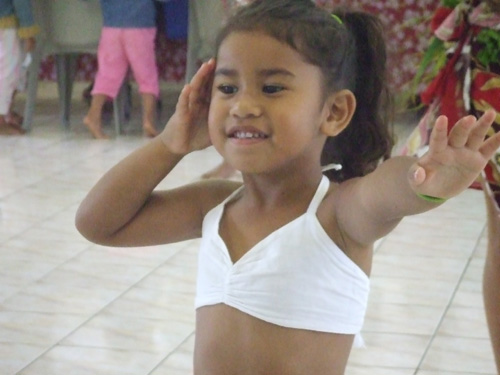 Club members performing for us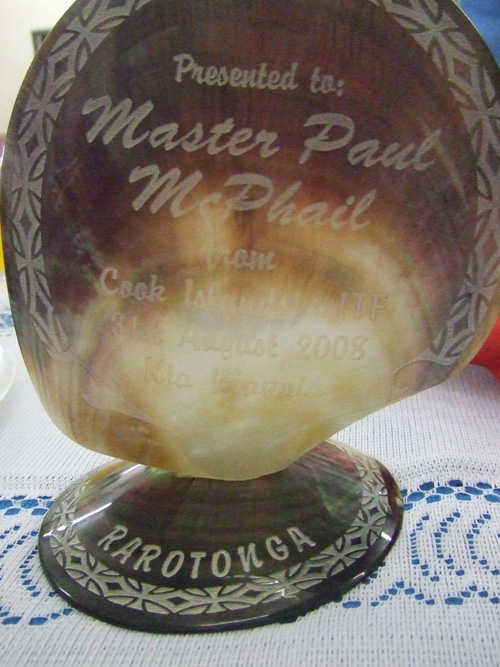 One of the many gifts presented to us
The following day we had a training session with the whole club, then a few hours working just with the black belts. I invited Mr John to test for his 3rd dan in New Zealand in December, which he has accepted.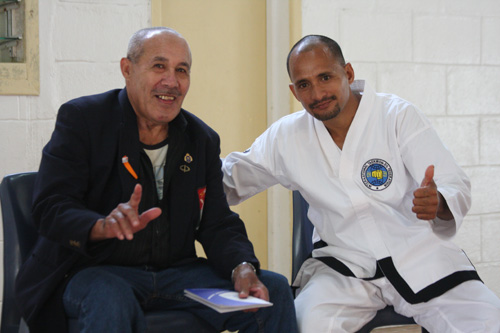 Mr Padre Tairea and Mr Maara John

As a final treat for me, by chance we met up with Mr Mark Cotton, his wife Andrea and two daughters who was holidaying in Rarotonga at the time. I first met Mark in 1978, he and his Sister Dawn were both black belts, students of Mr Harry Hemana. Mark and I attended many seminars and competed in many tournaments together - he was the undefeated heavy-weight Champ in New Zealand. It topped off a fantastic trip.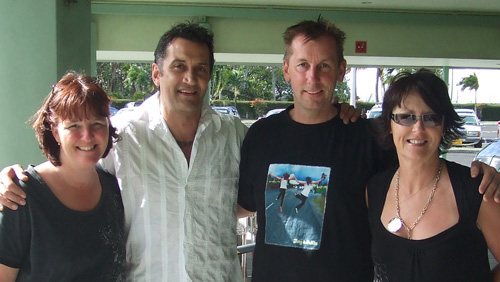 Old friends: Nadia, Mark, Paul & Andrea
Special thanks to all the members of the Cook Islands ITF, club committee members, Mr John, Mr & Mrs Iotua and Mr Greg Skinner. ITFNZ and the OTF are pleased to be able to support you and look forward to much more contact in the future.
Contact details for Cook Islands ITF here
---
Master Davidson Visits Cook Islands (07)
Master Davidson, accompanied by Mr Greg Skinner visited the Cook Islands on 25th and 26th August 2007. The newly formed organisation under Master Tran's ITF invited Master Davidson as a special guest to conduct a seminar and grading.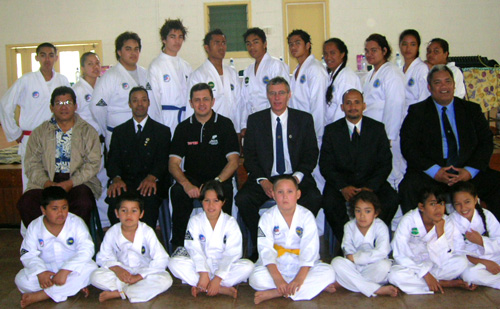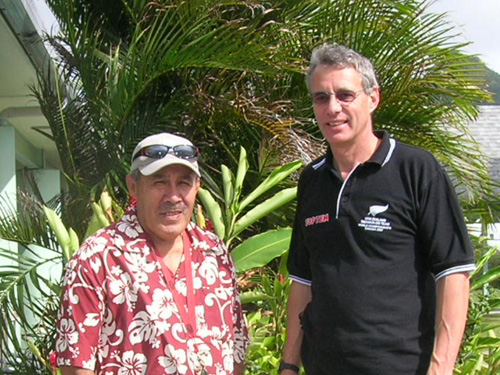 Master Davidson catching up with long time friend and fellow Instructor Mr Padre Tairea.
---
Welcome to Cook Islands ITF
The Oceania Taekwon-Do Federation welcome Cook Islands ITF as their newest member Country. Thanks to the assistance of Mr Richard Iotua, Natasha Iotua and Mr Greg Skinner, the dream of establishing the Cook Islands in our organisation has become a reality.
The school is up and running with 27 members, under the guidance of Mr Maara John. Assisting Mr John is Mr Ben NgaMaaka. Many ITFNZ members will also recognise Mr Upoko Poko who is a committee member of the school.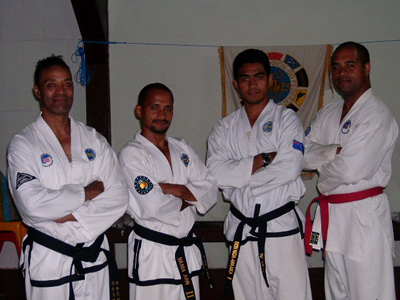 Mr Richard Iotua, Mr Maara John, Mr Ben NgaMaaka and Mr Upoko Poko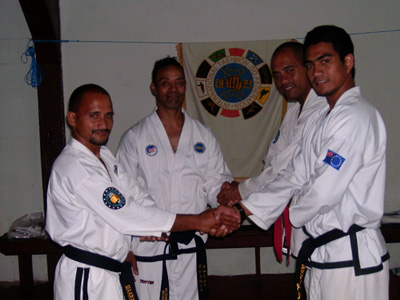 Executive
President.......Mr. Richard Iotua
Secretary.......Mr. Greg Skinner
Treasurer.......Mrs. Natasha Iotua
School Details
Location....................Atiu Hostel, Avarua, Rarotonga, Cook Islands
Head Instructor..........Mr. Maara John
Asst. Instructor..........Mr. Ben NgaMaaka
Committee Member...Mr. Upoko Poko
---
The 3rd Oceania Championships
The Oceanic Taekwon-Do Federation held the 3rd OTF Championships on 1-th - 11th June 2006. This two day event was the chance to compete against World Class competitors from the region and abroad as well as see the talent of Australian ITF practitioners. Results and photos here.
---
OTF Meeting
The OTF held it's annual meeting this year during the International Instructors Course held in Palmerston North, New Zealand.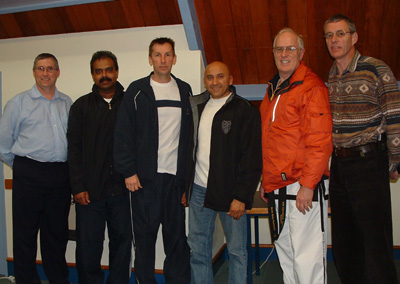 From Left to right: Mr Vince Pygott (Secretary), Mr Mahesh Bhana (Treasurer), Master Paul McPhail (Vice President), Master Michael Daher (President), Mr Rocky ROunthwaite (PNG Rep) and Master Evan Davidson (NZ Rep).
---
ITF Course to be held 2006
The ITF Technical Committee have accepted the invitation of the OTF conduct an International Instructors Course in New Zealand and Australia in August 2006. It may also include an International Umpires course.
SEMINAR INSTRUCTORS:
Master Hector Marano (8th dan, ITF Technical & Instruction Chairman)
Master Pablo Trajtenberg (8th dan, ITF Senior Vice President)
Master Wim Bos (8th dan, Tournament & Umpire Chairman)
---
The ITF Masters Downunder Seminars got away to a great start in February and March 2005 with seminars in Australia and New Zealand. Masters Daher, Davidson and McPhail taught combined and split groups throughout the weekend including classes on patterns, sparring, self defence, flying techniques and conditioning.

---
The 2nd Oceania Championships
Held in October 2004 in Auckland New Zealand with over 200 competitors.
Special guests present at the tournament were:
Master Michael Daher (OTF President)
Mr Ken Harris (AITF President)
Master Evan Davidson (ITFNZ President)
Master Paul McPhail (OTF Vice-President)
Thanks to the visiting senior Instructors who brought teams from Australia:
Mr Charles Birch (Bai Rui)
Mr Steve Weston (Southern ITF)
Mrs Trish Rounthwaite (AITF, RTR Taekwon-Do)
Mr George Gabrielides (AITF, Jung Tong)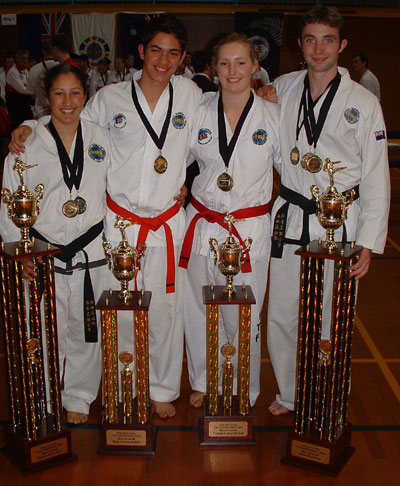 Best over-all Female black belt:
Tony Moki
(Paul M Taekwon-Do Pakaura)
Best over-all Male coloured belt:
Daniel McMillan
(Dragons Spirit Papatoetoe)
Best over-all Female coloured belt:
Amanda Clelland
(PNTA)
Best over-all Male Black belt:
Dan Jackson
(Paul M Taekwon-Do Waiau Pa)(Wade Salton (Horowhenua) also 1st equal best over all coloured belt)
---
Augural Annual Meeting of the Federation
The Constution of the OTF has been registed at OTF is now an Incorporated Society. In accordance with the Constition, representatives held the forst annual General Meeting of the Federation on Friday 22nd October 2004.
Present at the meeting were:
Master Michael Daher (Acting President), Master Paul McPhail (Acting Vice-President), Master Evan Davidson (NZ Rep), Mr Vince Pygott (Acting Secretary) Mr Mahesh Bhana (Acting Treasurer), Mr Ken Harris (Australia Rep) and Mrs Trish Rounthwaite (On behalf or Mr Rounthwaite - Rep for PNG).
Voting took place to confirm the Board of Directors and Representatives of the OTF as follows:
Nominee's for President:
Nominees – Master Michael Daher; Moved PM, Seconded VP.
Votes: For – Unanimous.
The new President is Master Michael Daher.
Nominee's for Vice President:
Nominees – Master Paul McPhail; Moved PM, Seconded VP.
Votes: For – Unanimous.
The new Vice-President is Master Paul McPhail.
Nominee's for Secretary:
Nominees – Mr Vince Pygott; Moved PM, Seconded VP.
Votes: For – Unanimous.
The new Secretary is Mr Vince Pygott.
Nominee's for Treasurer:
Nominees – Mr Mahesh Bhana; Moved PM, Seconded VP.
Votes: For – Unanimous.
The new Treasurer is Mr Mahesh Bhana.
Confirmation of Elected Officers:
Representing AITF: Mr Ken Harris
Representing ITFNZ: Master Evan Davidson
Representing PNG: Mr Graeme Rounthwaite
Motion: "That the above named Elected Officers be accepted to the Board of Directors."
Moved: MD, Seconded: MB; - Carried Unanimously
---
The 3rd meeting of the Federation was held in Auckland on Thursday 9th October 2003. Special guest at the meeting was ITF President Master Trân Triêu Quân, 8th dan. Master Tran was kept informed as to the various activities planned for the region, and also made valuable contributions to the meeting.
Much of the meeting as spent finalizing the constitution. Mr Rocky Rounthwaite was confirmed as the representative from PNG, Mr Ken Harris for Australia, Mr Evan Davidson for New Zealand and nominations were put forward for positions of Oceania technical, tournament committees. All positions will be voted for at the OTF meeting to be held in conjunction with the 2004 Oceania Championships in New Zealand.
Present at the meeting:
Master Tran, Master Michael Daher, Mr Paul McPhail, Mr Vince Pygott and Mr Mahesh Bhana.
---
The 2nd meeting of the Federation was held in Palmerston North, New Zealand on Saturday 25th January 2003 to vote for a new President and Vice President following the departure of the former President and Vice President. Master Michael Daher was elected as President and Mr Paul McPhail as Vice President. Mr Pygott and Mr Bhana will continue their positions, and Mr Rocky Rounthwaite from Australia will be asked to consider a position on the board.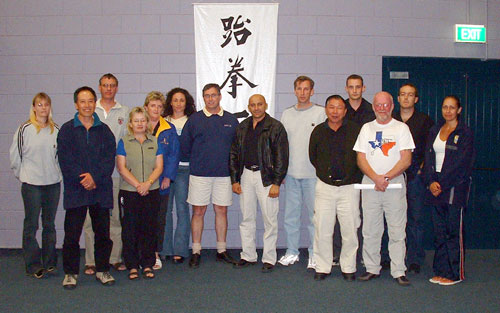 Photos show those in attendance at the meeting (left to right):
Jodie Collins, Michael Lowe, Evan Davidson, Beryl Pimblott, Viv Holmes, Hannah Honey, Vince Pygott, Master Daher, Paul McPhail, Norman Ng, Kris Herbison, Peter Graham, Grant Eclles, Tanya Katene
---