2nd Oceania Championships
23 & 24 October 2004 - ASB Stadium, Auckland
NEWS | SCHEDULE | RULES | ENTRY FORMS | ACCOMMODATION | ORGANISERS | RESULTS |PHOTOS
Congratulations to all those who took part in the 2nd Oceania Championships, which was a most successful event. Special thanks to Mr Breon Gravatt for organsing the event.
Special guests present at the tournament were:
Master Michael Daher (OTF President)
Mr Ken Harris (AITF President)
Master Evan Davidson (ITFNZ President)
Master Paul McPhail (OTF Vice-President)
Thanks to the visiting senior Instructors who brought teams from Australia:
Mr Charles Birch (Bai Rui)
Mr Steve Weston (Southern ITF)
Mrs Trish Rounthwaite (AITF, RTR Taekwon-Do)
Mr George Gabrielides (AITF, Jung Tong)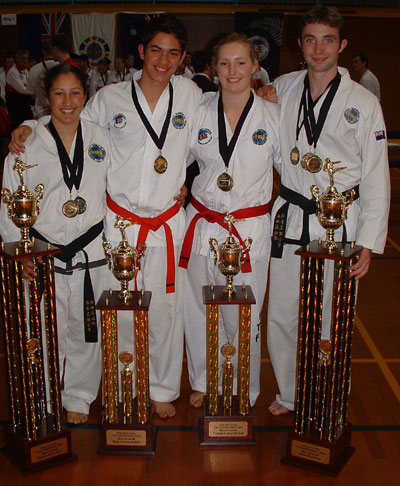 Best over-all Female black belt: Tony Moki (Paul M Taekwon-Do Pakaura)
Best over-all Male coloured belt: Daniel McMillan (Dragons Spirit Papatoetoe)
Best over-all Female coloured belt: Amanda Clelland (PNTA)
Best over-all Male Black belt: Dan Jackson (Paul M Taekwon-Do Waiau Pa)
(Wade Salton (Horowhenua) also 1st equal best over all coloured belt)
---
I am pleased to advise of your successful selection to the NZ Sparring Teams
that will contest the Oceania Championships.
The teams are as follows:
Male Junior
Sam Skinner ( Captain )
Campbell Gold
Robbie Buddle
Regan Diggelmann
Nick Eley
Chris Broughton
Female Junior
Roseanne TeHau ( Captain )
Elly Sekikawa
Alicia Yates
Chanthie Thach
Lipi Shukla
Renee Richardson
Male Senior
Carl Van Roon ( Captain )
Dan Jackson
Chris Clencie
Kenny Clencie
Cameron Snelling
Mark Trotter

Female Senior
Antje Hollaender ( Captain )
Nicola Tse
Cori-Jean Topia
Estelle Speirs
Toni Moki
Alix Bartholomew
Greg Skinner
Director
Coaching & Selection
---
Official Dinner
Grand Harbour Restaurant
cnr Pakenham & Custom St West
Saturday 23rd October 7.00pm
$30 per head, buy your own drinks.
Parking beside the restaurant
All invited!
---
Umpires - please read this
Sponsorship Opportunity
>>See our Sponsorship Document
Rules Updates
>> See the rules page for important updates
Transport Update
>> See update on transport for overseas guests
Note for ITFNZ members:
Be aware that all ITFNZ members also entitled to the $20 discount for being in the ITF under Master Tran (tick ITF on the entry form).
NZ Team Applications
Applications are sought from ITFNZ students who wish to be considered for selection to the New Zealand Senior and Junior teams that will compete in Team Sparring at the forthcoming Oceania Championships. Students must be a minimum of 1st Dan. All applications should be e-mailed to Greg Skinner, Coaching and Selection Director. The e-mail address is gskinner@itfnz.org.nz. Applications close Friday September 17th."
The tournament is open to any ITF practitioner regardless of affiliation.
Unfortunately Jamaica will not be coming to NZ again this year as some persons were severely affected by the passage of hurricane "IVAN".
The first Oceania Taekwon-Do Champs were held in Canberra in 2002. ITFNZ are proud to host the 2nd OTF CHamps in Auckland, and welcome entries from outside our region. Please contact the Organiser for more information.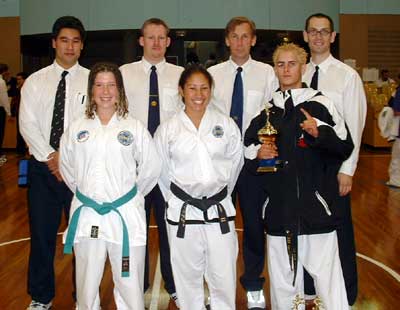 Kiwis who attended the 2002 champs in Canberra