ITF World Cup
November 19-21, 2004 - Orlando, Florida, USA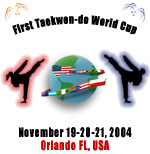 TWO GOLD MEDALS FOR NEW ZEALAND
Josh Parker has won Gold Medals in both sparring and patterns at the 1st Orlando International Friendship Taekwon-Do Cup in Orlando.
ITFNZ members currently overseas for the World Cup currently are:

Mr Dan Jackson, 3rd dan
Competing in sparring and patterns at the ITF World Cup (black belts)
Mr Josh Parker, 1st gup
Competing in sparring and patterns at the ITF International Friendship Cup (colour belts)
(Both Paul M Taekwon-Do - Waiau PA)
Txt Updates from Mr Jackson:
22.11.04 - 9.00am - Phone call

Patterns: Dan got a bye in first round, then won against Ukraine, then lost to Japan's Kosuke Yamamoto (Kiwi trained!) who went on to get Silver.
Sparring: Lost to Russia in the first bout. Because of time restraints all bouts were reduced to 1 round only. Dan's opponent was a good counter sparrer and Dan felt he fell into his trap to some extent - given that time was so limited. Russia went on to win Bronze.
Dan and Josh had a slight hitch when they discovered they needed a Coach ID Card to Second each other - that would have cost US$150 between them. Master Daher saved the day and "arranged" for them to second each other.
The judges used score sheets, but then indicated the winner by raising a flag at the end of the bout to cut down on time. Dan said the standard of black belts was very good, and he has a lot of video footage to study on his return.
CONGRATULATIONS Dan and Josh for such a great effort...spending their own time and money to further their own TKD.
---
21.11.04 - 5.00pm
The colored belt division that were on today were okay...the black belt divisions look a lot better. I have 23 in my patterns division and 16 in sparring up against Russia first. Max from Canada and Kosuke from Japan are two good people I know of in my pattern division. Should be a big day tomorrow.
Josh's Patterns:
vs USA - win to Josh
vs JAPAN - win to Josh
vs USA - win to Josh - GOLD
Josh's Sparring:
vs USA - win to Josh
vs CANADA - win to Josh - GOLD
The tournament is being run under a flag system with 3 judges in patterns and 4 in sparring.

21.11.04 - 7.00am
Josh just got Gold in sparring. That's now two golds for New Zealand and the end of the competition for Josh.
21.11.04 - 4.00am
Gold for New Zealand. Josh won his patterns division. He looked really good!
20.11.04
We now have the draw for sparring. Josh is up against USA first. THen either USA or Canada. I am up against Russia, then either Norway or USA. I have 16 in my division. We do not yet have the patterns draw - will probably get those in the morning.
20.11.04
The first ITF World Cup is now officially open. Competition will start with the colour belt tournament tomorrow at 9.am (3.00am Sunday NZ time). Master Daher did a board breaking demonstration at the opening - was very impressive - including full splits, flying twisting kicks, knifehand strikes. Was very cool.
On our way home now for dinner and sleep.
20.11.04 - EMAIL
Hi everyone, finally found an internet connection. So far the trip has been really good. We had our weigh in today and the opening ceremony is tonight. Both Josh and myself were correct for our weight division's. We have seen many other countries here but tonight will show us exactly who is here. We met Japan today and Mr Kosuke Yamamoto is here with a team of 26 from Japan. We have also seen the Polish team, Germany, Jamacia, lots of different USA teams. Master Dahar has been really nice to us, he has helped to make us feel really welcome.
Josh has his competition tomorrow with patterns and sparring. At some stage today we should get the draw's so that we know who we are up against first. We have spent the majority of our time relaxing around the hotel prior to the tournament with a bit of hopping and sightseeing. Both of us have been having trouble with jet lag. Has been really hard to sleep at night. Combination of the night temperature and the fact that our body's think that its still daytime. And the occasional text that come's thru just as we go to sleep. So if you have text at some stage and not got a reply its more than likely cause I threw my phone across the room in my state of insomnia.
There is heaps of people who are in the tournament staying in the same place as we are. Will be really cool once everybody relaxes and starts talking to one another (typical pre comp conversation's ( Hi......Hi)). The weather over here is hot during the day but not too much hotter than NZ at the moment and warm and muggy at night. But always sunny and hardly any clouds.
We have just about cut a deal with this guy selling Disney tickets out of a booth. Incredibly dodgy but a lot cheaper than buying them at the gate. We will have to see if he is going to rip us off or not but he is selling them out of a disney booth??? I don't know but we will have to wait and see. I failed my pitmans test at school and not the fastest typer in the world and our time is nearly up so I will try and get over here as soon as I can as we get more information come thru.
Over and Out
Dan and Josh
Orlando Florida.
---
20.11.04
Josh and I just weighed in, and we are both okay. I was pretty close though, I was 154.4, and I had to be under 154 pounds. Josh weighted in at 166. I'm starving so off to get something to eat. We should get the draw this afternoon in a couple of hours. Will send more info then. Off to eat now. Dan and Josh
19.11.04
I everyone, we have registered for the tournament today. We met Masters Bos, Tran and Daher today. We sneaked into the venue this morning - 5 rings and there is about 400 competitors. We have seen lots of other teams like Germany, Canada, Honduras, Japan and many other teams just arriving. The venue is amazing. It's huge! Really looking forward to the comp. It's shaping up to be really good. Hope everyone is well back home. Dan and Josh
18.11.04
Hello everyone. We arrived at our hotel this morning at 6am. Both of us were exhausted. On the way here we had a 12 hour stop over in Los Angeles. So after we checked our luggage through we went down to Venice Beach. It is a stretch of beach full of stalls, markets and buskers. Some of which were not very good. Like the guy who walks over blunt glass. More info tomorrow as we start to have a look around and find an internet connection. Talk soon. Dan & Josh.
16.11.04
Hi - just touched down in USA. Flight went really well. I think I bored Josh a bit - I stayed awake for the first two hours and slept the next 10. Woke up just in time to eat breakfast. Good movies on the plane though apparently. We got delayed which has cut down our waiting time here. Send more later. Dan and Josh.
---
The ITF World Cup is open to all Taekwon-Do practitioners regardless of affiliation. The tournament is being held at the Disney's Wide World of Sports complex Orlando, Florida USA - right inside Disney World!
---
June 10th, 2004
Subject: 1st Taekwon-Do World Cup (Black Belts)
1st Orlando International Friendship Taekwon-Do Cup (Colored Belts)
Disney's Wide World of Sports Complex, Orlando Florida U.S.A.
November 19-21, 2004
It is my great pleasure to invite you and the members of your organization to participate in the 1st Taekwon- Do World Cup, to be held November 19-21, 2004, at the Disney's Wide World of Sports Complex in Orlando, Florida, U.S.A.
This prestigious event is sanctioned by the International Taekwon-Do Federation (ITF) and is opened to all Taekwon-Do Black Belt holders, regardless of their affiliation. Holders of Colored Belts can also compete on this occasion by taking part in the 1st Orlando International Friendship Taekwon-Do Cup. The registration forms will be posted on our Web site from July 1st, 2004.
Our goal in organizing this innovative event is to promote better mutual understanding among TKD practitioners and organizations around the world. We hope this initiative will encourage the development of friendship and harmony in the international Taekwon-Do family.
Our expectations are more than 1,500 competitors from more than 60 countries. Therefore, we are looking forward to your participation to this major event in the world of Tae Kwon Do.
You can, of course, expect high quality installations at the Disney's Sports Complex, and we guarantee professional on-site management of the tournament, including respect of the competition schedule and fairness in judging.
Since Florida - particularly Orlando and Disney World – is famous for sunny weather and plenty of wonderful attractions, you and your members may wish to take this opportunity to vacation with your families before or after the World Cup.
In order to ensure a comfortable stay, we are offering special package rates (including registration or admission fee for the tournament, hotel accommodation, and three meals per day) for you, your members, and their families.
Moreover, for a better coordination, we request that you register through your National Association or Allied National Association. The organization committee will remit a commission to the NAs & AAs based on the number of participants in all categories (competitors, coaches, and family members). According to our registration policy, these commissions will be shared by the NAs or AAs with you in correlation whit the number of participant from your school(s). (See commission table below).
To benefit from these special offers, all the registrations must be received by October 8th 2004. Please note that to be participating in our tournament, your members must purchase a package. However, Florida residents can register for the tournament only.
Furthermore, we are currently recruiting umpires for the tournament. The umpires will receive a complimentary 2-night stay (November 19th & November 20th, 2004) with a 2-day meal plan. If you are interested on this matter for your officials please contact Master Wim Bos, ITF Chairman of the tournament & Umpire Committee, by email at masterbos@itf.fastwebnet.it
We invite you and your members to visit the official ITF Web site for information about the event, the schedule, including tournament, workshops & seminars, golf tournament and other activities, the installations at the Disney's Wide World of Sports Complex, accommodations, and attractions in the Orlando area. Click here.
Please note that if your group needs entry visas for the U.S.A., applications for visas must be submitted to the nearest American Embassy at least 90 days before scheduled departure. The organization committee has made an agreement with Disney, and we will be pleased to provide you with official letters as needed. To process your request we will need full name, date of birth, passport number and title for example, head delegation, coach, umpire, competitor and supporter, etc. of your delegation's members.
Finally, I believe the success of this event will increase the visibility and credibility of the ITF, and I expect that we will have many new members who will join us through this successful event. Therefore, I count on you to promote our event on our behalf in your whole country.
For more information or assistance, please contact my assistant, Ms. Nancy Ruel, by e-mail at n.ruel@tkd-itf.org.
I am looking forward to seeing you in Orlando.
Best regards,

Master Trân Triêu Quân
Black Belt 8th degree
President
International Taekwon-Do Federation
Fax.: (418) 871-5574
Email: tran.tq@tkd-itf.org
---