Master Van de Mortel
Master Willy Van de Mortel is back in New Zealand this March to teach special seminars for EVERYONE.
Master Van de Mortel last visited New Zealand in December 2007 and ran very popular series of seminars throughout the Country. Last time he concentrated in the New Zealand Team - this time the seminars are for you!
The seminars will include his drills with pads and partners. This is primarily for those who love sparring & those who want to improve. They will also include some THEORY for those interested in coaching - ie he can show you what you need to watch for in a bout. Don't miss this opportunity to learn from one of the best!
Note - this is NOT just for black belts for experienced fighters! Anyone can attend and will benefit from the seminar.
More news and details of the seminars will follow as the hosts provide them... see the schedule below.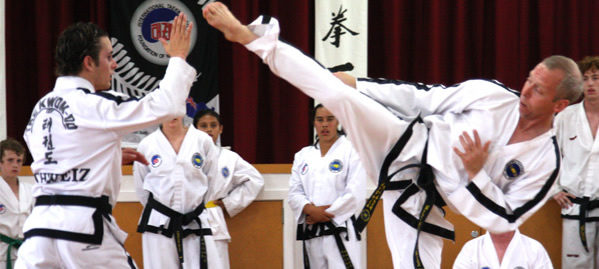 Master Van de Mortel seminars for all members - March / April 2009

Sunday 29th March .........Wellington Boys College, 10am - 4.30 ($80)


Tuesday 31st March ........Tauranga, 5.30pm -8.30pm, $30
Otumoetai Action Centre, Windsor Road, Tauranga

Thursday 2nd April ........Whangarei
Whangarei will be Hurupaki Primary School, 20 Dip Road, Kamo Whangarei.
Fee: $30.00 single student. $50.00 family rate.
6 .00pm - 6 pm





Monday 30th March ........ Christchurch
Villa Maria High School Hall, 21 Peer Street, Upper Riccarton, Christchurch
$30 for a single, $50 for a family of two and $60 for a family of three

Wednesday 1st April ........Counties Manukau. Paul M Waiau Pa Hosting
Waiau Pa School, 571 Waiau Pa Road, Waiau Pa. 6.30 pm start. Cost $30 per person, or $25 if part of a family group. Light supper supplied at the end.

Saturday 4th April ........Auckland Grammar School., 10am - 4.30 ($80)