IIC no. 115

New Zealand hosted the 115th International Instructor's Course (IIC) in Auckland over 24-26 February, with participanrts from with 179 lucky participants from New Zealand, Australia, Malaysia and Finland.

Participants got to train with Grandmaster Hector Marano (Argentina) and Grandmaster Ung Kim Lan (Vietnam) – both living legends in the ITF Taekwon-Do world who would have been black belts in the 1960s! They are bringing a wealth of combined knowledge and experience to New Zealand to share with us.

Read our full report and see photos of the event here
---
International Instructors' Course

24-26 February 2017
Conducted by the ITF Technical Committee Members:
Grand Master Hector Marano (9th dan)
Grand Master Ung Kim Lan (9th dan)
Master Paul McPhail (8th dan)

The ITF International Instructors Course is a three day training seminar open to all black belts. 4th dans and above receive additional specific training on their own syllabus with the Grand Masters - not to be missed.
This course is not just for instructors - it is a training course covering all aspects of ITF Taekwon-Do valuable for all members of all ages.
The venue for the IIC is the huge AMI Netball Centre in Auckland. This venue provides a huge floor space that can be divided for smaller groups, plus a full time canteen facility and plenty of parking. A list of accommodation options near the venue is published above.
Overseas ITF members are most welcome to attend the IIC.
Venue: AMI Netball Centre » Map »
7 Allison Ferguson Drive, St Johns, Auckland Ph (09) 570 0030

Organising Committee:
Master Mahesh Bhana and Mrs Natasha Iotua »

Cost: NZ$350
Course T-Shirt - $35
Banquet Dinner Saturday 25th 7pm - $65pp
(Ellerslie Events Centre, Pakuranga Hunt Room, Ellerslie Racecourse,
80 Ascot Avenue, Remuera, formal dress)
On-line Registration Now Closed
Accommodation List download
»
Payment:
ITKD Members please pay into ITFNZ Counties Manukau Taekwon-Do Inc: ASB 123032 0214197-02. Please include the reference IIC and your Surname.

Overseas Participants can pay by credit card Pay here »
(add NZD$10 for cc fee)
Late fee:
$50 late fee will be charged to those who register after close off date of 31 December 2016.
---
NOTES FOR PARTICIPANTS
When to arrive
Please arrive at the venue in plenty of time to register, get changed into dobok and form up by 1.30 pm for a 2pm start. The venue will be open at 12.30pm.
What to bring
Dobok & drink bottle. There is an on-site cafe at the venue available to purchase lunch / snacks and drinks.
Note: No spectators allowed and no photos or videos allowed during the event. There will be an official photographer.
Banquet - Saturday 25th February 2017
All participants are welcome to attend the Banquet on Saturday evening. Tickets are limited.
7pm - Ellerslie Events Centre
Cost: $NZD65.00 per person for a Buffet Style Dinner (excluding beverages)
Dress Code: Formal
We look forward to seeing you all there - for what should be a GREAT COURSE!
TIME TABLE
DATE
TIME
EVENT
Friday 24th Feb
12.30 pm
Registration
1.30 pm
Warm-up and Form Up
2.00pm
Masters arrive - Introductions - IIC Begins
2.00 pm - 6.00 pm
Afternoon sessions

---

Saturday 25th Feb
9.00 am - 1.00 pm
IIC Continues
1.00 pm - 2.00 pm
Lunch
2.00 pm - 4.00 pm
Afternoon sessions
4.00 pm
Masters Grading (Closed)
7.00 pm
Banquet

---

Sunday 26th Feb
9.00 am - 1.00 pm
IIC Continues
Group Photo
Presentation of certificates
Signing, Photos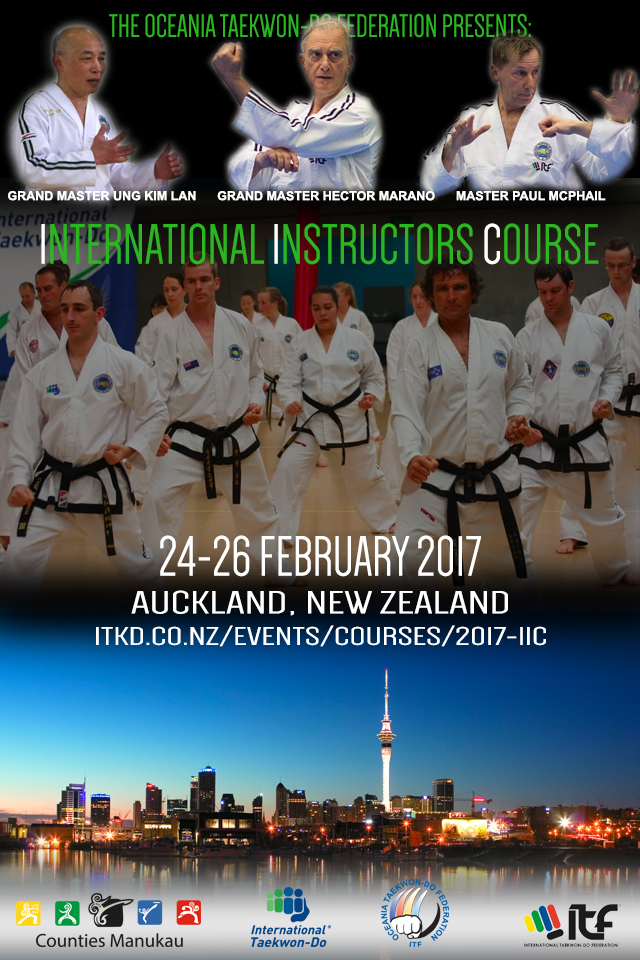 This event is run under the auspices of the Oceania Taekwon-Do Federation, and ITKD Counties Maukau has been given approval to host the course in New Zealand. * This event is a Class A Event »