STRIPES 1 TO 1
Senior Dan Training for 4th dan and above
BY OUR NEW ZEALAND MASTERS
From 1 pm Saturday 4th November to 1 pm Sunday 5th November 2023

Tauhara Conference & Retreat Centre, TAUPO
Organiser: GM Paul McPhail with the assistance of Mrs Pygott on budget and registrations
THIS YEAR INCLUDES A LAKE TAUPO CRUISE
We have great classes planned this year.... including learning how to teach flying combination kicks!
ENTRIES CLOSED 20th October
---
COST
Course Fee (Payable by everyone except Masters)
$90

Accommodation, meals & cruise (inc cruise dinner)
Self contained (shared) $292
Bunk room (shared) $277
Powered motorhome site $252
Staying Off site $222
4.10.23: Only one male shared ensuite left with no solo option for ensuite available. After that only bunks remaining.

Surcharge for own room:
Self Contained $70, Bunk $30
Registrations for Stripes are done on a "First in First Served" basis.
Due to the limited number of rooms, and the manual method of registering, please wait to receive an invoice before paying. After payment is received your place will be confirmed.
What to Bring:
Do bok, casual clothing. Linen is supplied.
Note:
NO alcohol is permitted at the camp
ENTRIES CLOSED 20th October
Masters, please also register for the Masters Summit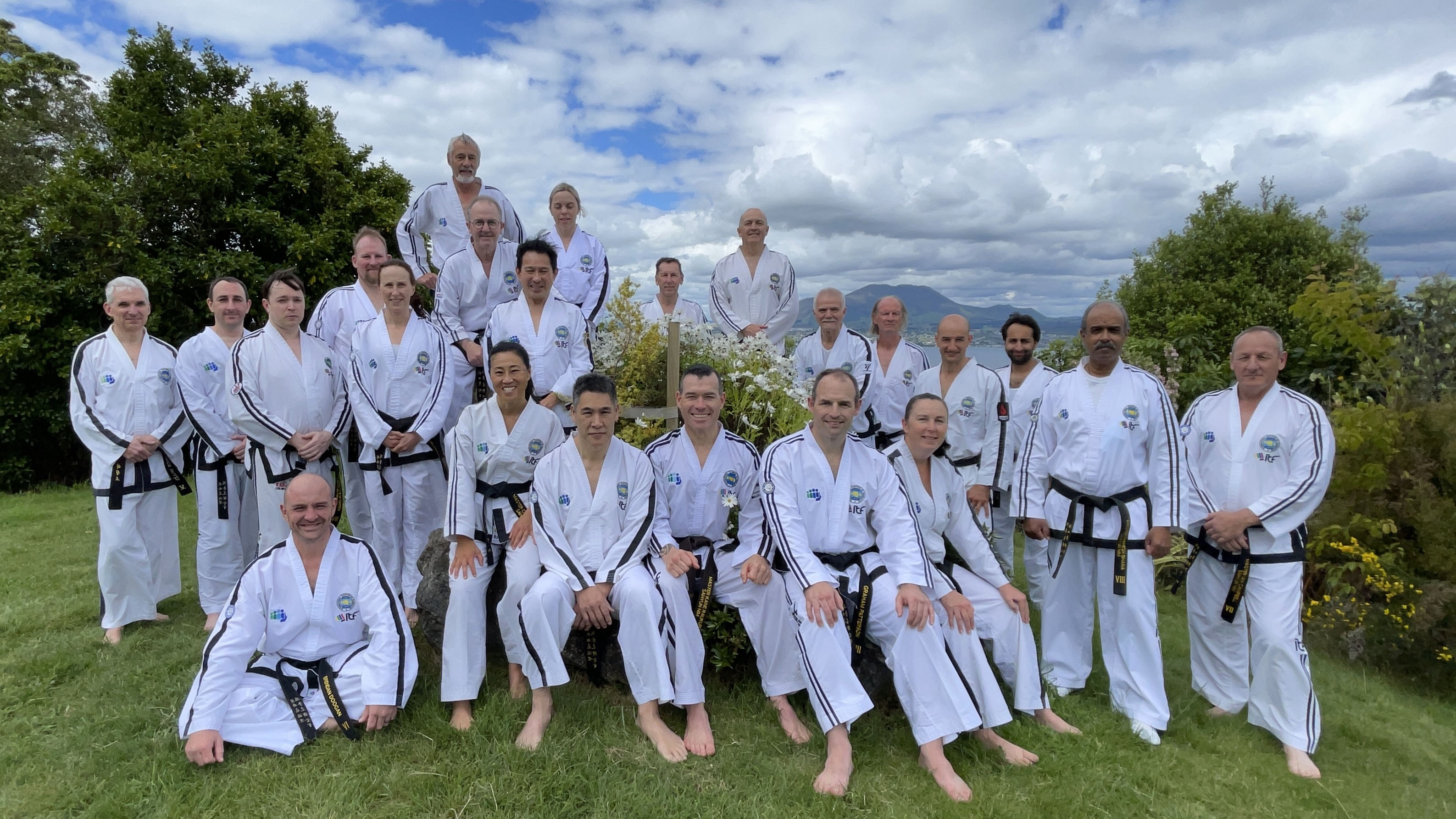 Program
[Saturday morning - completion of Masters Summit [for Masters]
SATURDAY
12.55pm          Form up and introductions
1:00 pm           Kicks in patterns                                                        GM McPhail
1.30 pm           Moon-Moo (4th & 5th dan)                                         M Rimmer
                        Tong-il (6-9th dan)                                                    GM McPhail
2.00 pm           Conditioning                                                              M Raukura
2.30 pm           Knife Self Defence                                                      M Eccles
3.00 pm           Group Photo - Afternoon tea
3.15 pm           Teaching Flying Combination Kicks                           M Breen
4:00pm            Finish
6.00pm            Cruise
SUNDAY
8.00 am           Breakfast
9.00am            Mental training & Conditioning                                  GM Davidson
9.30 am           Self defence against multiple opponents                    M Patterson

10.00 am         Stretching – a different approach                               M Ward
                       
10.30 am         Shower – then Morning Tea at 11am
                       
11.00 am         Discussions   

1.00 pm           Finish