Kiwisport Photos, Videos and Reports
Wellington 2013
Wellington has now completed its first round of TKD KiwiSport, having delivered 63 courses to 16 schools, giving 2210 children a taste of International Taekwon-Do! Well done to our Wellington KiwiSport instructors who have done a great job - and in some cases traveling long distances to give these kids the opportunity to try our art.
The courses were extremely well received at all schools, with teachers raving about the positive impact the sessions have had on the children. The teaching of the tenets and other important values along side an exciting martial art is really a great combination. Below is a snap shot of some of the classes held throughout the region.
Group Photos of courses held at Masterton Intermediate.
Mr Nick Lee traveled all the way to Masterton to conduct 42 classes with 400 plus students! Mr Lee was assisted by Mrs Anita Broczek. Read the thank you to Mr Lee on page 2 of the School Newsletter »
---
Group Photos of courses held at Wilford Primary School, Petone.
Mrs Suzanne Patterson taught 42 sessions to the kids at Wilford Primary, assisted by Mr Andrew Hardwick. Click the image below to read some of the feedback from the kids.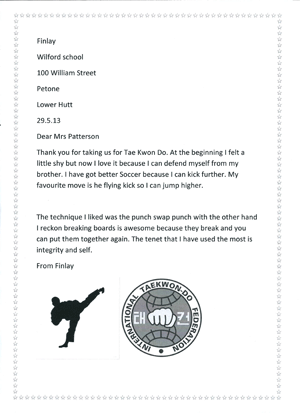 ---
Carterton School - Wairarapa
Mr Andrew Salton was assited by Sheneaand Tiani Whakarau in teaching over 200 enthusastic children at Carterton School. Read some of their letters below.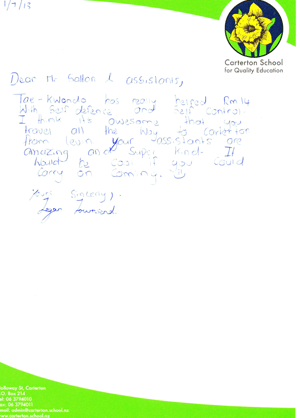 ---
Wellington 2012
Wellington is the third of our regions to be granted KiwiSport funding. Photos and reports from some of the courses running throughout 2012 will appear here.
Group Photos of courses held at Berhampore School
Instructors: Ian Walton, assisted by Rebecca Walthall.
---
Group Photos of courses held at Tawa Intermediate
Instructors: Nick Lee and Suzanne Patterson, assisted by Anita Broczek and Samantha Young.
---
Lyall Bay School
Instructors: Mr Lance Brunton, assisted by Anita Broczek.
"Can I just say how much the kids and teachers are getting from your sessions. Cheers Rochelle Todd"
More photos here. » Feedback »
---
Brandon Intermediate
Instructors: Mr Nick Lee, assisted by Anita Broczek and Mrs Suzanne Patterson
We completed two eight week programmes for 50 boys between 24 October and 12 December 2012. The sessions were run once a week back to back on Wednesdays between 11am and 12:30pm. The two "groups" of boys were made up of boys selected to participate from across the schools year 7 classes.
All the boys in both groups attempted and successfully broke boards and in generalthey all participated with enthusiasm across all aspects of the programme. Several students demonstrated particularly good skills and stood out as having some great potential.