Brendan Doogan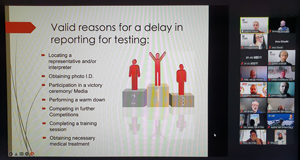 On Sunday 27th of March 2022 I got up at midnight to attend a never-before held online seminar about anti-doping in the ITF. The course was short, 1230-0130 NZT, but packed in a lot of valuable information for National Associations, Coaches and Athletes. It was followed shortly afterward the same day by a Spanish language version.

The seminar was presented by the ITF Medical and Anti-Doping Committee which has the distinction of being comprised of 60% women; Sabums, Masters and doctors.

The presentation covered six areas:

A new WADA anti-doping "Code"
Prescription medications
TUEs (exemptions for medications)
Risks associated with supplements
Drug testing procedure
Education
The World Anti Doping Agency publishes a "Code", a core document that harmonizes anti-doping policies, rules and regulations. This has been updated, and it is a good idea for High Performance managers, coaches and athletes to be familiar with it. Not knowing something could cost the athlete dearly as we'll see below.

Prescription medicines vary from country to country, so competitors should check the Code and ingredients very carefully before starting a course of medication. For instance pseudoephedrine is "Prohibited when its concentration in urine is greater than 150 micrograms per millilitre". Medicines that can contain pseudoephedrine in some places include Neurofen and Lemsip, but in other places those products don't contain it.

Another example is Vicks – the version sold in the USA is prohibited.

Competitors can get what's called a TUE – Therapeutic Use Exemption – by applying to the national anti-doping organisation (Drug Free Sport New Zealand for example), or the ITF Anti-Doping Committee. The TUE application needs to be signed by the prescribing doctor, so if an athlete needs a medication they should be proactive and start this process sooner rather than later.

The supplements industry is unregulated – there's no guarantee of what's in a supplement, nor if it's proven to work. The ITF recommends against sports supplements and supports correct diet in a "Food First" approach.

A 2015 study in the Netherlands found 38% of sports supplements tested positive for banned substances.

The ITF Anti-Doping Committee advises competitors to bring a double supply of what you need, so that you don't need to take a chance on it being available and having the same ingredients in other countries. Check also that what you're carrying is legal in every country you pass through, whether you stay there or not.

The penalty for a positive drug test is a four year ban. This means you can't compete in any WADA sanctioned sport, anywhere in the world. You can't switch teams or sports, you can't even enter a dojang. You cannot coach, umpire or compete whatsoever for four years in what is likely to be the prime of your competitive life.

Check the Code and familiarise yourself with your rights and responsibilities as a coach or athlete.

Testing can be conducted in or outside tournament hours, including while at accommodation or training sessions. You can take a support person with you, and the test must be done in a reasonable timeframe, allowing for medal awarding and time to generate more urine if you've just been to the toilet.

The ITF has usually tested medal winners, and may extend testing to junior dans (under 18's) from the next World Championships.

In terms of education, knowledge keeps us safe, just like in the gym and on the mats. Everyone should consult the Code, and can earn a certificate of completion at adel.wada-ama.org/learn. The certificate is valid for two years and both coaches and competitors can use it to learn about anti-doping.

Coaching staff and others can also learn what to look for in athletes who might be doping: unusual changes in performance, fitness, muscle mass etc, and unusual medication use. However most doping in ITF competition has so far been inadvertent, where the athlete has taken sports supplements, and through ignorance of the rules.

Finally, the Committee suggests that larger countries appoint an anti-doping official to liaise with WADA and the Medical and Anti-Doping Committee to streamline information flow and applications.

I very much enjoyed the presentation and am impressed with the professionalism, science and knowledge disseminated. My only requests are for further seminars and more time for taking questions from the audience.