CM Regional Tournament 2007
Sunday 24th June, 2007

Results

---
The 2007 Counties Regionals successfully squeezed nearly 190 competitors into 7 hours of competition on Sunday.
Even considering the 32-strong Colorado contigent, thats nearly 160 regional competitors, the biggest Counties regionals ever.
After an initial slightly slow start, everyone got inrto the swing of it, and we were pretty pleased that the major time-taker, Sparring, finished at 4pm.
This will have been in no small way attributable to an excellent set of Ring Marshalls, getting the competitors into the rings with minumum delay : Grant Covavich (BOT), Donna-Marie Edwards (INF), Peter Guptill (DSP), Debbie Hart (PMP), Mera Horton (PMWP) , Natash Iotua (TRI) , Kay Kendall (PMWP), David Parker (PMP)

Completing destructions took somewhat longer, the power/special officials found trying to round up competitors was a bit like herding cats...
But even so, final presentations were done by about 5.30.

Variety was added to the tournament with the visiting competitors from Colorado USA, members of the Colorado Taekwondo Institute.
Lead by Master Jim Sautel, 11 of the 32 members in the group were Sautel family members.
Their Black Belt Team put on a very polished demonstration after the lunch break.

The success of any tournament depends on those folk who put in effort in so many ways - Organisers, officials, and helpers.
Many thanks to the Auckland North Officials who helped out.

And a pat on the back for those students, parents and friends who helped tidy up at the end of the day, the venue staff effusively pointing out that it was cleaner after an ITFNZ event than at any other time!!
As usual a great vote of thanks to Dragon's Spirit members, who spearheaded the setup and break-down.
(and great to see Mr Raukura in the ring, this time without a tie on ! It's always good to see Instructors competing - also Mr's Iotua, Kimberley, & Thompson)

---
More Photos (from Neil Breen)
---
Best Belts
(due to ties, there were no best Green or Black Belt trophies awarded.)



Master Mcphail presenting Best Jr Yellow trophy to Chris Armitt Of Dragon's Spirit

A family affair - Best Adult Yellow trophy to John Armitt Of Dragon's Spirit



Best Jr Blue trophy to Corrah Phillips of Ardmore



Jason Bown's (Easter Pakuranga) Best Adult Blue trophy



Claire Kendall's (PaulM Waiau Pa) Best Jr Red trophy



Tyrone Seeley's (Easter Pakuranga) Best Adult Red trophy




Master Jim Sautel of the Colorado Taekwondo Institute, with Tournament Organiser and CM Regional Director Sue Breen




Part of the CTI Black Belt Team demonstration.




(photos: Neil Breen)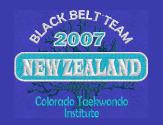 The 2007 Counties Manukau Regional Tournament is set to be a Mini-International with the inclusion of a 32 strong team from Colorado, USA.
The Colorado Taekwondo Institute Black Belt Team is made up of black belts and coloured belts who represent their organization through demonstrations, training and competitions around the globe. The purpose of the team is to gain experience and knowledge that we can pass on to our fellow students and instructors. This year, the team is traveling to New Zealand!
Welcome to the CTI members!
---