CM Regional Tournament 2009
14th June, 2009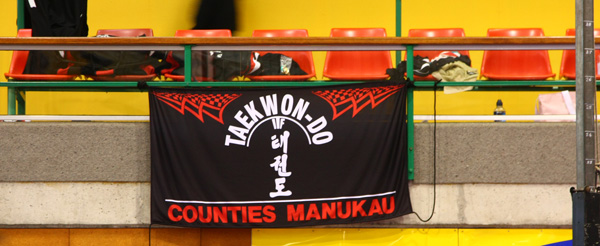 FRANKLIN / PUKEKOHE RECREATION CENTRE, 29 Franklin Road, Pukekohe.
Counties Manukau thanks you all...
A big heart -felt thank you to:
Our competitors who were brilliant throughout the day with NIL negative reports.
Our officials that maintained a high standard of professionalism, throughout the day and all turn up in correct uniform. From our Ring Marshalls through to our Jurors.
Our visitors from Auckland North, Te Awamutu and Cambridge, thank you for taking the time to assist.
Our sponsors of our Region's raffle; Top Ten, Fuji Mae, Boss Apparel and Embroidery Ltd
St Johns first aid for their on- going support
Our parents and supporters that stayed to the end and supported our ventures
Our behind the scene people from the kitchen, shop, set up and take down, administration, Thank you one and all.
We appreciate your feedback:
For us to improve our events within the region, please send your comments on the running of this tournament to countiesmanukau .

Natasha Iotua
Proud to be... Counties Manukau Regional Director
---
RING MARSHALS
We are lucky in Counties to have such fantastic ring marshals such as Mrs Kendal, Mrs, Henry, Mr Parker, Mrs Edwards etc... but we now desperately need more. We would like to invite any interested adult to put their name forward to learn this job. You don't have to be an active member - and you will be shown the ropes by some of our experiences marshals. If you think you can help please register here.
VENUE SET UP
Set up is 3 - 5 pm on Saturday 13th June at the venue. We would love to see some from each of our clubs there to help - thank you.
RULE UPDATE: (30.5.09) Black belts in Power and Special will be competing using the normal ITFNZ Rules. (also see rules below)

ENTRANTS LIST | Register as an official here | Umpires Schedule

This year's Counties Manukau Regional Tournament is going to be awesome! We have some fun new divisions for everyone in special and power - so come on - give it a go!
Rules
KIDS POWER PUNCH (Gup grades only, under 15 years)
This is a competition of elimination. Starting with say 8 students facing numbered identical small pads held by fingertips. All 8 student punch at once and we watch and wait until all pads come to rest. Then the student whose pad travels the least distance is eliminated and another round commences until a winner is found. Students commence each round from L stance forearm guarding block and execute reverse punch - no running or jumping to punch. In competition the students that hold the pad also retrieve it for the competitor. The mitts used will be similar to boxing focus mitts (for single hand).
ADULTS POWER KICK (Gup grades, 15 and over)
The winner is the adult who can break the most boards with a single kick of your own choice. 2 attempts are allowed (must be the same kick). For example, you could attempt a 6 board back kick and be unsuccessful, so then attempt to 5 boards on your 2nd attempt. There will be separate divisions for men and women and in different weight divisions, open to adults any rank.
Black belts compete with normal ITFNZ rules for Power. Techniques are: Knifehand (elbow for juniors), Side kick and turning kick
SPECIAL TECHNIQUES (Kids & Adults - coloured belts only)
Who can kick the highest distance above their own head? (No disadvantage for being shorter!). Separate divisions for kids & adults, male & female. You must touch the pad with the correct attacking tool. 2 kicks - flying high kick and flying reverse turning kick. Open to all gup grades and ages.
Black belts compete with normal ITFNZ rules for Special Techniques. Techniques are: Flying high kick, overhead kick and flying reverse turning kick