World Champs 1997 - Russia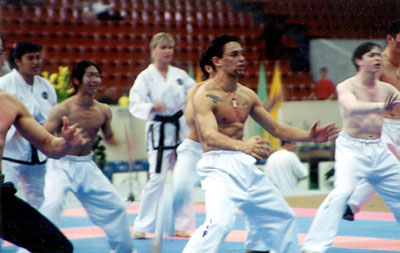 Team members Kosuke Yamamoto and Wai Paraone have both been mistaken for someone of the opposite sex since leaving for Russia - so it was decided to start COUNTERS on this webpage to record the number of times this happens on the trip. Kosuke had the advantage because he left from Palmerston North and landed in Auckland with a 2:0 lead. Watch this space.
FINAL SCORE:
| | |
| --- | --- |
| KOSUKE COUNTER | WAI COUNTER |
24 July
Dear Sir

Congratulations to NZ team for your success in World Championships!
A medal at that level is quite a complishment! The Finnish team also
gained one medal (IIIrd place at women's Ist dan pattern).
Keep up the good work!
On behalf of Hämeenlinna ITF Taekwon-Do Club

sincerely Yours Anssi Kähärä
---
Four members of the team visited Papakura branch last night to train, and tell of their experiences in Russia. Jon Sawden, Andrew Burley, Matt Breen and Jeanette Joe gave entertaining accounts of their trip which was most inspirational for all the club members. There is already excitement about attending the next World Champs in Argentina, 1999.
---
15 July
[From Matt Breen]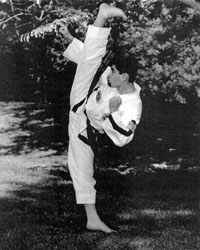 Marcello F. Cancelliere
He was US Team Captain, 4th Dan Patterns (Juche was damned near flawless except for the dodging rtk's... I think they must be what lost him the semi, because I personally feel he beat the Korean on Moon-Moo alone...) and Middleweight sparring... (I was waiting for the downward kick... and it suddenly came out and slammed onto the guy's
chest... lovely)

---
15 July
[Final fax from Lena]
A big thank you to all who have sent their congrats to us.
Jade fought 2nd in men's team sparring and fought well. Jaime went up 3rd and gave it heaps, he also did the jumping back kick in team special techniques. Line up for men's power test: Jaime - 4 board punch, Matt - knifehand cracked 2 boards, Jon - side kick 5 boards but disallowed as foot left ground, Graham - turning kick, broke 3 boards cracked 2, Jade 0 boards rev turning.
[Lena reporting on the last day of competition]
Last day of competition started off with men's team sparring. First round we won by default against Algeria. Then we lost against Germany. Men's line up was Graham, Jade, Jaime, Jon & Lawrence. Unfortunately we only got up to Jaime. The women's team went up against Poland, who are in the top 5 countries. Women's line up was Lianna, Kylee, Lena, Julia, Jeanette. We ended up all fighting 2 mins each because Lianna lost, Kylee won, Lena lost, Julia won, Jeanette lost. Everyone was on such a high after the sparring because no-one expected us to do so well as we were up against one of the best. Fantastic team spirit!!!
For Women's Power Test we have Wai - knifehand, Lianna - side kick, Lena - turning kick. Will let you know how it goes.
Just finished watching the women's finals for team sparring. It was Poland vs Korea and Korea lost. Korea unwillingly lined up when they realised they had lost and refused to shake Poland's hand. The coach kicked the water bottle off the stage and as he walked off one of the Polish team threw an apple core at him. One of the Masters at the front table gestured for Korea to come back up to the centre ring and the Korean ignored him and walked off. The crowd wasn't too impressed with this lack of sportsmanship.
We have finished the women's power test. England was the only team that broke all 3 breaks completely. The NZ team came 3rd in team power test and WON BRONZE. YEE HAA!! YEEEEEEHAAAAAAA!
---
14 July
[Fax from Lawrence at Singapore airport]
Had a great flight from Amsterdam. Met up with the rest of the kiwis. All slept through the flight so it was quite short. It's 4.15 pm Singapore time and 10am Dutch time. We've lost a whole day! All glad to have left Russia. Wai motored ahead and got 3 scores in Amsterdam airport and on the plane - the score is now 9 Wai - Kosuke 8.
Holland was great - absolutely beautiful city, really 'European', neat buildings, restaurants galore, fresh food, entertainment, red light district. Had Indonesian meal (yum), awesome Argentinian grill, Turkish grill, saw Madame Tusseauds House of Wax, canal boat ride, went on a (fast!) train to Amersfoot and saw a bit of the Dutch countryside. Kosuke went dancing all night.
We've just had a shower here at the airport - so nice -except for Matt!! He hasn't showered in 2 days and when he takes his shoes off - oooh! Boy - poor Jon, he is always stuck sitting next to him. Jaime was supposed to stay in Singapore but decided to go straight home if possible.
Well - the trip has been a learning experience for all, a romantic and lustful excursion for a few. There is now talk that some people are going to Texas in October. Not me of course - I've had enough tournaments for a while. Looking forward to nice food in Bali. See you all soon.
Lawrence.
---
10 July
Lena and Ian Walton arrive back in New Zealand today. They arrive in Auckland from Singapore at 12.45 pm, then depart for Wellington on Air NZ at 2.20 pm. Welcome home!
---
7 July
NEW ZEALAND HAS WON A MEDAL!!!
THE WOMEN'S DESTRUCTIONS TEAM HAVE WON BRONZE.
Message from our Patron - The Right Hon. Mr David Lange.

To the women's power destruction team members.
Congratulations on a great achievement.
To win a medal, especially at a major international competition, is a
reflection of your training, dedication and "indomitable spirit".

To the whole NZ team in Russia - my congratulations. Enjoy the moment.
On the final day of competition the team events took place.
The Kiwi women have won the bronze in power destructions.
In team sparring, they were beaten by Poland 7/3, then Poland beat Korea 3/nil. Kiwis are especially proud of the women's team as they did as well as the Koreans.
Before the Kiwi women went up to compete against Poland, the team did a Haka. Apparently after it was over all the other umpires around the stadium were seen giving TIME IN signals - as their judges had stopped to watch the Haka! The Kiwis were asked to perform the Haka again in the centre ring before the medal ceremony.
Jon has lost his voice (which only gets mentioned cos he's Matt's room-mate and Matt was called to confirm the medal rumour), and Kylee also has two black eyes after her great sparring effort. Not aware of any other injuries.
That's all the news we have at this stage...apparently the team went to the final dinner and partied late on Sunday night - so didn't get a fax off to us yesterday. More details soon...
....................
(Fax received 8 July from Lena reporting on the 3rd day of competition)
Julia was up first this morning against Czech. She had a good fight but didn't make it through. Ian won his first round to Puerto Rico but lost against Bulgaria. Wai completed 3 awesome power breaks, but one of the boards (using breaker boards) on her turning kick was not completely broken, so she didn't make it to the second round. That was a shame because she would have been in contention for a medal.
Rob fought against a Scotsman who also happened to be a European champ. Rob fought well and the Scotsman went on to win the gold medal. Tamaiti fought against England. He was really fired up - scored heaps of points with his hands but was outscored I think by England's kicks.
Tamaiti has been taken to hospital with a suspected broken ankle. Jon has gone with him.
Graham did well in the power test - 4 board punch, missed knifehand, 5 boards side kick, 5 boards turning kick. Unsure if he gets to the next round.
Tamaiti - looked great in the first round, but sometime in the second round tore all the ligaments in his ankle (or somesuch)... that was probably why his footwork slowed down :)

Graham - turning kick went through easily, but was disallowed due to a
"jump" - supporting foot apparently left the ground...
Kylee won a spar against Hungary. She fought Poland in the 2nd round. She was awesome, really good footwork. We kiwis were very vocal in our support - did a Haka at the beginning of Kylee's 2nd round. All eyes, video cameras and TV cameras on us. Fantastic! The fight was close and Kylee didn't make it through the 3rd round.
Kosuke fought Kazakstan. He fought bravely with his foot injury but didn't make it through to the 2nd round.
Casualty list: Tamaiti now in cast, Rob's face - swollen nose -2 black eyes -cuts, Wai - cracked toe, Kylee - black eye, swollen face, Kosuke - injured foot, Jeanette - mild concussion.
---
6 July - late
(More late breaking news - phone call Graham via Barb Inglis:)
Kylee has been the closest so far to getting a medal - 2 rounds from a bronze. Tamaiti has an injured tendon of some sort. The hospital had him in plaster up to his knee - but then an American doctor at the tournament reduced it to an ankle cast only. Apparently the tournament doctor has fixed more than 10 noses so far.
Ian won his first fight then lost his second.
---
6 July
(Late breaking news - phone call from Julia to Julia's mum:)
Julia lost to Korea. Rob fought the last world champ from Scotland - did really well but got two black eyes, split lip and possible broken nose. Ian lost but may be through to another round.
---
6 July
(Another fax from Lena - continuing her running commentary as the competition unfolds:)
NZ Men's Special techniques team was on around 4.00pm - Jon flying side kick, Matt - turning kick, Graham - reverse turning kick, Lozzy - high front, Jaime - 360 midair. Didn't make any of the kicks but they came close, well done. Lianna fought Canada and Canada won. Jeanette fought Mongolia and she sparred well, unfortunately she collected two kicks to the head, (the 2nd knocking her to the ground) and was advised by medics not to continue. Some great sparring matches. Most female bouts today and they are sooo gooood. So far in the female bouts there have been three knockouts.
The kiwis are very vocal both at the stadium and hotel - we are making heaps of friends. The Algerian team are sleeping outside as they can't afford the room rates - poor guys!
Got a big day ahead tomorrow as 8 of us will be competing. Andrew is doing a great job as coach. A competitor can't enter the arena without a coach and ONLY the coach can be your second. So he's got a big job on his hands. Christine Young , competing for England, fought South Africa, but lost. The Kiwis have been supporting her.
More updates tomorrow...
---
5 July
(Neil Breen phone call to Andrew Burley 11pm July 4th their time)
Day2 of competition:
Lianna and Jeanette sparring. Did not make it to 2nd rounds. (Jeanette took a knock-down, Doctor terminated bout. She's OK now as far as we know.)

Team patterns & specialty breaks:
NZ came up against Korea.

Highlight was Jon's flying sidekick.
Apparently he held a perfect tuck all the way to the ground. True grit and a bruised leg. This impressed the Koreans, acted as an "icebreaker". They actually joined in tossing a rugby ball round the bus on the way back.

Day 3 coming up - lots of sparring, and power breaks.

The NZ team seem to be making plenty of friends. Room 3049 was hosting a card game with some of them when I called, including some Hungarians, and "the crazy Dutchman". They reckon they are the friendliest team there. So it sounds like they are being good ambassadors for NZ.
(Fax from Lena -running commentary as the competition unfolds:)
Day 2:
Everyone is excited. Jeanette was looking fantastic in 3rd dan patterns. Unfortunately she came up against Nth Korea and the round was awarded to Nth Korea. Jon made it through to the second round for patterns, he came up against Yugoslavia. Hooray!! Christine Young (competing for Britain) was looking hot in 3rd dan patterns. We all thought she would make it to the 2nd round but she forgot her optional pattern. Kosuke has made it through to the 2nd round of patterns - he came up against Norway. Kosuke now through to the 3rd round - looks stronger as he goes on. Came up against Argentina. Jon has made it through to the 3rd round - lost to Tajekistan.
Kosuke didn't make it through the 4th round. He was tied after the optional pattern but didn't make it after the decider pattern. Wai came up against Canada and lost.
Results of women's 2nd dan patterns
1) Korea
2) Scotland
3) Canada/Norway.
Julia came up against Japan and lost.
Jon (for special techniques) broke 4 boards but disqualified on two as he (1) broke the board with the incorrect attacking tool and (2) broke side kick but toe just clipped the rope.
Results of male 1st dan patterns individual:
1) Taj
2) Ube
3) Brazil/Korea
Results of male 2nd dan patterns individual:
1) Can
2) KFJ
3) Kor/Wai
Results of female 1st dan patterns individual:
1) Korea
2) Cze
3) Fin/Kyr
Results of female 2nd dan patterns individual:
1) Kor
2) Sco
3) Pol/Can
Results of female 3rd dan patterns individual:
1) Kor
2) Rus
3) Kyr/Arg
Results of male Special Techniques individual:
1) Korea
2) Cze
3) Fra/USA
Lawrence beat Aussie in the 1st round of 3rd dan patterns. Lost to Scotland in 2nd round. American a fantastic pattern but lost to Nth Korea in semi finals of 4th dan patterns.
Rua playing the guitar on bus on the way back to hotel.
DAY 2:
NZ women's team patterns came up against Scotland. We didn't make it to the 2nd round - but we were strong and had fun. NZ men's team pattern drew Korea in 1st round and lost to them. NZ women's team special techniques was on this morning, didn't make it but we tried our best.
Great to hear from those back home!

---
4 July
(Phone call to Matt - 7am their Friday)
The following results are not official - The ITF Russia web page will presumably have official results eventually.
No guarantees that all details are correct. We will note when the results are confirmed.

----------------------

Women:
1st Dan: Julia Parker, 1st round loss to Korean Federation of Japan.
2nd Dan: Wai Paraone, 1st round loss to Argentina
3rd Dan: Jeanette Joe, 1st round loss to Korea

Golds: 1st Dan: Korea
2nd Dan: Korea
3rd Dan: Korea
4th Dan: Korea

----------------------

Men:
1st Dan: Jon Sawden, win against Yugoslavia, 2nd round loss to Argentina
2nd Dan: Kosuke Yamamoto, won 4 rounds, loss to (an ex Soviet State)
3rd Dan: Lawrence Mantjika, won 1st round, 2nd round loss to Scotland

Golds: 1st Dan: Tajekestan
2nd Dan: Canada
3rd Dan: Korea
4th Dan: Korea

----------------------
Specialty destructions:
Apparently these destructions were against a board "hinged" in a mechanical holder, (which must have been sprung). The board had to be deflected by a given amount to be considered a "break".

In the four categories, Jon Sawden achieved a "break" in each, but two were disallowed - one for striking the hinge of the holder, and the other for snagging the marker ribbon in the overhead side-kick.

Gold: Korea (after a three metre flying turning kick tie-breaker, with some to spare. They were all impressed by that.)

----------------------

They are leaving the hotel about 8 in the morning, last night did not get back till about 8pm. Thought that it would be later today. Today is Team Patterns & Specialties, and possibly some individual sparring.
The attempts to organise some time in Amsterdam on the way back have fallen through.
At this stage they will be following their original itineraries.
---
3 July
(Fax from Lawrence)
[2.7.97] Hi all. Moral high - Kiwis meeting a lot of people. Everybody gets showered with our business cards!! Last night Kiwis were toasting other teams in the dining room. We have adopted a lonely Yugoslavian and a lonely Bolivian (who is in love with Kylee).
Silly Kosuke is now injured really bad - the other day stubbed his toe and was limping around. Yesterday was shadow boxing, tripped and fell and maybe torn ligament (?) on side of foot. Doctor says keep off!! I meditated with him and then he could sort of walk on it. Then guy from Lebanon gave him Shiatsu and now a lot better.
Our team pattern is looking really good. Jon has been having headaches and sore leg. Maybe not enough vegetables. Tonight we are paying an extra 20,000 roubles for extra rations of vegies and meat. Tiny food portions at moment.
We all bought fluffy Russian hats. Ushanka. Saw fantastic cathedral and also Peter & Paul Palace. Been looking at shops too. Guys into town today to try and organise to leave earlier and spend a few days in Holland.
Jade - hi to Pakuranga club and congrates to Mr Bhana for his 5th dan. Graham Patterson - hi to Khandallah club. Lena and Ian - hi to Miramar.
Yesterday waited for bus (again) and it was late (again) to take us to the stadium.
It's really neat to receive faxes from home, club and Paul M. Please keep them rolling in. All team members excited to receive updates. They all want to read it - so please keep them rolling in. Missing you all already. I am so proud of our team - real Kiwi spirit. Friendly and together.
---
1 July
(Fax from Lena Walton)
[28.6.97] Met in the lobby at 10.30am as it was registration day. Was told at 11.30am that the bus was to pick us up at 1.00pm. After ringing the organising committee several times, the bus finally arrived at 4.30pm. During the 6 hour wait we did some training on the sidewalk, watched Russian Policemen stop drivers or pedestrians, hassle them, then pull guns on them.
Finally made it to the sports stadium, an awesome sight - soooo big. We registered and are able to enter the women's team event. Out team patterns are coming along really well. We've been mainly training in the foyers. I have funny footage on video, no doubt many will want copies.
There are a couple of things that we have noticed: (1) Russians queue on the side instead of front to back. We find that when buying something at a shop, often the locals push in and nudge us out from the side. (2) Majority of women have legs that go up to their necks.
[29.6.97] Trained in the foyers from about 9.30am till 12.30pm. Our brains were getting a bit tired so we'll stop for lunch. We are told we can train at the stadium from 3.00 - 6.00 pm.
...............................................
Performed the Haka for some officials at the stadium, even a Yugoslavian wanted to join in. Had a Russian coach (7th degree) give us some pointers on patterns. He stayed with the women's team for a while. It's been a long day - everyone is tired.
[30.6.97] Rest day!! Wow - we received your fax. It was really great to hear from home. I read it to everyone in the main foyer. Had a good laugh re the W & K Counters.Update on sex mix-up sweepstakes - now 4/4.
In the morning we all went into town to look at shops and markets. In the afternoon we booked in for a tour of Peter & Paul Fortress and Isaacs Cathedral. Awesome sights. Got some of it on camcorder.
The Koreans have arrived and are staying on the 4th floor. They looked to have around 40 people. Anyway Lawrence will update tomorrow.
---
29 June
Team stopped briefly in Singapore, lots of shops without even leaving the airport. They travelled KLM for the rest of the way. Felt that the staff were not quite as friendly as Air New Zealand - but apparently they warmed up a bit after Jon started throwing cushions. (Jon's most vivid recollection of the flight and the stop in Amsterdam - VERY impressed by the number of long blond dutch women at every turn!) Apparently a major attraction at Amsterdam Airport is a built-in casino.Not that many checked that out (unless their name started with a "J").

Matt had two memories of the landing at St Petersburg - they flew over the local Coca-cola factory (dear to his heart), and then seemed to just keep bouncing along the runway. Lots of policemen with big guns standing around while they went through customs. They were met by a local TV news crew - there were some interviews, and a Haka. This was on TV there that Thursday night.

The Hotel Moskva is "enormous". Seven floors at 150 rooms each, built in a semi-circle. They reckon they need extra rations just for the trek from the elevator to their rooms. For their traveller's cheques there is a money-changer in the hotel lobby. The money-changer gives a better exchange rate than the hotel office 15 feet away. They worked out that they needed four MILLION Roubles for their stay. (That's about $700 US each, for the 15 days). That covers all meals though, plus transport to the Tournament venue, so it's not a bad deal.

The food has been pleasant, nothing too unusual - although they find they're a bit smaller than your average Kiwi nosh. They are managing the language difference with sign language and the occasional English-speaking Russian. Pays to shop around - bottled water costs $5 a litre in the hotel, but they found a shop outside where it's about $1 a litre. Some locals say the tap-water is safe - some say "use bottled water", they're playing it safe.

Yesterday visited the tournament venue. Like a big colosseum. Met the Brazilian team there - 22 of them. About 30 Koreans were arriving as they left. There are 9 in the Australian team.

Training continues. Mostly team patterns - this is the most continuous time they've had together as a team so far. The women's' patterns are "looking pretty sharp". Some sparring and individual patterns also.

Jeannette has had an old leg injury play up. Doctor has ordered two days rest - hopefully will be OK by the Tournament start (four days away).

Small amount of sightseeing being done. Apparently a "metro" undergound rail ticket costs about 50c, ride as far as you like. The hotel lays on a "cabaret" show each night that seems to keep at least some of the team entertained. At this time of the year, it is light till after midnight. No worries
about needing thermal underwear - apparently it's hot!

Over from the hotel is a mausoleum housing Tchaikovsky and a few other famous bodies.

Clothes seem to be reasonably cheap. Leather jackets have been found at about 1/3 of the price you would pay here. A lot of the team have bought one of the fuzzy Russian hats.

---
27 June
(Phone call from Matthew - just rung from Russia. (11:30pmNZ is 3:30pmStP - 8 hours behind)

There is no internet access so they haven't seen the page yet! Team all well. NZ and Cook Island contingent were first to arrive. (They travelled together.) Tanzanians have arrived since.

They were training today outside an impressive building but were told to move by a guard wielding a nightstick and a gun. (They moved!) They have bought up all the bottled water they can (before the other teams arrive) because electric jugs are forbidden in the rooms.

(The following update from Lawrence's Mum in Bali)

Yesterday the team passed through Bali in transit, & we were able to arrange for Lawrence to come out of the transit lounge for about 15 minutes, for a Balinese blessing.
Team are all fine & feeling very positive (that was of course on the first leg of trip, at 3.00pm Bali time yesterday afternoon, or 7.00pm N.Z. time) they left here for Singapore, and by now they will have arrived in Russia.

Lawrence said team spirit was high & they'd been singing & having fun a lot of the flight. He felt all were really into gear and looking forward to competing.
---
26 June
The team have been travelling well - no jetlag and even playing Rugby at airports. Lena has been doing a great job as Manager. Jon is keeping them all entertained. Lawrence met his Mum at Bali airport.
---
25 June
The New Zealand Team departed from Auckland Airport. They are flying via Bali, Singapore and Amsterdam.

---
23 June
The New Zealand Team meet in Auckland on Tuesday evening, 24th June, then fly out on Wednesday 25th June. Come and farewell the team at Auckland Airport on Wednesday morning at 7.00 am.
---
The New Zealand Team are:
MATTHEW BREEN
ROBERT BRAAKHUIS
TAMAITI BRUNNING
KYLEE CUSIN
JEANETTE JOE
LAWRENCE MANTJIKA
LIANNA MCCARTNEY
TE WAIRINGIRINGI PARAONE
JULIA PARKER
GRAHAM PATTERSON
JADE POWELL
JAIME RETI
JON SAWDEN
IAN WALTON
KOSUKE YAMAMOTO
Coaches:
GARRY HASTINGS
KEVIN JOE
Overseas Coach:
ANDREW BURLEY
Manager:
LENA WALTON
---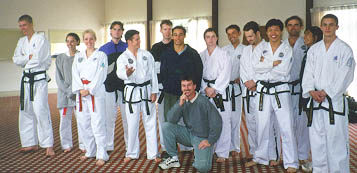 [all results shown here are unofficial]