This weekend event is open to iTKD members of ALL GRADES, 13 years+.
Students and Instructors alike will be able to experience new and exciting training methods for Taekwon-Do.
Outside the Square
A weekend that will re-vitalise your training!
Get outside of that rut and start thinking Outside the Square.
25 & 26th February 2012 - MMC, 198 Marua Road, Ellerslie.
Following on from the Rave Reviews*, Carolina Dillen, Jeremy Hanna and Master Paul McPhail are teaming up to bring an extended version of their OUTSIDE THE SQUARE session presented at the 3rd Instructors Conference.
Suitable for both Instructors and students, this weekend will re-vitalise your training and give instructors the tools to use put these methods into practice at their own school.
 Learn how to make your sessions safer, measurable, enjoyable and get better results!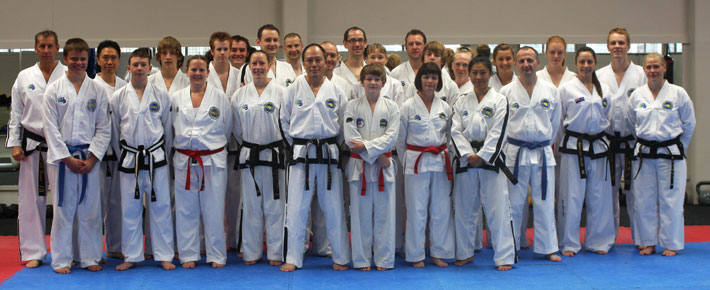 Instructors: You are welcome to attend the weekend as an observer to get new ideas for your classes. Or you may like to join in for some sessions and not others - it's up to you! Either way we are confident you will get value out of the weekend and come away with many great new ideas that will improve your own school.
The weekend also has a social side - Saturday evening dinner at the Flying Moa restaurant (optional). We think it will be awesome to have some time to chat about the day, have great meal and just chill after an exciting day. Click YES on the registration form and we will reserve you place for dinner.
| | | |
| --- | --- | --- |
| Schedule | | |
| Saturday 25th February | 8.30 am | Arrive, Registration |
| | 9.30 am | First session |
| | 12.00 pm | Lunch (bring your own or pop out - there are lots of local food outlets). |
| | 1.00 pm | Afternoon sessions |
| | 4.30 pm | Finish |
| | 7.00 pm | Dinner at Flying Moa, Ellerslie |
| Sunday 26th February | 9.30 am | First session |
| | 12.00 pm | Lunch (bring your own or pop out). |
| | 1.00 pm | Afternoon sessions |
| | 4.00 pm | Finish |
What to bring:
Dobok, drink bottle, towel, sports shoes, track-pants/shorts & t-shirt, sparring gear.
(Drinks are also available for purchase on-site at MMC).
COST: Only $50 per day or $90 for the whole weekend! (Dinner not included)
REGISTER NOW - places strictly limited - first in, first served!
* This event is a Class D Event »
---
This is a Beginner or Entry Level Course (to be followed by an Intermediate and Advanced Course which will build on concepts introduced in this seminar).
The seminar is for both instructors and students. Instructors are welcome to listen to sessions and take notes and ideas. They may also participate in the breakout sessions / trainings / workouts if they would like to but this is not compulsory and there will be a wealth of information to collect additional to the practical parts. Students will be able to participate in a variety of activities / trainings / workouts. Each practical portion can be scaled to suite any fitness or ability level.
Due to logistics and the large amount of equipment and space required to run this seminar we will be holding this seminar in Auckland Only.
Our apologies to those interested from other regions. We strongly encourage you to come to Auckland for this weekend seminar and we are happy to assist with billeting / accommodation / transport to help reduce the cost.

Program
7 Workshops:
Greasing the Groove
Learn Pavel Tsatsouline's method of Synaptic Facilitation to increase strength
Get amazingly quick results in the black belt fitness tests through this method of training.
Stretching & Mobility
Why stretching and mobility are important. Can we be too flexible?
Practical break out session learning basic stretches and mobility exercises
Energy Systems & Targeted Training for Competition Events
Description of each energy system
Which energy systems we use in Taekwon-Do and for which event
How can we train each energy system
Power = Intensity
Sparring Workout
The practical implementation of the new sparring syllabus in a high intensity, fun and measureable workout format
This session is based on the new sparring syllabus introduced by Mr Carl van Roon. We will take the exercises described at each level and show you how to put them together to structure a class suitable for all levels. We will demonstrate different ways of training he drills for maximum effect and improvement, demonstrate how to coach these techniques with clear and easy to follow coaching cues and technical standards as well as demonstrate a benchmark workout to assess one of the sparring syllabus levels.
Patterns Workout
Training patterns technique, fitness and performance all in one action packed session with standards, accountability and intensity
How to structure a patterns wow class
How to use simple and effective coaching cues and setting a standard for each movement
Practical break out session (optional) of various pattern workout examples
Iso-Flextion
Learn an amazing strength and fitness program you can do anytime and virtually anywhere, based on traditional martial arts pattern movements.
Learn correct breathing techniques for Taekwon-Do.
General Physical Preparedness
What general physical preparedness (GPP) is and why it is so fundamentally important for Taekwon-Do
Fundamental movement patterns of GPP strength & conditioning
We will cover common injuries in Taekwon-do and how to prevent and or how to rehabilitate them with GPP
Practical breakout sessions (optional) including various sample workouts
Practical information for how to add these exercises into your classes or training program



*Over 90% of participants at the 3rd Instructors Conference found the session at the Instructors Conference either VERY or Extremely useful and enjoyable.
See the iTKD Events Management Policy for information on the various types of events. For the purposes of this document, members should be aware there are several levels of seminars in New Zealand:

1. Class A Event: e.g. International Seminars (such as IICs)
2. Class B Event: e.g. National Seminars (such as approved Technical Seminars that receive funding assistance from iTKD)
3. Class D Event: e.g. Fundraising Seminars (Run by clubs and are endorsed by but not funded by iTKD)