Gup Syllabus Updates
October 2017
The 2017 editions of the adults and kids handbooks received just some minor syllabus adjustments - click here to see changes in green.
Here is a summary of the changes:
Intro page - a reminder that yellow belts and above need to also refer to the self defence handbook for that syllabus
Single stepping moved from 9th to 10th gup
Movements found in Do-san tul moved to 7th gup level and other similar changes in other levels.
Terminology corrected from "side punch" to "reverse punch" and "obverse punch"
A few small tweaks to the step sparring examples
Additions to the rules to be in line with the 2017 Standards & Discipline document
The kids handbook also now includes the complete step sparring examples in a chart at the rear of the book.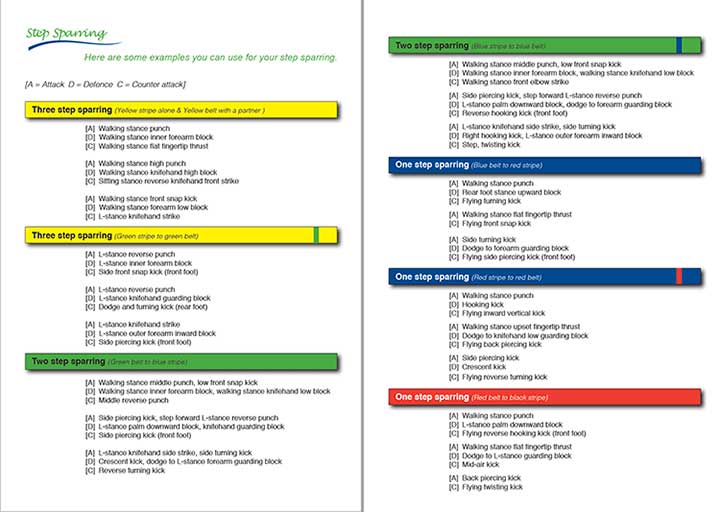 ---
July 2014
The 2014 editions of the Gup Techniques Handbook will be available from your instructor or at the National Tournament, 26-27 July 2014 from Fuji Mae NZ.
Advance copies are available now from Fuji Mae NZ or Paul M TKD.
The 2014 adults and kids versions contain the following updates from the 2010 edition:
Korean counting added to 9th gup syllabus
New Self-defence syllabus added to each grade
Basic stance measurements added to 8th gup
2 Step Sparring added to 6th & 5th gup
Some step sparring examples changed
Terminology CD no longer included - audio files are now available on the itkd website.
Click here to see changes in green.
---
July 2010
The 2010 edition of the Techniques Handbook is now available, and contains the following updates from the 2009 edition:
Taekwon-Do in New Zealand Section updated.
History of Taekwon-Do Section (red belt) updated.
New design
The 2009 edition of the Techniques handbook had the following amendments
Updated with the new self defence syllabus.
Moved "meaning of the white belt" from 9th gup to 10th gup.
Changed 8th gup 3 step compulsory technique from backfist strike to reverse knifehand strike.
Updated 3 step "examples" to better match the compulsory techniques.
Updated rules from latest standards & Discipline document.
Updated NZ history section re Board of Directors and management committees.
You can purchase a handbook from an approved supplier.