Competition has started - we are hoping to have some results tonight.

In the meantime - enjoy browsing through photos from the pre-trip buildup, from the team photographer - Stephanie Lamy: -1- -2- -3-
---
12.06.03 From Andrew Niven/Paul McPhail
Alteration to the female specials team: Overhead - Carolina Dillen, Turning - Alix Bartholomew, Flying High - Antje Hollaender

Mens team patterns have been delayed until Friday.
11.06.03 From Andrew Niven

Well the NZ team is finally locked into competition. After a
stressful walk to the Novatel (for most of the team) we were shuffled into a room where we sat and waited. Jarrad says "this is just like work, hurry up and wait".
After registration we were sent down the hall for the moment I had been dreading all night! As you may guess I did not sleep well after we discovered just how far off some of the people were. It is amazing how much water you retain from flying.
I can't say anything more than that I am completely shocked at just how smoothly it went. Everyone stood on the scales, and every time I heard, "yes ok". When Thu finally got onto the scales and I watched them bounce up above the weight, and then settle almost a Kg below I held my breath. Finally "yes, ok". Noise filled the room as the girls cheered, Greg shot out the door and called out to the male team "Shes in" I could hear their cheers from the weigh in room.
Strangly it was uneventful, the worst part of it was the stress leading up to it.

We gave the team the morning off. They were happy and deserved to blow off a little steam. We have just met for lunch, and when I got to the icafe it was full of NZ team members.
What have we heard so far? Paraguay think that the mens team looks strong and they like our womans team (but for other reasons). One of the Aussie girls is concerned to the point of not wanting to compete against one of the New Zealand Black Belts in patterns.
Also it is really neat that we are noticably being respected here, the other teams know who we are and they tend to give us a lot of space.
However, the team is always dressed as a team, they walk proud and they stay together, they have been polite to shake hands with members from other countries and always remember to be nice. They look confident and hungry.
I keep asking Megan what else I should put in here and all she says is <weak voice on> "I dunno.... I'm tired..." So John, that means nothing changes does it!
Alix has been keeping us on our toes, she seems to always be the one who misses what the group is doing, or she is busy when they move off and doesn't know where we have gone. We have learned that we need to tie a leash to her.
The team is in good spirits, it is funny though, there is a little reserve in the joking now, they know what is about to happen and I think that sub-consciously they are prepared for it.
Thanks for all the wishes of luck, thanks to the New Zealand team fan club, we hear you!

Megan still has nothing to say.

Andrew and Megan - Warsawa, Polska.
---
11.06.03 - 8.30pm: Call from Greg Skinner

Mr S was strolling back to the hotel, feeling that it had turned out a very good day!
Since arriving in Warsaw, the team has been facing the first major hurdle - the weigh-in. This has traditionally been a time of nervousness, and pain - physical for some, mental for the management.
Thu Thach was in trouble yesterday - and that's why there were folk up at 4am this morning - doing the "usual stuff". Lots of exertion, lots of clothes, lots of sweat - and a sacrificial hair-cutting to get the last of that 3kg off.
There has been nerves, uncertainty and tension amongst the team members as the reality of "being here" has sunk in. They have been getting real serious - training, to bed at a reasonable hour - no night life yet!
And Greg believes it was an important catharsis when it paid off at this first official step - they flew through the weigh-ins - no fast talking to try and squeak in, no going away for an hour to come back and try again.

The team are off to a flying start.

This is on top of the comments already received - a team that has caught the eye of high ranking officials half a world away - that Mr McP saw had come together - "The whole team have a real spirit about them - almost scary."
So now they are enjoying the balmy 30 degree weather, heading back to the "Solec Orbis" hotel - magnificently placed 5 minutes walk from the tournament venue (if maybe not so magnificent in aspect). There will be "maybe a wee nap to catch up some of this morning's lost sleep", a team lunch, then back into it, with some light training at 3.
The team is now "locked in". Although those who travelled as reserves cannot now be called upon to compete, they will be performing valuable duties, assisting with training and the myriad other support tasks needed for a well-oiled team machine.
I have a good feeling about these guys and girls :)
ed: nb

---
11.06.03 - 8pm: Text flash from Mr McP



The team have all made it through the weigh-ins!
Thu was 3kg over yesterday - and Antje was borderline.
Today both made the grade, to cheers from the team.

---
The upcoming competition: Thursday. ed:nb

I have cross-referenced the schedule on the Champs website with our team list. Hopefully we will get timely updates if any of this info changes...
Competition starts for the team at 9.15am Thursday Warsaw time (WT), which will be 7.15pm on Thursday evening in NZ.

First up will be female patterns:
Iindividuals: Megan Matsuoka (1d), Thu Thach (2d), Lena Walton (3d). (no NZ 4th Dan)
Team: Antje Hollaender, Alix Bartholomew, Carolina Dillen, Suzanne Main, Alison Roma, Lena Walton.
In the morning also is male special technique destructions:
Individual: Carl van Roon

Team: Overhead - Jarrad Ramsay, Turning - Jon Sawden, Flying High - Carl van Roon, Reverse Turning - Cameron Snelling, Mid Air - Hong Looi
Lunch break comes at 1.30pm WT - and places will be presented before lunch.
Now this is at 11.30pm NZT - so I will be sitting watching my little cellphone, awaiting the text messages - to transcribe to the web page with all haste!!!
After a generous 3 hour lunch,comes the evening session (4.15pm to 8.15pm - 2.15am to 6.15 am NZ time)
Male patterns:
Individuals: Kenny Chiang (1d), Lewis Looi (2d), Hong Looi (3d), Graeme Patterson (4d).
Team: Jarrad Ramsay, Carl van Roon, Hong Looi, Cameron Snelling, Rene Kunz, Jon Sawden. (delayed until Friday)
Female special technique destructions:
Individual: Antje Hollaender.
Team: Overhead - Carolina Dillen, Turning - Alix Bartholomew, Flying High - Antje Hollaender
---
A few quotes from members of the team:

AN: We've been - we've seen - it's time to conquer.

GS: We'll roll 'em in Poland.

CD: Thanks to all the people who brought us here.

LW: I am ready.

LM: In a dream, I see three golds (at least).

GP: here we go again...

JS: I despise the guys who minimise and criticise the enterprise of the guys whose enterprise made them rise above the guys who criticise.

TT: Bring it on bro.

CS: Watch out Europe, here comes the Black and Silver Steamroller.

AH: Thanks to the people in TKD who have made me feel at home, so far from home.
---
11.06.03 From Gray Patterson in Warsaw

Hi there everyone...
Alright - finally managed to track down an icafe in central Warsaw, so apologies for the missed day there.

The trip from Singapore to London was delayed for about 45mins - which didn't really suprise anyone, as this has become par for the course on our trip.
Once we did board the plane it wasn't long before John (with some assistance from a few others) managed to further international relations with an impromptu pillow fight in the aisle of the plane...he's actually a pretty good shot. I think the Scottish Air Hostess managed to figure us out pretty quickly though, and managed to control the "pillow war" with some good humour.

The team were all seated fairly close to each other for this leg of the trip, but there wasn't a huge amount of socialising done due to the flight being (once again) a night flight, so the air crew turned out the lights and put everyone to sleep again.
There were some interesting sleeping arrangements from some - most used the traditional 'sitting down with rocking head' method, but John & Kim, and Cameron & Carl managed to come to a 'bunk bed' type arrangement, where one slept outstretched across 3 or 4 seats and the other slept where the feet would normally go...and while it looked a little strange it seemed to prove effective.

Unfortunately I don't sleep particularly well while travelling, so I managed to watch 4 movies and read a decent chunk of a book before we landed in London, some 13 or 14 hours later. The pilot had managed to catch up half-an-hour or so, so we landed only 10 minutes behind the scheduled time, despite our delayed departure.

We only had a couple of hours in the transit lounge of Heathrow airport before we took off on the final leg of our trip. Astonishingly, this flight departed on time.

A couple of hours later we landed in Poland, and cheerfully flashed our passports at the immigration staff, which really seemed to be little more than a formality, and then we waited for our bags to come off.

And we waited.

After all of the luggage that was on the conveyer belt had been collected we were still minus a good deal of team luggage. Thought that the plane leaving on time was too good to be true. Andrew and Greg arranged for the airport to locate and deliver the missing stuff - apparently it was still in London...

We were collected by the President of Polish ITF (a very nice gentleman) in a bus and driven to our hotel, which is right around the corner from the stadium. The hotel is a little rundown, but is quite adequate for what we require.

We went to the stadium later on in the afternoon we arrived and had a session in the main area - it's a massive complex, and a great venue.

It's also quite hot here, having come from winter, with temperatures being around 26-29deg. No one is complaining though...

The hotel supplies breakfast, which is a buffet of all sorts - a great relief, as I really was expecting dry bread and little else (going by past Worlds).

We've had another two sessions today (morning and afternoon) and the team is looking sharp - a good spirit all round, and confidence.

Ok, times up at the icafe here, so I'll come back and do some more tomorrow.

Until then...

Gray
---
11.06.03 From Andrew Niven and Greg Skinner in Warsaw


My goodness, after a nightmarish trip we made it here. Well, we did, most of the baggage did not.
Finally today we have most of our baggage and only have to trace down a few bits and pieces.
Lets learn a lesson from this... If the coach tells you to pack your dobok in your carry on bag, do as you are told. Our fingers are crossed that Kenny's Dobok will turn up with his bag later today.
Suzanne is breathing lightly that her dobok turned up last night.
Anyway, we met the Aussies, the Jamaicans, and Paraguay. Apparently the Paraguay men think the girls on the NZ team are cute, and should train without their tops, like the men. Note to Paraguay: make sure that there is no-one like Carolina around (who speaks more languages than I know exist) when you are making rude comments.
Weigh in tomorrow at 9:00am. New Zealand is first up. We have been speaking to some of the officials, and they have been very positive about our team. One of the most senior in the Polish TKD Organisation actually noted that NZ has been getting better and better and he thought that we might be the dark horse of the tournament. The team loved hearing that!
They are training in about 10 minutes with Mr Mantjika, Greg and I will be rushing back to try and get there half way through. Then it is a team dinner tonight, much fun, laughter and stories. Lights out by 10pm for an early start.
Tomorrow it begins!
Wish us luck (not that the team members need it)
Andrew Niven and Greg Skinner - Warsawa, Polska.
---
10.06.03 From Paul McPhail in Warsaw

I see the team hasn't been able to report in lately so here's some news from my side.
I met up with the NZ team down at the stadium yesterday. They are staying quite close so walked there. The main stadium as I said is huge, and the lights were out, so it made it seem even bigger. I could see the atmosphere of the place simply took the team's breath away as they entered and looked around. Andrew quickly got them together and asked them to visualize people in the seats and the competition taking place. They all spread out and did their own mental preparation. A few became quite emotional but were quickly re-focused to the job at hand.
The women and men split into their teams and worked on team patterns.
I must say they are looking good. The whole team have a real spirit about them - almost scary.
The Aussie team popped in to say hi. I think they were taken aback by the size of our team and how focused they looked. Apparently when our team names went up on our website the buzz went around that 'New Zealand even have reserves...'.
When I left they were practing the haka. That was the last I saw or heard from the team - 24 hours ago now. I hope they found some food as there is no restaurant at their hotel - and I don't think any internet access - but I am not sure.
Teams are checking in thick and fast here at the Novotel now. Canada just arrived. Everyone is very friendly and chatty over breakfast this morning. The big shots are starting to arrive too - 8th dans all over the place.
This afternoon I am going on a guided tour of Warsaw - looking forward to that.
Tomorrow is weigh ins and meetings, then the next day...it all begins.

P
---
10.06.03 From Paul McPhail in Warsaw

Hi from Poland.
I have arrived here ahead of the NZ team by taking the direct route with no stop overs - which was rather a long slog!
The weather is nice and all going to plan. Was met at the airport and transported to the hotel.
I am staying at the hotel assigned for the umpires and not with the NZ Team - so I'm not sure when I will catch up with them.
Just been down to check out the Stadium - it's huge! No mats or any set up yet - just some teams practising in in smaller side gyms.
Caught up with the Jamacians that I met at the General Choi course in 2001 - they are here in force.
Organisation looks good - lots of translators running around etc.
Teams are starting to arrive and check in. Exciting! Word is there are around 400 competitors.
Will try and check in from time to time to give an Umpire's view of the tournament. All the best to the NZ Team!
P
---
09.06.03 New Zealand Herald Article on the Team
"This team deserves to achieve medal success," said team manager Greg Skinner. "The level of commitment and discipline from each team member has been phenomenal."
Read the full article on-line at the Herald website here

(thanks to Gerry Dillen, for the link, and for photos)
---
09.06.03 From Gray Patterson in Singapore

Day 2, in transit.

After juggling our flights we managed to get onto a flight from Sydney to Singapore that departed at 22:30 (Sydney time).
The plane was a 747-400, and new enough to have the little personal TV screens in front of each passenger.

Had we been flying on an older plane with the central mounted TV screens we would have been treated to two movies - "How to lose a guy in 10 days", and once again Australia's cinema version of water torture "Swimming Upstream".
Maybe one of them drowns the second time you see it...one can only hope.

Fortunately there was a selection of movies screening across several channels, including "Phone Booth", "How to lose a guy...", "The Pianist", "The Jungle Book" and "Shanghai Knights". There was also a selection of nintendo-type games available to pass away the almost 8 hour trip.
Thinking I couldn't go wrong with such a selection of movies, I
watched "Shanghai Knights". Perhaps this was made by the same crowd that made "Swimming Upstream" - as it bit. "The Pianist" was much better fortunately.

The flight itself was again largely uneventful - the team was spread all over
the plane, so there wasn't much opportunity for antics.
After supper the plane crew turned down all of the lights and turned up the
heat - a widely practiced method of making as many passengers as possible fall asleep so they don't really have to serve them. It was dark anyway, so I think most of the team managed to grab a few winks before we arrived.

We landed at Changi airport at 04:30 local time. We had to check into the
Transit Hotel fairly smartly, due to check-in requirements, but we also
understood that we would need to collect our luggage beforehand.
This was another minor issue, as we would need to clear immigration to collect our bags. To check into the Transit Hotel, you don't clear immigration.
Hmm, so what was going to happen to our bags? Greg made the call to get
everyone checked in to facilitate any requirements for immediate sleep (some of the guys had their eyes hanging out of their heads..) and he then went about trying to find out what the story was.
After chasing the terminal folk around for a while, and getting some assurance that "she'll be right", Greg finally retired himself.

The Transit Hotel offers fairly basic facilities, but more than adequate for
somewhere to crash. Most of us managed a few hours sleep in a more comfortable horizontal position.

Later in the morning many of the team congregated around the pool that was directly in front of the hotel entrance. Situated on the roof of Terminal 1, the warm (34deg) sun was a welcome refresher, when combined with the pool water.

Some of the crew spent the morning shopping, and some of them participated in a bit of amateur modelling - standing in front of various advertising billboards and striking the same pose as that of the billboard - there are some entertaining photos that will hopefully get zapped back soon.

Part of this afternoon was filled by some of us on a free tour of downtown
Singapore. This comprised an excellent bus trip down to Singapore River, followed by a boat ride up and down the river, and then back onto the bus to get back to the airport. It was very well presented and well worth the trip.
Apparently 80% of Singapore's 4 million population live in apartment blocks, and they average ~6,500 people per km/sq!
We saw the famous statue of the "Merlion", and the huge skyscrapers that make up the CBD.
Our boat even crashed. There was an old dude in a boat who wasn't really
paying much attention to what was going on around him, and the chap that was piloting our boat just excercised the "right of way" rule, by ramming the old dude's boat. No damage done due to the tires around both boats, and it would seem that this is just the way things are done on the river.

On the way back into the airport we were all thermal scanned (to detect
potential SARS carriers), and Darren and Jarrod (who are both quite sunburnt from the morning by the pool) managed to raise the alarm by showing up as the only red things on the screen. This lead to mandatory temperature checks, and finally a release with a clean bill of health, but I think Andrew might have had a few hairs on his head jump ship.

Speaking of SARS, there is no real sign of any worry about the disease,
besides a family of Indian appearance who were on our tour who had brought along face masks. They removed these halfway through the tour, I guess after they discovered that they were the only people in the whole city sporting these fashion items...

We have now checked in for our next flight, and everyone is once again off
shopping. Cameron tells me he has some money burning a hole in his pocket. Spoken like a true woman(???).
We've got 3 or 4 hours before we're off again, this time to London, so no
doubt someone will increase their baggage weight.

Ok - gotta go - been standing here for a while, and security might start to
think I'm trying to hack into some network or something shortly, so catch you on the flip side (of the world...).

Gray

---
08.06.03 From Darren Ward in Singapore

Hi from Singapore,
we have a had a few events today while in transt.
Both me and Jarrod caused a little trouble after our tour of Singapore. It seems that a little bit of sunburn caught while at the pool this morning sets off the infared detectors here to a possible case of SARs (mental note: I should have packed my sunscreen in the overnight pack)
After we had our temperature checked we were cleared (the temp check was under the tongue and not the way as Gray would have everyone think), but I wonder if this will cause a bit of a problem in Heathrow.
Oh yes there was the case where Andrew was going into a frenzy about losing his passport......Andrew had asked Greg to go and find his gear in storage and check the luggage to see if the passport was in there...no luck
Then by a small chance Greg thought that the last time they had seen it was
when the luggage was checked in to the baggage storage room. Funnily enough Andrew checked his waist belt and lo and behold there was his Passport.
I guess it goes to show that you should check all your pockets before going off in a panic.
Anyway hope to email later.....if Me and Jarrod make it through all checks for body temperature at any further stage of the voyage!
Darren
---
08.06.03 From Andrew Niven in Singapore


We are here in Singapore where the temp is nice... inside the airport and hot and humid outside. There has been a little bit of practicing next to the airport pool, great spot.

Since we have no real luggage we have had to survive with what we have. That means that the boys all went swimming in their underwear while the girls lay in the sun. It has been an uneventful day, but we are all much happier now that we have had a chance to sleep on a bed.

We have had a good time, the team is in really good spirits and they are becoming one great team. There is a confidence about them that has me excited. Still we will see.

Matsuoka's - Megan is fine, she looked terrible when we woke her at 11:00am Singapore time, but then it was only 4pm NZT.

There are some photos of Antje and a photo shoot that they all did when bored in Sydney, they will make great photos if I can get a copy.
Antje has told me that she will kill me they appear on the website though... so I will try.

Renee and all that helped sign and make the banner, the team love it.
Cedar, we will place the first medal on the spot you told us and take a picture to send it home for you.

Catch you all soon,
Andrew Niven
---
08.06.03 Pictures from an Airport - by Stephanie Lamy

Pro-Pix
---
08.06.03 ed: nb
It is early Sunday morning in Singapore - the team will likely be catching up on sleep for a few hours yet - time for some background data.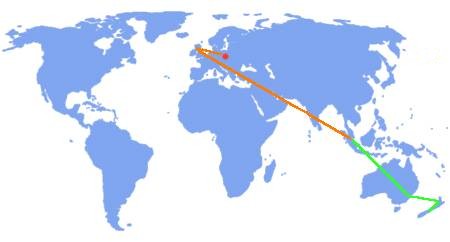 After a 24 hour stop in Singapore, the team will spend another 13'ish hours in the air to London. About 3 hours stopover there, then the final leg to Warsaw, Poland.
According to my precise calculations (add 4 hours) - they will be departing Singapore at 3.35 am Monday morning NZ time - on the dot - with the best of British! (Airways that is).
Arrival at Heathrow will be (+11 hours) 5.20pm our Monday - ouch, that's a 14 hour flight - hope BOAC have comfy seats! (oops, wrong century, that should be BA).
Of course, past teams have been know to come up with suitable pastimes - wonder if they have nice feathery pillows on the plane, the sort that burst and rain duck-down all over the place! Or a rugby ball??
And of course, there is a pattern that was clearly designed for "aisle execution" - come on, what is it? mail me, get your name in lights (this one is for colour belts :) ).

Anyway - back to the topic - 3 hours at London aerodrome - not enough time to visit with the Queen, depart at 8.15pm NZ Monday night.
A leisurely 2 & 1/2 hour jaunt across Holland and Germany (Antje can wave to her family) to Poland - arriving Warsaw just after lunch for the team, (+10 hours) 10.40pm NZ Monday night.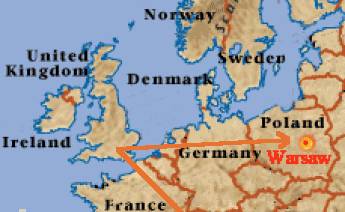 Competition in the 13th World Senior Taekwon-do Championships doesn't start until Thursday 12th June 2003, so the team can act like tourists for a couple of days :) (wait for reaction from Mr Niven on that one!)

The Republic of Poland: has a land area of 313 thousand square

kilometeres, (about 20% bigger than NZ) with a population of about 39 million. (TEN times more than NZ).

Currency: 1 zloty = 100 groszy, (about 2.2 zloty to the NZ$) (unless they use Euros).

Capital is Warsaw (where the Champs are being held), which has a population of about 1.6 million (so a little bigger than greater Auckland).
---
08.06.03 - Peter Casale - spotted the resemblance between a bearded Jon Sawden and Captain Haddock from the Tintin comics.
---
08.06.03 From Darren Ward and Andrew Niven in Singapore



Hi all,
Well we made it... finally.
Carl and Cam managed to get seats with no one beside them except the Aussie Junior Soccer team, so guess what!
Yup, Cam and Carl took up three spaces and left them with one.
Most of the team slept well, Greg missed both meals as he was asleep almost straight after takeoff.

Megan, Carolina and Andrew didn't sleep so well and are all looking the worse for wear.

Gotta go, off to the hotel (SLEEP FINALLY).

Darren and Andrew - SINGAPORE!

---
07.06.03 From Gray Patterson in Sydney


Hey everyone

Well, it's been a challenging start to the trip...we are now in Sydney airport awaiting our Singapore connection.

For the Wellington contingent the morning started with a 9:45am departure, only to be thwarted by a broken windscreen heater... apparently they can't just use an old pair of undies to wipe the condensation off...
Anyways, after taxiing out to the runway, and then back to the terminal, we were off with a 30min delay. No worries.
(ed: of course maybe they could have got on with it and just taken off if they had a volunteer to climb out and give it a swish every now & then - eh Mr P)

We arrived in Auckland to the sight of the Auckland team members waiting patiently in line at the check out counter.
Antje was causing problems with the weight of her carry-on luggage, maintaining that there was a 64kg limit...apparently not (you don't say). (more like 7kg I believe! ed)

Unfortunately we soon discovered that there was a delay with our flight to Sydney, but we sent our trusty travel agent Trisha off to sort out the details.
It was looking increasingly likely that we were going to miss the Sydney-Singapore connection, but there was the possibility to jump on a later flight if neccessary.

Our original flight was cancelled, and we got reseated on a later flight (on the upside, it was a 767, rather than the intended 737 we were to go on).
To appease any disgruntled stomachs, everyone was given an $8 meal voucher.
That'll sort it...

This flight was due to board at 14:55, but at 15:30 we were still sitting at the gate lounge. Definately looking like we were catching the later flight to Singapore...but not to worry - at least we were underway.

Flight over to Sydney was fairly uneventful. A wee bit of turbulence on the way, but this didn't last long though. Strangely, when the turbulence started and the seatbelt sign went on (even the cabin crew went to their seats), up stands Hong. He must have thought it was the perfect time to go for a wander -
I guess the aisles were all clear of other traffic. "When the seatbelt sign is illuminated please remain seated" spoke the voice over the intercom...

We had a movie on the way, as you do, only it might have been better if they didn't.
We were treated to "Swimming Upstream", a triumphant piece of Aussie film making.
One magazine review said it was captivating - I guess the reviewer was also trapped in a plane whilst watching it.
What a sack of dung that was. I figured that a movie couldn't remain that bad for it's entire length. This one did...

Arrived in Sydney all ok though, and we are now awaiting our next connection to Singapore. The original layover here was to be 1hr, but we now have 5hrs before the next flight. We had a planned 26hr stopover in Singapore anyway, so it won't really matter if we eat into that a bit.

And hey, they've given us A$13 vouchers to spend for some more food now...big spenders...woohoo!!

Watch this space...

Gray
---
07.06.03 From Lawrence Mantjika, Cameron Snelling and Suzanne Main in Sydney



Hi there

Suzanne typing here, Loz and Cam dictating....(cause they can't type for nuts).

Well here we are in Sydney airport waiting for another 4 hours for our flight to Singapore after being delayed for 3 hours in Auckland AND 30 minutes in Wellington!!!!
We missed our original flight by 3 hours. We got a 'Qantarse' meal voucher for $12 for our troubles. Note to self: Never mess with Greg Skinner!!

Anyhow, the team managed to destroy the ceiling in the arrival gate whilst playing hacky. Note to team members: Stick to TKD.

There's been talk about mile high clubs (Note to self: find out what that means ;-)), but Loz has been keeping vigilance outside the dunnies. Only single entries so far (into da dunnies), but Loz will keep you posted....dirty little man.

TTFN

(ed: isn't that something to do with consuming alcohol at a great height? ((and NO - we're not looking for any clarifications thank you :) )) )
---
07.06.03 From Andrew Niven and Darren Ward in Sydney


Darren and I have just found a free internet booth, we can't plug in, and only one of the terminals works, but it is free.

As you know the plane was delayed. Well actually it gets better. It was cancelled... What - I hear you say - how did you get there then?

They put us on another plane and shipped us here.
We were scattered all over the place on the plane, and the only good thing was the meal. Now that is saying something.

On arrival in Sydney we discovered that (as predicted) we had missed the connecting flight to Singapore. Not to worry - the Q airline to the rescue again.
They have provided us with comfortable surroundings and lavished food on us...... YEAH RIGHT!
We were met at the gate, told we were here for about 4 hours, they didn't have everyones' boarding passes (and we had to convince them to give them to us). They provided us with a $13 voucher to go and eat in the food court.

HAH! The food court consists of one shop that sold bad panini's and dry wedges. Yum yum. Also, it is the end of the day so they are out of most things anyway.

So here we are sitting around in Sydney airport... waiting... contemplating an invasion of the business class lounge. I will let you know how that goes.


---
07.06.03 From Neil Breen in Auckland

The team left Auckland airport today - a few hours late - but in high spirits. Most were there before 11 am - to checkin for a 1pm boarding time.
About 11.30'ish the southerners arrived - all checked through to Singapore - no more queues for them :)
After an hour for the Aucklanders and Midlanders in the sllloooowwww checkin queue - flight QF190 was delayed for 2 hours! :(
That's difficult - they have tight timing for a connecting flight from Sydney to Singapore.
Well - apparently the (now somewhat unpopular) airline that starts with a "Q" is going to try and arrange new connections while they are in the air to Sydney... Good job they've got a full day layover in Singapore!
---

From the Editors - Neil & Matt Breen
A request to the folks at home - if you hear any news from your contacts on the team -especially on the long trip over there - maybe just "the shopping's great in ?Timbuktoo?" - please do drop us an email.
We have our official journalists/coordinators - but what we also have plenty of is
S P A C E
(also let us know if you spot any errors!)
---
TV Coverage: Sunday 8th, TV-One, 8.30 am
A camera crew visited Team training last week. Watch Asia Down Under at 8.30 Sunday morning.
---
Saturday 7 June Depart Auckland at 1.00pm and arrive Sydney 2.30pm
Depart Sydney at 3.45pm and arrive Singapore 9.35pm
Overnight Singapore early morning Sunday 8th June
Depart Singapore at 11.35pm Sunday 8th.
Arrive London at 6.20am Monday 9th.
Depart London at 9.15am and arrive Warsaw 12.40pm Monday 9th.