18.06.03: from Jake Pearson: Last day



This will be my last report, phew I hear you say.
Well, I have enjoyed writing them - it has certainly made me try and keep track of the details of what happened, and has also surely improved my typing skills no end...

We were last up to the final session of the final day I believe.
The only event still to run was the male team power breaking (and the finals of the team sparring which we weren't involved in - by the way Poland beat Argentina 3-2 in the women's and Russia 3-0 [rather than 3-1 as previously reported] in the men's).

(ed:nb - We think that means NZ was the only country to win a bout against Poland in male team sparring - in fact we won two!. )

The lads were actually under a fair bit of pressure to perform here as everyone was going on that we wanted one more medal etc.
They arrived at the stadium early to prepare, with Gray helping them go over some things beforehand.

First though, there was a brief memorial ceremony for General Choi, today being the 1 year anniversary of his passing.
A shrine complete with picture and flag had been created near centre ring, and a memorial book for everyone to write a message and sign.
A speech by the new ITF president and a 1 min silence completed the ceremony.

Then we were back into things and NZ was 2nd up in male team destructions.
Jon got psyched up and destroyed the 2 board punch - 4 points.
Cam hit the knifehand very hard but no result (only a couple of guys in the whole tournament had any success with this technique).
Jarrad charged at the side kick and the boards flew out of the holder, but none broke (also no-one so far had got anything on this technique) - still 4 points.
Rene lined up the turning kick and threw himself into it cracking the back board - 1 point (which would end up being VERY significant), total 5 points.
Hong had a big ask with a 3 board reverse turning kick but gave it death anyway, hitting it slightly high - 0 points,
total 5 points.

Being so close to the beginning, the team then had a very nervous wait as the other teams performed one by one.
At least one team got 4 points, but none matched or bettered us.
Everything was looking pretty good but then Ireland, European champs at team power breaking, stepped up and NZ held their breath.
They missed the punch, broke 1 and cracked 2 on the knifehand (4 points), but then missed the side and turning kicks, and we thought we'd be OK as there was only the impossible reverse turning kick to go.
But THAT man Kevin Hannigan stepped up for it, and proceeded to incredibly break 2 and crack 1 (5 points) giving Ireland a total of 9 points and 1st place.
The last team to complete it were Poland, and their 6'10 giant managed to break 2 and crack 2 on the side kick, giving them 6 points and 2nd place.
So, that's how it finished, another bronze medal for NZ - the boys had really come through and fulfilled their potential.

So there was just the predictable final medal presentation to finish up with, or so we thought.
There were many smiles as NZers filled the podium that afternoon, with Lena up twice of course.
There was our national anthem (again!) for the gold for the women's team.
And then, it came time to announce the male and female "Grand Champions" of the tournament.
This is designed to recognize individual excellence in more than one area - best accumulation of individual medals (i.e. not including team events).
There had been a rumour that Gray was in the running with his gold and silver but no-one would believe it until it was announced.
When it was there was pandamonium from the NZers (and Master Bos actually) - a final haka as Gray went up to the front, and he was presented with another enormous trophy.

The female Grand Champion was Julia Cross (gold in sparring and patterns!).
Also announced was the emotional retirement from TKD competition of Tomaz Barada and one of the senior Polish women.
Gray is naturally staying modest about the whole thing, saying that he is looking forward to coming down to Nationals in Dunedin and being beaten by Loz in patterns etc...
Now, he is a good mate and I really don't like to pay him too many compliments but his was an outstanding achievement to take this title, and particularly fitting given his plan to grade later this year (and therefore not be able to compete at World Champs any more ).

Finally, the top 3 teams were announced.
This is calculated on the total number of points for a country (3 for gold, 2 for silver, 1 for bronze).
Poland of course were first, Argentina second, and then guess what... NZ were third!
Absolutely unreal - we beat the likes of Slovenia, Russia, Brazil, Canada etc - and Andrew, Lozzy, Honza and Greg joyfully went up to accept the award.
I think enough has already been said, but really the magnitude of this performance cannot be overstated.
Andrew was (for once) briefly lost for words...

The team spent quite a while celebrating at the venue after this, soaking up the feeling of success.
But too soon it was time to head back, clean ourselves up. and PARTY.
A function had been arranged at the Novotel in town and our team, looking very sharp I might add, descended en masse.
All the teams mixed well, and someone teamed up with the Russians to acquire some Vodka which went down easily.
Many of the team partied there until the wee hours - good times had by all.

So, I guess that concludes my role as official correspondent for the tournament.
I hope my reports have been of some interest - apologies for any omissions, errors or spelling mistakes (I think I just made one..).
If you really want to get the inside story on this tournament, grab one of the team members after they get back, buy them a drink and get them to tell you ALL about it.
Also, try and get hold of a copy of the video footage that Greg took.

This is roving TKD reporter Jake Pearson signing out from Warsaw, Poland.
Ciao for now...
Jake P
---
17.06.03: from Jake Pearson: Power Test Report (Sunday)


Actually, nothing much of note happened during the remainder of the tournament... well, maybe one or two things.
At the same time as the team sparring was going on, our individual power breakers were up, first Lena and then Gray. As I mentioned earlier, the boards used were those horrible hard solid plastic Polar ones, so bear that in mind when assessing the numbers of boards involved. For women it was: knifehand 2, side kick 3, turning kick 2. For men: punch 2, knifehand 3, side kick 4, turning kick 3, reverse turning kick 2 (but then 3 for team event for some reason...). There was not the 30 sec time limit per break so rigorously enforced at the last champs, possible because they only had 4 holders so had to re-set the height for the final technique (reverse turning kick). Similar to specialty technique each break is scored outof 2: 2 points for a full break, 1 for a crack, and 0 if no crack, wrong tool used, supporting foot coming off ground, etc.
Anyway, Lena was up relatively early in a large field. She struck the knifehand hard but no points. As mentioned earlier the lowest setting for the board holder was still much too high for her side kick, meaning she had to kick slightly upwards which isn't ideal for power breaking. No points on this one either. She then stepped up and demolished the turning kick - 4 points. Four other countries also finished on 4 points (all breaking turning kick also), so Lena was in a 5 way tie for first., necessitating a break off. The turning kick was selected at random and because all 5 had previously broken 2 boards it was increased to 3 boards. Lena was first and hit it really hard, but very slightly high, and no points. None of the other 4 were able to score either, and the next technique selected was knifehand. Again an impressive strike from Lena but no result from the solid boards. Australia then managed to crack 1 (silver) and Canada cracked 2 (gold). The Irish competitor deserves special mention as she smashed both boards but was deemed to have hit them with her forearm so was disallowed. A bleeding little fingers afterwards suggested maybe this was a little unfair - the Irish were fuming but to her credit she was very graceful about it. After this the Irish withdrew, and therefore bronze to Lena and Poland - another medal, brilliant! You can imagine the size of the grin...
Gray stepped up early in the list of the guys and quite a crowd of various people in the know gathered to watch him. He cracked both on the punch - 2. Next really whacked the knifehand hard, cracking the backboard - 1 (total 3). The side kick (4 boards makes for rather a thick piece of plastic) he hit slightly high - 0 (still 3). He then showed why his turning kick is legendary, smashing all 3 boards - 6 (total 9). Those who have seen Gray's reverse turning kick knows that he does it quite high, and there were surprised gasps as he motioned the board holder up and up. Then, when he proceeded to smash them to bits without so much as a line up, there was loud applause ("the most amazing thing I've ever seen" was one to me). So, 4 points for that (total 13). Then, waiting game for the other competitors to go through. Mid-way through the Polish competitor scored 14 (same as Gray but broke punch and missed knifehand) It took a long time for the last to complete as the team sparring was happening but finally we could confirm that is was in fact a silver medal for Gray! One better than his bronze in Argentina 4 years ago, and so close (1 point) from gold. Interestingly no-one broke on the knifehand or side kick.
The last of the events for the morning was the womens team power breaking. Lena's bruised and swollen hand necessitated a switch of positioning, Alison taking knifehand and Lena moving to turning kick at which she had been previously successful. Alison bravely hit the knifehand hard but the boards refused to crack. Antje propelled her long leg towards the 3 boards with her side kick, but hit it slightly high so no points. Lena, despite having already done 2 turning kicks (including the 3 board one that did not break - always SORE), duly smashed them again leaving the team with 4 points. Similar to the individual event, 2 other teams also broke the turning kick leaving a 3 way break off for first place. The turning kick was drawn as the decider, and again it was increased to 3 boards. Lena was thought to have the best chance, despite a tender foot from the 3 previous ones. She stepped up and, in what I believe to be one of the most superhuman efforts I have ever witnessed, gave it absolutely everything and cracked the back 1 or 2 boards - it doesn't matter too much which as there was no way either of the others came close to this, so gold medal for NZ!!! Poland and Canada then spent a long time doing various breaks trying to separate them, causing many a bruise, until Poland finally prevailed for the silver.
Lena's multiple efforts reinforces the importance of conditioning, as did Daniel Kerr's performance in Puerto Rico. It should also be noted that both Gray and Lena's medals are many World Champs in the making, stretching back to Russia in 1997, and of course long before that in general training. It underlines the role of perseverence in success at this level.
We went to the afternoon break on a real high, summary of that afternoon's events to follow shortly...
Jake
PS. as we were leaving the internet cafe in town the other day, the guy behind the counter congratulated Gray saying that he'd seen him win on the TV last night. Gray subsequently had trouble fitting through the door to get out on account of an immediate severe swelling of his head, no not at all, but such celebrity status was a taste of what was to come...
---
17.06.03: from Paul McP

hail:
See pictures on the Polish site under the photo album section on the main page. (see below)
They also have the theme music for the champs.
It was very emotional when they played it at the end of the champs - we Kiwis just stood, hugged, dazed - amazing.


ed:nb: We can't give you a direct link to the photos - so:
From the main Polish home page, select Taekwon-Do photoalbum, then the "various events" link in the text, then finally "World Senior Champs 2003 in Warsaw".
Be Warned - it's a BIG photo index.

(A funny thing happened to Mr McP on the way home. He arrived at Warsaw airport early this morning to pick up his ticket. Airline office was closed - no-one in sight who spoke English - time ticking away til his flight left...... "Panic".
He finally found a "nice lady" who telexed the airline - his last text message : "They're letting me on the plane now.. Arrrrrr".
Can't quite tell if that bit is a sigh or a scream - with tufts of hair...

ed: nb)
---
This has to be the most fragmented team return ever! They are coming back in dribs and drabs over EIGHT months!
We are listing those arriving within one month.
THU 19 JUNE
Auckland ex Qantas 119 from Sydney arrives 2.25pm
Kim Bull, Megan Matsuoka, Jon Sawden

Wellington ex Qantas 47 from Sydney arrives 2.35pm
Matthew Kiernan, Lawrence Mantjika, Thu Thach, Lena Walton

SUN 22 JUNE
Christchurch ex Qantas 45 from Sydney arrives 1.20pm
Jarrad Ramsey

WED 25 JUNE
Christchurch ex Qantas 45 from Sydney arrives 1.20pm
Alison Roma

FRI 27 JUNE
Auckland ex Qantas 119 from Sydney arrives 2.25pm
Lewis Looi

SAT 28 JUNE
Auckland ex Qantas 119 from Sydney arrives 2.25pm
Greg Skinner

SUN 29 JUNE
Auckland ex Qantas 119 from Sydney arrives 2.25pm
Alix Bartholomew, Cameron Snelling

MON 30 JUNE
Wellington ex Qantas 47 from Sydney arrives 2.35
Kenny Chiang

FRI 4 JULY
Wellington ex Qantas 117 from Sydney arrives 11.45 PM (midnight)
Graham Patterson

SAT 5 JULY
Wellington ex Qantas 47 from Sydney arrives 2.35pm
Erin Boshier

SUN 6 JULY
Auckland ex Qantas 26 from Los Angeles arrives 5.10am
Andrew Niven

Wellington ex Qantas 47 from Sydney arrives 2.35pm
Rene Kunz

FRI 18 JULY
Auckland ex Qantas 119 from Sydney arrives 2.25pm
Carl van Roon

Wellington ex Qantas 47 from Sydney arrives 2.35pm
Suzanne Main

---
17.06.03 From the Man:

Thanks to everyone for their support throughout the World Champs - it's always great to be able to read the comments at the end of the day.
Most of the team has now departed Poland, either for home or for an extended holiday.
I think everyone gained some fantastic experience during this tournament and I'm sure the guys and gals will have plenty to share with you all when they return.
I hope to see many of you at the Nationals in Dunedin!
Gray:

(We'll be looking forward to photo-ops with those medals, at the Nationals. :) ed: nb)
---
Sunday - team sparring - From Jake Pearson:



"Dzien do-bri" again.

Just like that it was the final day of the tournament.
This is traditionally set aside for concluding the team event (sparring and destructions), and individual destructions (considered to be the most "injury-prone" event - leave it until last so that it doesn't affect other events).

I should warn you now, this is going to be a long one.
Also, I make no apology for the blatantly biased nature of my depiction of events - this is a NZ website after all!

I guess I should start at the beginning, which is with the male team sparrers who were first up for us.
It would have been easy to be very intimidated by our Polish opponents, who were hot favourites to win their 3rd successive title on their home turf. However the team came up with a game plan which we thought would give us our best chances against them. Some of the team were told to spend the 2 mins moving around staying out of range and going for a draw, while our strongest fighters would take it to them more.

We had to choose our fighter first, and decided on Rene.
He stuck to the game plan excellently, even though it was not his natural sparring style. The speed of his footwork was the key - take note young up-and-comers. There was hardly anything between them in the exchanges that they had and we were confident Rene had secured a draw for the team, however the Polish were awarded the win. NZL 0 : POL 1

From watching them a lot Honza knew Hong had a chance of beating a couple of the Polish fighters in particular.
So when they put one of these guys up next, we matched Hong against him. Hong was all over his opponent, moving around a lot but then exploding on him with a barrage of techniques (flying punches and middle kicks).
And this guy was no bunny - one of the very best sparrers in Poland. There was jubilation when Hong's hand was raised in victory. NZL 1 : POL 1

So, who would you have put up next..?
Well, we decided it was Capt. Cam's moment to shine so in he went full of focus with the game plan in his head. The Polish put one of their really tall monsters in against him. Like Rene he used great footwork, frustrating his aggressive opponent. With exact timing he then unleashed a perfect reverse turning kick contacting the head. And then soon after he landed another high kick (turning kick I think). His opponent looked to have scored with a couple of punches, so we waited very anxiously for this result. When Cam's hand was raised the whole crowd (non NZers too) went through the roof. NZL 2 : POL 1

The gossip that NZ had Poland at 2-1 spread round the stadium like wild fire and a huge crowd gathered around the ring to watch, and there was much anticipation - could the unthinkable occur...? The Polish team certainly looked concerned.

They next put up their tallest fighter, the current (and previous) hyperweight sparring champ - honestly about 6'10 and deadly.
We thought Jarrad would have a chance against him if he moved around and used his speed to surprise him. He did this very well, and there were a few heavy exchanges with Jarrad seeming to give as good as he got. It must have been close but the result went to Poland. NZL 2 : POL 2

The fifth and final bout - the decider.
Jon was our fifth fighter and we thought if he could go for a draw then Hong could have another go in the tie-breaker. Jon did a good job of moving but a couple of clear points to Poland plus 4 warnings meant the result could not go to us.
NZL 2 : POL 3 - win to Poland.
Despite the overall loss, the team were on a real high after this, we had taken them so close!
And, had we had the option of using Carl, who knows what might have happened... so many what-ifs.
Just to give some perspective, none of the other teams (which included both Slovenia and Brazil) managed to win even one bout against the Polish on their way to the final, where they defeated Russia 3-1.

Next, the female team event, against Sweden (who, incidentally, had medalled in 3 out of the 5 individual female sparring divisions!).
Andrew already explained his little incident at the start of the match. Then, we were into it.

Alison was chosen to go up first, and looked to have already learnt from her spar on the 2nd day. However her opponent was able to score some flying punches in particular, and win to Sweden. NZL 0 : SWE 1

The Swedes then put up one of their tall girls, who Alix had fought in the individual event 2 days earlier.
At that time, even though she lost, she had intimidated her with her punches so thought we could build on that.
Sweden appeared to have the upper hand initially, and then Alix came back later on using flying punches very effectively and almost forcing her opponent to withdraw.
She persevered and there were hopes for a NZ victory or draw, but no cigar... given Alix's late momentum, with more time or another round who knows... NZL 0 : SWE 2

Now it was make or break - one more loss and it was over.
So, we put in our trump card: Antje.
She again used her reach to pick off her opponent clinically.
Win to NZ! NZL 1 : SWE 2

Carolina was chosen next, fired up from her loss in the individual event, and had a great match.
Her and her opponent went hammer and tongs, and Carolina suffered blood nose that wouldn't let up.
Eventually, it was "plugged" and she got back in going even harder than before.
There was no separating the two, and the result was a draw. NZL 1 : SWE 2

So, if we could win the last, we would force a tiebreaker which Antje could demolish.
Suz was our fifth fighter against the Swedish hyperweight sparrer.
Suz tried to stay guarded and trade shots, but despite a late charge could not better her opponent.
NZL 1 : SWE 3 - win to Sweden.
They went on to lose to Poland in the semis for a bronze medal.

OK, time for a breather - being kicked out as internet cafe closing.
Hope you enjoyed the above, but the rest of the day will blow your socks off - will report tomorrow morning (tonight for you..).

Jake
---
Saturday evening - From Jake Pearson:




The opening ceremony was relatively short and efficiently run which was good.
A brass band and marching team led things off and then the teams came on alphabetically doing a circuit of the stadium and then lining up.
There were a lot of Polish spectators there as well as Polish TV filming it all live!
It was particularly evident once all the teams were lined up, how big our NZ team is compared to most of the other countries - I think maybe only Canada was a slightly bigger team, they have someone in every division.
Once all the teams and officials were assembled there were a couple of speeches (new ITF president and a Polish big wig), and a bunch of athletic and humorous pre-arranged free sparring/self defense routines.
Then it was all over, the teams marched out and Gray was called to prepare for his final!

This deserves it own paragraph.
Gray quickly loosened up with Loz and Andrew and then was up on centre stage.
A haka just beforehand let him know all NZ was behind him.
The Spaniard also chose Moon Moo which I think was a bad decision as it allowed a direct comparison of control and technique.
Gray's looked clearly superior, with no pauses or small stumbles (which is hard enough to do even when there's no pressure on!).
The compulsory pattern chosen was Kwang Gae (same as the semi yesterday) which is not one of Gray's favourites.
However this was no problem, and once again his smooth control and precise powerful techniques made him the clear winner.
You never know at World Champs though and many a NZ breath was held as we awaited the official result.
When Gray was awarded the win there was the hysteria you would expect, as we congratulated our own World Champion.
It was a happy NZ team that watched the rest of the finals that evening...

Without blabbing on about all the finals results, I will just summarise:
Argentina did particularly well in the women's divisions (micro, heavy and hyper) with Poland taking the middle and Scotland's Julia Cross the light. All these bouts were close and hard fought.
The men's was a slightly more mixed bag with Poland taking the top 2 weight divisions, and Wales, Slovenia and Argentina in descending weight order.
The Slovenian is of course Tomaz Barada who maintained his run of World Championships titles (3 in a row now..?), however was taken VERY close by the feisty Russian (who had beaten Lewis earlier).
During the half time of each bout there was entertaining performances from a "talented cheerleading group" (something to consider for our Nationals... ).

Another emotional national anthem as Gray presented with Gold and after he was mobbed by fans, including an interview for the Jamaican TV crew.

The evening finished with a semi-successful demonstration of power breaking from a senior (not sure who sorry) who attempted to break enormous numbers of large concrete blocks and tiles with various techniques.

Forgot to mention that Alison was on Polish TV the other night!
No, she wasn't arrested or anything, there was a fairly short clip of her spar with Sweden where she was doing well.

As good a time as any now to comment that the organisation of the tournament has been outstanding - all teams were given a full copy of the program and draw, and each ring had large cards posted naming the current and next countries competing (good for spectators - seriously should consider at Nationals...).
Jake P.
---
If you feel like another "Pride Fix", take a look at this simple list.
"3rd country" suddenly becomes very meaningful - there are 37 below us!
ed: nb
---
New Zealand
3rd Placed Country
Andrew Niven - Coach:
"They are a great team, not
only in competition, but in attitude"

Greg Skinner - Team Manager:
"After a fairytale four days, the proudest moment of my life"
Lawrence Mantjika - Assistant coach
"In a dream I see three Golds"
(7th June - Auckland Airport)
A winning formula.

Poland 1st, Argentina 2nd
---
2003 ITF MALE
GRAND CHAMPION
Graham Patterson



(runner-up had 1 gold, 1 bronze)
---
Male Team Power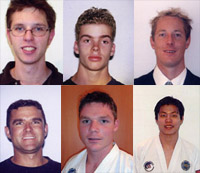 ---
15.06.03 From Andrew Niven

- before lunch
If I had wished that the team would do well I would have to tell you that they have done better than I imagined, better than I dreamed. This is a great team, even Master Bos has noticed them, quietly joking with us at every moment.

Today was one of those amazing days!

The men drew Poland, which the home team had though would be an easy win to them. Rene went in first, I held my breath for the result, but it was a win to Poland 1-0.

Next was Hong.
For 2 minutes we watched Hong take it to the team, he moved well using every piece of the mat.
Win to New Zealand, the Kiwis went crazy. 1-1.

Cameron Snelling took to the floor.
Cam was a little shorter than his opponent, and it was a huge match. Cam scored when he could and moved nicely around the ring. It was great to watch.
Win to... NEW ZEALAND! 1-2. The Kiwis went nuts, there was a lot of screaming and yelling and most of them have lost their voices.

Graham Patterson meanwhile was starting in the power ring.
By the noise he could tell that the Kiwis were doing well. That and the fact that the crowd all moved to that corner of the stadium. Gray got himself into a silver medal position and never left it.

The Polish supporters all moved over to cheer the home team on.
All the other teams could smell blood, and there was a flurry of chatter as the other coaches found out that New Zealand was 1-2 up on Poland and looking strong.

Jarrad entered the ring next and fought bravely.
The Poles are all so tall and strong and when they went toe to toe it was hard to see if anyone was scoring. Jumping techniques were the decider as the Poles equaled 2-2.

Jon Sawden entered the ring, a late sparrer for the injured Carl van Roon.
There was an intense staredown going on and a lot of enticing the other person to attack. Unfortunately the home team came out on top, 3-2, win to Poland. They were great in their victory and the Kiwi team and supporters all clapped them in support of the match. It is amazing now - we are getting a lot of respect from the other teams.

Next up was Lena in individual power breaking.
Lena was one of 5 who managed to get 4 points, so she was in a playoff.

The Women's team entered the ring, minus a coach.
Jake had taken the Men's team on, and I was in shorts.
Honza quickly jumped in and I went and stole Jake's tracksuit pants (funny - in Puerto Rico you could wear shorts, in fact you were stupid to wear anything else).
Back by the edge of the ring Honza had sent in Alison. Alison fought bravely but her opponent was lighter and faster. She was able to jump and took a win to Sweden. 1-0.

Alix went in next and the Swedes sent in the girl that had beat her in individual. Alix immediately went to work and reminded the girl why she didn't want to get into a punch-off with her. Alix's right hand landed and almost finished the match there. The Swede was tough however and recovered for a very narrow victory. 2-0.

Antje entered the ring next and made light work of the next girl. She used her punches effectively and her turning kick must have left bruises on the poor Swede.
Win to NZ : now 2-1.

Carolina entered the ring and could not have had a harder start taking a fist to the nose. With a blood nose patched up we sent her back in. Now she had the bit between her teeth, and after landing a couple of turning kicks to the head the Swede had to change tactics. Carolina still scored but the Swede would move in and knock her off balance. I held my breath...
DRAW : still 2-1 Sweden.

Suzanne entered the ring and went to work immediately. However the Swede was using turning kicks for both her scoring side and her back and the ref only called it once. Suzanne took a kick to the leg and finally the ref called an attack below the belt.
Unfortunately, win to Sweden.
Again the girls clapped their opponents.

It was a mammoth battle and we had taken the teams to the limits.
I was proud of both teams, they put everything into it and came out with some spoils to be happy with.

Next Lena went into her playoff.
Turning kick: no-one broke 3.
Knifehand, Canada cracks two boards, the Canadians go nuts.
(Sorry but I forget who the other team was that cracked one board.)
Ireland, Poland and New Zealand no break.
Next technique, knifehand again: no-one broke.
Next technique turning kick, Ireland withdrew due to injury, New Zealand and Poland 4th.

Female Team Power.
Lena had injured her hand, so we had to shuffle the team.
Alison bravely stepped up to knifehand, so far an unbreakable technique.
This allowed Antje to go to side kick (which is really high here) and Lena to go to turning kick.
The girls watched as the other teams went through. Poland broke only turning kick, Canada broke only turning kick, then New Zealand breaks turning kick.
Hold your breath, we are in a three way playoff again.
Poland misses the three board turning kick, Canada misses the three board turning kick.
Antje yells out "All you have to do is crack the board, Lena!"
Lena nods in return. She lines up... prepares... Blam two boards crack, Lena does a guarding block
The girls start screaming. WOW it was loud at that moment.
The referee confirms, Gold to New Zealand.

A lot of the team can not stop smiling. Most in fact.
This afternoon we will have Male Team Power, and the other teams will be in the finals of Team Sparring.

I can tell you that Mr McPhail is also smiling lots. He looks like a very happy man.
And so we all should be - they are a great team, not only in competition, but in attitude.
When others have said to them that the other countries are too fast, too powerful and too strong, the team has stood up to that and shown that New Zealand can foot it with the best in the world.

Be proud of the Taekwon-Do that you learn in our country - our instructors and our Foundation are producing world beaters!

Andrew Niven


---
The teams are off for lunch now - Male Team Power Test is the last remaining event for New Zealand, after eliminations in both Male and Female Team Sparring.
Both teams took their opponents to the 5th bout, the Male Team winning 2 of the 5, and the Female Team (against Sweden) winning 1 and drawing 1.
More details to come, plus the results of Power Test, in the morning (Kiwi Time).
---
GOLD
After a cryptic "Playoff now" text message... confirmation that the New Zealand Female Team are now the World Power Test Champions.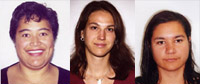 More information: In a 3-way playoff for Gold between Canada, New Zealand, and the Home Team Poland, Individual Power Test Bronze Medallist Lena Walton smashed her Turning Kick to secure the win.
---
SILVER

Still the Man
Gray Patterson - Silver in Male Power Test
---
BRONZE

Lena Walton has taken Bronze in the Female Power Test
---
Final day of competition today.
Graham 'Demolition Man' Patterson (or Graham 'Best Patterns in the World' Patterson, if you prefer) and Lena Walton represent New Zealand once more in Individual Power Test.
And both our Male and Female Teams compete in Power Test and Team Sparring.
---
GOLD
15.06.03 5.15 am (NZ):
Gray Patterson is the Senior IVth Dan Patterns World Champion!!

Being interviewed on Polish television - wearing a Gold medal and a BIG grin.
Aussie Sally Clark took Silver, in her sparring final vs Poland.
---
14.06.03 Glorious detail From Jake Pearson in Warsaw



Hi again NZ,

We had the slightly unfortunate situation of 3 of our guys being up in the very first match of different rings - unfortunate for us spectators, but of no real concern to the competitors themselves, Jarrad, Hong and Carl. They arrived at the stadium particularly early and spent plenty of time warming up physically and mentally, and spending some time in the rings in which they would soon compete. When things got underway it was excitement overload for us supporters, and we were fortunate to have 3 video cameras to cover them all.

Jarrad was against a hyperweight from Paraguay who looked a similar size. Jarrad went immediately about his work, throwing excellent hand and foot combinations and moving around well. His opponent was no chump though, and they had some very heavy exchanges. Jarrad actually pretty much knocked him out in the 2nd round, and he was down for quite a while before continuing. The result could just have easily gone to Jarrod - and he certainly did himself proud in there.

Hong's middleweight spar against his old rival from Germany was on the raised centre ring and an absolute cracker to start things off. He was intensely focused going into it and gave us plenty to cheer about with an incredible first round, clearly landing many kicks and flying punches in true Hong style. His experienced opponent sorted things out at the break however, opening up and cleverly turning the tables in the 2nd round, largely with the help of a couple of very strong punches which he is renowned for. It must have been very close with 2 contrasting rounds, but perhaps because of the German's late momentum the result went to him, leaving Hong extremely disappointed.

In case all this wasn't enough, Carl was simultaneously sparring in the heavyweight division against Slovenia. As I mentioned, Carl was carrying some deep bruising to his right leg, and then suffered a pre-match nosebleed. None of these problems appeared evident however as he seemed to take control of the match landing multiple flying punches. The team were counting on a favourable result, and somewhat surprised when a draw was announced. Unfortunately, some slight hesitation had him losing the decider 3rd round. The hard match took its toll on his leg too, leaving him with a painful limp and questionable for tomorrow. I guess such is the risk when a team member is also in individual events.

So, the team were somewhat shell shocked after all of this, with all 3 having sparred so well and yet nothing to show for it.

Later in the morning Kenny sparred the microweight Slovenian who defeated England earlier. The Slovenians are still coached by NZ's friend Mr Willy Van der Mortel, who has them all in top condition. Kenny's opponent was significantly taller, and had excellent speed and timing. The speed in some of the lighter divisions in particular is just unreal. Kenny continued to go forward for the whole bout, not letting up at any stage, and definitely made his opponent earn his victory.

Last up for us was Lewis in lightweight (although he actually weighed in within microweight!), pitted against Russia who had beaten Honduras already. It was tactical but tough match. Lewis landed some nice points, but the Russian landed some particularly hard punches and appeared to frustrate Lewis towards the end. Result to Russia.

So everyone obviously disappointed with results but extremely proud of our fighters for ther performances. All of their opponents would have started their next match feeling much worse than before!

Now some general comments on the men's sparring today, all just my observations and opinions of course. The standard I feel has been superb. It's almost as if the teams are smaller but have just brought their top people/medal hopes. The contact level has once again been very heavy, especially with the punches, with plenty of blood noses and near knockouts. Quite a number of deductions for excessive contact have been called, but no-one that I've seen was disqualified. The referees seem to be controlling things well overall.

Countries that stood out today included Poland (have a finalist in 3 out of 5 divisions of male sparring plus a bronze I think), Slovenia, Canada, Brazil, Argentina, and perhaps more surprisingly Finland and Switzerland (guess benefitting from the experience gained from European tournaments). There were quite a few of the Polish public there today, and making their support for their hometown competitors obvious. Atmosphere definitely more intense and rising, although I still think the attitude of the teams is generally more relaxed than Italy with plenty of socialising and good sportsmanship shown on the mat. Conspicuous in their absence is Korea, but also USA (except for one guy who we have adopted to support), Greece and most of the Asian countries.

Overnight they have erected a large metal frame around the top of centre ring to support a whole lot of lights. When we first arrived the frame hadn't yet been levered up and it looked as if they were setting up for cage matches... Jarrad was keen. The lights weren't used this morning, but presumably are for either something in the opening ceremony or the finals tonight in front of the TV cameras - will make sure Gray's make-up is just right. Actually, he is sporting rather an amusing abrasion on his nose, apparently the result of a carpet burn from a "session" with Cam a few days ago...

We have formed a supportive alliance with the Aussie team after they started a Ziggi chant (but substituting "Kiwi") this morning, which has been great. We even performed a joint haka for their Tongan hyperweight Taione Nelson before his bout.

Mr McPhail and Mr Rounthwaite certainly look the part as judges, and are showing no signs of fatigue after 3 days solid.

Funny story for you about the Indian team. One of their competitors was being called to his bout and he showed up but officials realised he was the wrong guy so there was more delay until the right guy arrived and put on his sparring gear. He had to be shown how to do up the strap on the foot gear! Eventually the match started and his Finish opponent attacked with a downward kick that didn't actually hit, and the Indian seemed surprised and started gesturing that he didn't wish to continue! Win to Poland. Wonder what he expected...

Actually, also non-TKD story from last night. As Jon, Kim, Richie and I were walking home a policeman leapt out shining his torch at us, pointing his gun, and bellowing something in Polish. Our hands all went straight up we turned around, he checked us out and then let us go - and go we did. Maybe there was something to the American's decision to not attend for 'safety reasons'. On the whole however we have had no similar problems - we figure Jon just looked dodgy...

So, Andrew currently has the male and female teams practising some sparring stuff in the stadium during the afternoon break. Gray is expected to be up straight after the opening ceremony so no doubt someone will text/phone the result back. He is relaxed as ever but focused.

Little bit about the hotel. Highlight is definitely breakfast, a buffet style with continental and cooked options - plentiful strawberries, melon and cherries etc. The main problem is the heat especially at night and when you leave the windows wide open the traffic noise is really bad. Also, it gets light at something like 3 or 4am, and the curtains aren't too thick... but on the whole people are sleeping OK I believe.

Up tomorrow as you know are the male and female team sparring, and team and individual destructions. Lena found what might be the board holder and the lowest setting is still about 30cm higher than where she wants it! The specialty technique machines were top notch so hopefully they have something else arranged for destructions tomorrow. They will use the solid 'Polar" break-a-boards. Both male and female individual destructions have large fields (around 30 in each), but Lena and Gray not fazed. In team sparring the females have drawn Sweden and the guys Poland (incumbent team sparring champs and no doubt out to prove a point after Ireland beat them in the final of team patterns yesterday. Not sure of Andrew's plans for the order of fighters.

So, one evening and one day to go. Nearly over so quickly it seems. Better dash to make the opening ceremony. Still plenty of potential for medals so stay tuned trendsetters...

Jake P

(ed: we have scoured our archives for a decent picture of Jake - (preferably where you can see both sides of his face) - anyone who can help out - please email)
---
14.06.03 Men's Sparring
(brief information from Greg Skinner, subject to confirmation)

An early night folks - New Zealand has not progressed past the first round in all divisions.

Carl van Roon - lost to Slovenia. VERY close, went to a third round.
Hong Looi - lost to Germany.
Jarrad Ramsay - lost to Paraguay.
Lewis Looi - lost to Russia. (The Russian was very strong - would not be surprised if he goes all the way to Gold)
Waiting to reconfirm Kenny Chiang's result (missed in brief phone call).
The standard being displayed is incredible - our guys and girls have put up performances to be proud of - we extend congratulations to their opponents who prevailed.

Tomorrow morning (NZ time) we will have the result from Graham Patterson's IVth Dan patterns final, which will be about 5am NZ time.


Go Gray!

Tomorrow night (NZ time) the last day of competition will commence

Individual Power Breaking
Team Power Breaking
Male Team Sparring
Female Team Sparring
ed:nb
---
June 15th - the anniversary of the passing of General Choi Hong Hi.

It is my belief that there is no better tribute, than the striving for excellence of these several hundred young Taekwon-Doin, who have assembled from all corners of the Earth to this tournament, and the pride that we all feel, not only in their achievements, but in our own involvement, in the art that is the General's legacy to the world.

Neil Breen, II Dan, ITFNZ web page World Champs editor.


My favourite quote - when the General was in New Zealand in 1991.

"My hope is to send Taekwon-Do to the moon, and the stars, I'm too old now but my students will someday do that, that is my dream."
14.06.03 Third day of competition

Again easily described - the morning is all Male sparring, - and a long "morning" it will be - running from 9 til 3 Warsaw time. (starting about 7.15pm this evening NZ time).
As the finals are deferred - there may be bronzes but there will be no news of gold before midnight tonight.

The teams get "lunch" at 4pm, then off to the Opening Ceremony. (The evening before the closing ceremony??).

The sparring finals, and the much anticipated 4th Dan patterns final (go Gray!) will take place in the evening.
This will be round 5 to 6 am NZ time - so there might be a little pile of medals when you open your browser on Sunday morning ;).

ed: nb
---
Official Results:
There is a dribble of results starting to appear on the Official Website - if you find it a little confusing that bronze medallists are listed as 1 and 2, I believe it is because the finals are being held at the opening ceremony tonight, so they only have bronzes so far.
Not at all confused by our news is one very happy Romanian 1st Dan, Sorin Miron, trying to get news from the tournament:

"My brother won the 2nd place at Special Techniques...
:)))))))))))))))
I saw your pictures on the tournament section and in that picture with your Carl on the 1st place, on the 2nd place is my brother, Marcel Miron :)))).
And I think again that your site it should be the official news-site for the world championship!! Is the best.. "
---
BRONZE

Our "adopted kiwi", Antje Hollaender, won two rounds, against Czech and Croatia, then lost a very close (but fair) match to Argentina - giving her a Bronze medal.
---
ITF CONGRESS: (from brief information, subject to confirmation)

Attended by 49 Countries, 85 delegates.
Election results:
President - Master Tran Trieu Quan
Treasurer - Master Willem J Bos
Secretary - Master Tom MacCallum

The Junior and Senior World Champs will remain in separate years
2004 Junior Worlds - Italy
2004 World Cup - Florida, November (Disney World!)All TKD, all ranks.
2005 Senior Worlds - Germany, July/August
2006 Junior Worlds - Honduras
2006 World Cup Australia
2007 Senior Worlds - Canada (Quebec)
(the text messages from Mr McP didn't arrive until about 6am, so I got to sleep in for an extra 2 hours this morning - ed:nb :)
---
13.06.03 From Andrew Niven



I have finally been able to send you my first message since the tournament started.



The New Zealand team is making waves here, everyone is wary of us, there is a lot of talk about us, and no one is willing to count us out anymore.

The cheer that went up when Carl won his specialty, the cheer that went up as Master Bos announced over the speaker system "As you have heard, the World Champion Special Technique New Zealand".

Every single member of this team that has stepped into the ring has put in everything, there really is nothing left at the edge of the ring.

Patterns helped us to enjoy the roller coaster that is the World Champs. Getting happy as they got through rounds, going down when the decisions went against us.
But there is no better way to finish patterns than to beat the home champion. Jaroslaw Suska looked fantastic. His patterns were crisp, precise and powerful.
Gray's were better. I actually held my breath for the result. When Gray won, the Mens team (who were waiting for their warm up call to specialty, ran to the ring and performed the haka, the rest of the team joined in from the stadium. It was the 2nd moment of the day to remember.


The down of the day was that Carl injured his foot during individual special technique, and Antje managed to take out the board and Jon's ankle in her individual. I felt for the mens team as they look strong. In fact they looked so strong that the Polish team captain asked them what happened. Apparently the Poles were expecting to come 2nd to New Zealand in specialty. (WOW)

This morning all the girls fought so well that it made me proud.
New Zealand - we are competitive, to the point that people are wary of us. It is a good feeling.

Antje did so well, a bronze at her first worlds. Finally she is smiling again.
Sally Clarke from Australia is also into the finals. The NZ Team let out an Aussie Aussie Aussie chant for her. When Antje went into the ring the Aussie team started a Kiwi Kiwi Kiwi chant for us. It has been great.

Darren Ward has been keeping the team in check and making sure that everyone knows when to go on and what colour they will be. It has been awesome that he is there and doing that.

NZ, we have completed 3 sessions, 3 disciplines and we have 3 medals.
The team are happy and hoping that they have made you proud.
(no possible chance of doubt there!!!!: ed)

We read the messages, and the local icafe is getting used to booking time out for the entire team to read messages.

Tomorrow will be a new day, a new session and new medal chances.
Cross your fingers and wish us luck.

Andrew Niven
Proud Kiwi Coach.


13.06.03 From Jake Pearson in Warsaw
Friday - second day of competition:

First up this morning was Carolina against Finland in lightweight individual sparring.
Unfortunately, there were dramas before she even got in the ring, with first her "Competitor's card" (which you NEED to compete) going missing, and then being told as she entered the ring that the Macho style hand pads were all of sudden unacceptable! Apparently the problem is that the fingers are open which risks finger nails causing cuts (and also no doubt has something to do with the fact that a rival martial arts supplier has started sponsoring the World Champs...).
Anyway, it would have been nice to have had some advance notice of this.
There was a panic to find both her competitor's card and a replacement set of gloves - both were delivered just in time. Carolina started a little hesitantly and seemed to take a while to adjust to the intensity. She improved in the second round, but it was not enough for victory on this occasion. She has learnt a lot already from her first Worlds, and is fired up for the team sparring.

Also in the lightweight division was the legendary Julia Cross from Scotland who has certainly not lost any of her speed or power and has advanced through to the final.

Antje was up next in heavyweight individual sparring and as you know won clearly against Czech Rep and Croatia, and then lost narrowly to a very experienced Argentinian in the semi-final. The feature of her wins were her awesome punches, usually flying, and her footwork, meaning she was able to use her reach to full effect.
Her second match was particularly intense with both of them going hammer and tongs for both rounds. This left Antje fatigued, and, while she gave it everything, this was a significant factor in her eventual loss.
She sparred with incredible skill and spirit all day, and made us extremely proud to have her as a kiwi (we were proud before this of course also...).
The award ceremony, where Antje will take the podium for her bronze, will be held Saturday after the finals.

Next up was Alix in middleweight individual sparring vs Sweden. Her opponent was a lot taller but this did not seem to put Alix off at all as she took the match to the Swede, making good use of her fast punches.
While she was the aggressor in the match (her opponent certainly looked somewhat worse for wear afterwards), she was slightly outscored and lost. However it certainly was a brave performance, and like Carolina she is looking forward to the team sparring.

Straight after this Thu was up in microweight individual sparring against Kazakhstan. I started things off badly as her second, not realising that shorts and bare feet were unacceptable.
Luckily Gray was close to ringside and quickly loaned me his shoes and team pants. He therefore watched the entire match in his underwear, much to the amusement of, well everybody. I believe there are photos...
Anyway, back to Thu's match. Her opponent looked experienced, but Thu did not hold back, sometimes surprising her opponent with her speed.
Unfortunately she accumulated about 10 warnings which would have weighed heavily against her in the points tally up.
Her opponent was victorious and then went on beat a strong Finish woman and finished with a bronze.

Alison was up last vs Sweden in hyperweight individual sparring. She was happy that her opponent was a similar height (some of the women in the division are much taller). They had a close bruising encounter with Alison landing some solid punches and a particularly nice back kick in the first round. Despite getting a bleeding nose in the second round, she finished particularly strongly. I was happy that as her second I managed to dress appropriately...

The males had their team pattern today. Jarrad was a late replacement for Carl, who injured his leg during his winning specialty technique performance yesterday. Their opponents were Finland, and it was only a couple of technical errors by our boys that separated the teams. They certainly looked focused and strong however, which is encouraging for the team sparring and power to follow.

I had mentioned that Kevin Hannigan is here leading the Irish men's team. Well, they performed extremely well during the team patterns and are in the final with Poland - a great effort. The Polish men's team are exactly the same guys as last Worlds, all with peroxide blonde hair, and looked very well tuned doing team patterns.

A few general comments about the tournament so far to round things off. The venue is very impressive with ideal floor space for 5 rings and terraced seating all the way around. There is reasonable air conditioning, although still quite warm (especially after 3 sparring bouts eh Antje!).
The organisers have kept the first two days closed to the public, only advertising the next 2 days of male sparring, finals and team sparring/destructions. So, together with the fact that the teams are generally smaller than previously, gives the large stadium a slightly empty feel. It will be interesting to see how this changes from tomorrow...

So tomorrow is shaping up for another exciting day with our male individual sparrers up.
The draw is:
Kenny has a bye first round and then faces the winner of England and Slovenia;
Lewis also has a bye and then has the winner of Russia and Honduras;
Hong is the very first bout of the day vs Germany (I think it might be the same guy who narrowly beat him in Rimini - the European champ!);
Carl is also up straight away against Slovenia (hoping his leg injury holds up);
Jarrod is ALSO first up against Paraguay.

So hopefully we will be able to fully support all our guys that are up first.
The opening ceremony will be in the early evening and then after that we have Gray going for gold in IV Dan patterns.

This afternoon we have had a break for the tournament as the ITF congress is held. Gray and Mr McP have gone to that.
Most of the rest of us have had a look around the "Old Town" of Warsaw, with many restored building following the WW2 destruction (see "The Pianist" if you haven't already...).
Some of the male sparrers chose to spend the afternoon resting up and focusing fully on tomorrow.

So, wish us luck NZ. Two medals in 2 days - the team hoping to better that tomorrow!

Jake P.

---
13.06.03 From Cameron Snelling


This is Capt Cam reporting from Poland, and having the most awesome of times.
The NZ team is pumped and doing so well, we had other teams talking before we even arrived (thanks to the Junior team), talking when we did some pre-tournament training, at the weigh in, on the first day and especially when Carl Van Chez roared to the heavens to grasp our first gold, and when Graham toppled the Polish Patterns champ! Words can't describe Warsaw, the people and the TKD tournament.
I'll be in touch

Capt Cam

(the Capt has the distinction of submitting the longest single sentence! ed)
---
13.06.03 From Thu Thach


Hey guys,
just had two days of competition and I'm finished although we have two more days of competition left.

On the first day I competed in the patterns event, I won against England, yay, but I had a narrow lost to Finland who came third (so missed out on a medal), quite a controversial decision apparently, everyone thought I won and so did I but that's life!!!

On the second day I sparred against Kazakhstan, who was quite skilled and fast (she got third), she was very experienced in tournament and I felt I lacked a lot of tournament experience but it was my first world champs.
I thoroughly enjoyed sparring her and am looking forward to more tournaments in the future. It was an eye opener and a big step up from the national tournament.
Can't wait till Germany 2005, I'll be back. I felt I performed well in patterns, but was not that prepared for sparring, the competitors here were fast, skilled, and experienced

I am awed by the level of Taekwon-Do at this tournament, it is just fantastic, the patterns performed by the world champions were beautiful and Gray's patterns were among them.

Thanx for all the support New Zealand
Thu
---
13.06.03 From Megan Matsuoka


Hi NZ

It's been the second day of competition and already our pile of medals keeps on growing.
As you may have heard our tall German import, Ms. Antje Hollander gained NZ a bronze medal in heavyweight sparring after pummeling her opponents from Czech Republic and Croatia.
Her female teamates; Alix, Thu, Carolina, and Alison also fought well, with great Kiwi spirit and determination, ending up with a lot of close matches.

From my experience here at the World Champs I am disappointed in my defeat but also inspired to train hard for World Champs 2005.

On behalf of the NZ team, thank you guys for all your support and messages and please keep them coming as there are more medals to be won.

Thanks again,
Megan Matsuoka

---

Other results: (very brief information - we will get confirmations and more detail later)
Thu lost to Kazakhstan
Carolina lost to Finland
Alix lost to Sweden
Alison lost to Germany ( a strong 4th Dan competitor)

I believe one of our Aussie friends, Sally Clark, is in to the final for Female Middleweight. Ms Clark came across to our last Epson Open.
---
13.06.03 Second day of competition

Easily described - the morning is all Female sparring, the afternoon has no competition, as the ITF Congress takes place. (I might get another 4AM phone call if anything juicy happens there :)

The morning's competition is underway now, we should hear any news by midnight.
Micro - Thu Thach

Light - Carolina Dillen

Middle - Alix Bartholomew

Heavy - Antje Hollaender

Hyper - Alison Roma

ed: nb
---
12.06.03 From Jake Pearson in Warsaw
Well, what a first day...

First mention must go to Carl van Roon for his performance in the Specialty Techniques. Carl was the very last competitor to go up so knew exactly what he had to do to win.
Each of the 5 techniques is out of 2; 2 for a full break (or moving the hinged board a full 90 degrees), 1 for bending the board partly, and 0 for missing, just touching or incorrect technique/tool or falling afterwards etc.
Anyway a Romanian had done the best so far, scoring 6/10.
On the first technique, flying high kick, Carl jumped high with his distinctive style and hit the board well but not to the full 90 degrees, so scored 1.
The next two, flying turning kick and reverse turning kick were done perfectly, each scoring 2 points. In fact he hit the reverse turning kick so hard that the board bounced all the way back to its original starting position, causing brief confusion within the judges about what had happened.
So, with 5 points from the first 3 techniques he could secure gold with his next technique, arguably the hardest, the mid-air kick. Carl soared high and struck the board hard, scoring full points!
So, with the medal already his, it did not matter that he caught the second tape with his foot on the final technique, the overhead kick.
Carl had just won the first ever gold medal for NZ at a senior World Championships - amazing and well deserved.

Second mention of the day surely goes to Gray Patterson, competing in 4th Dan individual male patterns.
His first opponent was from Moldovia, and Gray won this convincingly with his trademark Moon Moo as his optional pattern.
His next opponent, in the quarter final, was from Hungary and a lot tougher, having looked good in his previous win.
Gray picked his performance up a level however, with strong encouragement and advice from Loz, and took this out, thus earning a semi-final spot and a guaranteed bronze medal.
After a short break it was time to be up again, this time the most daunting prospect of all, facing the legendary Suska Jaroslaw from the home team of Poland.
Suska is the current reigning champion of 4th Dan patterns from last World Champs, and is the guy pictured doing the reverse turning kick in sparring gear on the logo for the current World Championships. He also does Moon Moo for his optional pattern and has amazing body control, especially with stopping fast high reverse turning kicks dead still.
Despite this impressive record, Gray remained unfazed and extremely focused beforehand, stretching and practising his techniques.
They both performed Moon Moo as expected and Gray lifted his performance even further from the last one. It was the best I have ever seen him perform and to my eyes Gray's Moon Moo looked the better, matching leg control but more technically correct and stronger and more fluid in his techniques.
The compulsory pattern selected was Choong Moo, and my assessment was similar to the previous pattern.
So, could it really be that Gray could beat the World Champion and hometown hero..? It seemed that it couldn't really happen, and some of us were braced for another disappointing decision.
The jury took a long time over the judge's result and the crowd buzzed excitedly.
Then, the chief juror stood and raised his hand towards the NZ side, signifying victory!
You can imagine how the NZ team went wild, and the Polish were uniformly dumbstruck.

The final for male 4th Dan patterns in scheduled for Saturday when the matches will be televised, but curiously all the other patterns divisions had their finals today.
So, we wait nervously (actually everyone except Gray is nervous) for Saturday, when he will square off in the final against his Spanish opponent - stay tuned.

Megan was up this morning in 1st Dan individual female patterns.
She had a first round bye and her first match was against Puerto Rico. Megan used Gae-Baek as her optional pattern and looked crisp, demonstrating the months of hard work on her patterns, and had a clear victory.
Her next opponent in the quarter final was a Russian and the two of them had a marathon duel.
The team felt that Megan look the better after the first two patterns but a draw was announced.
Likewise, after the third pattern. By this time tensions were sky high and fatigue had started to set in.
For the 4th pattern, Choong Moo was selected, Megan's least favourite pattern. She was slightly off balance for two of her kicks, and this was enough to sway the judges towards awarding the result to the Russian.

But to get so close to a medal at her first World Championships was an incredible credit to her ability and attitude.

Representing us in the 2nd Dan individual female patterns was the little firecracker Thu.
She missed a bye in the first round, drawing England first.
Thu chose Choong Jang as her optional pattern and performed this sharply and with spirit, and gave the judges no option but to award her the win.
In her next bout, the quarter final against Finland, she was felt to be very unlucky to lose, as it appeared both her patterns were superior to her opponents'.
Thu was naturally disappointed but realised that's the way it goes sometimes at tournaments...

Lena was a late entry into 3rd patterns in order to get the feeling of some pressure on the mat before her destruction event on Sunday. She actually performed very well, although the result went to her Canadian opponent.

The women's team pattern competition was also held this morning.
NZ drew Germany first up, and chose Hwa Rang as their optional and got Yul Gok as their compulsory pattern.
There was some confusion when they got onto the mat as the card for Yul Gok was held so they went ahead and did this, and then went onto Hwa Rang.
However, apparently the judges wanted the optional pattern first, thus they were penalised for this.
On the bright side, the marching on and off was top notch, helped by Alix's clear calls.

Kenny drew a young Russian first up in the 1st Dan individual male patterns.
He was very powerful and sharp in his characteristic manner. His opponent was also well prepared, and Kenny narrowly lost.

Lewis was up in 2nd Dan individual male patterns.
As I think has been reported, he lost in controversial circumstances.
His Slovenian opponent, having already won previously, made a bad mistake, adding a side front snap kick as the 2nd movement in Toi Gye!
It appears that only one of the judges noticed this (who gave him zero for the pattern).
Lewis' patterns were precise and strong, and so was very unlucky to lose this bout.
We were not aware we had video evidence of the Slovenian's mistake until after the 5 minute opportunity to appeal.
He was naturally very disappointed.

Hong was also looking awesome in 3rd Dan individual male patterns and, while he lost to Wales, it must have been extremely close.

Antje was representing us in individual special technique. She competed before I arrived, but apparently ended up in a showdown for 3rd place which she just missed out on. So close...

The male and female special techniques were also held today. Neither was able to get quite enough to contend for a medal.
For the males, Carl narrowly missed his high front kick, Jon hit his turning kick but without sufficient power for any points.
Cameron got everything right on his reverse turning kick except the distance from the board and sailed just across the front.
Hong hit the bottom of the board on the mid air kick, and Jarrad finished impressively, demolishing the overhead kick (and holders...).

So, I think that's all for today - phew.
It was certainly one of highs and lows, and quickly introduced the less experienced of the team members to World Chamionships level Taekwon-Do competition.
There is a general feeling of positiveness within the team, and we have certainly been noticed by the other countries.
A centre stage haka before the presentation of Carl's gold medal and a heartily sung national anthem demonstrated the spirit within this team.
All are looking forward to tommorrow's events, female individual sparring and male team patterns.

Quickly - draw for tommorrow:
Thu has Kazacstan first up, Carolina has Finland, Alix has the winner of Canada and Sweden, Antje has Czech Rep, and Alison has Sweden also. Male team pattern has the winner of Argentina and Finland.

Kevin Hannigan is here, our 4th Dan Irish friend, and in good spirits as ever.
Hope to send thru some digital pics tomorrow once we figure out how to transfer them.
Adios for now.

Jake

---
12.06.03 From Gray Patterson in Warsaw

A quick catch up on the past couple of days...

Most people's luggage turned up, in drip-feed style, over a couple of days. Last I heard, Lewis was the only person still missing baggage.

We had weigh in and team registration yesterday morning, which was a fairly nail biting situation for some. The previous night Thu had weighed herself on some scales at the stadium and found she was approximately 3kg over her allowable weight. Anje was also heavier than she was expecting to be. This understandably caused a bit of a panic in the camp, so it was a crash diet and an early morning (4:30am) sweat session for Thu. Alix also trimmed Thu's hair by a couple of inches!!

We all walked up to the Novotel (where the rest of the countries are staying) in team garb, and made quite an entrance when we arrived. We are probably the biggest team at the tournament, and we take up a fair bit of space when we are all together...I think the other teams couldn't help but notice the sea of black as it washed into the hotel foyer.

We had to wait for a bit while the official stuff was done, and then it was into the weigh-in room for the girls. The lads were all outside in the foyer when we heard the screams and cheers from the girls - Thu had obviously made her weight...first time...a great relief.

All of the others weighed in with no worries - the team was set to go.

Some of the team used a bit of downtime following the registration to see a bit of the town. Warsaw is actually quite a clean and attractive city, with rows of large buildings and monuments galore. There is also a fair bit of "eye candy", but of course our lads are focused on the job at hand... Except Matt, whose fallen in love with a local waitress at "Tam Tam's" - a sort of steak house in central Warsaw. Matt has been studying hard to get his conversational Polish up to scratch...

First day of competition today - we finally managed to see the stadium with the mats set up...they only put them out late last night, so we didn't get to have any practice time on the mats. There are five rings, in the standard "dice 5" layout, with the centre ring being raised about 1m off the ground.

The plan for the morning was to finish all of the women's patterns and men's specialty (individual and team), but there was some technical problems setting up the specialty machines so this caused a bit of delay to the schedule.

Lena was our first women up, versus Canada. Canada are traditionally reasonably strong in patterns, but Lena looked strong through both of her patterns. Unfortunately the Canadian took the round out.

Thu was next, against England. Thu put on a polished performance, and won the first round. This put her up against Finland in the second round, which was another sharp performance by Thu, but she was beaten by the bigger Fin. This was perhaps a debatable decision, but unfortunately that's what you have to deal with at this level.

Megan had a long wait before she was on, due to the size of the 1st dan division. When she finally got to take the floor, she was facing Puerto Rico. Both looked impressive, but Megan took the first round. The team performed the first haka of the tournament following Megan's win, which was followed by a request from Master Boss to "..do the next one in the centre ring..".

Megan came up against Russia in the second round. This was a bit of an epic battle - after the initial pair of patterns, the judges had a tied decision. This lead to another pattern (Po Eun) - another draw - another pattern (Choong Moo) - unfortunately the Russian was a little sharper on the last pattern and managed to come away with the win...but a valiant effort by young Megan.

The Women's team also featured in the team pattern this morning, vs Germany. The girls marched well, but their patterns weren't as polished as the German's. I think there was also a problem with the order that the girls performed the patterns in - designated then optional - it should've been the other way around, but not to worry. Win to Germany, who went on take bronze I think.

Carl was impressive to watch. During the initial warm up time most of the competitors were down on the mats, attempting to hit the targets. Some were struggling, but old Carl would just cruise up and nail the target with what appeared to be little effort. This caused a few jaws to drop... He was last to jump, so we would know straight away if he had done any good - and did he what. He managed to tip the target back on the high kick to get 1 point (most of the other competitors didn't even attempt this particular kick for some reason), then he nailed the turning kick, the reverse turning kick and the mid-air kick for 2 points each - this was enough. He didn't quite make the overhead kick, but it didn't matter - gold medal performance, well clear of the rest of the pack.

The afternoon was the men's patterns, the women's specialty, and the remaining men's specialty from the morning.

I didn't get to see much of the afternoon's stuff due to my competition in the 4th Dan patterns, but I saw Hong vs Wales, which was a close round taken by the Welshman. Both were sharp, and it could easily have gone either way.

My patterns went pretty well - I had Moldova first up, which I won, then Hungary. The Hungarian had an extra qualifying round, so I got to see him perform a couple of times before we met, and I thought he looked pretty good. Fortunately I beat him too, which put me into the semi's (at least a bronze medal). Next was Poland, against the incumbent World Champion. Lawrence had been my second for the afternoon, and he quickly pulled apart any weaknesses in the Pole's pattern's, and we worked on my bettering those particular weaknesses. I guess it worked, as I won that round also. Final's are on Saturday night, vs Spain.

Unfortunately neither the boy's and girl's could take out the team specialty.
The boy's in particular were looking good during the warm up period, but just couldn't quite nail the target's on the actual competition. Jarrad managed a fantastic 3m overhead kick though, which was a good finish.

Ok, time to go (I think I'm past bedtime...oops).

Thanks for all of the messages of support - the team have been reading them eagerly...

Righto, that's it - laters...

Gray

---
From Carl "Gold" van Roon:

What can I say... I'm completely blown away. Winning today in Warsaw was like a dream come true - I would like to thank everyone who encouraged me to get here - especially my family who supported me along the way.

Still, we all have more work to do in the days to come before we can celebrate too much.

Taekwon,

Carl.

---
Graeme Patterson makes it to the final of 4th Dan Patterns.

In a tumultuous result, Gray beat the Polish World champion in the semis, and will compete for the Gold or Silver in a high profile final on Saturday night.

---
GOLD

Carl van Roon has topped the Individual Male special technique - against 24 countries. (text from Mr McP)


More details from Mr S.
Female patterns - Thu beat England in the first round, then lost to Finland in the 1/4 final,- apparently a ...... puzzling decision - very disappointed team looking on.

Megan got through to 1/4s also, lost to Russia after 2 tie-breakers (no giving up easy!!) .

Lena also got as far as the 1/4 final.

Carl got 4 of 5 specialty breaks, missing the overhead kick. It would seem no-one else made 4, giving a clear Gold.

The team is now approaching the Team specials with lots of confidence.

---
News from the first half of the tournament here