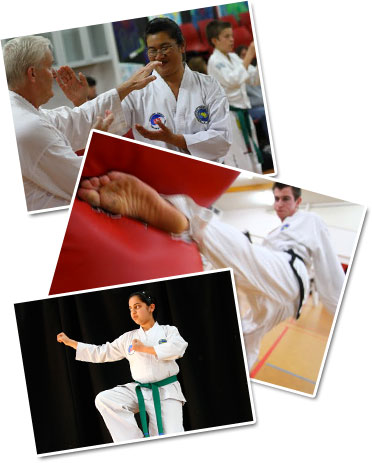 If you are considering starting Taekwon-Do as a beginner, or transferring to our organisation, you may have some questions. We hope this section helps to answer them.

Some of the questions below relate to children learning Taekwon-Do, and we also have a Parents Page that explains more about how International Taekwon-Do caters for them.



---
General Questions
How is Taekwon-Do different from Karate?
Karate was developed in the islands of Okinawa in Japan, and today there are many different styles. Taekwon-Do was developed in Korea and named in 1955 by General Choi Hong Hi. Since 1973 it has been divided into two different styles: International and World.
There are many similarities between Taekwon-Do and Karate but there are also many differences. Taekwon-Do is probably best known for its kicking techniques. With International Taekwon-Do there is also a strong emphasis on the moral aspects of the art such as courtesy, and self control. These non-physical aspects are known as the "Do". Members of International Taekwon-Do are taught aspects of "Do" as a part of the normal grading syllabus.
I am not flexible at all! Can I still learn Taekwon-Do?
Yes you can. Everyone has different levels of flexibility, and it is an important part of fitness, and over time it will improve. A lack of flexibility will not affect your ability to fully take part in Taekwon-Do.
Am I too old to start Taekwon-Do?
You are never too old to start International Taekwon-Do. The best thing to do is to come along and watch a class and know that you can take things at your own pace. The most important thing is that you feel good about the training and that you make progress on a physical and mental level.
I am not very fit... will that be a problem?
No, not at all. Taekwon-Do will help you to become fit in a relatively short period of time.
How long does it take to become a black belt?
The average time to reach first degree black belt is around four years. Children normally take longer. Before grading for your Black Belt your Instructor will work very closely with you to make sure that you are ready.
Are your Instructors qualified?
Yes. All our Instructors listed in our Locations section have at least a first degree black belt, a current First Aid Certificate and an Instructors Certificate which is renewed every two years. These are the most thorough standards required by any martial arts organisation in New Zealand. Our organisation is also recognised by the Government Sporting Agency Sport New Zealand and operates under their guidelines.
How much does it cost?
Each school has slightly different training fees depending on variables such as the cost of hiring the venue, types of classes offered, plus the rank and experience of the Instructor. The fee structure of each school is often published on each school's own website (accessed from the Locations section), or you can speak with the Instructor to find out more.
As a general guide, you can expect to pay between $70 and $90 per person to join initially, then monthly training fees in the range of $60 to $100 per month, again depending on the number of sessions, location and rank of the instructor. Uniforms are around $90 (available from your club or our approved suppliers).
Should I make the Instructor aware of any medical conditions I have?
Yes, you should make the Instructor aware. Also, when you join up you will fill out an application form that will ask you to list any medical conditions.
What do I wear to training? Will I need to get a uniform before I start?
When you first begin, just wear comfortable clothing. Trackpants and t-shirt is fine. Most Instructors will guide you with regards to when you need to get a uniform, and the best place to purchase it.
Will it be all right for me to bring my family along on the first night, or should I start training first and then my children can start at a later time?
Instructors encourage families to start together. When you all start at the same time it means you can encourage and support each other.
Do I have to bow and why?
Bowing is a way to show respect. It is comparable to a Western handshake, not worship. You must bow to your instructors and to other students to show respect to them, and they will also bow to you to show you the same respect.
---
FAQs about Children
How old does my child have to be to learn Taekwon-Do?
Schools that offer the Mini-Kids Program will take students as young as 4 1/2 years old. Other schools may only accept students from around 12 years old. See our Locations section for a guide for the ages that are accepted in your area.
How do students earn a new belt?
International Taekwon-Do students must pass a grading to earn a higher rank. These gradings are internationally recognised and are held approximately every four months. Children under 10 can take part in our Mini Kids Program, and have a modified ranking system. Read about the mini kids program here.
My son/daughter has a problem at school with lack of concentration, and generally keeping focused. Do you think that Taekwon-do will help?
Yes, we find that quite often children enjoy being part of International Taekwon-Do because of the disciplined more structured aspect of the training, and this has a very positive affects on their everyday lives.
Does martial arts training make a child aggressive?
Children are taught that Taekwon-Do is not about violence - but instead about developing skills they can use safely in a tough situation. Any aggression the child brings in to the program usually disappears with continued training and increased self-esteem. We emphasise the tenets of Taekwon-Do, in particular courtesy and self control.
---
FAQs for other organisations/clubs
In recent years we have had many clubs join International Taekwon-Do that were previously with other organisations. We believe we can offer many benefits to those that join, and we welcome your enquires.
This section covers frequently asked questions instructors may have, as they are considering joining their school up to International Taekwon-Do. We hope it will be of assistance, and please feel free to make contact with any of our committee members if you have any further queries.
What are the benefits for my school?
Your members would become part of a New Zealand run "not for Profit" organisation, meaning all resources are put back into the members to organise camps, seminars, gradings, overseas trips, coaching, equipment and instructor training. As a part of the International Taekwon-Do family, your members will have un-restricted access to all the events.
Are your gradings widely recognised?
Yes. All gradings are conducted by qualified Examiners, who are at least 4th degree black belt and ITF International Instructors. This means all gradings are recognised throughout New Zealand and the rest of the world.
Do my students and I get to keep our rank?
If you have come from an ITF system (ie Chon-Ji, Dan Gun etc) and have been graded by a qualified Examiner, then we will recognise your rank up to 3rd degree black belt. For 4th degree and above each person must apply to the Advisory Panel individually, as per the rules in our Standards & Discipline Document.
If you are from a WTF (World Taekwon-Do Federation) or other system, then generally we will also recognise your current ranks, but you are obliged to grade within one year to have the rank ratified.
Can I examine my own students?
No. Only International Taekwon-Do appointed Examiners are permitted to conduct gradings. As well as being ITF International Instructors, our Examiners have been trained and have successfully completed an Examiners' Course. We believe the standard of our Examiners is amongst the highest in the world, and this is the key to maintaining a good and consistent grading standard throughout the Country.
Can I keep instructing?
Yes. You can keep instructing as you have done previously. You will be required to attend an Instructors Induction Course and obtain a first aid certificate.
What if I am teaching a school but not yet a black belt?
In some cases we allow senior coloured belts to teach if there is no other black belt available. In this instance, you would come under the guidance of a qualified instructor until you are able to grade to black belt.
Can I still run my school as a business?
Yes. Although International Taekwon-Do is a not for profit organisation you are able to run the club as a business as an "affiliated entity". This means it is entirely up to you how you run your school and fees you charge. All International Taekwon-Do schools however must be run according to the constitution and the rules in our Standards and Discipline Document, ensuring an appropriate environment, including the safety of all the members.
I normally teach a mix of styles, can I continue to teach what I like?
Yes, as long as you are covering all aspects of the International Taekwon-Do syllabus. Our organisation teaches ITF Taekwon-Do as designed by the our founder General Choi Hong Hi. This is what is tested at all gradings. We do not object however, to instructors teaching other skills they may have, as long as it complements the Taekwon-Do skills and doesn't confuse the students.
Do we receive any resources when we join?
Yes, all International Taekwon-Do schools receive a New School Kit. This includes a flag, technical manuals, samples of brochures, posters and leaflets, Tenets and Do Jang Rules signs and an Instructors tie.
How do I learn the International Taekwon-Do syllabus?
Your Regional Director would arrange for assistance for you to start learning the International Taekwon-Do syllabus and ITF techniques. This may be through special seminars, visits to International Taekwon-Do schools, and instructors visiting your school. This will take time of course, and you can introduce things to your class on gradual basis. Because the syllabus and techniques may be different to what you were doing previously, a certain amount of flexibility is allowed for some time. Examiners will be fully aware of the situation and give plenty of time to adjust to the differences.
How much would it cost for my school join?
There is no fee to register your school. Each member of your school pays an annual registration fee - that's it.
What are the on-going costs?
Other than each member's annual registration, there are no other costs in belonging to International Taekwon-Do. Once registered, each member receives the several issues of TKD Talk Magazine produced in that year and is entitled to attend any of the gradings, tournaments, camps, seminars, etc. held during the year, all of which are charged at reasonable rates.
What about uniforms?
Uniforms can be changed over a period of time, however you are encouraged to purchase new badges and back patches to comply with the International Taekwon-Do uniform standard. The organisation often subsidizes the cost of these items.
What is the process for joining?
Initially you should make contact with the Regional Director in your area. Usually you would then meet with the RD - or other instructors and attend a training session or two, either to watch or participate. There may be a tournament or a seminar on, which you could come to and meet other instructors at that time. When you are ready to join, your application would be submitted to the region (Instructors in your region) for approval. Once the school has obtained Regional Approval, it also must be ratified by the Technical Director. This whole process may only take a week or two.
Who can I contact to talk confidentially?
You can talk confidentially with the Regional Director in your area, or contact the President directly.
How to Join