South Island Regional Camp
2-4th April 2021

Arrive: 3pm Friday 2 April
Camp end: 12pm Sunday 4 April
Why are we having a camp?
To bring all the South Island Taekwon-Do clubs together for a camp where all grades can further their knowledge of Taekwon-Do in a fun and friendly environment.
To build better relations between the clubs and their members to encourage and inspire them to attend future camps, tournaments, and seminars around the region.
To strengthen the bonds between clubs.
Guest instructors

Master Christine Young – Jasberg 7th Dan
Ms Christine Young is a 7th Dan and an Instructor of the Hwa Rang Academy schools in Tauranga. She began her training in Wellington, achieving her black belt in 1990. She moved overseas as a 2nd dan and graded to 3rd under Grand Master Rhee Ki Ha and 4th dan under Master Donato Nardizzi. She trained extensively overseas and was a member of the England World Champs Team. On returning to New Zealand Ms Young took on a role as Coach of the New Zealand team in 2007 and was a part of the coaching team for the World Champs in 2009.

Master Lawrence Mantjika 7th Dan
Master Mantjika began TKD training under Mr Mike Lowe in Massey university in 1984. He then became club instructor in 1990, and in 1995 took over instructing at Palmerston North Taekwon-Do Academy for 5 years. Master Mantjika has been to all the senior world championships since 1994, either as competitor, assistant coach, or both. He gained a Bronze medal for 4th Dan Patterns in Germany in 2005. He is currently the instructor of the Southern Cross Taekwon-Do Academy and is a member of the ITFNZ Technical Advisor Group as an examiner.
Mr Brendan Doogan 5th Dan
Mr Doogan began training in 1997 and went on to become a Power breaking World Champion at the ITF World Championships in 2013. He is an International Instructor, International Umpire, Assistant New Zealand Coach, and a member of the Standards and Discipline and Tournament Advisor Groups in New Zealand. He also writes articles for Taekwon-Do Talk Magazine and for overseas publications and has even done a Side Piercing Kick on top of an elephant!
Cost:

Camp cost includes training, dorm accommodation, all meals, and event T-shirt:
$98 + $25 late fee if registered after 8th March
Smaller rooms are available for parents staying with children on request, please contact the camp organiser.
Cost for adults not training: $80 (accommodation and meals)
Camp T-Shirt. A camp T-shirt will be provided for every full paying attendee! See Sizes
What to Bring
Dobok & belt
Sparring gear if you have it
Mouthguard
Drink bottle
Running shoes
Notebook and pen (to take notes if you wish)
Bedding (eg. Sleeping bag or blankets/sheets and pillow)
Toiletries, towels and medication
Something to share at morning and afternoon teas (one per family)
Warm clothes
Swimming togs
Sunscreen/hat
Lots of smiles and enthusiasm!
Programme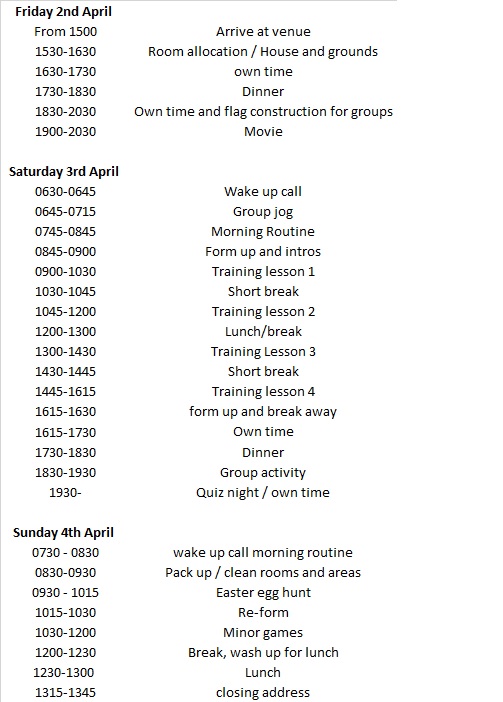 Download (Excel format)
Conditions:
Children under the age of 13 must be accompanied by a parent or caregiver throughout the duration of their stay. This adult can be a fellow club member who is attending camp, or parents/caregivers are welcome to register for the camp and stay on-site as well (cost $80).
The venue requires us to confirm attendees 14 days from the camp. Unfortunately, we cannot refund if you cancel within 14 days of the camp commencement.
Camp organiser: Mr Jarrad Ramsay

Covid-19 Disclaimer
Due to the current Covid-19 pandemic we are currently enduring we need to ensure that there is zero possibility of any transfer of Covid-19 during this event. We need to ensure that the attendee has not been:
Overseas in the past 30 days.
Has not been in contact with someone which has been overseas in the past 30 days.
Does not show signs or symptoms of a flu or fever.
Has not been in contact with someone which has shown signs or symptoms of flu or fever.
Not currently waiting for a Covid-19 test results.
Has not been in contact with someone currently waiting for a Covid-19 test results.
If any of the above comments apply to you, please contact the camp organisers.