20 - 21 October 2012
B&M centre » 51 Pascal Street, Palmerston North
Organiser: Ronan Gallagher-Forbes, II Dan.
Last minute bookings can be made by emailing Ronan Gallagher-Forbes me directly or through the regional team managers.
ITFNZ National Tournament Rule Amendments 2012

- August 12
Officials please register here »
Merchandise
We now have a limited number of 2012 Nationals Jackets, Polos and T Shirts in stock.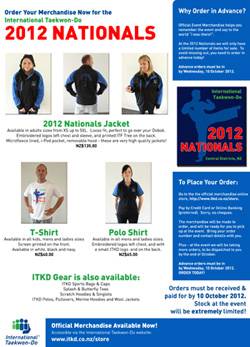 The iTKD store has been updated plus you can download a one-page flyer with all the prices and details here.
Merchandise for the International Taekwon-Do 2012 Nationals is now available at our online store.  Advance order your T shirt, polo and the absolutely awesome 2012 Nationals Jacket no later than Wednesday 17 October 2012, and it will be available for you to pick up at the event.  There will be very limited stock for sale at the event, though Sapius will be taking more orders for dispatch by the end of the month.  Merchandise can also be couriered to you for a small fee. Get in quick –  you can access the online store here.
Call out for Equipment
Call out to all clubs and regions for assistance with equipment for the Nationals please. We need destruction and specialty equipment plus a few sets of mats. Please respond to the Tournament Organiser asap if you can help.
---