ITFNZ Taekwon-Do National Championships 2008
Hosted by Midlands on 4 -5 October 2008
Congratulations Auckland North!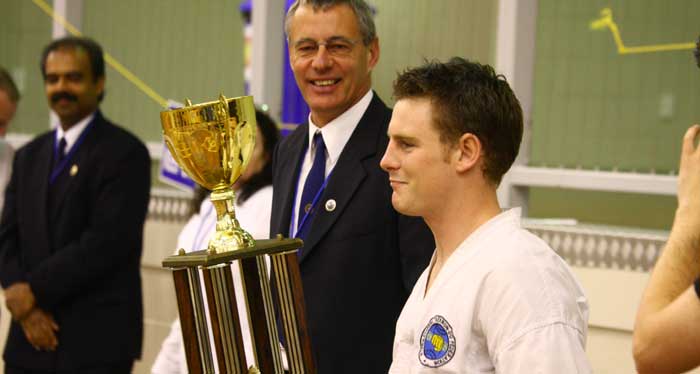 ---
Bill boards up!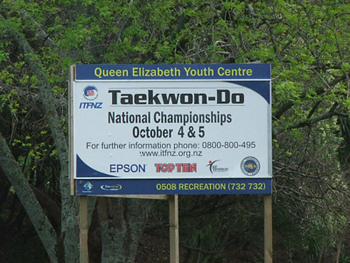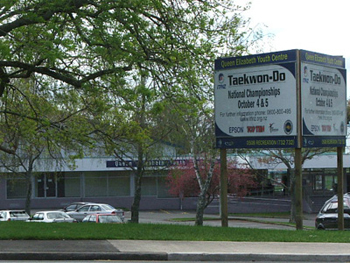 ---
There will be food available at the venue during the tournament along with a cofee cart outside. Seating will be available within the venue so you will be able to eat and view the tournament at the same time. Officials lunch has been arranged at premises next-door with all "Crew" recieving a subsidised feed.
---
A reminder that we have the QE II Youth Center from 4.00pm until 10.00pm Friday October 3 for set up. We require all persons supplying Mats, Equipment etc. to please make arrangements for delivery during this time - thank you.
Weigh-in will be from 4.00pm until 8.30pm on the Friday night and between 7.00am and 8.30am Saturday morning. Mrs.Natasha Iotua will be in control of this.
T-shirt sales are now closed. Those that have ordred will have their order handed either their team manager or coach to be handed on. There will be a small amount available over the weekend for purchase.
All officials and floor crew will meet at 8.30 on the Saturday morning (dressed correctly) for a briefing.
Thanks in anticipation
James Rimmer
Tournament Organiser
---
A REMINDER THAT ALL REGIONS ARE RESPONSIBLE FOR THEIR OWN BUCKETS, SPRAYS ETC. GLOVES WILL BE SUPPLIED.
Order Nationals Dinner Tickets here:
(Check with your team manager to make sure you don't double up with ticket orders)
Hi Everyone. Firstly the organising for this years Nationals is progressing well... we are keeping our head above water ... JUST!
Below is some crucial information you should be aware of, particularly if you are attending in an official capacity. This information has been published in my newsletters since June 13:
ID cards
As indicated these are compulsory this year. You will not be allowed on to the competition floor without your ID Card. These cards are required by ALL if you are on the competition floor regardless of your position. This includes Masters, Jury, Umpires, Marshalls, Bell ringers the LOT! If you have not submitted your image to Mr.Brown you had better get your skates on!
NOTE: Any person found on the competition floor without a valid reason for being there, may have their ID Card confiscated.
T-shirts
T-Shirt sales have begun on-line. They will be delivered to Team managers on arrival at the Nationals. Only a small number will be available for casual purchase over the weekend. Please complete the order form. We will purchase based on initial orders plus an additional 50 across the range and that will be that. ORDERS CLOSE 19 SEPTEMBER 2008. Cost $25.00 Inc. GST. Colours Black or Grey Marle with the Nationals logo on the back only in all sizes. There will be NO after tournament ordering.
A 4th Reminder To Officials… THIS IS CRITICAL! 
Mr.Eccles will be compiling a roster for the weekend. We need about 50, to date we have 31.
I intend to try and roster 2 umpires on each ring (as the ITF do), 2 Ring marshalls also. ALL hands on deck!
The dress code will be SRTICTLY adhered to as well. NO short sleeved shirts. ALL shirts MUST be White and long sleeved.
Ties MUST be worn at all times (Mr Eccles has spares). Shoes MUST be White, no dirty off White or scruffy footwear. Navy Trousers and Jackets, NOT BLACK.
Shirts MUST be ironed. Any floor crew will be in Black pants, white shoes and "Crew" t-shirts (supplied by the organising committee and free to keep).
How would you arrive at the World Championships in 2011 as an official?
Failing this then your first trip into town may well be Hallensteins or Farmers or the No.1 Shoe Warehouse!. 
Key Contacts
Tournament OrganiserJ.Rimmer
Dinner Shaun Skedgwell& Glen Harding
Venue Set-up Wayne Fenton, Chris Fitzgerald, Lou Black
ID CardsGwyn Brown
See you all soon.
J.Rimmer
Organiser
---
Managers should pay for team entries by Friday September 19.
Bank details are BNZ 02-0432-0428158-066
---
T-Shirts : a long-lasting reminder of the Nationals..
Order NOW!
here
Read all the latest news in our NATIONALS NEWSLETTER No. 2, and please remember to register if you are able to help out as an Umpire or official this year.
---
Nationals Entries
<<<<<------- Online Entry available via the Regional Entry Pages.
Entry fees will be a flat $50 per entrant. These are to be collected by each region's team management.
Online entries will need to be filled in by each entrant by the Entry Date of 8th September.
Team Managements will need to have filled in their initial team lists online by that date, there will be the usual adjustment period after that.
(Competitors' and Officals' photographs will also need to be supplied by that date, see newsletters for detail).
---
Here is a request from the Nationals organiser in Tauranga.

SPECIALTY MACHINES

We are need of 2 specialty machines for this years National tournament.
We have 1 from PaulM Waiau Pa and 1 from Dragons Spirit. Thanks heaps guy's.
If you are in possession of a specialty machine and are keen to assist then we would be keen to hear from you.

SAFETY MATS

Also 1 set of safety Mats.
We have a set from PaulM Waiau Pa, BOP TKD Academy, Te Awamutu, Counties Manukau and Dragons Spirit. Again thanks a lot.
If you are in possession of a set of safety mats and are prepared to assist then once again we would be keen to hear from you.

SAFETY BARRIERS

You know the wooden posts with the ropes that act as barriers you see everywhere? Yes those ones! If you know where we could obtain some we would be VERY keen to hear from you.
Those things are as rare as Hens teeth! We may have to make our own so just thought I'd ask.

Keep an eye out for the next newsletter coming soon.

Thanks again.

James Rimmer
Tournament Organiser
---
NATIONALS ID CARDS PROCEDURE
These are going to be compulsory this year. In fact you will not be allowed on to the competition floor without your ID Card. These cards from this year forward will now form a part of your tournament equipment and are as essential as sparring gear. The following outlines how we are intending to run the use of these cards and their details etc.
ID Card Procedure
For patterns:
Each competitor will proceed to the required ring, in plenty of time, and present themselves to the ring marshal. Their ID Card will be handed over and they will be marked as present. All ID Cards for that patterns contest will be taken to the juror by the ring marshal immediately prior to the start of the patterns division contest. Any competitor that is not present at that point may be disqualified. Upon completion of the contest and the awarding of the medals, all competitors are given back their ID Card.
For sparring:
Each competitor and coach proceed to the required ring well before time. They are marked as present, have their gear checked, and their ID Cards are given to the juror. Any competitor not in position to enter the ring, with all their correct gear, when the referee calls them in, may be disqualified. After the match, the competitor and coach are given back their ID Cards and may leave, unless medals are to be presented etc.
ID Card details - competitors: ATTENTION TEAM MANAGERS
Each entry form for the Nationals must be accompanied with a digital photo of that competitor. All photo's must be taken in the clothing each person will be using on the day, and be passport style (Head and shoulders). For competitors, that means Do Bok. For officials that means your official uniform. (For others, see details below)
You will need to ensure that each photo is in JPG format and the recommended size is between 50 – 150 KB.. Please don't send pics larger than this as they will take too long to process, or smaller as they will be grainy and will not print clearly.
Make sure you clearly name each photo with the following format ONLY!
Firstname-lastname.jpg
For example:
gwyn-brown.jpg
kara-timmer.jpg
It is essential they are in this format as the programme being used to print them and match them to the entry form details will be looking for the competitors name in this format.
ID Card details – Officials: ATTENTION TEAM MANAGERS
You are also required to submit a photo for each official accompanying your team, taken in their official uniform (Yes this means you will have to organise your regional officials to photo themselves, but this will have two advantages. One, they can check they have all their uniform and two, that it still fits!). Again, in a passport style and the same size requirements as listed above. Please also name them in the same manner as the competitors.
ID Card details – Others: ATTENTION TEAM MANAGERS
For example, Mr Doug Hana and Mrs Melany Brown, our two usual resident competition photographers will require ID Cards to enter the competition area. In fact, anyone needing access to the competition floor will be required to have an ID Card. Some examples are helpers, time keepers, The Breens, VIP's etc.
NOTES:
Any person found on the competition floor without a valid reason for being there, may have their ID Card confiscated. 
Gwyn Brown/Grant Eccles

---
RULES FOR WEIGH IN
Any competitor over the stated maximum weight for their entered division will be excluded from that division. For example, where the maximum weight for a division is 54kg any competitor over 54.0kg shall be excluded.
Male competitors weighing in shall, at minimum, wear dobok pants. Female competitors weighing in shall, at minimum, wear dobok pants and a sports bra top.
Multiple weigh-ins per person are allowed (no maximum number), however no competitor is permitted to weigh in after the tournament has officially been opened.
Overweight competitors excluded from a division will only be allowed to compete in a heavier division with the approval of the Tournament Arbiter AND if all regional team head coaches affected agree AND only if there is a valid Regional spot available in the heavier division.
Grant Eccles
---
Dear Managers and Coaches,

As part of our build-up to 2011, this years Nationals is incorporating some changes that you need to be aware of:

You will be required to submit, along with your regional team members entry form, a colour digital photo of each team member (close-up passport style, in Do Bok). This includes all competitors, officials, coaches, managers, assistants, helpers&your entire team!

Each member will receive an entry card with their name and other information, including their photo. They will be allowed access to various parts of the tournament venue, according to what is on their card. No card, no entry, no exceptions.

More details will be posted here closer to the event as to where you send your entry and digital photo, but please be aware that it will be a requirement at this years nationals and for following years, so start planning now, especially for those regions that are more spread out.

2008 Nationals organising team.