6th Oceania Taekwon-Do Federation Champs
14th and 15th April 2012 - Hobart, Australia
Results »
Congratulations to our terrific Kiwi Team who did us proud at the 2012 Oceania Champs, bringing home the Best Association title as well as all the Best over-all titles. See the results here.
The new issue of Taekwon-Do Talk Magazine features an article and great photos from the champs - check that out when it hits the club in May.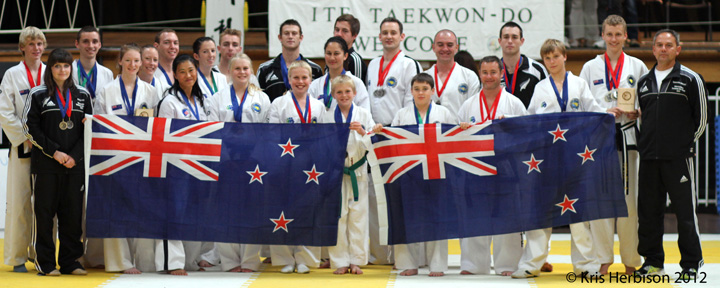 ---
Please download this Invitation to participate in the 2012 Oceania Championships that are being held in Hobart at the Hobart City Hall, over the weekend of the 14th and 15th Of April 2012.
The time is rapidly approaching to get your entries in to what will be one of the most important competitions of the year for ITF competitors. This event will be part of the process for selection of the next ITF Taekwon-do Australia World championship team heading to Spain in 2013. It is not however just a competition for Black belts and the opportunity for colour belts to gain some valuable experience at an International event cannot be overemphasised.
As umpiring Director for ITF Taekwon-do Australia I, with the able assistance of Mr Gerard Kelly- Tournament Director, will also be running an Umpiring workshop at no charge for anyone regardless of rank on Friday morning the 13th April. This workshop is designed to be a practical skills based workshop to help people corner judge, judge special techniques and power breaking and judge patterns. It will assist competitors to learn how to score the most points in their event.
Despite common misconception, Tasmania in April is often sunny, with clear skies and crisp days. It has many attractive and exciting places to visit and the venue for the competition is right in the heart of Hobart and close to the waterfront. We have 300 medals being pressed specifically for the event and have TOP PRO Australia sponsoring the event and offering prizes to the best overall competitors (both junior and senior) as well as lots of terrific gear to buy as momentos of the event. I hope you take this opportunity to participate in one of the most important ITF Taekwon-do competitions for 2012.
Looking forward to seeing you in a month.
Taekwon,
Steve Weston (VIth Degree)
Host-2012 Oceania Championships
Secretary General ITF Taekwon-Do Australia 0408990859 (mob)
---
This will be a major event for ITF Taekwon-Do in Australia this year and will include competitors from New Zealand, the Cook Islands, Papua New Guinea and of course Australia. It is an opportunity for your competitors to gain some valuable competition experience at a high quality  event with many world class competitors likely to attend. It will also attract many coloured belt competitors as there will be divisions for junior and senior ranks and the opportunity to compete in Power and Special techniques as a coloured belt.
The event will also provide the selectors of the National Association and Allied Association to evaluate and consider candidates for the 2013 ITF World Championships in Spain.
The organisers have extensive experience in providing high quality competitions and ran the successful 2010 National Championships.
April in Hobart is generally a special time as the season changes, providing spectacular colours and light. The venue for the event is in close proximity to Hobart's waterfront, known as the arrival point of the Sydney to Hobart Yacht race. There are many fantastic Hotels and restaurants in and around the Docks and all are in walking distance to the iconic Hobart City Hall Venue.
Hopefully, given that this event is being held after easter and we have provided three months lead time you will be able to purchase airline tickets and book accommodation at good prices.
We look forward to showing you some Tasmanian hospitality at this event.
Should you have any questions regarding this event please do not hesitate to contact me.
Steve Weston
Host: 2012 Oceania Championships
Secretary General
ITF Taekwon-Do Australia
e-mail steve@southernitf.com
Tel +61408990859
61 3 62311040