The first 9th Degrees
4th December 2021
We are proud to announce the promotion of our two senior instructors to 9th degree black belt and the title of Grand Master.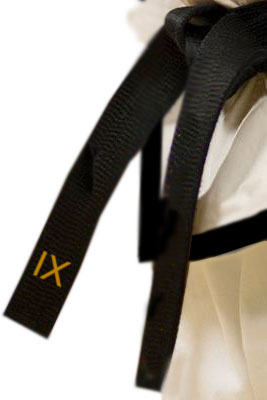 Grand Master Davidson and Grand Master McPhail join a select group of around 35 ITF Grand Masters in the world, the highest rank in Taekwon-Do.
Our two Grand Masters first met at a grading in Palmerston North, early 1975. Grand Master McPhail moved to Wellington in 1980 and became Grand Master Davidson's assistant instructor. They were both founding members of ITFNZ Executive Committee and travelled together to many seminars and tournaments around the world.
They have graded together from 5th degree right up to 9th degree and continue to work together as senior examiners and members of the ITKD Advisory Panel.
Congratulations to our new Grand Masters.
See New Zealand's first Grand Masters video
Grand Master Davidson
GM Davidson Promotions
1st degree - 9/10/73
2nd degree - 4/10/77
3rd degree - 6/05/80
4th degree -  29/04/89
5th degree - 3/10/93
6th degree - 23/06/98
7th degree - 8/08/04
8th degree - 16/02/13
9th degree - 10/11/21
Grand Master Davidson is regarded as a pioneer of Taekwon-Do in New Zealand.
He began his Taekwon-Do training in 1972 in Singapore whilst stationed there with the New Zealand Army. He returned to New Zealand as a black belt and opened the Miramar club in Wellington in 1975, and also established contact with a number of other Taekwon-Do instructors across the country who were effectively operating independently at the time.
It was due to Grand Master Davidson's enthusiasm that clubs started to cooperate through combined training sessions and demonstrations, laying the foundations for what would later grow to become our organisation today.
Grand Master Davidson later established clubs in Khandallah, Wellington (1979); Te Awamutu (1986); and Cambridge (2008). All four of Grand Master Davidson's clubs still operate today, and a significant proportion of instructors at clubs in New Zealand can trace their Taekwon-Do lineage back to Grand Master Davidson and one of the clubs he founded.
Throughout his Taekwon-Do career, Grand Master Davidson has continued to remain active and involved at regional, national, and international levels. He is currently a member of three national committees, including serving as chairman of our Standards and Discipline Committee, and he is also the current chairman of the Disciplinary Committee of the ITF.
His list of former positions and roles is lengthy, but most notably Grand Master Davidson was president of ITFNZ from 2004 to 2018. He has also been an umpire at several World Cup and World Championship tournaments.
Read GM Davidson's CV
Grand Master McPhail
GM McPhail Promotions
1st degree - 15/08/78
2nd degree - 10/01/81
3rd degree - 30/06/84
4th degree -  23/10/88
5th degree - 3/10/93
6th degree - 23/06/98
7th degree - 8/08/04
8th degree - 16/02/13
9th degree - 4/12/21

Grand Master McPhail began training in 1975 and attained 1st dan black belt at sixteen. He became a professional Taekwon-Do instructor in 1985, and began examining in 1988 on his promotion to 4th degree black belt.
Grand Master McPhail became Technical Director and Chief Examiner of ITFNZ in 1990. He attended five seminars with General Choi Hong Hi and received the 'Outstanding Instructor Medal' from the International Taekwon-Do Federation in 1994.

Grand Master McPhail wrote all of the ITKD grading syllabuses and co-authored our techniques handbooks, as well as his own book "Taekwon-Do – Beginners' Training Manual", now in its fifth printing. He became a member of the ITF Technical and Instruction Committee in 2015 and created the ITF International Instructors on-line exam used throughout the world.
Grand Master McPhail currently runs two of the largest clubs in the country: Paul M Papakura and Warrior Taekwon-Do, a combined membership of well over 500 students.
He has been the ITKD webmaster since it was created in 1996.
See Photo Profile of Grand Master McPhail
---
Grand Master Rocky Rounthwaite
GM Rounthwaite's Promotions
1st degree - 27/07/80
2nd degree - 15/11/83
3rd degree - 14/07/86
4th degree -  22/06/90
5th degree - 06/04/95
6th degree - 14/07/00
7th degree - 19/05/05
8th degree - 14/06/14
9th degree - 28/06/23
Grand Master
Rocky Rounthwaite
28th June 2023
We are proud to announce the promotion of a new 9th degree black belt and the title of Grand Master.
Grand Master Rocky Rounthwaite began his training in 1976.  On completion of a 4-year stint as an instructor at the NZ Police College, Trentham, he transferred to Auckland, where he opened classes in Pakuranga in 1982.
A senior Sergeant of Police at the time, in 1991 he accepted an adventurous 4-year consultant position that took him to the Highlands of Papua New Guinea where he and his wife Trish, opened Taekwon-Do classes in Mt Hagen, ultimately receiving a commendation from Taekwon-Do's Founder, General Choi Hong Hi for work that he and his wife had done in that country.
After a 30 years Police career, Grand Master Rounthwaite retired to the Sunshine Coast, Queensland, Australia where he spent close to a decade as a professional Taekwon-Do Instructor. He accepted a position as Boarding Parent to High School students for 6 years at the American Pacific International School in Chiangmai, Thailand, where Taekwon-Do was taught as an after-school activity.
In 2010 Grand Master Rounthwaite returned to New Zealand where he again became a professional Taekwon-Do Instructor in Hawkes Bay. He was inducted into the New Zealand Martial Arts Hall of Fame in 2013 and promoted to 9th degree in 2023.
Read GM Rounthwaite's CV
Photos of our Grand Masters