9th National Kids Camp 2011
18-20 November 2010
Aongatete Lodge (normal venue). $20 per child (once again subsidised by iTKD).
---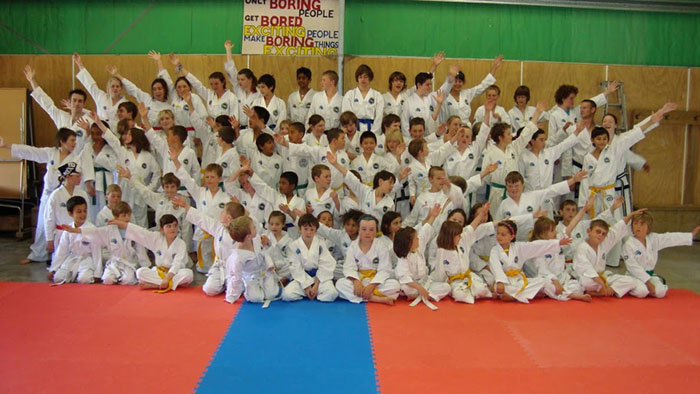 Click the photo to see more!
---
Hi Kids,
Well the camp is just 4 weeks away now, and we are busy preparing for you all. As usual the camp has filled up very fast, we even have a whole team coming from Wellington as well as a couple of boys from Christchurch, awesome stuff.
T-Shirts
This is probably the worst headache for me. I will be ordering the T-Shirts NEXT WEEK, so if you haven't paid yet, please do so THIS WEEK! No payment, no T Shirt order. I can't afford to order them and then have you pull out of the camp as has happened in previous years. So get onto Mum and Dad and find out if they have paid for you, and if not, hide the TV remote until they do, you have my permission!
Also, the cut off date will be next week as well for registering for the camp and ordering a T Shirt. Doesn't affect you boys as we are already full, but any girls that still want to come, I have some room…just.
Camp food
Every year I get asked the same question. What do we get to eat at camp? Every year I give the same reply. You get two choices, take it, or leave it. Don't worry, we always have plenty of food, including fear factor food if you don't feel full after each meal. Got some real nasty stuff this year too!
Costumes
These are great fun! As I said, Mr S and I have ours already so come on you kids, get dressed as someone famous. There are great prizes for this.
Baking
This is a requirement for the camp. Not buying a packet of biscuits either, but taking the time to get creative. If you want to win, you need to take a look at some previous year's photo's. Some of them have been magnificent. As with Master Chef, presentation counts, but the taste is everything. There are 4 categories as well, biscuits/slices and cakes, and over 10/under 10 yrs old. Yes you can get together and bake as a team of 2, or as a family like you Searle's do (since there are 3 of you, I expect great things, especially from you Miss Searle, you have been to camp enough times!).
Swimming
Yes, bring your swimming gear. But be warned, the river is usually a couple of degrees above freezing as the camp is in the mountains and if it has rained in the week before the camp, we won't go as the track is not accessible when wet.
Parents coming
Again this year I say to you all a huge thank you in advance. You will be busy. Once the camp starts Mr S and I like to put our feet up and rest and watch you all run around like headless chickens. We like to do that…hasn't happened yet though. Camp accommodation is first class for us, the bathrooms are immaculate in the adults accommodation area, the bedrooms are large and the adults food is catered. Bacon and eggs in the morning too. I suggest you bring gloves for the board holding though, last year some parents had their fingers broken/damaged. Some of those kids are powerful but a little inaccurate with their kicks. Don't worry, I have engaged the services of a nurse and a cement truck for us all to harden up.
Camp gear
Make sure you have everything named, all your plates, cups, sleeping bags, clothes…everything. I warn you all now; I do not keep anything from the camp. We have to take all our rubbish away so if you leave it behind, it will be thrown out. Except for mums expensive cake container, those I keep and sell on trademe. We even had a sleeping bag left one year, was an expensive one too, yep, no one claimed it. Mr S has since outgrown it. Anyway, please name all your stuff, and don't forget to bring food for tea on the Friday night, or have something to eat before arriving as we don't provide dinner on the Friday night.
Don't bring cell phones to camp, they won't work anyway, reception is always lousy, you won't have the time to use it anyway I can promise you that. And any gameboys or other hand held electronic toys will confiscated. This is a Taekwon-Do camp!
Finally make sure you have your sparring gear (if you have it, and for goodness sake name it, it all looks the same!), mouthguard, drink bottle, sun hat, Do Bok, and belt.
Mr B and Mr S