Grand Master Rhee Ki Ha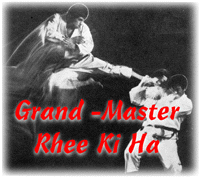 Grand-Master Rhee is here!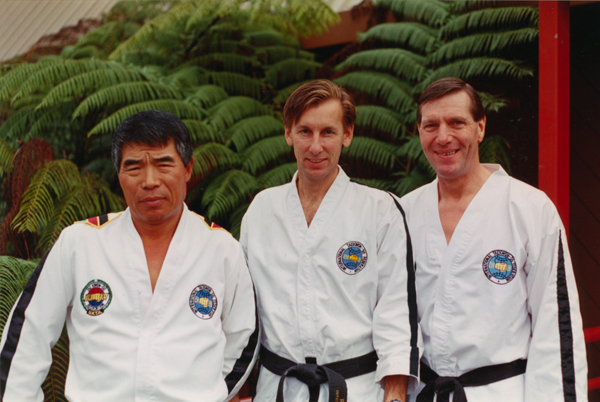 Grand Master Rhee Ki Ha, Paul McPhail and Paul Cutler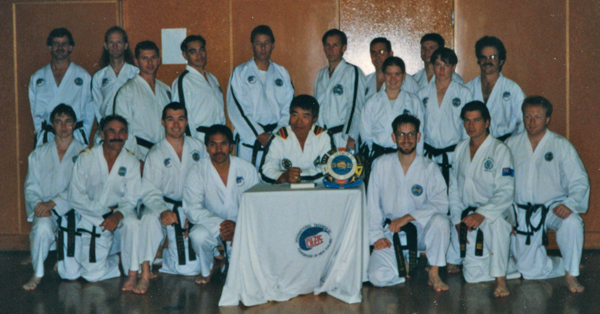 Grand-Master Rhee arrived on Thursday afternoon at Auckland International Airport, met by Mr Paul Cutler (6th dan, UK), Mr Paul McPhail (6th dan ITFNZ), Mr Michael Muleta (5th dan Australia), Mr Rua Kaiou (5th dan ITF South Auckland), Mr Vince Pygott (3rd dan, Secretary ITFNZ) and other senior instructors. After a few photos, Grand-Master Rhee was driven to his Hotel for a day of rest.
Friday there is a golf game organised, a dinner Friday night and then the Auckland seminar begins on Saturday.
Auckland Dinner - Friday night
Dinner for senior instructors was held at the Mongolian Restaurant in Queen Street. Master Rhee is strictly a suit and tie man, with formal seating according to seniority observed around the table. A few good stories were told - an enjoyable evening.
Auckland Seminar - Day One
Grand Master Rhee taught around 50 students on the first day of the Auckland seminar. The seminar was semi-formal, with lots of humour and free slowing questions and answers.
Some of the things covered were:
History of the ITF - the early days
Instructing and using correct terminology ("fork & knife" story)
(warning those down Country: - brush up on your terminology!)
Flying pushups and horrible stomach exercises
Side piercing kicks - correct hip motion
Question and answer time - questions on techniques
Self defence while seated
Double turning kicks - using more hip motion
Punching techniques
Knee kicks
Many stories of his instructing experiences
Some Pics: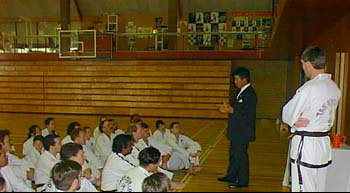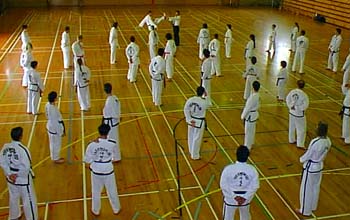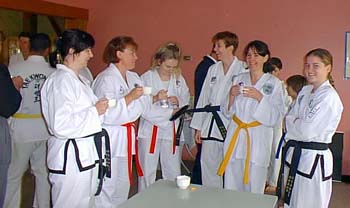 Auckland Seminar - Day Two
Day two of the seminar was great! Master Rhee was in dobok the whole day - which included the following:
Warming up games - some good partner exercises, relays
More general question and answer time
3 step sparring
Spot and step turning
Stances, various blocks, patterns
Auckland demo team
Master Class - Tuesday 4th August - Auckland
A small, but enthusiastic group training with Master Rhee from 6 - 9.30 pm.
Master Class - Thursday 6th August - Palmerston North
Around 70 people, including all the CD instructors attended the Master Class held at P.N. Boys' High School Gym. Well done to CD for your great support.
Seminar - Wellington Friday 7 August 98
Mr Harry Hemana from NZ Taekwon Do Acadamy met Grand Master Rhee Ki Ha, Mr Paul Cutler and Mr Mike Muleta at the Angus Inn when they arrived in Wellington at midday. The Wellington Instructors from both ITFNZ and NZTKD Acadamy had dinner with the trio at the Jade Flower Restaurant.
Saturday 8 August 98
This was a day set aside for Wellington sightseeing. Mr Hemana, Mr Patterson and myself showed our guests around. We started at TePapa and the day finished with a round at the golf driving range. Mr Patterson and myself took them out to dinner at The Grand and the evening finished after they had sampled a taste of Wellington night life.
Sunday 9 August 98
Upon arriving at the Seminar Venue 45 minutes early to set up, I am horrified to see that there are puddles of water all over the gym floor. Despite mopping them up, drops of water are still dripping from the ceiling and onto the floor. With only 20 mins to go and one emergency phone call before the Grand Masters arrival, Plan B comes into play. We (35 attended) all manage to transfere ourselves into a neighbouring gym for the first part of the seminar.
Thankfully there is no water here but due to the size of the hall (big) and time of the day (cool morning) we are all freezing our digits off (amongst other things). We were happy to move into the original hall for the afternoon session, if only to get a little warmer. However once in there we realised that the caretaker had left the generator and heaters on full bore. So here we are with too much heat, a loud generator and no access to the heater controls!!
Grand Master Rhee Ki Ha took it all in his stride and the Seminar continued without any further hitches.
Probably the most emphasised point of the day was using correct terminology when instructing. Most instructors present were given the oportunity to have their instructing skills scrutinised by the Grand Master, who corrected them as they went. This also led to the "fork & knife" story.
Another important discussion point was about the moral culture of Taekwon-Do, and how students should never forget that without our parents, we would not be here, and without our instructor we would also not be here. Grand Master Rhee said he considers himself the Taekwon-Do Father of all of his students, and he treats his students as he would his own children, wanting to give them the best Taekwon-Do oportunities and education he could provide.
Other topics were:
correct crossing of hands at intermediate stages of blocks.
strengthening exercises, including an amazing display of strength from the Grand Master - lying outstretched on the floor, then, without bending his arms or knees, raising his entire torso off the ground several times!
Using more hip action with side piercing kicks.
Using more hip action with double turning kicks
Spot & step turning
Questions & answers
Autographing souvineers.
Everyone was invited to dine with our guests that evening.
Monday 10 August 98
Golf Day.
Tuesday 11 August 98
Golf Day and interviews with the Wellington Mayor and press from the Evening Post and Cook Strait News.
The Grand Masters Class was enjoyed by all (26 attended) and gifts were presented to each of our guests. The day ended with another meal at the Jade Flower Restaurant.
The Wellington Grand Master class was attended by about 26 students, about half of whom were black belts.
The training began with a wicked warm-up by Mr Cutler, which included some heavy stretching and also relays that relied on both speed and strength to complete.
Grand Master Rhee then took the remainder of the class through:
conditioning of attacking and defending tools.
strengthing exercises, particularly for the abdominal area.
blocking exercises with partners, why outside blocks are better than inside blocks.
blocking with the feet.
questions & answers and many more stories.
All in all, a very informative and enjoyable class.
Wednesday 12 August 98
It was an early start for the Grand Master as TVNZ arrived at the Inn at 7.00am to interview him. For those of you who didn't know he was on Channel One News show at 9.20am.
Grand Master Rhee Ki Ha, Mr Paul Cutler and Mr Mike Muleta were seen off at the airport by Mr Harry Hemana, Mr Graham Patterson, Miss Barbara Inglis , Mr Darren Ward and myself at 8.00pm that evening.