L E V E L_ 4_ I N S T R U C T O R S_ C O U R S E _-_ 2 0 0 4

[Click to enlarge]
The third annual seminar for 4th dans and above was held again at the Suncourt Motor Inn, Taupo from 1 pm Saturday to 1 pm Sunday, 6th and 7th November 2004. The 2nd ITFNZ Examiners Course was also held, attended by: Mr Andrew Salton, Mr Andrew Niven, Mr Shaun Tolley, Mr Vince Pygott and Mr Lawrence Mantjika. You will see these five as they work along side other examiners over the next three gradings. The course was run by Master McPhail and assisted by Master Davidson and Mr Mahesh Bhana.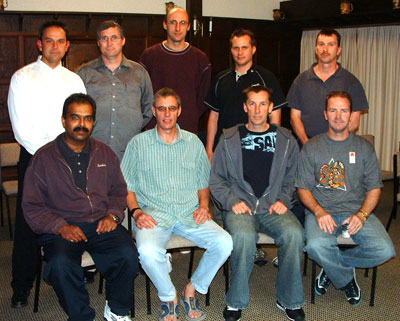 Attendees of the 2nd ITFNZ Examiners Course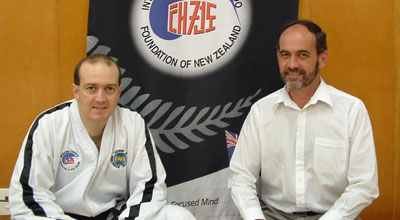 Special Guest speaker at this year's Stripes 1 tp 1 seminar was Dr Richard Coll. Dr Coll is currently a Professor at Waikato University and has Phd in Nuclear Physics and a Phd in Science Education and is currently studying for a 3rd Phd in Psychology. He is one of only two double Phd's in the southern hemisphere and we believe will be the only triple Phd in the world when he finishes his Psychology degree!
Dr coll visited the Hamilton branch earlier in the week and witnessed a class taught by Mr Eccles. He then came armed with information specific for us as instructors, and gave a most interesting and useful presentation. By the way, he commented that he thought Mr Eccles was an exemplary teacher! Thanks to Dr Coll from all of our senior members.
This year the theme of Stripes 1 to 1 is THROWING AND FALLING TECHNIQUES and we called on expertise of Mr Steve Pellow to improve our skills in this area. Mr Pellow (5th dan) is also 1st dan in Aikido. We also had an in depth pattern session will be on Moon -Moo Tul conducted by Master McPhail.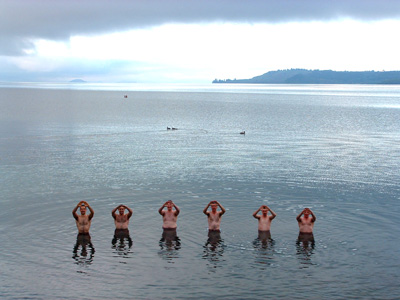 The traditional early morning lake dip