3rd & 4th November 2007
[4th dans and above only]
The 2007 Stripes 1 to 1 seminar was a great success with all present voting to make it an annual event one again. The seminar featured the introduction of the new ITFNZ Self Defence Syllabus taught by Mr Steve Pellow. We were also lucky to have an "eye opening" session from Phil and Athena Thompson (see below) - a big thank you to them!
Thanks to all our "Stripes" for their support. We are already in planning for next year!
Congratulations to Mr Andrew Salton who was promoted to the position of Senior Examiner at Stripes 1 to 1.

[click to enlarge]
SEE PHOTOS OF THE SEMINAR HERE
---
A new self defence syllabus is being designed by Mr Steve Pellow and Master Paul McPhail to achieve the following goals:

To give the students and Instructors clear guidelines of the scope and purpose of our self defence syllabus, and the techniques to be taught
To make the syllabus consistent in terms of the attacks used and the response by the defender - To teach basic technique of "Outward Wrist Turn" and "Inward Wrist Turn" and apply these techniques to the majority of self defence scenarios.
To make the syllabus easy to learn and teach and all grade levels
Give ITFNZ members practical guidelines for situation awareness, general safety in the home, car and in public. Also to provide basic information about the law as it pertains to self defence in New Zealand.

All Stripes including the ITFNZ Technical Committee will be updated on the progress of the syllabus and taught the techniques involved.
AND ANNOUNCING THIS YEAR'S SPECIAL GUESTS:
Phil and Athena Thompson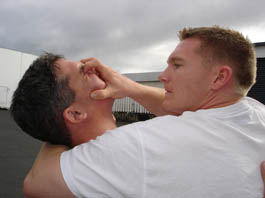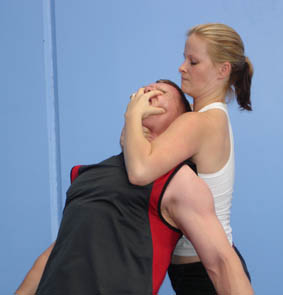 Phil and Athena Thompson, co-founders of PROTECT Reality Based Self Defence will give an insight into their system and the teaching methods that makes their system so effective - even for trained martial artists.
You may be surprised when you learn about the philosophy behind the system and how they promote non-violence.
Learn how the emotional and psychological components of the courses make this more than just a self defence system.
Hear how Taekwon-Do exponents can benefit from attending the courses.
See some of the techniques demonstrated.
Download application form and program
REGISTERED
Master Evan Davidson
Master Paul McPhail
Mr Steve Pellow
Mr Mahesh Bhana
Mr James Rimmer
Mr Peter Graham
Mr Mark Banicevich
Mr Andrew Salton
Dr Jake Pearson
Mr Kevin Joe
Ms Christine Young
Mrs Lena Walton
Mr Vince Pygott
Mr Gywn Brown
Mr Mike Lowe
Mr Darren Ward
Mr Shaun Tolley
Mr Matthew Breen
Dr Cameron Snelling
Mr Grant Ecles
Mr Kris Herbison
---
By popular demand - it is back on a again this year...the most anticipated event of the year for 4th dans and above....the forth STRIPES 1 to 1. Why is it called Stripes 1 to 1? Well it is a seminar for stripes (4th dans and above) from 1 pm Saturday till 1 pm Sunday. And it includes 1 to 1 tuition with New Zealand's two Masters.
It is again being held at the popular Suncourt Motor Inn, Taupo. Accommodation at the Suncourt is very limited and will be allocated on a first in first served basis. Get your application forms in immediately to secure your place. Once the Suncourt is full you will need to find your own accommodation.
ITFNZ is again subsidizing the event, making it affordable for our seniors to update their skills and re-new acquaintances.
See pictures from the pervious Stripes 1 to 1: 2004 2003 2002. There was no seminar last year due to the Instructors Conference.