T E C H N I C A L _ S E M I N A R- T A U P O _ 2 0 0 3
The second technical seminar for 4th dans and above was again held the Suncourt Motor Inn, Taupo from 1 pm Saturday to 1 pm Sunday, 1st and 2nd November 2003.
Read details of what was discussed.
This year included Mr McPhail's thorough pattern session on Ul-Ji Tul & pattern diagrams, a session on power & realism by Mr Bhana, plus Mr Davidson did not disappoint with one of his classically unorthodox sessions on some of the more unusual techniques of Taekwon-Do. This included discussing and practicing the merits of spending time up-side-down!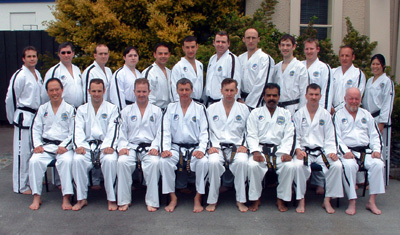 Click to enlarge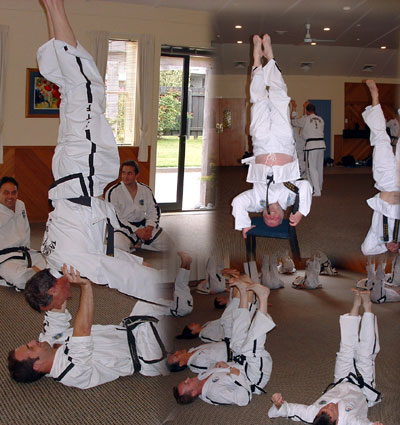 Stripes getting up-side-down with Mr Davidson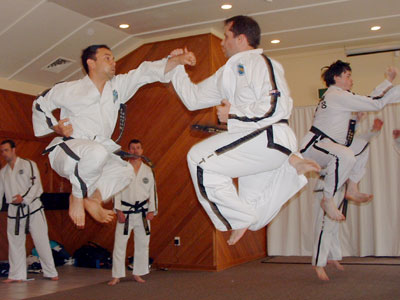 Lawrence Mantjika and Andrew Niven during Mr Bhana's class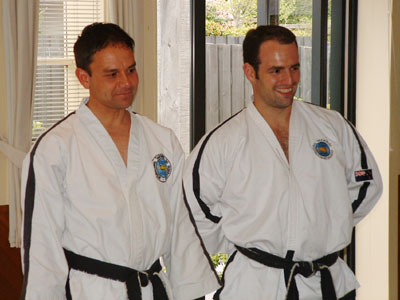 Lawrence Mantjika and Graham Patterson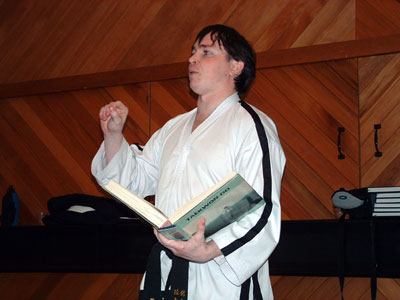 Matthew Breen quoting the General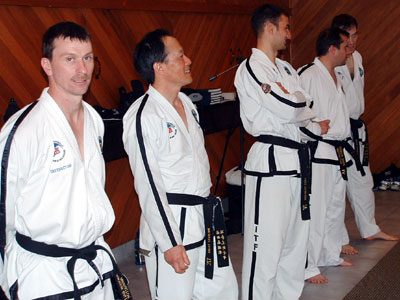 Andrew Salton, Michael Lowe, Jake Pearson, andrew Niven and Mark Banicevich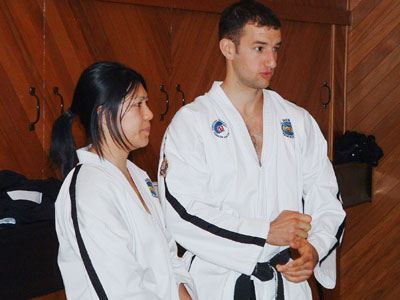 Jeanette Joe - the sole woman 4th dan, watching on with Jake Pearson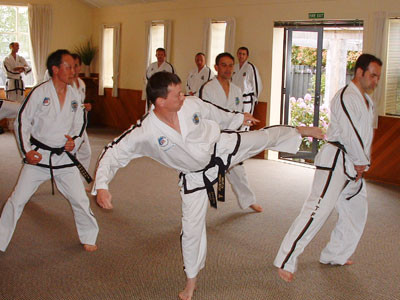 Finally someone kicks Gray Patterson - go Mr Salton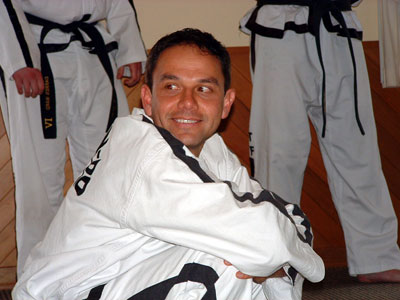 Loz enjoying a rest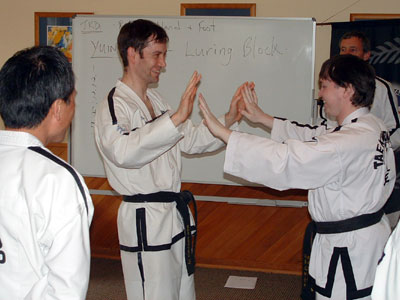 Mark Banicevich and Matthew Breen demonstrating the theory behind the luring block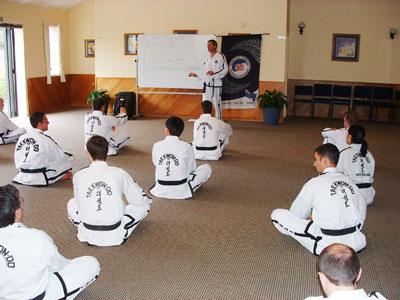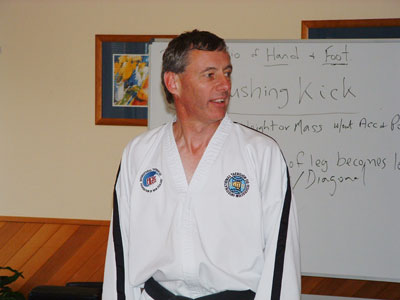 Mr Davidson's class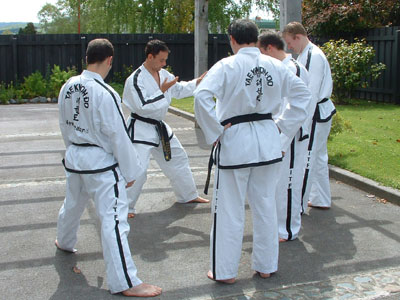 Mr McPhail's pattern diagram class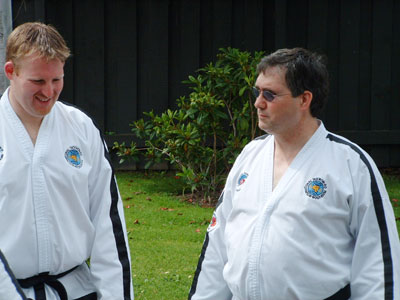 Darren Ward and Vince Pygott discussing pattern diagrams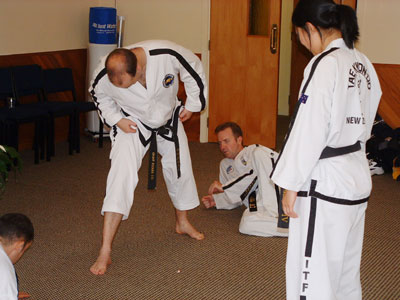 Mr Rimmer checking out Mr Eccles legs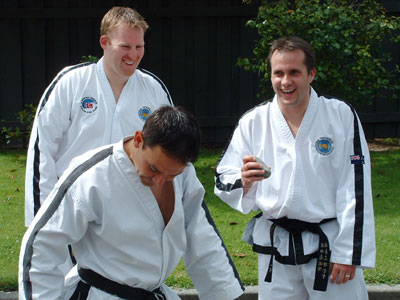 Andrew Niven laughing at Mr Mantjika's L-stance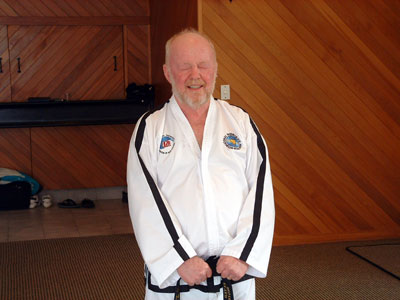 Don't ask!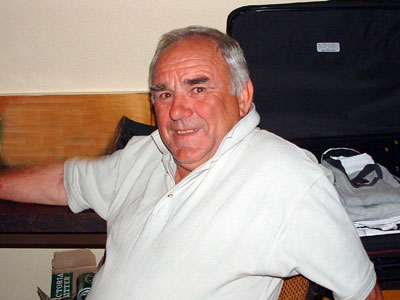 Cameo appearance by Mr Steve Mulholland - former Vice President of ITFNZ
---
INSTRUCTORS:
MR EVAN DAVIDSON, MR PAUL MCPHAIL AND MR MAHESH BHANA
James Rimmer, Andrew Salton, Gray Patterson, Ian Campbell, Shaun Tolley, Jake Pearson, Chris Fitzgerald, Lawrence Mantjika, Grant Eccles, Darren Ward, Peter Graham, Mike Lowe, Matt Breen, Jeanette Joe, Andrew Niven, Vince Pygott, and from Australia: Mark Banicevich.
Download application form and program
The group also had the opportunity to discuss many issues relating to Taekwon-Do and ITFNZ. These discussions, coupled with the decisions made at the Technical Committee seminar the day before, resulted in some new ideas for next year and beyond. These have yet to be ratified by the Executive, but as a sneak preview:
2004 Stripes on Tour schedule will include Mark Banicevich and Matthew Breen traveling to CD / Wellington, Grant Eccles and Steve McQuillan to Northland, Ian Campbell and Chris Fitzgerald to the South Island, Andrew Salton and Darren Ward to Midlands, and Jake Pearson and Steve McQuillan to Counties Manukau / Auckland North.
2 step sparring is to be introduced at green belt level (instead of red) to be more in-line with encyclopedia.
Credit points for black belt gradings are being divided into "Attendance Credits" and Contribution Credits". Those testing for 2nd dan and above must earn "Contribution Credits" by assisting the club or organisation by umpiring, teaching or organising events.
Those testing for 2nd dan and above must umpire (judge or ref) at a certain number tournaments before they can be eligible to grade.
The Oceania TKD Federation had have invited the ITF to host International Instructors Courses in NZ and Australia - NZ scheduled for 6-8 August 2004. It will likely be conducted by Master Marano (8th dan , ITF Chairman of Technique) and Master Willem Bos (8th dan).
All Gradings are to be conducted with the absence of noise from the other students and supporters. Those watching the grading should be politely reminded before the start of the grading.
Attitudes of marshals at gradings was discussed, and examiners will be checking in the future.
Details for the 4 level Instructors courses were finalised. Information out soon.
Discussion on the possibility of roistering umpires was discussed, and will be considered by the Tournament Committee.
The self defence syllabus was discussed and it was decided to leave it as is. The technical committee will work on ways to improve the standard of self defence in general, with seminars, instructor guidelines and video. Nest year's Stripes 1 to 1 seminar will focus on self defence, throwing & falling.
Mr Lowe mentioned Public Liability Insurance and will enquire if it is possible to get a an NZ wide policy.
Mr Salton has been asked to work on a sparring manual, and Mr Niven a coaching manual.
Members of the Technical sub-committee will be running regional seminars throughout 2004.