T E C H N I C A L S E M I N A R - T A U P O 2 0 0 2
The first technical seminar for 4th dans and aboveheld the Suncourt Motor Inn, Taupo from 1 pm Saturday to 1 pm Sunday 2nd and 3rd November 2002
The Country's seniors converged on Taupo for the first technical seminar for 4th dans and above. It was a very successful weekend, including training and discussions.
The Suncourt Motor Inn proved to be an excellent venue, with good space for training, discussions and more than excellent food and accommodation. The main topics of discussion was the current ITF scene and planning for the future. All those present were very positive about the future and have made several recommendations to the Executive Committee.
It was decided to make Stripes 1 to 1 an annual event, on the first weekend of November.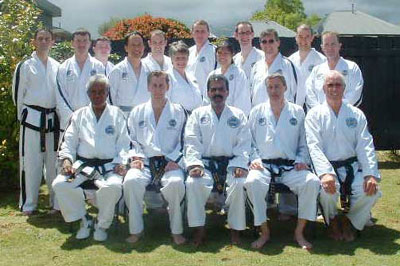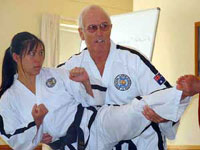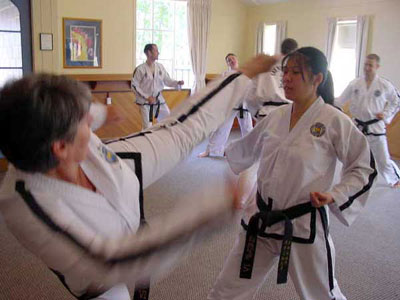 ABOVE: Rocky Rounthwaite (6th dan) from Australia explaining new Destruction Techniques with Ms Jeantte Joe, Mr Harry Hermana (5th dan) working with Mr Mahesh Bhana on pressure points, Mrs Trish Rounthwaite (4th dan) high turning kick.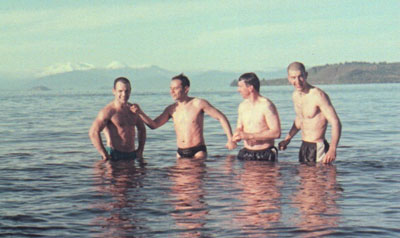 Early morning Lake Taupo dip
INSTRUCTORS:
MR EVAN DAVIDSON & MR PAUL MCPHAIL
Assisted By Mr Mahesh Bhana - 6th dan
Attending the seminar were:
Special Guests - Mr & Mrs Rounthwaite, Australia
Mr Mahesh Bhana - 6th dan, Mr Harry Hemana - 5th dan, Mr James Rimmer - 5th dan, Mr Michael Lowe - 4th dan, Mr Andrew Salton - 4th dan, Mr Graham Patterson - 4th dan, Ms Jeanete Joe - 4th dan, Mr Jake Pearson - 4th dan, Mr Chris Fitzgerald - 4th dan, Mr Lawrence Mantjika - 4th dan, Mr Vince Pygott - 4th dan, Mr Mark Banicevich (travelling from Australia!) - 4th dan, Mr Matthew Breen - 4th dan.