Instructors Conference 2005
Two new 5th dans, 2 new 4th dans
At the Instructors Conference, Mr Mark Banicevich, Mr Matthew Breen graded to 5th Dan, Mrs Kirsten Livingstone and Mr Kris Herbison graded to 4th Dan, in the first senior grading carried out by our own Masters, Master Evan Davidson and Master Paul McPhail.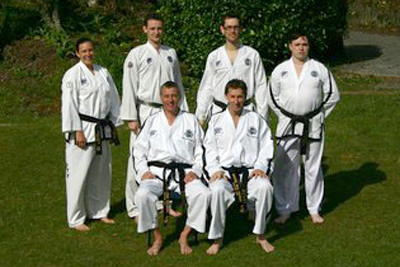 Some 65 Instructors and Assistant Instructors attended the Conference.





A very successful event - many thanks to the Organiser Mr James Rimmer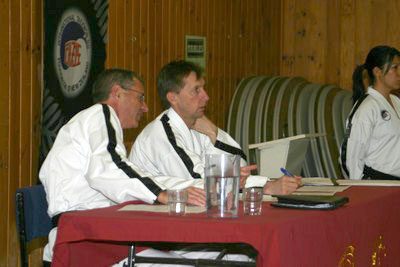 The examiners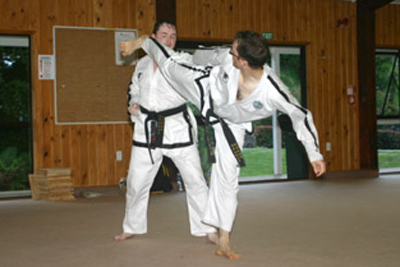 Mr Mark Banicevich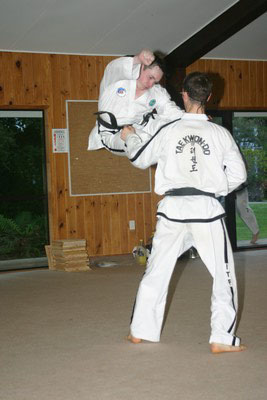 Mr Matthew Breen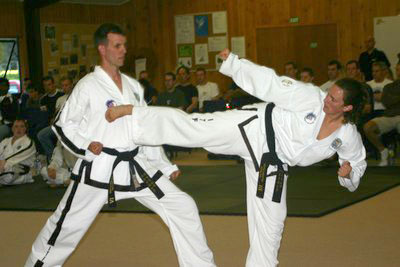 Mrs Kirsten Livingstone (beating upon IV Dan hubby Mr Neill Livingstone)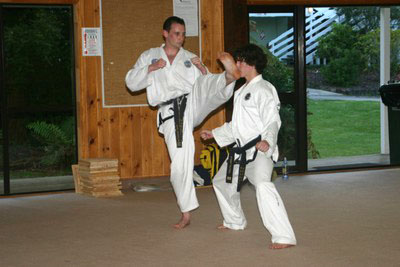 Mr Kris Herbison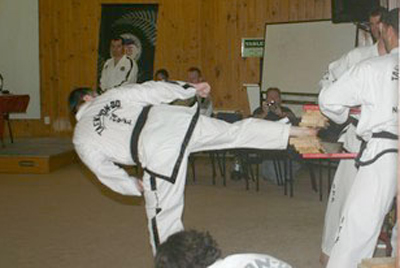 Matt Breen - 5 Boards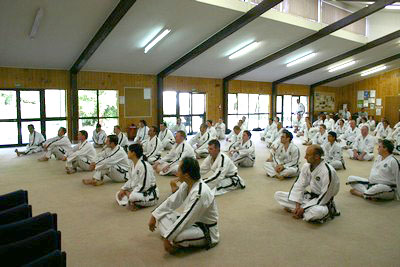 Over the weekend there were a variety of classes and discussions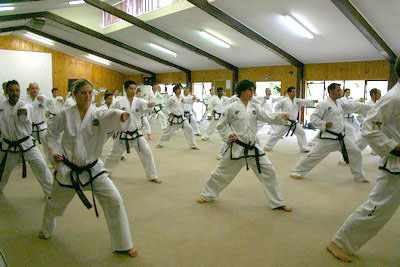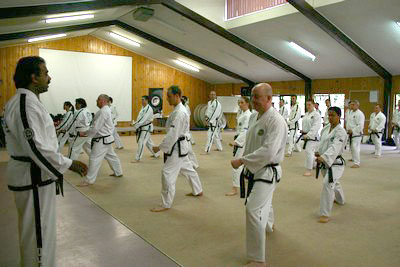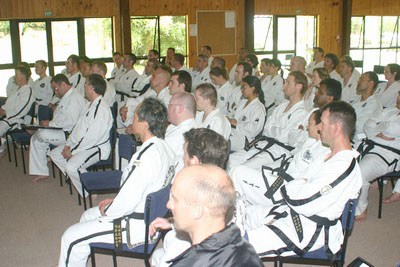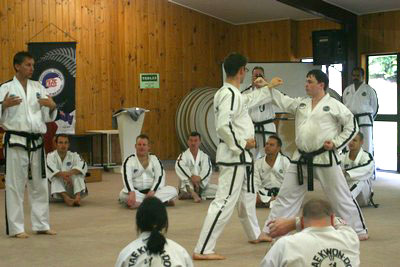 A recap on the colour belt syllabus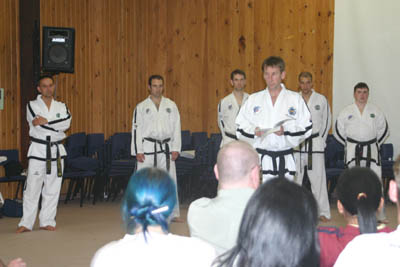 and a detailed Black Belt syllabus seminar

---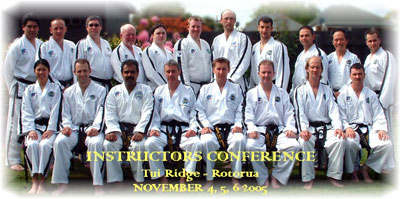 NEWS:
Just a couple of things regarding the Friday night:

1. Remember there will only be a supper on the Friday night at 8.30 so you may wish to eat proior to arriving or bring something with you.

2. Remember to check with the web-site regarding what to bring in the way of bedding etc.

3. I have had a lot of e-mails regarding the "Open Portion" of the grading ..... we will all be viewing this and it will commence at 6.30pm. Marshials have been arranged so for the rest of you it's casual dress.

That's about it for now ..... C U all soon.

James Rimmer
Conference Organiser
---
3 weeks to go!

I will accept late entries until this Saturday the 15th October ..... then THAT'S IT! ..... WE CLOSE OFF!

We are now at 68 with 6 late entries to come in ..... GET THESE IN FAST!

I have had some e-mails regarding the discussion groups for the Saturday afternoon ..... OK ..... here's the plan:

The group discussion topics are (based on your applications):

1. Art vs Sport - Chairperson Shirley Pygott
2. Getting your own training in whilst instructing - Chairperson Brett Kraiger
3. Loyalty - Chairperson Greg Trilford
4. Students with disabilities - Chairperson Richard Iotua
5. Instructor Requirements/Protocol - Chairperson Andrew Salton
6. Sponsorship/Doboks - Chairpeople Gwyn Brown/Carl Matthews

Topics 1&2, 3&4, 5&6 will be combined (3 groups of 2 topics) ..... conference attendees have been divided up into 3 groups of about ..... ummmm ..... I'd say ..... 20ish people.

The idea is to rotate these groups of 20ish people through each topic for 40-45 minutes.

This will enable ALL to have a CONSTRUCTIVE say on any given subject.

At the end we plan to have a BRIEF summary of ideas from each of the groups chairpeople.

These summaries may be turned into a published piece on the web-site or acted upon in some way via the correct channels ..... I don't know.

However I do know that this will encourage interaction within the ENGINEROOM of ITFNZ ..... YOU GUY'S!

C U all soon.

J.Rimmer
Conference Organiser

---
Around 60 Instructors are registered for the "Instructors Conference".

It's promising to be an extremely informative weekend from many aspects and I'm sure you will all take home something from this event.

I know Master Davidson plans on plugging in articles of electrical apparatus so we wait for his class in anxious anticipation!

Those of you who have been around for a while may remember Christine Young ..... Christine returns to New Zealand and will be joing us along with her partner, Mr.Roman Chirtoca. Mr.Chirtoca is a 4th Dan from Moldova and he will also be joining us which is great news. They both plan to be resident in New Zealand and start a club.

Some of you have indicated on your application forms items for discussion, (yes ..... 5 out of 60 so things must be pretty well OK):

Mrs.Pygott - Mr.Kraiger - Mr.Triford - Mr.Iotua - Mr.Salton & Mr.Brown.

Be warned that you good people will be "Chairing" discussion groups based on your "Chosen Topics" so you may wish to prepare for this.

Remember: A map/details etc. are on the web-site, if you need a lift from the Airport let me know ... bla bla bla ..... jw.rimmerxtra.co.nz

Well thats about it from me ..... C U all soon.

James Rimmer
Conference Organiser
---
Name Rank Branch
Master Davidson VII Te Awamutu
Master McPhail VII Paul M TKD
Mahesh Bhana VI Pakuranga
James Rimmer VI Tauranga
Jeanette Joe V Devonport
Graham Patterson V Khandallah
Andrew Salton V Horowhenua
Neill Livingstone IV New Plymouth
Kane Raukura IV Dragon Spirit Papatoetoe
Vince Pygott IV Jungshin
Jake Pearson IV Khandallah
Grant Eccles IV Hamilton
Shaun Tolley IV Eastern ITF Howick
Lawrence Mantjika IV Milson
Mark Banicevich IV Paul M Glendowie
Matthew Breen IV Meadowbank
Roman Chirtoca IV Moldova
Darren Ward IV Khandallah
Mike Lowe IV Tiger TKD
Christine Young IV UK/NZ
Lena Walton IV Berhampore
Matthew Allen III Dragon Spirit Papatoetoe
Brett Kraiger III Brooklyn
Gwyn Brown III Tauranga
George Konia III Hurupaki
Ross Campbell III Waikeria
Hayden Breese III Threshold TKD
Rene Kunz III Miramar
Kris Herbison III Otago University
Kirsten Livingstone III New Plymouth
Thu Thach III ACK
Rebecca Doogan III DS Papatoetoe
Tim Couling II Kerikeri
Alasdair Hamblyn II Brooklyn
Kim Bull II Gisborne RTR
Peter Chapman II Porirua
Richard Iotua II Tribal TKD
Richard Burr II Westend TKD
Greg Trilford II Kapiti Coast
Hung-Nguyen II Ji-Shin
Krishna Reddy II Bell Block
Brendan Doogan II Dragon Spirit Papatoetoe
Neil Kettings II Dunedin
Blair Martin II United
Luke Thompson II Xtreme TKD - Pukekohe
Matthew Davey II Jung Shin Red Beach
Shane Eade II Redwoodtown
Francis Fong II Nibun-ITF
Russell Stuart II Otago University
Shirley Pygott II Jungshin Stanmore
Rose Cherington II Cubs
Kylee Martin II United TKD U/Hutt
Gary Sawyer I Nibun ITF Orewa
Dave Butchers I Paul M Botany
Andrew Ogle I Napier
Darren Andrews I Wanganui
Robert Ireland I Avondale
Nick Lourantos I Miramar
Carl Mattews I Nibun ITF Central
Greg Christie I Waikanae
Paul Drysdale I Waikanae
Rana Moanaroa I Mauriora TKD
Daniel Motu I Rangitaiki Dragons
Alois Vogt I Berhampore
Deborah Olesen I Botany TKD
Tracy Walker I Rangitaiki
Amy Collins I United TKD U/Hutt

I Dans 15
II Dans 20
III Dans 11
IV Dans 14
V Dans 3
VI Dans 2
VII Dans 2
---
All Head Instructors of ITFNZ Branches can now attend the 2005 Instructors Conference FREE OF CHARGE. The Executive Committee are subsidizing the vent so that it can be accessible to all Instructors. So Instructors - please send in your application form now, but don't worry about the cheque!
The 2005 Instructors Conference has been confirmed as having a Level 3 Instructors course accreditation. Those due to due Level 3 course can receive accreditation by attending the Conference, which will re-new your Instructors Certificate for another three years.
GRADING CANDIDATES
Friday 4th 4.30/6.00 pm- Closed door session with Master Davidson & Master McPhail.
6.30/8.00pm - Formal grading.
8.30pm - Dining hall for briefing & supper.
BALANCE OF COURSE ATTENDEES
4.30pm Onwards - Check in & room allocation.
NOTES FROM MR RIMMER - ORGANISER:
1. I WILL BE ON THE PREMISES FROM APPROXIMATELY 3.00pm ONWARDS.
2. THERE IS NO DINNER ON THE FRIDAY NIGHT, SUPPER ONLY, SO ATTENDEES MAY WISH TO EAT BEFORE ARRIVAL.
3. THOSE ATTENDEES WHO PLAN TO FLY INTO ROTORUA PLEASE LET ME KNOW ARRIVAL TIMES SO I CAN ARRANGE PICKUP.
4. SOME ATTENDEES HAVE SENT FORMS IN WITH NO PAYMENT. PLEASE ADDRESS THIS A.S.A.P THANKS.
5. ANY FURTHER ENQUIRIES PLEASE CONTACT ME ON: TAURANGA 07-579-5845 or JW.RIMMERXTRA.CO.NZ
KEEP THOSE APPLICATIONS COMING IN ..... LIMITED SPACE AVAILABLE.

---
Following on from the success of the 2001 Instructors Conference, ITFNZ are once again hosting this event at the beautiful Tui Ridge, Rotorua, on the first weekend of November 2005. Don't miss the opportunity to get together, train together and discuss the future direction of ITFNZ Taekwon-Do.
The Conference is for all Instructors, Assistant Instructors and senior dans (4th dans and above). There will be a senior dan grading held on Friday 4th November to get the Conference off to an amazing start. Masters Davidson and McPhail will conduct their first ever 4th and 5th dan testing.
For further information please contact:
Mr James Rimmer
14 Tamworth Place, Tauranga, Phone 07-579-5845
Application form (Applications close 9th October 2005)

GENERAL INFORMATION
DATE AND TIME

Friday 4th to Sunday 6th November 2005. Check in time is from 4.30pm onwards. Friday dinner not included. Full schedule available here in due course.


ACCOMMODATION

The Graham Miller Centre's accommodation units are clean and comfortable, fully carpeted and heated. Each of the three identical units sleep 54 people, totaling 162. They are divided into bays with bunks, with storage areas under the lower bunks. The floors in the accommodation units are covered with carpet and surface areas with vinyl. Toilets and showers are built into each accommodation unit for your comfort and convenience. There are night storage heaters in the sleeping areas and bathrooms, coupled with fully insulated walls and ceilings which guarantees warmth all year round. In each unit there are three separate rooms for supervisors or team leaders etc.

The buildings are designed to house both male and female- with separate sleeping areas, toilets and showers.

Tui Ridge supply mattresses on bunk beds, while guests are to provide their own sleeping bags or linen, towels, blankets and pillows.


CONFERENCE AREAS

DINING/CONFERENCE VENUE

The Graham Miller Centre contains a large dining area and very well equipped kitchen. The dining room is fully carpeted and heated and is linked to a reception area, office and ablution facility. The kitchen can cater for up to 200 people in the dining hall. There is no need to worry about catering either, for we provide a gourmet, fully catered meal service that is superb however please note that dinner on the Friday night is not included.

CONFERENCE ROOMS

Opposite the dining room is a two storey activities centre. Upstairs are two carpeted conference rooms complete with white boards, display panels and heaters. Downstairs is a large recreation room with a coin operated washing machine and dryer.


LOCATION

Tui Ridge Park is located on Oturoa Road 17 kms from Rotorua.

If you are traveling from Rotorua, travel through Ngongotaha, go over the railway line and take the second road on your left, which is Oturoa Road. Located on the corner of Oturoa Road is "Finn's Apple Valley Orchard". Travel 7 kms up Oturoa Road and you will find Tui Ridge Park on the corner of Anderson Road. The main camp is 2 kms from the main gate.

If you are traveling Into Tui Ridge Park on State Highways (Hamilton-Rotorua Highway) turn left Into Oturoa Road on top of the Mamaku Plateau. You will find that after you wind up through the Mamaku ranges the road straightens on top of the plateau, there is a trig station on your left, a small bus shelter on the right, importantly as a guide, there are two light poles mounted on the State Highway.

The road to your left is Oturoa Road, Travel 7 kms down Oturoa Road and you will find Tui Ridge Park on the corner of Anderson Road. You do not need to travel into Rotorua or Ngongotaha to get to Tui Ridge Park, indeed you will add another 15 kms to your journey! The main camp is 2 kms from the main gate entry of Tui Ridge Park up the gravel road.

This information may be handy if your flying in to Rotorua airport. If you need assistance from the airport then please advise.