ITF Instructors' Course in Paradise
Conducted by Grand Master C.E.Sereff, 9th dan
Sunday June 21 - Sunday June 28 1998, Lahaina, Kaanapali, Hawaii
Some photos from the trip:

The team departing from Auckland Airport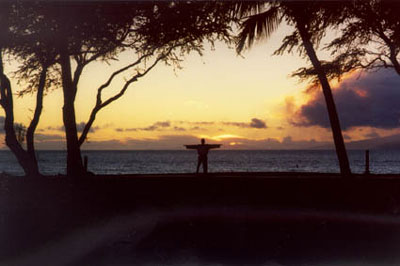 Tong-il in Paradise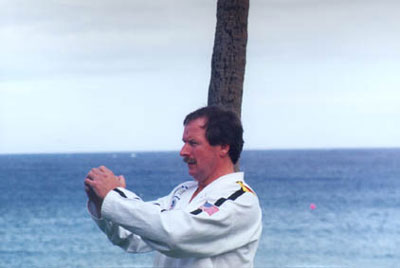 Master Robert Wheatley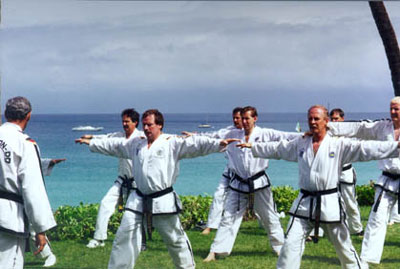 6th and 7th dans practicing Tong-Il Tul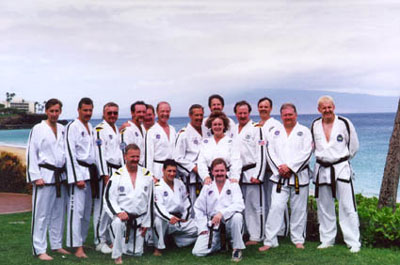 5th dans and above on the course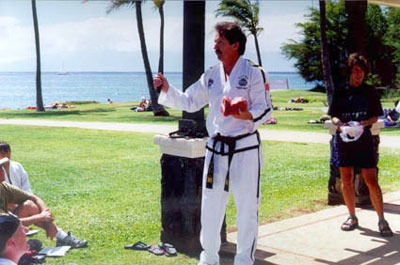 Mr Akard cutting meat at his knife defence course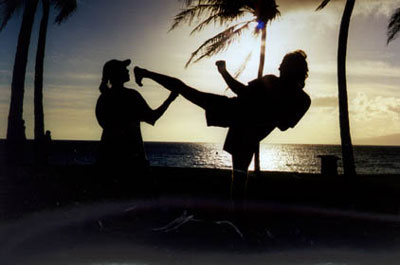 Jon Sawden and Jeanette Joe at sunset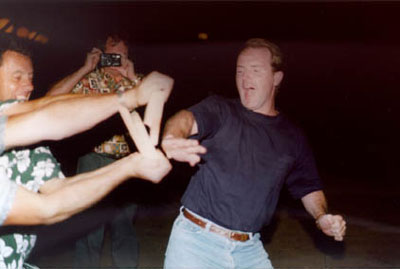 Party time Mr Rimmer style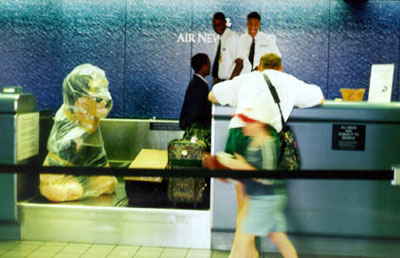 Mr Campbell checking through the prize he won at Sea World!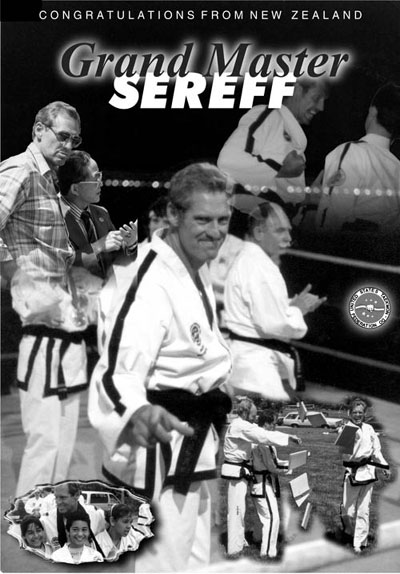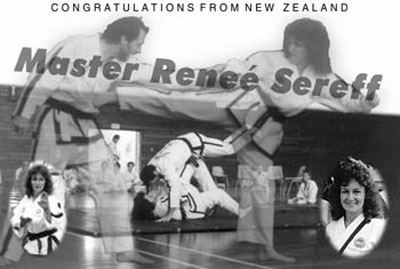 Presentations made to Grand Master Sereff and Master Renee Sereff from ITFNZ:
---
Grading pics "A clean sweep for New Zealand" Highest scores in 4th, 5th and 6th Dan candidates.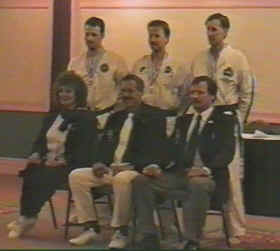 Mr's Graham Patterson (4th Dan), James Rimmer (5th Dan) and Paul McPhail (6th Dan) with the examining board, Master Sereff, Grand-Master Sereff and Master Wheatley.







Mr Evan Davidson draws applause with close focus step sparring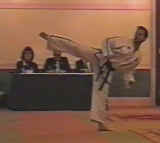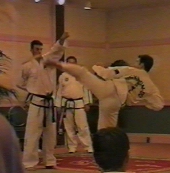 Mr James Rimmer | Mr Graham Patterson's reverse turning kick - smithereens of board on trajectory towards the chandalier | Mr John Sawden during the seminar
---
Below are the news updates as they happened:
[13 June]
The NZ team depart from Auckland International Airport, Saturday 20th June, 9.55 am (check in 7.55am)
[20 June]
After only one flight delay of about 1/2 an hour, the team left this morning.
[23 June] Email from Mr McPhail
Hi guys
Man - found this email place at last. Sorry for taking so long to write.
We are all well - having fun - first day of training is over. Honolulu was good - Mr D(avidson) found a sundeck on the top of a hotel to do some training - so we got a bit of practice in. Nearly missed the plane to Maui as the bus driver dropped us at the wrong terminal. Mr D again - ran ahead and stopped the plane!
The Royal Lahaina is pretty nice. Everything is so expensive (with the dollar value etc) but we are managing. Grand Master Sereff took a good class - Master Renee Sereff and Master Robert Wheatley are training in the class - maybe 5 6th dans, about 10 5th dans etc. Over 100 in all.
Been eating out the whole time - and sipping (diet) cokes by the pool!
Grading is tomorrow - find out the final syllabus at 8.30am. Grading is at 4.40 pm. FUN!
Will check my email in a day or so (pmcphailtib.co.nz)
p
[24 June]
Hi again
Second day training now over - did all senior patterns up to So-San Tul.
Grading went well -
results:
Evan Davidson - 6th dan
Paul McPhail - 6th dan (high test score)
James Rimmer - 5th dan (High test score)
Jeanette Joe - 4th dan
Graham Patterson - 4th dan (High test score)
Danny Ward - 4th dan
Most spectacular break was Mr Patterson's 2 board suspended chandelier breaking reverse turning kick. This caused much excitement and clapping from the crowd.
Everyone got to do the full syllabus plus those going for 4th dan were put through advanced kicking drills including flying triple kicks.
Grand Master Sereff announced the results immediately following the grading - and said he was very happy with the standard.
The course continues tomorrow and those newly promoted are being taught their new patterns.
Cheers
Paul M
Jake Here: Having not graded, I don't have to be modest, so can say that the kiwis were absolutely awesome!!!!!
[27 June]
Hi there
The 3rd day of the course was for 5th dans and above. We trained near
the beach - and at one stage there were 10 of us all doing Tong-il Tul -
a record for Grand Master Sereff he said. It was a great session.
Mr Davidson and I have been working on remembering Tong-il - and we are
up to movement 36 now. Need to learn the lot by Sunday. We've been
spending some time with the USTF seniors - going over techniques etc
etc.
Day 4 was a USTF Umpires course from 9am - 2.00 pm, then a knife and
weapons defence course from 2.30 - 6.00pm. The umpires course was
interesting (and entertaining) - conducted by Mr Steadman. Myself,
Jeranette Joe and Jon Sawden sat and exam for our C Class umpires
certificates.
The weapons course was great - included Mr Akard cutting up bits of meat
to demonstrate what can really happen! Then our rubber knives were
lipsticked up - and we had all out knife attacking and defending - with
the lipstick marks showing where we would have been cut.
Today (Friday) we went surfing with one of the Maui members - who is a
surfing instructor. Was lots of fun. Also sightseeing, shopping and
doing Tong-il at every possible opportunity (the locals think we are a
little strange!).
Tomorrow is a relax day - then off to LA for some or home for others.
Cheers
Paul M
---

DETAILS OF THE COURSE

ITF Instructors' Course
June 22th, 23th, 24th 1998 9.00am - 5.00 pm
Royal Lahaina Resort Grand Ball Room
Black belt testing for 4th dan and above

Yellow belts US$35
Green and blue belts US$50
Red belts US$125
1st dan US$150
2nd dan US$175
3rd dan US$200
4th dan & above US$245

USTF Referee Course
June 25th on the beach 9.00 am - 1.00 pm
US$35 Instructor: Mr Kirk Steadman

Knife & Weapons Defence
June 25th on the beach 2.30 - 6.30 pm
US$35 Instructor: Mr Fred Akard

Activities Planned:
This week will be a great vacation for you and your family.
From Lei making at the hotel to snorkelling to see the turtles
30 feet from your hotel, we plan on a great time for all!
Mr Casco, our Hawaii State Director will be demonstrating just
how the natives surf, at sunrise!

Royal Lahaina Resort Luau
One of the finest in Hawaii
$55.00, June 24, All you can eat buffet!