Special Technique Seminar
with WORLD CHAMPION, Carl van Roon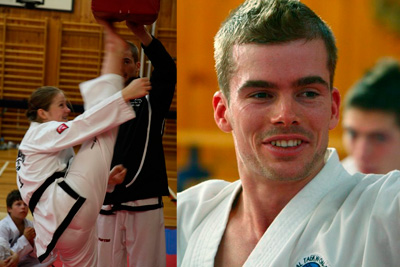 Sunday 27th July 2008, 12:00pm - 3:00pm, 11:30am registration
Meadowbank Club
Remuera Intermediate
Ascot Ave, Remuera
Only $25 per person!
Carl van Roon is thrice and reigning Special Technique World Champion and a star of Taekwon-Do Television. He is also a superb instructor, with a friendly and enjoyable teaching style. This is a great opportunity to learn from the best. Do you want to be our next Special Technique champion? There is no better instructor for this event! Are you grading to black belt in the future? Learn how to perform flying high kicks and overhead kicks at your best! Or maybe you simply want to learn and improve your Taekwon-Do. Everyone will learn from this fantastic three hour seminar!
HURRY NUMBERS ARE STRICTLY LIMITED
Organiser: Mr. Ryan Rushton
Entry's close 21st July, $10 late entry fee.
Please pay:
Paul M Taekwon-Do Glendowie
ASB St Heliers 12-3027-0503154-000
Reference: "Spec" and your name
Bring: dobok, plenty of water, notebook and pen, snack food (if required).
PDF Application form (Print and post)