A member of our ITF family needs YOUR help

Update February 2012
On behalf of my tribe and most of the people who have benefited on the fundraised funds from ITFNZ family, I would like to thank each and everyone with my heart who have contributed one way the other. As many villagers proclaimed that it was a blessing that such assistance came from overseas through the TKD connections. In their speeches they thanked the ITF TKD community in NZ who thought of us when we were in dire need.

We have built seven (7) houses worth K1000.00 each for seven families and divided the remaining money between other people who were affected in this disaster. They at least bought a Pot, plate, cup, second hand clothes, leathern lamp or water container etc... I have retained K5000.00 from that donations to contribute towards purchasing a new vehicle replacing my Suzuki that got burnt during the crisis.

Once again Thank you very much to yourself and all the Masters and Instructors who assisted my people during the crisis.

Kind Regards

Simon Kama
ITF PNG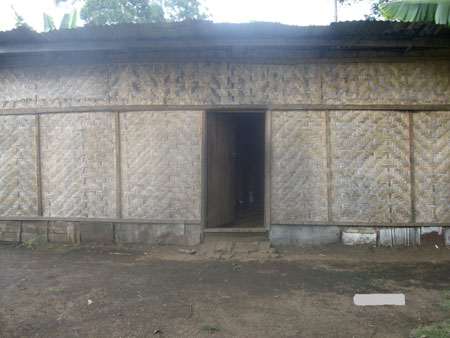 Elias Koim Koma Family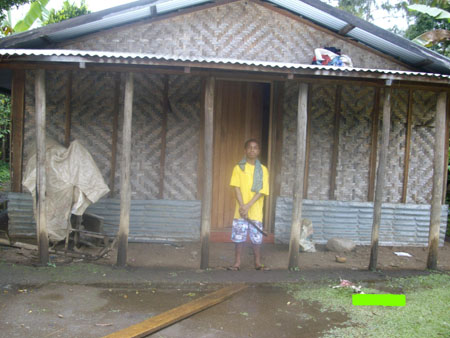 Gabriel Moge Family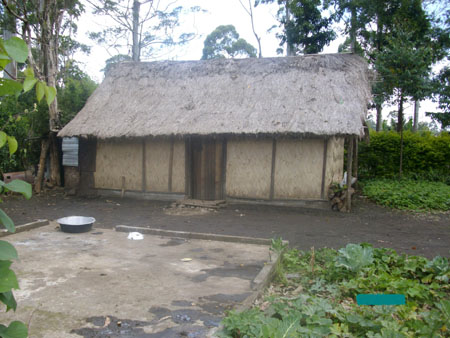 Mek Waip Family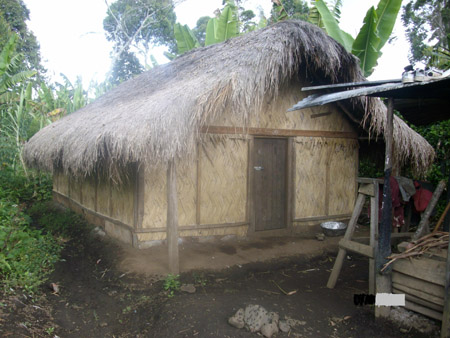 Robin Tep Family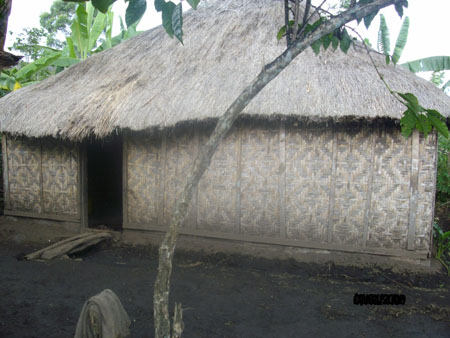 Simon Kara Family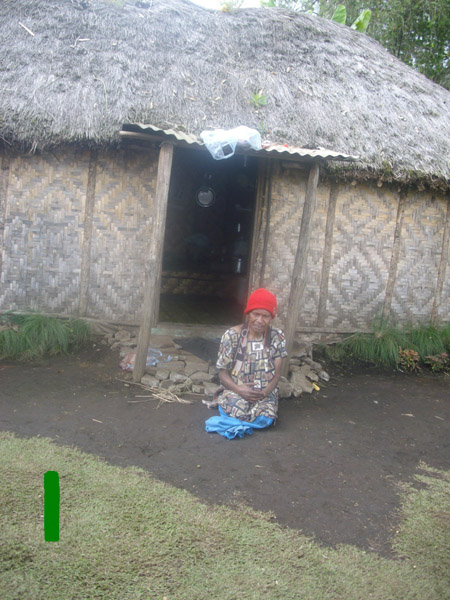 Willaim Mai Kombo Family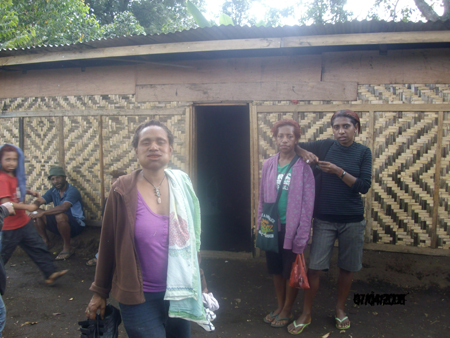 Willy Dop Family

---
The total funds we raised for Papua New Guinea are $8,400. Thank you to everyone who got behind this initiative.
Mark Banicevich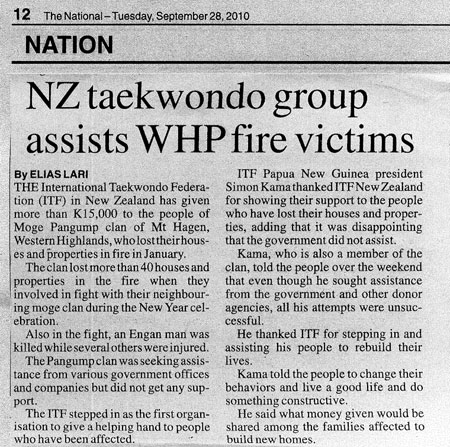 ---
Message from Mr Simon Kama:
Thank you very much for the effort that you have put in to assist my village. Please extend my sincere thanks to all the ITFNZ Instructors and students who have contributed their utmost efforts towards this fundraising which turned out to be agreat success and the proceeds have reached us on Friday the 17th September, 2010.

I would also like to thank the ITFNZ Executives that allowed the fundraising on the ITFNZ Website which reached those who have assisted.

I will announce to the village on Saturday and do a formal presentation to the most affected who still do not have a home to stay and report back with images.

Once again thank you very much to all who have assisted one way or the other and MAY THE CREATOR RICHLY BLESS THOSE WHO ASSISTED US.
---

At the International Instructors' Course in March, Master Michael Daher (President of the Oceania Taekwon-Do Federation) asked us to help Mr Simon Kama, President of ITF Papua New Guinea. We were informed that his house and car were torched when a neighbouring tribe attacked his village on 2 and 3 January 2010.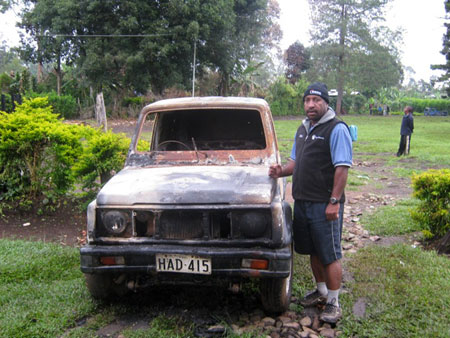 Mr Kama with the remains of his car, following the attack on 2 January 2010
The situation is worse than we thought – his entire village was destroyed. Three cars were torched and 67 houses were burned to the ground. YOU CAN HELP!
It costs only around NZ$1,050 to rebuild a family home made of bush materials, called kunai, and 63 of the houses destroyed were kunai. The list on the right displays those who will help, and we challenge you to do the same!
For medium-sized schools, one kunai is around a month's training fees. Mr Kama and his village have been forced to stay with friends and relatives for four months – to give a month's training fees is so little. Large schools may be able to donate more than one kunai; small schools please do what you can.
To help, deposit your money with Paul M Taekwon-Do Glendowie, ASB St Heliers, 12-3027-0503154-00. Use reference "PNGhelp" and your name (individual donations and anonymous donations are also appreciated).
We aim to raise enough money to rebuild 40 kunai – come on, Taekwon-Doin, reach into your school's pockets and prove that we are 'Power for Good'. Can we beat Australia? They are helping, too!
What happened?
On 2 January 2010, a fight broke out after a drunkard brawl outside the MMS Lodge in Mt Hagen. After the fight, one of the combatants, Mr Simeon Berum, returned to his village and summoned a large group of men. Armed with guns, bush knives and sling shots, they attacked the village of the Moge Pangump Subclan around 5:30pm. They looted and burned houses, slaughtered domestic animals and livestock, and torched cars. As the sky darkened and rain fell, the inhabitants of the village fled to seek shelter in a neighbouring village or under pandanus and banana trees.
The next day, the men attacked Palumrui Village, where many sought refuge, and repeated the looting, burning and destruction. In all, around 2000 people were displaced from their homes, and now rely on the kindness of neighbours and relatives.
Mr Kama chairs the relief effort. He initiated a resolution that there will be NO retaliation over the incident and that villagers allow the law to take its course. The case of the ringleader, Mr Berum, was recently moved from the district court to the national court.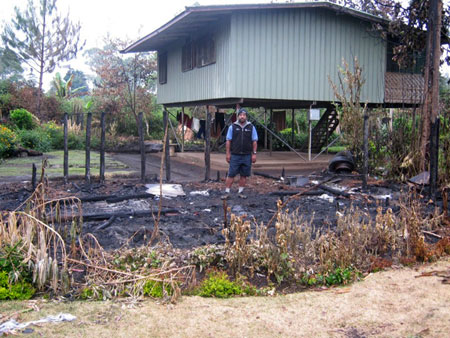 Mr Simon Kama, President of ITF Papua New Guinea, with the remains of his semi-permanent house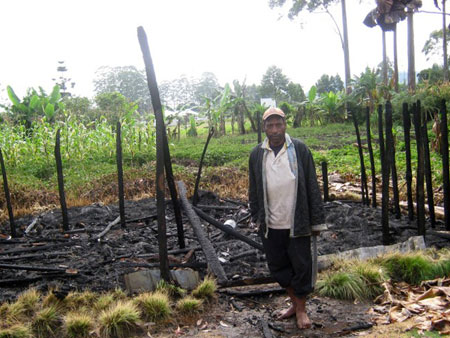 Mr Petrus Pius of Moge Pangump Sub-clan with the remains of his house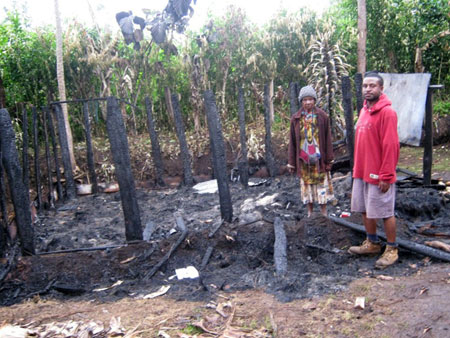 Mrs Maria Konga and her son, Mr Willy Konga, with the remains of her house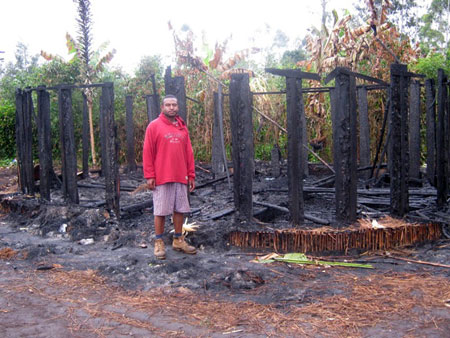 Mr Willy Konga with the remains of his house following the attack of 2 January 2010
For those who have not met Mr Simon Kama
Mr Kama started Taekwon-Do in 1984. His instructor was a New Zealander, Desmond O'Conner, who was practising law in Mt Hagen. The club was associated with Master YK Yun, an early Taekwon-Do master based in Brisbane, with whom ITFNZ were also associated.
Mr Kama was able to continue his Taekwon-Do training when Master (then Mr) Rocky Rounthwaite and Mrs Trish Rounthwaite opened a school in Mt Hagen. (Master and Mrs Rounthwaite moved to Papua New Guinea on an ADAB sponsored project assisting in training of the Royal Papua New Guinea Constabulary).
Mr Kama travelled to Colorado with Master and Mrs Rounthwaite and a small group from ITF Papua New Guinea for Grand Master Sereff's annual camp in 1993. Mr Steve Pellow, Mr Graham Patterson, Mr Shaun Tolley and Mr Mark Banicevich also attended this camp. He also knows a few other members of ITFNZ, such as Mr Jon Sawden and Mark Rounthwaite, who travelled more than once to Mt Hagen to train with the Rounthwaites.
Mr Kama planned to attend the International Instructors' Course in New Zealand in March, but this terrible event forced him to cancel his plans.
Mr Kama works for Telikom PNG (for the past 18 years), and he is a respected member of his village.
Various photographs of Mr Kama in his Taekwon-Do career, including photographs with Grand Master and Master Sereff (USA), Master Akard (USA), Master and Mrs Rounthwaite. These photographs show Mr Kama's involvement in the local community.
Life in the Papua New Guinea Highlands
The Highlands of Papua New Guinea are a far cry from the streets of Christchurch or the suburbs of Brisbane. Tribal fights still occur every now and then. Disputes over land and women are most common. Bows and arrows were used until recently, but now firearms are common. Papua New Guinea is a mineral rich nation, and many tribes agreed to give large portions of their land to the national government to benefit the nation. The Moge Pangump clan leaders sacrificed 75% of their land in this way.